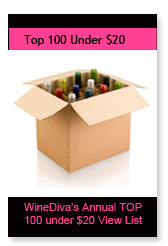 Found Records: 39, Pages: 1 of 2,
1
|
2

Ramping up for summer means drinking (and craving) a whole different style of wine. It also means longer days and a start to lighter fare and therefore fresher wines.
I love this time of year because it means sun and summer and patios.
Wines that are lighter in body and higher in acidity, new vintage releases that will pair well with the rainbow of food on the horizon.

Although I think most women would be happy with a spa day, a bouquet of beautiful flowers, it's always nice to get her a little something extra she can enjoy and relax with.
A nice Prosecco for breakfast, a pretty pink rose to sip in the afternoon a silky, engaging red as she curls up with a good book - you don't have to spend a lot of money to show her how much you care (and if you ask nicely, she might even share)!
Is there a more glorious shade than pink?
Possibly, but not in the summer and not when it's in your glass.
I love rose wines that are crisp. They can have a kiss of sweetness (just enough to make the fruit pop) or be bone dry and bordering on austere.
I love them with bubbles or flat, with food or without...

Is your mouth watering yet?
Here are my TOP picks in wine from British Columbia.
You may want to (try and) seek out at local private wine stores, VQA stores, BC Liquor Stores and wherever you dine!

*Wines I have reviewed in the past year, which have scored 90 points or more on WineScores.ca/prices will vary.



August 22 - Spetember 23

Virgo's are modest, meticulous and reliable, diligent, intelligent and analytical but she can also be worrisome and fussy, very critical and harsh.
Virgos are perfectionists and have conservative personalities.
She appreciates good health, hygiene and likes to those who are wholesome but does not like filth, poor health and sloppy people.

Colour: Dark Greens into Browns
Planet: Mercury
Symbol: The Virgin
Stone: Sardonyx (dark redish-brown)



October 24 - November 22

The Scorpio is ruled by passion.
She is determined and forceful, deeply emotional, very intuitive, investigative, powerful and very magnetic.
But her passions also cause her to be jealous, resentful, obsessive/compulsive, secretive and also very stubborn.
The Scorpio gal likes to be persuasive, truth is very important to her, she likes hidden causes too but does not care for withheld information.
She dislikes shallow people, people who attempt to take what is hers, flattery and in turn flattering.

Colour: Maroon
Planet:Pluto
Animal: Scorpion
Stone: Opal



November 23 - December 22

Sagittarius is an optimistic sign, she is jovial, honest, straightforward and philosophical.
But she can also be falsely optimistic, almost careless and tactless, and she can be both irresponsible and superficial.
She likes traveling and being free and she does not want to be bored with details...

Colour: Purple
Planet: Jupiter
Symbol: Centaur
Stone: Topaz



February 20 - March 20

The Pisces is a sensitive sign - she is imaginative and gentle, compassionate and kind.
She is not worldly but is very sympathetic.
She is also idealistic and vague, she can be weak-willed and easily led.
She likes to live in a dream world, odd and ridiculous things, she does not care for people who "know-it-all" and being criticized.

Colour: Soft Seagreen
Planet: Neptune
Animal: Fish
Stone: Moonstone



September 24 - October 23

The Libra gal is diplomatic, romantic, easygoing, sociable and idealistic.
The is also easily influenced and gullible, indecisive, flirtatious and self-indulgent.
She appreciates the finer things in life and sharing she also dislikes violence and people who are slaves to fashion.

Colour: Blue
Planet: Venus
Symbol: the Scales
Stone: Sapphire



July 23 - August 21

The Leo is generous and big hearted, creative, enthusiastic, open-minded, faithful and loving.
But Leo can also be vain, patronizing, bossy, interfering and intolerant.
The Leo also likes drama and living a lavish lifestyle but does not care for mean people or a boring, staid existence.

Colour: Gold
Planet: Sun
Animal: Lion
Stone: Ruby



May 22 - June 21

The Gemini gal is adaptable, communicative, eloquent and witty with a youthful persona.
But she can also be nervous and easily stressed, cunning, superficial and inconsistent.
She likes to talk, she likes to multi-task but she does not like to be be either tied down or alone.

Colour: Green
Planet: Mercury
Animal:Wolf
Stone: Moss Agate



December 23 - January 20

The Capricorn gal is practical and ambitious, disciplined, patient and cautious, humorous but reserved.
She can also be fatalistic, her glass half-empty and she can hold grudges.
She likes professionalism and reliable situations.
Capricorn dislikes mockery and people who live their lives in fiction or fantasy.
Colour: Brown
Planet: Saturn
Animal: Goat
Stone: Black Onyx



June 22 - July 22

The Cancer gal is emotional and loving and protective, Intuitive, shrewd, careful and sympathetic.
She is also moody, can be too emotional, touchy and clingy.
She is a romantic, likes babies but dislikes, failure, being given advice or told what to do.

Colour: Silver
Planet: Moon
Animal: Crab
Stone: Pearl

March 20 - April 20


The Aries gal is courageous, adventurous and energetic, confident and a quick thinker.
She can also be selfish and hot-tempered, impulsive, foolhardy and impatient.
She likes winning and spontaneity but dislikes getting advice and admitting to failure.

Colour: Red
Planet: Mars
Animal: Ram
Stone: Diamond



January 21 - February 19

The Aquarian gal is friendly - she can be considered a humanitarian, she is honest, loyal, she like to be original she's independent and an intellectual.
But she can also be intractable, perverse, unpredictable and fairly unemotional.
Aquarian's prefer to plan their future and dream big.
She likes having fun but hates to be lonely and imitation.

Colour: Turquoise
Planet: Uranus
Symbol: the Water Bearer
Stone: Turquoise


April 21 - May 21

The Taurus gal is patient, reliable, loving and determined. She likes tranquility in relationships.
But she can also be possessive and very jealous, resentful, inflexible and quite self-indulgent.
She also likes stability and comfort but hates to be pushed, disrupted or rushed.

Colour: Pink
Planet: Venus
Animal: Bull
Stone: Emerald





Pinks and roses - oh my!
They make me blush with anticipation and are perfect not only in the summer but with holiday turkey, ham and the trimmings!


April 17th - Join in on Malbec World Day!
Grab one of these delicious bottles and partake...

Just some of the wines I recommend trying in the International Festival Tasting Room on Thursday 28th, Friday 1st, Saturday 2nd at the Vancouver Convention Center.
Don't forget to read my 10 Tasting Room Tips to ensure you have the best possible time, you're educating yourself and that you're not that ONE who everyone else is annoyed with.

*Some of the vintages on the following wines may differ from those in the tasting room.
"Love is a grave mental disease." ~Plato

"I don't understand why Cupid was chosen to represent Valentine's Day. When I think about romance, the last thing on my mind is a short, chubby toddler coming at me with a weapon." ~Anon

"Valentine's Day: the holiday that reminds you that if you don't have a special someone, you're alone." ~Lewis Black

"Some people are settling down, some people are settling and some people refuse to settle for anything less than butterflies." ~Sex in the City



"I don't want to live; I want to love first, and live incidentally."
~Zelda Fitzgerald

"Wine enters through the mouth, Love, the eyes. I raise the glass to my mouth, I look at you, I sigh."
~W.B. Yeats

"Wine makes every meal an occasion, every table more elegant, every day more civilized."
~Andre Simon

There's no need to rob piggy to keep your glass full!
It's January, the holidays are over and with that our budget season begins. But there's no need to panic, at least not when it comes to wine. My annual January Budget Bottles are here to keep you warm and your glass (at least) half-full, as we count the days until spring is finally upon us.

Budget Bottles - all under $17!

*Prices may vary by region or retailer.

There's no need to rob piggy to keep your glass full!
It's January, the holidays are over and with that our budget season begins. But there's no need to panic, at least not when it comes to wine. My annual January Budget Bottles are here to keep you warm and your glass (at least) half-full, as we count the days until spring is finally upon us.

Budget Bottles - all under $17!

*Prices may vary by region or retailer.

Each year I put together a list of my TOP 50 wines, which are between $20 and $50 and have scored 90+ points on WineScores.ca.
These are great gift wines and special occasion wines for the discerning wine lover.
You don't need to spend a lot to get a great gift, but here are some options if you're looking for some suggestions for premium wines.

*For entertaining, check out my TOP 100 (+12) wines for 2012 - $20 and less!

*These wines are listed as $20-$50. Prices may vary at some retailers and may not be available in all provinces.
*Wines are listed by date reviewed, not by score.

Cheers!

Each year I filter through thousands of reviews to find the best wines I've tasted over the course of the year.
In my annual TOP 100 you'll find my Top 100 (+12) picks, which have scored 89 points or higher on WineScores.ca!
These wines are all $20 or Less!

Here they are, my TOP 100 (+12) for 2012!

*These wines are listed as $20 or less. Prices may vary at some retailers and in some provinces.
Wines are listed by date reviewed, not by score.

Cheers!


Outstanding bottles to impress your boss, your host or a potential secret admirer...
Not all gift bottles need to be pricey but something unique, something the recipient has never seen or perhaps never experienced before is the key to a successful gift.

Take a stroll through this list and see if anything catches your eye...


The slight pop and hiss of opening a bottle of sparkling wine never fails to bring a smile to my face.
I drink a lot of bubbly, sometime I splurge, but most times an inexpensive cava, cremant or other international sparkler is in my glass.
I'm fortunate enough to have friends who love it as much as I. In fact, whenever we are together, we drink bubbles, no matter the time of day.
We've had people at the next table lean over and ask - "What are you celebrating?" The answer is always simple... "It's Tuesday" or "It's lunch" or "It's raining.... " You get the drift.
Anytime is a good time for bubbly
This is my mantra.
Now you say it, and repeat it until you believe it!

Here's a selection of bubbly for every budget from Champagne to Prosecco and cava to sekt.

Cheers!

AFFW is Australia's First Families of Wine.

They are a group of 12 of the top family wine estates in Australia, with a combined 1200 years of winemaking history.
Formed in 2009, the group has traveled to and held tastings in the UK and in Canada since they began.
The wineries are spread across four states and 16 regions and they make a wide variety of both exceptional unique and traditional Australian wines.
These wineries, aka Custodians of the Soil, are:
d'Arenberg
Brown Bros.
Campbells
DeBortoli
Henschke
Howard Park
Jim Barry
McWilliams
Tyrrell's
Taylors (Wakefield)
Tahbilk
Yalumba
Holiday meals seem made for turkey, but also for earthy root vegetables (often caramelized), roast chicken, stuffing, honey ham and buttery mashed potatoes, sweet yams, creamy soups and tangy cranberry sauces.
But often salmon, smoked sausage, vegetarian turkey with mushroom gravy or sometimes richer lamb and duck.
Below are a broad selection of those wines I think pair best with these dishes: Riesling, Viognier, Gewurztraminer, fragrant white blends and other ripe aromatic whites. Also: Pinot Noir, elegant earthy reds and bubbles...




13 Bloody tasty wines you won't want to share with the other ghosts, goblins, vampires and witches.

But IF they insist, at least you'll know they'll be pleased with your offerings...


Summer may not be over, but like it or not, there's a certain chill in the air early morning and evening...
So it may be time to switch gears a little bit. Not to neglect the whites (I always have plenty of those reviews for you) but time to warm up a little. Here are some wines you will enjoy as you curl up and put on some socks...

Undeniably, Argentina is producing the best Malbecs on the market, intense and inky with ripe fruit, dark floral, sweet spice notes and lush bodies. The Malbec vines are here are mature and the climate/terroir supplies perfect growing conditions - which is why they truly stand out.
And although Mendoza isn't the only wine growing region in Argentina, about 80% of the production does come from here.
This region butts up along the Andes (and Chile) to the west and rests mid-country.
I don't have to tell you how good (and what good value) the wines are - your dollars are speaking.
Here are a variety of wines, some of which are available in private wine stores but check out BC Liquor Stores focus on the wines of Argentina throughout October, 2012.
| | |
| --- | --- |
| | Delicious and affordable sparkling wines - perfect for any occasion (meaning everyday) and never, ever, pretentious... |

Here are some top selling wines, wines, which are also reader favourites.
Look through this list and see if there are any wines you have already tasted - if so, begin by rating them.
How many stars would you give some of these wines you are familiar with?

It's really that simple.

Begin rating wines now, and before long, I'll be recommending wines just for you!


For our neighbors to the north - I couldn't forget about you!
Here is a list of 85+ reviews of the best wines available to you in Yukon Liquor Corporation stores.
The list includes: white, red and sparkling wines from all over the world!



This summer it's time to focus on South Africa!
The wines from South Africa are widely recognized for their new world fruit and old world elegance, plus they've been making wine here for more than 350 years!
I invite you (purely for enjoyable investigative purposes) to taste more wines from South Africa, not just the cheap & cheerful but the quality wines that are available to you.
These wines have distinct flavours and aromas, rich fruit and in many cases a restraint, which make them perfect food pairing wines.
No time for a trip to the Cape of Good Hope? Try a trip to your local wine store instead...


photo left: native fynbos with vines and a typical South African view.

Although we can grill all year round, there's no time like the summertime!

Just the smell of smoke and barbecue sauce gets your mouth watering...
But what about the wine?
Grilling imparts charry, smoky flavours and intensifies flavours in a way that other cooking methods cannot.
You can throw pizza on the grill, sausage, pork, chicken, fish, corn on the cob and skewers of veggies (aka shish kebobs). All of these will have a new depth of flavour that calls for heartier wines, which will stand up to bold new flavours.
You don't have to be a meat eater to enjoy grilled foods, but your wines still need to have a bit more oomph.
Most of the following wines are great with grilled meat, but don't discount what a little grilling can do to eggplant, mushrooms or yes, even tofu and veggie burgers and dogs.
Remember red is not the only grillin' wine Chardonnay loves grilled lobster in butter, grilled chicken, grilled cornbread and corn on the cob...
Viognier charms sweet crab and seafood (great topped with spicy peach or mango salsas), grilled squash or sweet potatoes with sage butter...
Rose will rock pork, salmon, grilled portobello mushroom burgers, or your homemade grilled pizza...
| | |
| --- | --- |
| | |
Found Records: 39, Pages: 1 of 2,
1
|
2