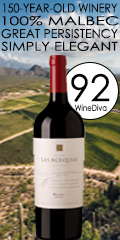 Perfect Pairings
Choose your food - cheese (blue, goat, Parmesan), fish, chicken, sushi, tomatoes, tomato-based sauces etc.
or
Choose your theme - barbecue, first date, girl's night, wedding or patio sipping etc...
Click on it and voila! You'll have a fabulous assortment of wines to pair with your theme, dish or special occassion.
WineDiva.ca is a snob-free zone!
| | |
| --- | --- |
| | Something to start the evening off, a cocktail for cinq a sept, a sticky to finish the night off with cheese or dessert... Sherry, Port, Spirits and other tasty treats... |
Tapas, mezze, antipasti, canapes...
Small bites: olives, bruschetta, grilled artichokes, peppers and eggplant, salty bites of cheese and salami...
Things you serve on a platter with crusty bread and a side of EVOO.
Honestly, I could eat appetizers for every meal and be gloriously happy...
| | |
| --- | --- |
| | Grilled foods, those cooked on the barbeque tend to have more depth of flavour and an intensity rounded out with char and smoked flavours. And often, they are accompanied by spicey/sweet and tangy sauces. Wines of equal intensity are recommended. |
Wines under $14.00
(aka) Monday-Wednesday wines, (aka) I'm having a party wines, (aka) wines to serve to my inlaws who make their own...
Does this mean the quality is poor?
Nope, nada, nyet.
It simply means you get two awesome value bottles for the price of one!
| | |
| --- | --- |
| | Wines for your cellar. Whether you are just starting out building a cellar or if the wine just needs a little time-the following wines fit the bill. |
| | |
| --- | --- |
| | Or Blue Veined cheeses have a marbled or veined appearance caused by mold cultures that have been injected into the cheese. Recognizable names are Stilton, Roquefort or Gorgonzola but there are an amazing selection of blue cheeses ranging from mild to sharp-soft to firm. Fourme d'Ambert, Cabrales and Cashel Blue. These cheeses need special wines... |
| | |
| --- | --- |
| | Cheeses made from goat's milk are very different in flavour from cow's milk cheeses. They are sharper, more piquant and often have herbaceous, nutty or creamy/sweet flavours. Goat's cheeses are generally tangy and need a wine to complement, not overpower. Goat's cheese comes in virtually every size, shape and texture. |
| | |
| --- | --- |
| | Probably the most recognizable firm cheeses are Aged Cheddar and Parmesan. Mimolette, Sbrinz and Aged Gouda are hard cheeses with amazing texture and flavour well paired with wines. |
| | |
| --- | --- |
| | Semihard cheeses can run the gamut from Tomme de Savoie, and Manchego to Gruyere. They can be smoked like Smoked Gouda, mild flavoured and chalky/buttery like Caerphilly or more powerfully flavoured like Appenzeller. Here are some suggestions... |
| | |
| --- | --- |
| | Soft, creamy or runny cheeses have much smoother texture than medium cheeses. Brie and Camembert are just the begining. There are some truly funky and powerful soft cheeses out there like; Epoisses, Pont L'Eveque or Vacherin Mont d'Or or decadently rich cheeses like Chaource and Saint Marcellin also recognizable triple creams such as Pierre-Robert, Brillat-Savarin and Explorateur. |
| | |
| --- | --- |
| | One of my favourite ways to celebrate, this cheesy, warm concoction can be romantic or social. You need time and a lot of bread, but don't forget the all important cornichons and pickled onions. The classic pairing is with Swiss Chasselas, but I also like Riesling, Chenin Blanc and Syrah... |
Pure dark chocolate is generally the easiest type of chocolate to pair with wine but often nuts and caramel will draw out similar characteristics found in the wine.
Think rich chocolaty Cabernet or Port with dark, a toasty-rich bubbly with chocolate covered nuts, a tawny port if there is caramel involved, white or milk chocolate with late harvest or icewine sweeties...and a spicy Shiraz (or sparkling Shiraz) with chocolates infused with chilis or pepper.
| | |
| --- | --- |
| | Fettucini Alfredo, creamy mashed potatoes, risotto or cream based soups - creamy dishes need some acidity to clean the palate but still some structure to stand up. Sometimes the nutty, creaminess of an oaked Chardonnay and sometimes the crisp power of a German Riesling depending on the depth of flavour in the cream. Herbed cream sauces like crisp wines and richer nutty sauces or pumpkin risotto prefer a buttery chardonnay... |
Salads are not just for rabbits...
Summertime salads, crisp green veggies, light-weight dishes with lemon or vinaigrettes need a fresh, crisp wine to partner not to overpower...
| | |
| --- | --- |
| | Save the salad for another day - in this category I'm talking about getting back to your roots. Think sweet and earthy veggies like: beets, squash, sweet potatoes or even, not-so-veggie mushrooms and not-so-rooty buttery corn on the cob. |
Avoid anything that you know will stick in your teeth (ie:spinach) and make sure you've clarified allergies and preferences. Besides that, you want wow wines, not too pricey but absolutely seductive and thoughful.
Wines with silky textures, wonderful fragrance and impressive length...
| | |
| --- | --- |
| | French food is diverse. Its not just baguettes and cheese or coq au vin. French food is also fresh Provencal dishes, vegetable dishes with rich creamy sauces and earthy rustic tartes and dense meaty stews. |
Six delicious crackers - made specifically to go with wine.
They are very flavourful crackers, made from the highest quality of ingredients, while excluding yeast, sugar, and hydrogenated oils.
Flavours: Canadian Cheddar & Chive, Blue Cheese & Cracked Pepper, Parmesan & Rosemary, Olive Oil & Cracked Pepper, Roast Shallot & Herb, Undressed.

Calling all armchair athletes!
It's game day and what's in your glass?
You need wines to pair with burgers, pizza, ribs and chilidogs, nachos and bean dip...
Whether you're watching hockey, football, football (the other football, aka soccer), tennis or heck even Pawn Stars, these are the wines you'll need...
| | |
| --- | --- |
| | Fun wines with no pretension. With the girls you need not worry about being judged and this is the perfect time to experiment-when you are among friends... |
| | |
| --- | --- |
| | You only get one chance to make a first impression! Meeting her folks for the first time? Choosing a dinner wine for your boss' key account meeting? Meeting his best friends at a dinner party (and they loved his ex)? You need a wine that is intelligent, sophisticated and possibly unique. Let them know you're not schlep... |
| | |
| --- | --- |
| | Sustainably produced, organic and biodynamic wines are becoming more and more relevant to the average wine lover - you don't have to be a granola muncher to enjoy these environmentally friendly wines but I think you will appreciate their lighter footprint on Mother Earth. |
| | |
| --- | --- |
| | You will probably agree that lumping Italian food into one category is insane. Italian food is as regional and diverse as the country itself. But in order to simplify I will touch on the basics from tomatoes and sauces, fish to pastas and antipasti platters - rustic and simple. |
| | |
| --- | --- |
| | I don't recommend wine with Jelly Bellys (although I've tried, hard) but what about game day wines, wines to pair with: hot dog's, burgers, ribs, chili and pizza (most of those will work with Zinfandel), buttery pocorn and salty potato chips (both great with bubbly), wasabi rice snacks, take out sushi or pomme frites dipped in designer mayo (try an off-dry Riesling). |
| | |
| --- | --- |
| | Its summer, the sun is warm and the outdoors beckon. You are sippiing in the afternoon sun so you want to avoid high alcohol but crave something, crisp, clean and refreshing to go with that salad. |
| | |
| --- | --- |
| | Hearty wines to pair with grilled beef, lamb, game and rich, thick, meaty stews. |
| | |
| --- | --- |
| | Ocean fish can be prepared in virtually any manner-grilled, poached or fried and adorned by virtually any sauce. Preparation and condiments play a big part in what wine you choose. Balance is the key. |
| | |
| --- | --- |
| | Shellfish differs from fish as it is often sweeter. The cooking methods for shellfish help determine the wine but fresh and crisp is generally a good rule of thumb. |
| | |
| --- | --- |
| | Ay carumba. Spicy food is a broad term encompassing Mexican food with Poblano chilies, Thai dishes, Indian curries, Szechwan cooking or even Texas firehouse chile. Heat needs somthing with equal intensity or the wine tastes flat... |
| | |
| --- | --- |
| | We kooky-for-sushi West Coasters know our sushi! For those of us that have to travel outside of Lotusland periodically we are happy to see that its poularity has spilled over across the prairies and into the east. Sushi is clean and fresh and on the lighter side of the food weight spectrum. It also has the additional dilemma of WASABI... |