These are some of the wines I think you might enjoy based on the wines you've rated postively on the site. You will find that many of the wines recommended have similar flavour profiles to wines you've indicated you like.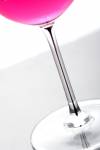 Remember - if you've had a wine and you liked it, rate it!
The more wines that you rate, the better my recommendations for you will be. Drink on and rate often.

If you haven't rated any wines yet, then it's time to get started. Here's a list of my latest wine reviews...
WineDiva is a snob-free zone!