Sep 20, 2013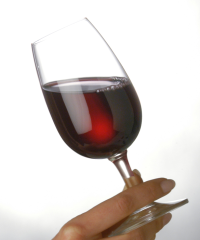 Do you know that sense of anticipation you get each time you open a bottle of wine - be it the pop of a cork or the snap of a screw top?
If you're nodding your head, we're on the same page.
Is it the expectation of the sound of the wine as it's poured into your glass, the promise of a fragrant bouquet or the excitement of how it will taste as it rolls across your tongue?
It's all that and more.
Scents and Sensibility
Wine is a very sensory thing.
More than anything, I try to impress this upon people when I speak about wine.
Wine is about sight, smell and taste. If you focus and use all of your senses when you first taste your wine,
you'll become a better taster and your wine knowledge will grow.
How?
The Clue in the Hue
Take note of the hue of your wine. The depth of colour (be it white, pink or red) will give you some indication of what to expect. Lighter colour generally means lighter-body.
By paying closer attention to what's in your glass, you will note details you may not have before.
For example: the slight purple-blue tinge to your Zinfandel, the green glints in your Sauvignon Blanc or the golden-yellow of your oak-aged Chardonnay.
By skipping directly to the gulp, you're missing the most important aspect of wine. To taste properly, you must first smell.
If you take more time sniffing before tasting your wine, you'll enjoy the flavours even more – I promise.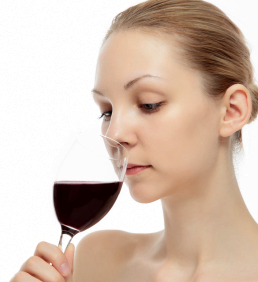 Suddenly, you'll start to decipher the scent of apricot in your Riesling, the toasted pastries in your Champagne or the cassis in your Cabernet.
Every time you open a new bottle or order a glass at a restaurant, spend some quality time with the first few mouthfuls.
Think about the colour first.
After a light swirl of the glass, try to pinpoint a note or two each time you stick your nose in it.
Finally compare what you smell in the wine to what you taste.
Does it jive?
File that new information in (what I like to call) the "wine rolodex" in your brain, then simply enjoy the rest of it - be it the bottle or simply a glass.
Do this religiously and before you know it you'll be able to tell a Malbec from a Pinot Noir and a Viognier from a Sauvignon Blanc.
Nosing Around
Spend more time smelling your wine. Try to decipher what kind of fruit you smell. Is it crisp white fruits like apples, citrus and pears or more tropical fruits such as pineapple or mango? Likewise with red wines; cranberry, strawberry and raspberry are often associated with lighter-bodied reds whereas black berries, black cherry and black plum are indicative of a fuller-body.

Diversify Your Portfolio
The best way to learn more about wine is to drink more.
In order to achieve a better palate, you have to diversify your portfolio of wine. By sticking to the same variety, the same safe bottle you feel comfortable with, you won't profit nearly as much. Which is fine, depending on your long-term goal.
Go forth and explore.
Try wines from regions you cannot pronounce and producers you've never heard of. Every so often, go back and try a variety you think you don't like – you may be surprised.
You won't be disappointed and you'll gain a better understanding and appreciation for the wide world of wine.
Chew, Swish, Breathe
Take a sip, chew on the wine and swish it around letting it coat your mouth. Carefully pull a little air into your mouth over the wine. As the air filters back to your olfactory, it should confirm that the flavours of the wine jive with what you smelled earlier.