Mar 09, 2015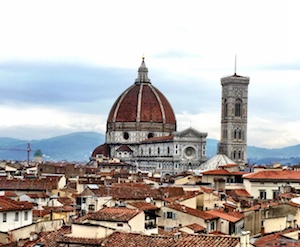 In Travel Mode

While finding good food in Italy isn't difficult, on my most recent trip I found myself searching a little harder for it.
When wine writers travel, good food seems to find us. With wine comes food and typically traditional cuisine is proudly served with the wines of the region.
Lunches and dinners are a feast, often lengthy with multiple courses.
In addition, the hours we keep while in travel mode are late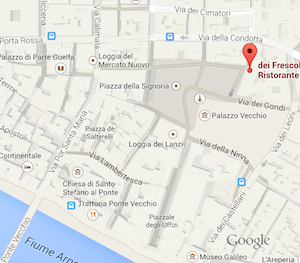 and equally early. I've learned to bring my running gear with me and use it as often as I can. Even if I can't log my daily 13 to 14 kilometers, I can get the blood pumping and feel a bit less sluggish.
Odds are I'm not sleeping well anyway.


Back to Florence

I found myself back in Florence recently. It had been far, far too long.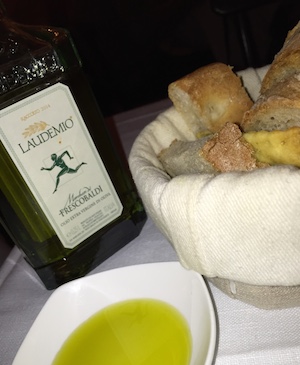 I was joining a group of roughly one hundred international journalists (plus about equal quantity of Italian journalists) for the annual Tuscany Taste wine event.
Traveling with that many people makes for an interesting dynamic and due to logistics means more buffet dining - often standing up.
Saying that, I experienced fantastic buffets in Montepulciano and in Montalcino. Plus, the good thing about a buffet is you only have to eat as much as you really want.
A week of buffets and massively attended sit-down meals had me craving something far more intimate.

For once, I actually planned ahead and it was an excellent decision.

I booked a table at Marchesi di Frescobaldi's Dei Frescobaldi in Florence on a free night.

After a delicious (albeit pricey at $20 CDN) Aperol Spritz overlooking the Arno River at the Westin Excelsior Hotel, I wandered across the Ponte Vecchio and back.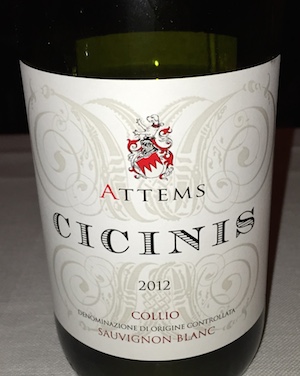 From there I headed into the old city core, took a trip past the Duomo and got myself turned completely around - as you will in Florence.
Thanks to my Google Maps app (photo: above right) I returned to the main area of Plaza Signoria, and easily found Dei Frescobaldi.
Like a gift it was cozily tucked into one corner of the plaza.

The room has a quiet extravagance, meaning anyone will feel comfortable. I was seated in the front of the two rooms - golden and rust shades, intricately styled walls, pillows and draping fabrics gives the place a rich, warm feel.
I was well looked after by charming and boisterous manager, Francesco Carzoli.
According to Carzoli, the clientele is about 65 percent local (which bodes very well), especially over the lunch hours.
The restaurant side seats close to 70. The attached wine bar is much more casual and with outdoor seating lends the entire place another 20 seats for a total of about 90.

The Food and the Wine

Carzoli poured me a glass of a Frescobaldi's Sauvignon Blanc from Friuli - The Attems Cicinis 2012, Collio ($20 in Quebec). Partially oak fermented and some of it spending six months in oak, it was buttery and rich with grassy notes and mineral. It boasted excellent concentration the finish was long and tangy. Paired with an amuse bouche of creamy white bean soup and Tuscan olive oil, it was delightful.

The bread basket called my name, loudly. As did the brilliant green herbaceous and peppery Frescobaldi olive oil, Laudemio.
Taking Carzoli's advice, I tried to reign myself in - no use in filling up on bread when the first creamy spoonful held the promise of so much more delciousness.

Next came a visually stunning salad of creamy, house-made burrata, tomato, basil and olive oil.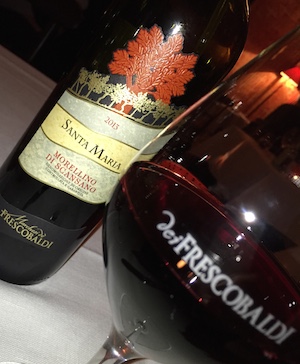 Carzoli brought a bottle of the well known Santa Maria Morellino di Scansano (about $20) - a youthful and fresh Sangiovese with no oak contact - here it's all about the fruit.

I have to admit being skeptical about Carzoli's pairing, but by adding a few drops of aged and sweetly potent Malpighi Balsamico di Modena it was absolutely spot-on.
The Morellino is vibrant and grapey with smooth strawberry, cherry and chocolaty layers.

I could barely contain myself when the next course arrived, al dente tagliolini egg pasta (thinner than tagliatelli bigger than spaghetti) with more shaved white truffle than I consumed in total during my recent trip to Piedmont - during truffle season, nonetheless.

The sauce, just buttery and creamy and cheesy enough to lightly coat the pasta. I knew I wouldn't stop until I hit the bottom of the bowl.
I was correct and the sauce was so diaphanous there was no
pool, not even leftovers to drag a crust of bread through.

Perfect.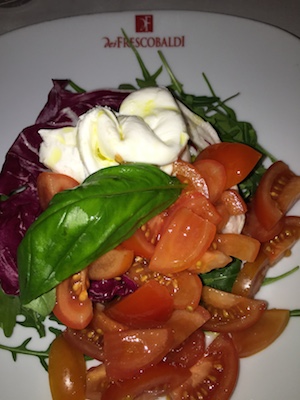 I'm still dreaming of that tagliolini con tartufo.

Carzoli poured me a glass of Marchesi di Frescobaldi Montesodi Del Castello di Nipozzano Toscana 2011 - a wonderfully rich and modern style of wine (about $25).
The 2011 offers plummy and cherry notes, chocolate, licorice and vanilla, pipe tobacco, roses and earth with sweet spices. It is decadent with a plump weight and dusty tannins on the finish that were smoothed out by the light sauce.
The earthiness of the truffle played perfectly on the earthiness of the wine.

You would think that should be enough but my days of buffet dining had me more peckish than usual so I had Carzoli put in an order for a side of artichokes - they were served whole with olive oil, herbs and light seasoning.

When they arrived I decided I was tired of taking notes and just wanted to relax and enjoy. Carzoli filled up my glass with more of
the Attems Cicinis Sauvignon Blanc (perfect with artichokes)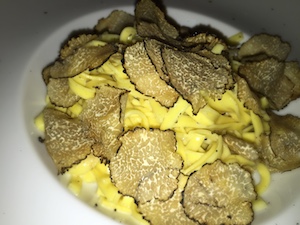 and I sat back to watch the other diners - a mix of Italian and international, who looked as well fed and content as me.

Wine Preservation

To ensure the wines stay fresh as long as possible, Dei Frescobaldi uses the Coravin wine preservation system.
It is a device, which attaches to the bottle. It has a hollow needle that pierces the capsule and cork and allows wine to be released out of the bottle with zero air contact.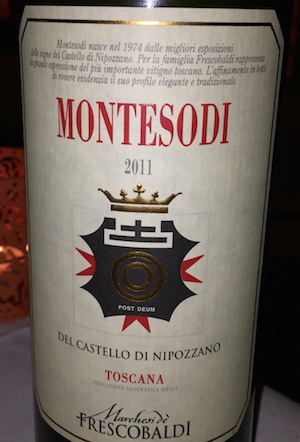 The bottle is then pressurized with argon (an inert gas used for this purpose frequently).
The device and needle is removed, the cork reseals itself. Expensive bottles can be opened easily and saved for a couple of weeks (or longer).

It's perfect in a restaurant atmosphere.

If you do get to Florence, make sure to visit Dei Frescobaldi - but do make a reservation, it's a very popular destination.

Dei Frescobadi has recently opened a location in London and you can also check out one of their three wine bars in Rome airport, Fiumicino.


Ristorante & Wine Bar Dei Frescobaldi
Via de'Magazzini 2-4/R
Florence
Open every day for lunch and dinner
+39 055 284724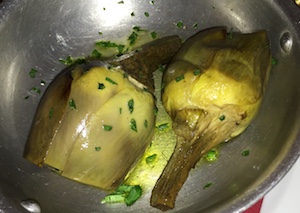 Ristorante Frescobaldi
15 New Burlington Place
Mayfair, London
+44 (0) 203 693 3435

~ Daenna Van Mulligen