Mar 14, 2017
Bodega Garzón & Maison Sichel

If you ask any journalist or buyer how important a producer's regular presence in their market is, they'll agree it's significant.
Selling a wine, or writing about a producer, can be seriously impacted if it's an unknown commodity.
Or if, you haven't seen it/them in a while.

Okay, so there are wines that will sell themselves via marketing in one form or another. I'm talking about building relationships with the influencers in each market.
Forging relationships and maintaining those, results in longer term commitments.
Why?
Because there is a trust, and a feeling of inclusion. You've made the commitment to a market, you visit once per year and several things happen.
The most important: 1) you get to know the market yourself (rather than solely relying upon your importer's intel) and 2) those in the market feel appreciated—they get to hear your stories, taste new vintages and get the scoop (on soils, vintage variation, et cetera), right from the horse's mouth—so to speak.

So, when a couple of important producers came to town recently, the turnout was tellingly commendable.
It got people talking and that means one thing—the odds are, you'll sell more wine than if you just put it in a shipping container and let your importer deal with it.
Maison Sichel

Sichel is a family owned business, established in 1883 in Bordeaux. They are a negotiant—meaning they also sell and distribute other producer's and grower's wines worldwide. Part of that is buying wine and bottling it, but they work as an exporter and own their own estates and manage their own vineyards. The most famous being Chateau Palmer.

James Sichel, is a six generation family member and the export director for Grands Vins de Bordeaux Sichel. He's familiar with our city, but this time brought his nephew with him, as he starts to share some of his duties as export director.
Sichel explained that his grandparents purchased Chateau Palmer in 1938, and the next generation, his parents, purchased Chateau Angludet in Margaux, in 1961.
The family has expanded their holdings out side of Bordeaux as we've seen happening in many cases.

We focused on five of Sichel's offerings during this tasting, but a couple of things Sichel said struck me. One, was that he feels Bordeaux still offers some of the best value in the world - for quality and price. Now that may come as a surprise to most, as we see Bordeaux as a place where were the rich go to play, where the most expensive bottles of wine in the world are produced. Associating it with value, is not something that comes easily - rather with a lot of eye-rolling. The reason being, is we just don't see much of that value in our market - we read about the recent vintages and what prices the top houses will claim, written by the same cognoscente all the time.
When was the last time you read about value in Bordeaux - I know I never have.

The other thing he said, "Biodynamic agriculture is the single biggest change happening in Bordeaux."
That is equally worth a story.

To prove it, Sichel was able to show us a couple of good examples of this available value, as well as some equally well-priced wines from just outside of Bordeaux.
Domaine de Pellehaut
Gascony is rural area in South West France, which stretches from the Pyrenees to Bordeaux. The domaine has been owned by the family Béraut for 300 years and their entry level Harmonie Range offers unarguable value.

Harmonie de Gascogne Blanc, 2015: this blend of Sauvignon Blanc, Colombard, Uni Blanc, Chardonnay, Gros Manseng and Petit Manseng has attractive notes of lemongrass, and orchard fruits with lime, dried pineapple and a juicy palate. Straightforward and crisp, dry and entirely quaffable.
+761387 SRP $14.50

Harmonie de Gascone Rouge, 2015: Merlot, Cabernet, Tannat and Syrah with aromas of spice, tobacco and wild berries. Supple and approchable palate with a juicy and spicy character.
+89110 841403 SRP $14

Harmonie de Gascongne Rose, 2015: A pretty salmon colour made from Merlot, Cabernet, Tannat and Syrah with aromas of strawberry, raspberry and orange peel. Dry style, silky and approachable - gulpable.
+841403 SRP $14.50
Chateau Argadens
Owned by the Sichel family and located in Bordeaux, in the commune of Saint-André-du-Bois. The property is slowly transitioning to organic.

Chateau Argadens Blanc, 2014: A classic white Bordeaux blend of Sauvignon (65%) and Semillon (35%) this charming white has a nice greenish glint and notes of mineral, wild grass, citrus, honey and lanolin. Great weight and slickness with a racy character, tropical tones and overall good complexity and structure.
+768937 SRP $22

Chateau Argadens Bordeaux Superieur Rouge, 2012: Cabernet Sauvignon (32%), Cabernet Franc (5%), Merlot (63%) offering aromas of crushed violets, saddle leather, licorice, sweet herbs and cherries. It is spicy and savoury - a little rustic—but very nicely woven with impressive structure.
+272724 $22 BCLS
Chateau Trillol
Owned by the Sichel family since 1990, Trillol is settled upon the harsh and rocky soils of Corbieres, in South West France. Trillol is an obvious point of pride for James Sichel.

Chateau Trillol Corbieres Rouge, 2012: entirely unique, and made from Grenache (52%), Carignan (24%) and Syrah (24%) grown in high-altitude, low-yield vineyard with vines on average 35 years.
It is intense and earthy with sweet black cherry, dried violets, black cherry, star anise, vanilla and garrige. It has an attractive chewiness, loads of expressive fruit and wondeful acidity.
+761643 SRP $24
Chateau Angludet
This run down Chateau purchased and then reinvigorated in the early 1960s by James Sichel's parents—is also the estate where he grew up. It is located in the heart of Margaux with 32 hectares of poor, gravelly soils under vine.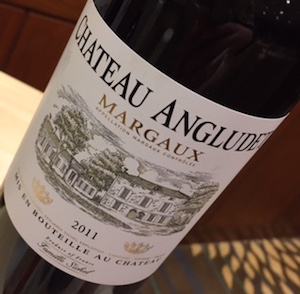 Chateau Angludet Margaux, 2011: A warm and generous nose is somewhat contradictory to the difficult vintage of 2011. However, it was showing extremely well, offering supple and ripe purple fruit, spice, mocha and tobacco. The palate is nicely muddled fruit and spice with powdery tannins. Impressively balanced and complete with attractive youthful freshness.
+28993 SRP $74
Chateau d'Orginac
Owned by Maison Sichel's technical director, Yvan Meyer and located in the AOC of Pineau des Charentes, north of Bordeaux, known for its eau-de-vie.

Chateau d'Orginac Pineau des Charentes: It takes nearly 10 years to produce this beguiling fortified and bronze-hued libation. Made from Merlot and Cabernet Sauvignon it is aged for a minimum of five years in French oak. It is decadent but not cloying or syrupy. Intense dried apricot and peach jam, brulee and rum soaked raisins. Slick and creamy and utterly delicious.
+436691 SRP $38

Bodega Garzón

I'd heard talk of Garzón, its vast size and enormous investment.
Likewise, I knew of Uruguay; their burgeoning wine industry and impressive results with the French variety Tannat—but little else.
I certainly had no idea, that in a country of merely 3.4 million there were 11 million liters of wine produced each year, by 190 wineries.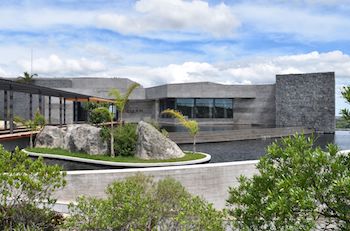 I also knew Carlos Pulenta was involved in this project, partnered with a long-time associate, an influential Argentine oil magnate turned vintner, by the name of Alejandro Bulgheroni. I met Pulenta in Vancouver several years ago when he came to pour some of his wines from Vistalba. I also visited his family winery in Argentina, Pulenta Estate, in Agrelo.

The Pulenta family arrived in Mendoza from Italy in 1901, and over the next century became one of the most influential Argentine winemaking families.
Carlos, a winemaker himself, stands at the forefront, having his hand in Trapiche, Salentein and then Vistalba, but he also has his consulting hands (with Bulgheroni) in Renwood, in Amador County, California... among others spread across the world.
There is also a close working relationship with Alberto Antonini, one of the world's most highly regarded enologists and viticulturists. Antonini was the one to visit Vancouver to promote the winery on this visit.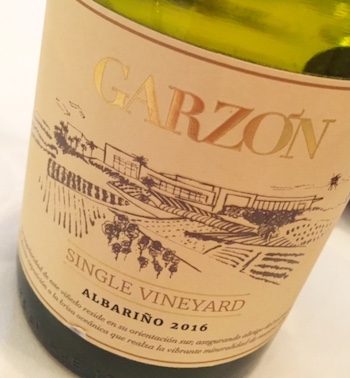 While the estate, located outside the village of Garzón, in southeastern Uruguay, has been owned by Bulgheroni since 1999, the visitor's center (above right) only recently opened its doors, in 2016.
To sweeten the pot, it's a mere 45 minutes away from the Riviera of Uruguay—making it a certain draw for vacationers.

The 205,000 square foot winery sees estate only grapes grown on 500-acres of vines. The estate is meant to be a destination, home to retail and dining. Just this month it was released that Argentina's favourite chef, Francis Mallman will take over as culinary director of the 120-seat Restaurant at Bodega Garzón.



"Our goal is for visitors and locals alike to discover this remarkable place and taste the passion that has gone into producing our wines and creating an unparalleled experience."

~Alejandro Bulgheroni







The estate makes a significant selection of wines, but my understanding the portfolio is going to be condensed.
Tannat, being the grape of Uruguay (don't worry, if you don't normally like Tannat, you must try it from South America) is key, but the portfolio also includes Petit Verdot, Cabernet Franc, Pinot Noir, Merlot, Marselan, Sauvignon Blanc, Viognier, Albariño and Pinot Grigio.

The wines I tasted were wonderfully balanced with impressive structure and length. The 2015 Single Vineyard Petit Verdot spicy and potent with oodles of purple fruit and chocolaty mocha.
Similarly the 2015 Single Vineyard Tannat; supple, generous forest berries and earthiness, it grows more powerful from entry to finish, the tannins expectedly powerful, but ripe and managed.

Likewise, the Albariño 2015 is crunchy and bright, tree fruits, citrus and white flowers with a juicy finish. The Single Vineyard 2016 Albariño more compact and oily with incredible intensity; lanolin, honey, peaches, fine spice and tropical flowers with excellent persistence.

►The import agency is currently placing orders for Tannat, Merlot, Pinot Noir, Albariño, Marselan Reserve and Cabernet Franc Reserve.
Some wines are currently available at better private wine stores and small quantities remain of Sauvignon Blanc and Viognier at BCLDB.
The estimated prices: Single Vineyard Range will be priced between $42-$55; Reserve range $24-$30; Estate & blends $20-$25.

~Daenna Van Mulligen