Jan 31, 2013
Love Is In The Air & Wine Is In Your Glass...


But, if wine is in the air and your love is in your glass, you've probably tripped.



Ah, Valentine's Day...
That pink and red square on the calendar aims to brighten even the dullest February day.
It's rarely a day of spontaneity but of planning (possibly fretting) and execution (not to be confused with the legend of St. Valentine, the Roman Priest who was said to have been executed in the first century) to ensure the day is filled with romance.

So, I have put together some recommendations of wine and such to assist you on this day of love and lore.
If you're having none of those fluffy Valentine's Day trappings, then proceed to WineScores.ca, where I've put together some Anti-Valentine's Day Wines for those of you who turn up your nose to February 14th and all the pinkness, garish prose and and rose petals it entails.

What You'll Need For A Romantic Valentine's Evening At Home
Bubbles
If bubbles are romantic, Champagne is rapturous.
Veuve Clicquot's trademark Pantone yellow #137 is recognized world-wide. The house-style non-vintage (NV) is not a shy nor delicate Champagne but is fuller-bodied and toastier with impressive power yet racy acidity. More delicate and a little less pricey is the Louis de Sacy Brut Original, NV or Champagne Henriot Brut Soverain, NV.
My picks for bubbly on Valentine's Day will always be pink - of course. Try the stunningly shod and affordable Bottega 'Vino Dei Poeti' Rose from Italy (right) or the Louis Bouillot Cremant de Bourgogne from France.
But hey, we're on a budget this year, so check out this selection of #Bubbles - for every budget.
Aperitifs
Not into bubbles (blasphemy)? Then here are some romantic ideas for other options; some suggestions for aperitifs here
Wine for Romance & Seduction
Red Wine
What is romantic wine?
Isn't all wine romantic?
Well yeah, but some more than others. Personally I like Pinot Noir on Valentine's Day - it is the most feminine, delicate and silky red grape variety after all. But, the other red grape of Burgundy, Gamay is pretty darn romantic too. So here are my suggestions for romantic Gamay wines... Haywire Gamay Noir from British Columbia, Louis Jadot 'Combe Aux Jacques' Beaujolais Villages from France.
Pinot Noir: Louis Latour Domaine de Valmoissine, from France.
Other romantic reds: Tommasi 'Arele' Appassimento from Italy or the Colby Red blend from California with its heart label - it's a wine with a cause.

White Wine
Just because Valentine's Day is red and pink all over, don't think white isn't romantic. It certainly is.
I feel it's about weight and texture in a white wine (in regards to romance), a sensual weight and slick texture are what I'm looking for here.
Try the fantastic Monte Del Fra 'Ca Del Magro DOC from Italy, which is a perfect and seductive white, or the more readily available Louis Bernard Cotes du Rhone Blanc from France.

Cheese
Yes, cheese is romantic.
It can be creamy and salty, nutty or herbaceous, earthy or tangy and even sweet.
You can easily put together a nice cheese board to start (or finish) your meal.
For wine suggestions for different cheeses check out these perfect cheese pairings, or take a look at my my Cheese Primer Guide
Personally, I like to put all of my cheese in a pot and melt it. There really is nothing more romantic than chasing pieces of artisan sourdough around a molten pot of cheese with a teeny, tiny pitchfork while gazing into the eyes of your lover. I think you're required to use that teeny, tiny fork to prevent you from sticking too much cheese in your mouth at once. I'd just dunk whole slices in and hoover the entire contents down in about two minutes - but that's not very ladylike (I've been told) nor very romantic.
Because I do so love my cheese fondue, I keep an ongoing list of wines to pair with cheese fondue.
In case you do too... Wines for Cheese Fondue

cheese photo above right: igourmet.com

Chocolate
I'll take cheese over chocolate any day - but on Valentine's Day I'll take both, please.
Wine and chocolate, what works?
You have two options here. If you'd like to stick to table wine, a bold, fruit-forward and chocolaty red is perfect.
For sweeter options, I suggest: Rocky Creek Wild Blackberry from Vancouver Island or the Fresita Strawberry Sparkling Wine from Chile.

If you prefer a dry red wine to pair with chocolate, or just a red, which tastes like chocolate, try the Chocolate Box Shiraz from Rocland Estate in the Barossa Valley, Australia.

Cupcake Vineyards wines have a special treat for you and your sweetie this Valentine's Day. Not only are the wines approachable and jam-packed full of fruit, but they come with treats ths Valentine's Day - two heart shaped red chocolates filled with oozing ganache.
The chocolate will be offered on the Prosecco, the Red Velvet, the Cabernet Sauvignon and the Chardonnay.

Check out more Wines for Chocolate



Other Sweets & Treats
Sweet tarts like those from Tarts Bakery in Vancouver are a stunning finale.
The Butter Pecan tart (right) with Warre's 'Otima' 10 Year Old Tawny Port is heart-stopping good. The nutty, decadent and sweet Alvear Pedro Ximenez Solera 1927 would be equally as good (it's also delicious with sticky toffee pudding).
The Strawberry Cheesecake tart with Croft Pink Port, will make you melt.

The savoury (see photo below) Feta, Caramelized Onion and Sundried Tomato tart (great as a starter) is perfect with an Alsatian Gewurztraminer.
Try the Lucien Albrecht Reserve Gewurztraminer from France.
Or if you prefer red, a classic Pinot Noir will also pair wonderfully.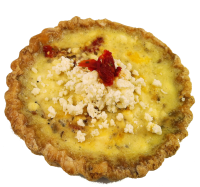 Give The Gift of Wine
Give the gift of wine.
If you're on the ball and order immediately, you can get free shipping on an entire case of the new (and first) release of Tinhorn Creek's Oldfield Series Cabernet Franc.
It's only available through the winery, until February 15th.
Read my review on Tinhorn Creek 'Oldfield Series' Cabernet Franc.
Find and order the wine here


See all of WineDiva's Valentine's Day wine selections here
Anti-Valentine's Day Wines here
Cheers to romance!
~Daenna

Ever wonder how WineDiva reviews wine? Find out here