Sep 15, 2016



There are some people blessed with such a dynamic personality;
folks from all walks of life are equally inspired and in awe of them.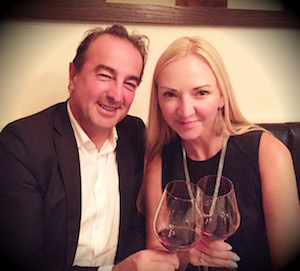 Sandro Bottega is one of those people, seemingly larger than life and catapulting full speed ahead, while the rest of us are running on fumes.

I first met Bottega in 2012 and followed up that meeting with an article in the April/May issue of Vines Magazine titled Poetry & Motion.

He is a man of both, that is a certainty.

While in town recently, we sat down to dinner.
He had come directly off a plane and was in the midst of a grueling
(albeit typical for him, I suspect) itinerary, from Japan
to the USA, Canada, back to the USA again, then on to Europe.

Without a break and right off a flight, he marched into La Quercia Restaurant -- a wide smile on his face.

Of course he remembered me… well, he's charming enough to pretend to anyway.
You cannot get insulted when people in the wine business don't remember where, when or if ever meeting you – we meet a lot of people, all over the world.
However, a memory jostled if often all it takes.

I digress.

Bottega is a native of Conegliano, Veneto, in northern Italy.

I highly suspect Prosecco, spiked with grappa, runs through his veins.

His grandfather was a winemaker, and his father, Aldo a master grappa maker who founded Distilleria Bottega in 1977. Sadly he passed on, only six years later and his 19-year-old son, Sandro, was left to carry on.

"I was a boy, who loved playing guitar and writing songs. All my friends were singers, writers and poets. We used to spend some nice time together, drinking a few glasses of wine or grappa. That is why, when I produced my first Prosecco, I called it Il Vino dei Poeti – the wine of the poet."
~Sandro Bottega
Undoubtedly, his father would be proud of the empire he has created.



The artist runs deep within Bottega - he's constantly designing new products, award winning packaging and unique ways of presenting his products -- best suited to individual markets. He loves beautiful things, shiny things, sparkly things.

Fingers flying over his iPad over dinner, he showed me dozens upon dozens of photos. Shots of new construction of one of his wineries, displays from his products in airports all over the world, and food porn (dishes he designed) from his wine bars on board a Viking cruise ship, in Abu Dhabi, in Bulgaria, and in Birmingham UK, among others.

Of particular interest to me was a stunning package for his gin, suitably in a copper wrapped package, paying homage to copper stills, used in spirit production.

Additionally, he's set to release another vodka, this one, cleverly housed in the most traditional of Italian packaging – I'll give you three guesses.


His portfolio of products (under Bottega SpA and Alexander Aqua di Vita) is diverse and deep. Just a glimpse: wines from Valpolicella and Montalcino; grappas; vodkas; liqueurs of lemon, licorice, latte macchiato flavour, melon, caramel and rose flavours; Proseccos and other spumante (bubbles) from Lombardy.

His exceedingly popular recent sparkling additions, Bottega Gold, Bottega Rose Gold and (just arriving in our market) Bottega White Gold are wrapped in-house in an intricate process resembling a shrink-wrap with heat application and polishing.
A new extrordinary DOC Prosecco called Stardust, features a bottle covered in crystals, each applied by hand - its price similar to some of the rarest Champagnes.
More on that soon....

Bottega never stops investigating, experimenting and expanding – I've no doubt that will ever change – thankfully.
The world needs more Sandro Bottegas, people who look at the world not as a challenge, but as an opportunity.

~Daenna Van Mulligen

►Reviews of Bottega spumante wines, here