Oct 04, 2017
Top Of The Drops: Adrianna Vineyard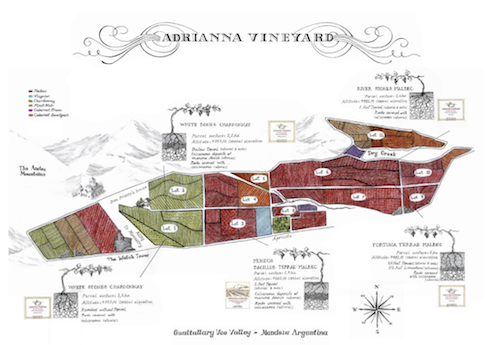 We don't need to be reminded of Argentina's sky-high vineyards, nor their adeptness with the varietal Malbec.
What we may need to be coached in, is how important site is.

If we're looking for a $15 bottle of wine, site is rarely referred to. But, if we are looking for complexity, for cellar-worthiness, and for top drops, price generally comes into play.
Special sites, parcels and vineyards are often in extreme places. They are typically smaller, harder to work, and are at even more risk of the elements.

Bodega Catena Zapata's Adrianna Vineyard is one of those exceptional sites.
Located at 4745 feet (1450m) above sea level in Gualtallary, Uco Valley, Mendoza, this 2.2 hectare has shallow alluvial topsoil with calcareous deposits of marine fossils.
It has 11 lots, and 200 parcels. Specific parcels go into five ridiculously complete and distinct wines.

Catena Zapata is easily recognized as Argentina's preeminent wine producer, and their wines are considered among the best in the world.
One could argue they put Argentine wine on the world's radar.
Immigrating from Italy in 1898, Nicola Catena planted Malbec in Mendoza in 1902. His son Domingo took the reigns next, then Domingo's son Nicolas, in the 1960s. It was Nicolas Catena Zapata who changed the course of history for Mendoza, and for Malbec. A visionary and scholar, Nicolas knew he could produce Argentine wines to rival the best wines in the world and he did.
His daughter, Dr. Laura Catena, Managing Director of Bodega Catena Zapata, is undoubtedly the face of the bodega now, and her own successes rival that of her father, Nicolas.


Adrianna Vineyard


Catena Zapata makes individual wines from specific parcels within Adrianna Vineyard, called vino de parcela.
Without doubt the following wines are among some of the most distinctive and superlative I've tasted.

River Stones: A small parcel, an ancient riverbed, completely covered in oval white stones. The stones absorb heat while providing optimal drainage. Cool nights chill the stones and the resulting wines are elegant, aromatic and rich.
White Stones: The topsoil here, like River Stones is covered in the remnants of gravel and oval white stones from an ancient riverbed.
White Bones: The soil here is layered with limestone deposits, which resemble crumbled bones. Limestone, like bones is rich in calcium, and is known for its affinity with white wines, in this case, Chardonnay,
Fortuna Terrae: Translation, luck of the land, this parcel has deep loamy soils and provide the finished wines with great acidity and delicate floral nuances.
Mundus Bacillus Terrae: A 1.4 hectare parcel with millions of years old limestone and marine deposits. The well-drained soils are rich in a microorganism called rhizobacteria, which help vine roots withstand stress and absorb nutrients.




Adrianna Vineyard "White Bones" 2014 Chardonnay: Surprisingly unique notes of eucalyptus and menthol with citrus fruits, vanilla and mineral. It is delicious, alluring and seductive in texture, with a slightly toasty finish. Very individual and sophisticated.
$110 (price will vary) +333260

Adriana vineyard "White Stones" 2014 Chardonnay: Like the White Bones, this Chardonnay offers bay and menthol and mineral/flinty notes with creamy/leesy tones. A bit more angular than White Bones, but precise and racy. Will benefit from time.
$110 (price will vary) +811117

Adrianna Vineyard 'River Stones' Malbec, 2013: Expressive high-toned berry fruit which is equally pristine and focused. The concentration and precision is noteworthy. Powerful; it is both muscular and yet feminine at the same time. So elegant and balanced. An amazing wine, epiphany worthy and simply outstanding.
$155 (price will vary) +160215

Adrianna Vineyard 'Fortuna Terrae' Malbec, 2013: Wild bramble berry fruit, savoury spice and bay leaf with botanicals. Still tightly wound and chewy, but with the undeniable freshness and muscular structure for longevity.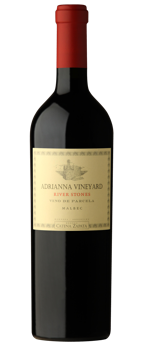 $135 (price will vary) +33561

Andrianna Vineyard 'Mundus Bacillus Terrae' Malbec, 2013: intense coffee and bittersweet carob with dried herbs and leather and peppery spice tones. Very powerful; undeniably sublime in its structure and intensity.
$350 (price will vary) +886374


Importer: Trialto




~Daenna Van Mulligen