Jul 14, 2015
Wines of Influence

Along the road between coastal Valencia and Madrid is the appellation or DO Manchuela.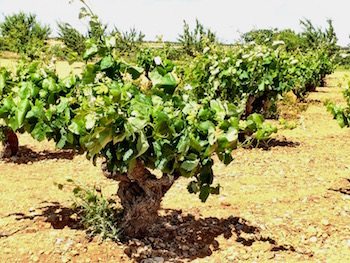 Manchuela sits roughly central and slightly south in eastern Spain. It is part of the larger Castile-La Mancha region and not far from the city of Albacete.

Thus far I had traveled from Madrid, south to Jerez, east to Malaga and the ancient city of Ronda then northeast some more into Castile-La Mancha – all to experience the vineyards of Grandes Pagos de Espana.
These (currently 30) estates and their special vineyards (pagos) are scattered across Spain.

On this visit, I was only seeing six.

It was my first time in Castile-La Mancha.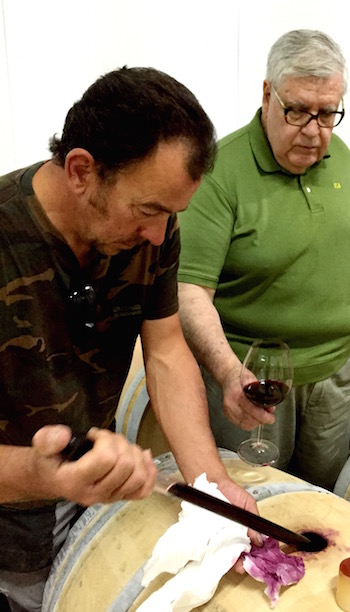 That morning and early afternoon I spent with winemaker Juan Garcia at Manuel Manzaneque in their own extremely remote DO, Finca Elez.
Later on that day, I wandered through some very old bush vine vineyards with journalist and owner of Finca Sandoval, Victor de la Serna.



(Above: 76-year-old Monastrell vine; Right: Victor de la Serna holds a glass for a barrel sample)



De la Serna is an original member or Grandes Pagos de Espana and widely acknowledged as one of Spain's most knowledgeable wine personalities. Finca Sandoval is also the smallest producing member of the GPE at 40,000 to 50,000 bottles per year.

The actual estate is rests in Ledaña, in the province of Cuenca, which is within the Manchuela DO. The certified organic estate was established in 1998 when de la Serna planted Syrah and Touriga Nacional with the help of his enologist, Rafael Orozco.

Over time they added (rented and purchased) vineyards of old vine Monastrell, Garnacha Tinta, Bobal (native to this region), Garnacha Tintorera and Moravia Agria (a rare red variety).

The vineyards are scattered, not contiguous, and total about 27 hectares, 15 of those are rented. Located on Spain's central plateau, they sit at impressive heights of between 760 and 1066 meters above sea level.
According to de la Serna, Grandes Pagos de Espana considers the rented vineyards to be part of Finca Sandoval's estate, if he maintains control of them.

De La Serna's interest in this region is due to his wife's association with it. Her father was a pharmacist who owned 600 hectares in this area – some of the current estate was purchased from her family.
While his winery isn't set up for visitors (it's an old farm equipment shed), it is entirely functional.

Wines

Finca Sandoval makes seven red wines, all blends. All are vinified with native yeasts. The wines are unfiltered and unfined with minimal use of sulpher dioxide.

Finca Sandoval 'Salia' 2011
This blend of Alicante Bouschet, Syrah, Grenache and Moravia Agria is very rustic and earthy with some wild weed, spice and garrigue alongside saddle leather.
It is equally rustic on the palate, similar leather and spice but with lifted juicy purple and red fruit and cocoa on the finish.

Finca Sandoval 'Signo' Garnacha 2010 (with about 10% Garnacha Tintorera)
Right up my alley. The Signo offers pretty floral and juicy berries - notably raspberry and blueberry. Similarly on the palate it is very feminine and juicy with impressive length.

Finca Sandoval 'Signo' Bobal 2011 (with about 10% Syrah)
A bit reductive - dense with wild purple fruit, dusty earth and cocoa. A bit chewy and rustic with some firm but sweet tannins – very good intensity.

Finca Sandoval 'Cuvee TNS' 2009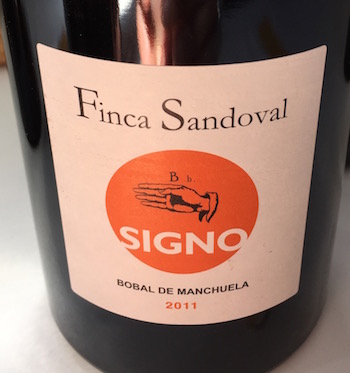 A blend of Touringa Nacional and Syrah that is planted in limestone soils. The nose leads with beautiful floral notes followed by pepper and sweet summer berries. Sweet and supple in the mouth with expressive fruit and hints of floral flavours. Stylish and juicy.

Finca Sandoval - de la Serna calls this his grand vin.
2013
A cool vintage, the is mostly Syrah with Monastrell and Bobal. It is very savoury. On the nose - matchstick, saddle leather, bacon fat, smoked meats. The palate does a u-turn, it is juicy purple fruit and cocoa with salted licorice.
2010
Also a cooler year the 2010 is the same blend as the Finca Sandoval 2013.
It has a great Syrah mouthfeel. The nose is meaty and savoury again, with bacon fat and chocolate aromas. In the mouth is supple and chocolaty with a meaty and white pepper flavoured finish.
2009 The warm vintage shows here. It is chocolaty and liqueur-like, fruitcake and raisins on the nose and palate.

Finca Sandoval 'La Rosa' 2007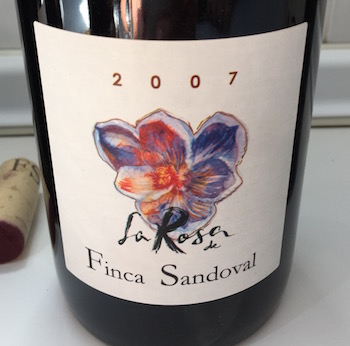 Made with 85% Syrah and the remainder is Alicante Bouschet. Succulent, extremely ripe fruit, meaty and spicy. Supple and chocolaty good complexity and length. Fine but firm chocolaty tannins. Very select cuvee made only in the best vintages and so far, only made once. 5000 bottles.

Finca Sandoval 'Cuvee Cecilia' 2013
This late harvest is 70% Syrah (the grapes were left to raisin on the vine and then harvested late) and the remainder is Muscat of Alexandria.
It was a stop ferment with the addition of neutral spirit then sweet Muscat must was added. Entirely unique it has an intriguing nose of pepper with blueberry and peach. The palate is a lovely compote of lively berries with honeyed and floral tones. Delicious - weighty and sweet but with fantastic acidity to keep it fresh.
120 grams per liter of residual sugar.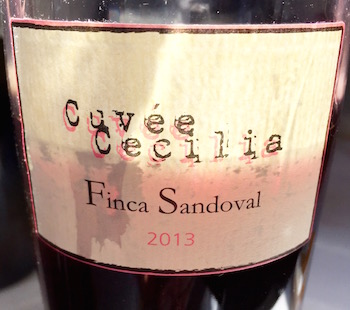 Victor de la Serna on Grandes Pagos de Espana

According to de la Serna, Grandes Pagos de Espana is a private group (I refer to it as an independent association in my article here) of small producers making estate wines.
"The great estates of Spain."

Valdespino (owned by the large Groupo Estevez) in Jerez is an exception but only a few, very specific wines they make are considered Grandes Pagos.

So, in essence, GPE are terroir-driven producers who control their own estate vineyards. While the Vino de Pago designation is decided upon by the Spanish parliment, the designation (membership) into Grandes Pagos is decided upon by its members. An estate can be both Vino de Pago and a member of Grandes Pagos. (Read more here.)

De la Serna noted that Spanish people were used to buying a brand (large production wineries and cooperatives making cheap bulk wine) as opposed to buying from small estate producers. This was the catalyst for birth of the GPE association - to bring attention to special small estates – they are stronger together.

The whole is greater than the sum of the parts.

"We defend the term pago, it means estate," he said. "We have a procedures [in place]. We taste their wine and we visit their vineyards and their viticultural methods," referring to member estates.

In order to be a member you must be voted in. It is a closed vote and they must have 75 percent of GPE members in agreement for approval.

How many members does the GPE ultimately desire? That depends on who you ask - personally, I received mixed messages. Some said fewer than they have currently, others felt more.

Grandes Pagos de Espana both seeks out and accepts applicants, according to de la Serna.
"I don't have a quota but I would like all the best [estates] to be part of it - but some of the top ones [estates] will be hard to get."

He suggested that the association is looking at a couple of wineries including an addition in the Canary Islands.

"We need to make our message clear."
He believes the goal is to get great wines recognized by people who only recognize those large brands. Both within and outside of Spain.

While de la Serna supports GPE and enjoys spending time and corresponding with like-minded people, he does not use his membership to promote Finca Sandoval. He says he fosters the idea of the GPE and contributes to it but does not use it as a sales tool. Yet, he does believe in using the GPE logo. "In principle we should have the Grandes Pagos logo - it should be compulsory on the back label as not all have it."

~Daenna Van Mulligen


Grandes Pagos de Espana Estates visited on this trip:
►Valdespino - Inefficient, Crazy and Romantic: Sherry
►Finca Moncloa - Tradition + Creation
►Cortijo Los Aguilares - The Place Where Eagles Live
►Manuel Manzaneque - Risk & Reward
►Finca Sandoval - Wines of Influence
►Bodega Mustiguillo - The Prophet of Bobal

►Learn about Grandes Pagos de Espana, here