Nov 15, 2012
Vina Koyle - Colchagua, Chile


Recently, I sat down for lunch with winemaker Cristóbal Undurraga from Vina Koyle in Chile to discuss his family owned wineryand vineyards in Los Lingues in the Alto Colchagua and to taste some of his fantastic biodynamic wines.

You probably recognize the name Undurraga, from bottles of Chilean wine and you may have even tasted some. In fact, the Undurraga family sold that winery in 2006 and began again under Vina Koyle in 2007, focusing on premium wines made under the biodynamic philosophy.



Biodynamic agriculture is a completely separate philosophy that goes beyond organic agriculture. I am no specialist in biodynamic agriculture, but I love the workings of it.

It involves some simple (and not so simple) methods of enriching the soil to benefit the plant, in non-invasive, chemical -free ways by using plants, cow pat, teas, moon and cosmic cycles to give balance to all living things.

The man who developed these methods (and religion of sorts) was Dr. Rudolph Steiner, a German scientist and philosopher who believed a farm should be self-sustaining, self-contained and self-reliant. It promotes a

strong ethical link to the guardianship of the land.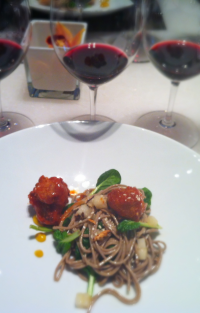 Having worked around the world - in California, in Australia at Rosemount, in Bordeaux at Chateau Margaux and in Chile with Aurelio Montes, Undurraga has seen almost every aspect of winemaking around the world. Downsizing from their previous winery, which produced one million cases per year to a medium-sized winery (currently around 20,000 cases) with a different focus was exactly what Undurraga, his father and two brothers wanted.
(right: Vina Koyle Sauvignon Blanc perfect with sesame soba noodles and spicy Korean fried cauliflower)
The following wines are now available in Canada.
Vina Koyle Costa Colchagua Sauvignon Blanc, 2011
- A pristine and snappy version with verdant gooseberry and capsicum, citrus and grass clippings. The palate is tangy and clean - a beautiful expression of cooler climate Sauvignon Blanc.$29 BC
Vina Koyle Cabernet Sauvignon Reserva, 2009 - Fresh notes of wild sweet berries, violets and sweet spice. The palate follows suit, the juicy fruit shines. It is youthful but not lacking direction or structure and trails sweet chocolate tannins. $18 BC, $15 AB (approx)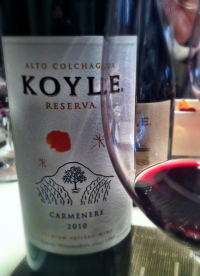 Vina Koyle Carmenere Reserva, 2010 - Carmenere is Chile's variety and it is getting better and better as the understanding of the variety and what it needs to really stand out, grows. It has a nice depth of colour and aromas of raspberry, cherry, black raspberry and crushed violets. The palate is supple, ripe and leans toward a feminine style. Great acidity to balance, juicy berry flavours and a finish with super-fine tannins, which trails spiced cocoa. $18 BC, $15 AB (approx)

Vina Koyle Syrah Reserva, 2010 - A unique, fantastic style of Syrah, which exhibits briary fruits, coco and spice, licorice and wild herbs similar to garrigue from Ssouthern France. It has a fine character, is quite chic and shows typical gunpowder notes from this region. Fresh and fine boned. $18 BC, $15 AB (approx)

Vina Koyle Cabernet Sauvignon Royale, 2008 - Expect impressive intensity in this top tier Koyle red. Cassis and spice aromas lead to a powerful wine that is also pure finesse. The finish is powerful, it has some real grip and trails graphite and cassis. $28 BC, $20+AB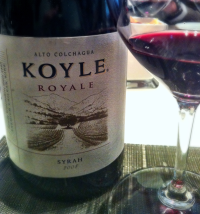 Vina Koyle Syrah Royale, 2008 - A step up from the Reserva Syrah but showcasing the same elegance and feminine qualities. Sweet and ripe with savoury undertones spiked with cocoa and mineral. The texture is silky and the acidity to balance is outstanding. $28 BC, $20+ AB




(right: Vina Koyle Syrah, a perfect pairing with mushroom pasta)
~
Daenna Van Mulligen