Jun 10, 2015
Tradition + Creation

Finca Moncloa (estate) is located about 30 minutes from Jerez, in Arcos de la Frontera.
They are a recent addition to the Grandes Pagos de Espana.

It was my second visit to this estate in just over a year. Besides the remote location, I recalled the wind at this finca. It didn't disappoint, half-way through my visit it roared through.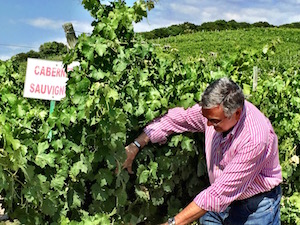 The finca is owned by the family Gonzalez-Byass who in the 1970s bought land nearby and started a nursery - experimenting with international and local varieties of vines.

Winemaker Jose Manuel Pinedo

(photos right)

has been with the Gonzalez-Byass for 35 years. The wines are all made at a Gonzalez-Byass winery in Jerez until they break ground on a new hilltop bodega at Moncloa, which is estimated to cost four million Euros.
That winery is slated for a few years from now as the sales of Moncloa are starting gain media attention and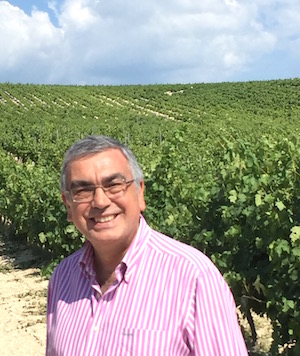 become recognized internationally.

In the 1990s they began to focus their selection on Cabernet, Merlot and Shiraz. These are reds they felt would suffer less from heat and be more responsive to dry-irrigation – although Finca Moncloa does employ drip irrigation in summer's heat. The region is so hot, harvest begins in August.

A trial vintage, in 1999, they produced seven casks of wine. A sample was tasted by a Master of Wine (MW) who was surprised by the wine's quality. It was then that Gonzalez-Byass decided to make wine for bottling and production. The following year they purchased the estate and in 2001 began planting varieties they felt had achieved the greatest success within the region while expressing its terroir. They currently have nearly 43 hectares planted to vine and have added some Petit Verdot and Cabernet Franc to the mix.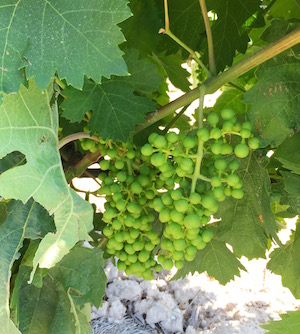 What is even more exciting is the local variety Tintilla de Rota (AKA Tinta Rota), which had virtually disappeared from the area. They found documentation from the 1700s referencing this rustic red variety, which is made into an intense and sweet dessert wine. It used to be popular in Cadiz but it's a variety demanding a lot of time and effort - therefor expense. When the whites wines of Jerez (Sherry) were more in fashion, the Tinta Rota vines were forgotten. Moncloa has 3 hectares planted of this old variety, most of which goes into making their sweet wine. The remainder is blended into the key wine, Finca Moncloa.

Pinedo says it a variety closely resembling Graciano (another old Spanish variety seen mainly in Rioja) with its deep colour and intense aromatic character.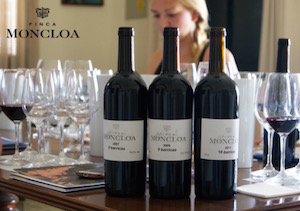 The area has both Mediterranean and Atlantic influences. The rainfall is slightly higher than nearby Jerez, but with similar soils. The wind here can be fierce, both levante (warm easterly winds from inland) and pointiente (moist winds from the west and Atlantic). The higher elevation (for the region) at 135 meters, allows for better day to night temperature swings.

Wines: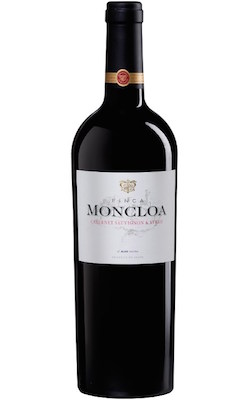 ***Finca Moncloa 2007: 49% Cabernet Sauvignon, 49% Shiraz and 2% Tinta Rota. Expect dusty plums and wild berries on the nose, some floral and purple fruits as well as roasted bell peppers and tobacco notes.
Mouth: very complex and minty and bell peppers layers, nice spice and cocoa with tobacco, Cabernet Sauvignon dominates. Very Bordeaux-like with purple berries and floral notes on the finish.
Although the Petit Verdot was planted in 2005 it was not until 2009 it was added into the blend. Tinta Rota since 2005 (first commercial vintage) has been made.
2007 was a very dry year.

**Finca Moncloa 2011: Made from 47% Cabernet Sauvignon, 45% Syrah and the rest Petit Verdot, Tinta Rota and Merlot. Jumping from the 2007, the vines are older and new varieties have been added to the blend.
More jammy and ripe fruits than the 2007 - a more open nose with purple and wild berry notes. Great acidity - a slight prickle on the tongue and grainy tannins. The Petit Verdot really shows up here with floral and purple fruits notes. Slightly bitter cocoa flavoured finish.

**Finca Moncloa 2012: Made from 49% Syrah, 1% Cabernet Sauvignon, Tintilla de Rota, 4% and the rest Merlot and Petit Verdot.
Very modern in style with aromas of vanilla, licorice, cherry kirsch, purple berries of forest fruit - youthful and needs time to meld a bit. An interesting juxtaposition of dried sweet fruit and youthful palate. Best to drink 4-5 years after vintage – based on Pinedo's experience. Almost candied, pristine fruit – very expressive. Firm but ripe tannins. Very good but young. Time will reward.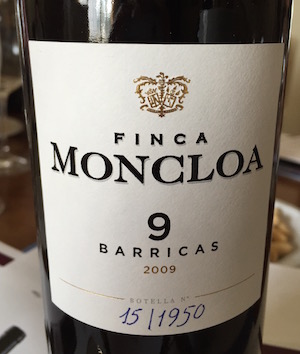 **Finca Moncloa 'Coleccion Barricas' 2007: There were only 6 barrels seected to make this wine. It was aged in all new French and US oak. This first version of Coleccion Barricas was a blend of nearly 50/50 Cabernet Sauvignon and Shiraz with just a hint of Tinta Rota. Here the aromas are more stewered and dried fruits, sweet spices, pipe tobacco. Chocolaty and ripe, very good structure and power. Cabernet shows as the dominant in the form of bell pepper. It has a chocolaty, dry finish.

***Finca Moncloa 'Coleccion Bariccas' 2009: Is made from nine select barrels (five US oak, four French). Made from Cabernet Sauvignon 52%, Syrah 28%, Petit Verdot 13%, Tinta Rota makes up the rest.
Fresh with expressive fruit, which is both high-toned and youthful. Some of the Cabernet (minty, bell-peppery) notes give lift. Quite pristine fruit, focused and quite chic. Juicy but with drying ripe tannins

**Finca Moncloa 'Coleccion Bariccas' 2011:
Cabernet 43.5%, Syrah 43.5%, the remainder is Tinta Rota. This vintage it was a selction of 10 barrels (six US, 4 French) aged for more than 12 months. It offers fresh wild black berries, vanilla, floral and purple berries, sweet spices and loads of chocolate.

The characteristics of Tinta Rota are very distinct. It is known to have more body and structure but aromas are complex and layered. Expect fesh and expressive aromas of spice, vanilla, loads of berry, cherry wood and mocha. The palate is more austere, less fruit more tannic grip. It (along with Petit Verdot) is thelast to ripen for the season.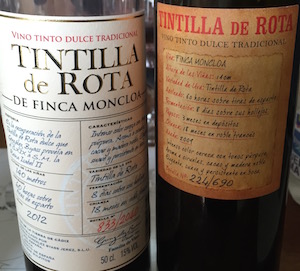 ***Finca Moncloa Tintilla de Rota 2009:
This stunning sweet wine spent 18 months in new French oak. It has between 300-320 g/L residual sugar.
The grapes are dried on grass mats for two days on average, but sometimes it's so hot they don't need to leave them that long. They were dried until they reached just over 20 baume (similarly to degrees brix this is a measurement of sugar or ripeness in grapes).
Rich intense confiture of berry aromas and violets, lilacs. Potent and seductive, almost chocolaty it's so rich and sweet, exotic spice, licorice. The smooth texture is velvety and ripe; it is sweet but has excellent structure and balance. The variety expresses itself well; it is grapey and raisin-y on the palate.

I was also able to taste the Tintilla de Rota 2011 and 2012. The 2011, which was much more closed (than the older 2009) had a slightly dusty/earthy nose but did offer a great expression of the variety. The palate is slightly rustic and needs time to round out.
The 2012 was even more closed than 2011, which supports the idea that the variety does benefit from age. It has a very youthful bright purple colour with much more confiture and toffee on the nose followed up by youthful tannins on the palate. Still a bit disjointed but I suspect in a few years it will be fantastic as the 2009 is now.

*Good
**Excellent
***Outstanding

~Daenna Van Mulligen

Grandes Pagos de Espana estates visited on this trip:
►Valdespino - Inefficient, Crazy and Romantic: Sherry
►Finca Moncloa - Tradition + Creation
►Cortijo Los Aguilares - The Place Where Eagles Live
►Manuel Manzaneque - Risk & Reward
►Finca Sandoval - Wines of Influence
►Bodega Mustiguillo - The Prophet of Bobal

Get to know Grandes Pagos de Espana