Feb 26, 2013
Tasting Tenuta Argentiera, Max Ferdinand Richter & Mastroberardino
One of the pleasures of writing about wine is being able to taste some of the most rare and treasured bottles made from the most unique and venerable regions in the world.
But what is the use to the reader, if those wines cannot be shared?
Anyone with a wine cellar has probably come to realize that good wine, must be shared.
Where is the pleasure in experiencing greatness alone?

Here are my notes on the wines of three outstanding producers. I recently tasted these wines in sit-down tastings. Each of these producers have wines available or soon to be.
Keep in mind, when wineries set up a tasting, back vintages are generally tasted alongside newer vintages. Although the older vintages are not always available, it gives one a sense of how the older wines have developed and perhaps, how the younger ones will age.
Tenuta Argentiera

Although I visited Bolgheri (home of the Super Tuscans) several years back, I was not familiar with Tenuta Argentiera.
Bolgheri is still considered a young region, especially compared to its famous neighbor, Chianti.
Part of a seaside region known as Maremma (Mare refers to the sea), Bolgheri lies about 100km south-west of Florence. Here, some of the most sought after and costly wines in the world are made.
Unlike the rest of Italy, the varieties in Bolgheri are traditionally French - Cabernet Sauvignon, Merlot and Cabernet Franc. While Sangiovese is still planted in this Tuscan region, there is very little. In 2011 Cabernet Franc became the region's third most important variety. It was in 1994 that the region obtained its Denominazione di origine controllata (DOC) status and since then there have been great strides taken to protect that revered Bolgheri DOC status and its borders. Before approval of additional vineyards to the DOC, there must be several years of proof that the wines made made from those vineyards, which seek to join, are of the highest standards.
Tasting Notes
Tenuta Argentiera is a young producer (their first vintage was 2003) yet they are the fifth largest in Bolgheri. The top five (which includes Ornellaia and Gaja), make up 50% of the production from this region of 48 wineries.
Of the estate's 500 hectares 75 are planted on the rich limestone, clay and stony calcareous soils.
Tenuta Argentiera Poggio ai Ginepri, 2009 - This juicy entry level red is one-half Cabernet Sauvignon blended with Syrah and Merlot. Hi-toned fruit with floral and spice notes lead to a fresh palate of red and purple berries. Smooth and approachable with Szechuan peppercorn flavours trailing on the finish.
$30+ private wine stores in BC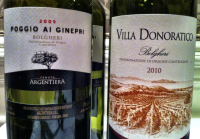 Tenuta Argentiera Villa Donoratico, 2010 - A baby Super Tuscan made from Cabernet Sauvignon and Franc, Merlot and Petit Verdot. Here you can expect red cherry and orange peel, exotic spice and sun-baked earth with bittersweet chocolate lingering on the palate.
$37+ BC private wine stores

Tenuta Argentiera Bolgheri Superiore, 2008 - Dominated by Cabernet Sauvignon with 40% Merlot and 5% Cabernet Franc. Very attractive nose with wild briary berries and plenty of exotic spices with mint and vanilla. Generous fruit, a supple entry but still youthful on the palate. Great acidity, ripe smooth tannins but still tightly wound. A stunning wine from a very good vintage.
$70+ BC private stores/$70 LCBO/$65 SAQ
Tenuta Argentiera Bolgheri Superiore, 2009 - Cabernet Sauvignon with Merlot and 10% Cabernet Franc make for a potent nose. Expect sweet, ripe wild berry and cherry notes, licorice and saline rounded out with mint. Sun-ripened berries fruit on the palate, a little leaner than the 2008, with a long toasted carob finish with and ripe tannin on the finish.
Coming soon - prices above.
---
Max Ferdinand Richter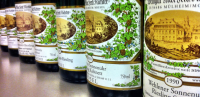 I have great love and respect for German Riesling.
Especially those from the Mosel.
It's a stunning part of the world, the dizzyingly steep vineyards drive toward the sky, alongside the twisting Mosel River. Visiting this region, you have a pure sense of stepping back in history.
More on the Mosel here.
And history is exactly what Max Ferdinand Richter is all about.
The estate has been in the Richter family for over 300 years.
They produce Riesling from 40 hectares from some of the region's best shared vineyards, including: Graacher Himmelreich, Wehlener Sonnenuhr,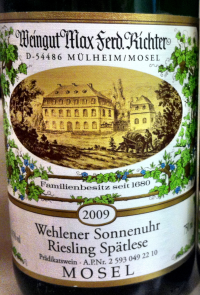 Brauneberger Juffer - and, from their own vineyards: Veldenzer Elisenberg and Mulheimer Helenenkloster.
While I love Riesling, period, there is something very special about the ancient Mosel vineyards and the slate soils, which produce unique characteristics in these wines.
Tasting Notes

Max Ferdinand Richter Estate Riesling, 2011- Great value for a lively and nicely balanced Riesling. Notes of of green apple peel, citrus blossoms and mineral lead to an off-dry palate somewhat tamed by bright acidity. $25+
Max Ferdinand Richter Wehlener Sonnenuhr Riesling Kabinett QmP 2010 - Ripe apricot and peachy notes, honey, smoke and slate. The palate is rich and round - almost tropical. The same mineral and stone fruit fruits appear in the mouth with hints of chamomile tea on the finish. Lovely acidity to balance.
Another great value at $30+

Max Ferdinand Richter Wehlener Sonnenuhr Riesling Spatlese QmP 2010 - On the nose - ripe tropical notes, honey and floral with slate undertones. Delicious weight, the sweetness here is wonderfully tamed with acidity. Slate flavours linger - fantastic persistence. One for the cellar at $40+
Just for fun...
Max Ferdinand Richter Himmelreich Auslese QmP 1976 - Aromas of lemondrops, petrol and dried chamomile flowers with interesting notes of lemon balm and berries. Fantastic complexity, still so bright and lively with citrus peel and petrol and an expansive finish.

Confused over German wine labels? Find out more here
---
Mastroberardino - Iconic Wines of Campania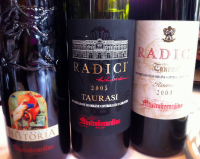 Sadly, there seems to be a dearth of information on the great wines and wineries of southern Italy.
I first came across the wines of Mastroberardino when I was judging wines during VinItaly several years ago. It was just a brief introduction and I've not tasted them since.
The historic Mastroberardino estate was established in 1878 and has remained in the family. They produce wines only from traditional regional varieties such as: Aglianico, Greco di Tufo, Fiano di Avellino and Piedirosso. While the white varieties, Greco di Tufo and Fiano di Avellino may be more familiar to those who frequent Italian restaurants, Aglianico is a highly under appreciated and unknown red variety.

Who better that to taste with, than the winery from Campania that has long been synonymous with this variety and ensured its resurgence? Hopefully we'll see more as knowledge of this southern region and its signature grapes, grows.

Taurasi wines are made in a designated region within the province of Avellino and the name is derived from the nearby village of Taurasi. Here, wines need to be made of 85% Aglianico to wear the stamp of DOCG. The region first became a Denominazione di Origine Controllata (DOC) in 1970 and finally a Denominazione di Origine Controllata e Garantita (DOCG) in 1993.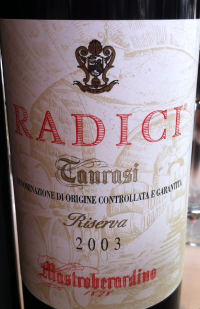 These wines are considered to be on par for structure, age-ablilty and complexity with the great DOCG wines of Chianti and Barolo.
Tasting Notes
Mastroberardino Radici Taurasi Aglianico, 2005 - A great introduction to a 100% Aglianico. This wine was aged a minimum of 12-18 months in French and Slavonian oak then bottled aged an additional year. The nose is cherry and strawberry, exotic spices and crushed flowers. It has a silky weight with some added texture from fine tannin. Excellent depth and length, rustic yet refined. It has a wonderful masculine character but is softened by feminine character as well.
$60+

Mastroberardino Radici Taurasi Aglianico Riserva DOCG, 2003 - An unbelievable price for a cellar-worthy wine of this quality. The Riserva is aged a year longer than the regular Radici (above) - more than two years in French and Slavonian oak barrels with an additional 18+ months in bottle. Made from 100% Aglianico it offers stewed cherries and fresh berry notes, cedar, crushed flower petals and exotic spices. The palate is silky with sweet vibrant berry flavours and is intricately woven. Wonderfully persistent and chic.
$70+

Mastroberardino Naturalis Historia Taurasi Riserva IGT, 2000 - One of the most memorable wines I have recently tasted and in one of the most beautiful bottles. Made from Aglianico with 15% Piedirosso (from 2003 onward this wine is 100% Aglianico and holds the DOCG stamp) it offers a fragrant crochet of cherry, licorice, rose petals and chocolate notes. The palate is beguiling; a supple, silky and delightfully sweet - a mouthful of poetry. Finely woven with incredible persistence.
The 2004 is currently available at $90+


~Daenna Van Mulligen