May 05, 2017


Every so often, I find myself in a vineyard I've dreamed of visiting.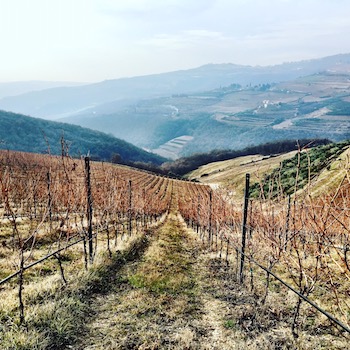 While photos can be a great way to express a slope or an aspect, they can never a compare to standing at the actual site; touching dirt, seeing the vines, the trellises, and the entire environment.

Tedeschi's DOC Maternigo Vineyard

(right)

in Mezzane Valley, in Valpolicella, is one of those.

Purchased in 2006, the site is spread across 31-hectares of undulating vines, and 53-hectares of forest.
While the Maternigo is only one of their vineyards, it is a decidedly special one.
The soils are rocky with clay, limestone and good mineral fertility. The vineyard rests between 270-370m above sea level facing north-south-west in aspect.
The Tedeschi family planted this site themselves, part pergola (traditional overhead method, good for protecting the grapes from intense sun and heat) and part guyot (horizontally trained rows, considered best for quality).
It is comprised of the region's native varieties, Corvina, Corvinone, Rondinella and Oseleta.

The steep slopes in the vineyard force low density crops,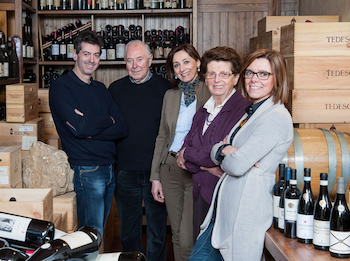 which translates into increased intensity in the bunches, and final wines.
Additionally, planting more vines per hectare results in more sugar in the wine, which is not what Riccardo Tedeschi is looking for —he desires more concentration, not sugar.
The site is nearly at vine capacity, although Tedeschi says he can possibly plant one more hectare.

The narrow roads around the vineyard, weave and ascend sharply. The day I arrived in late January, there were still pockets of ice on the ground, attributed to the cold snap at the time, and the high altitude of the vineyard.
Irrigation is allowed here, although it is commonly pricey to establish. Tedeschi is not prepared to risk a vintage, so drip irrigation lines are a common sight.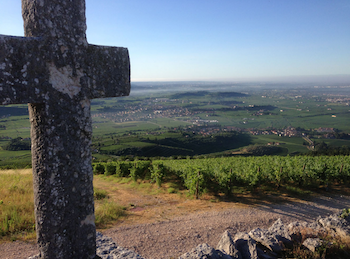 The Tedeschi family

(above, right)

have been in the wine business for nearly 400 years and they maintain a tradition of producing wines with a sense of place.
While the business has evolved over past few centuries, their commitment to Valpolicella, the style it offers, and the future of the family remains steadfast. Tedeschi also understands his wines are made in the vineyard, not in the winery.
That doesn't mean technology is lacking, in fact the Tedeschis have invested significantly in studying every aspect and soil type in the Maternigo Vineyard.
They have zoned seven distinct areas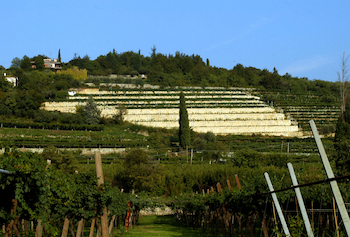 (aspect, soils types, organic matter et cetera) the vineyard, ensuring nothing is left to chance and each variety is planted precisely where it should be.

Certainly there is a elegance and expressiveness about these wines, which is both distinct and consummate.
They continue to be among my top picks in the Valpolicella region.



(Photos right: Tedeschi family/La Fabriseria Vineyard/Monte Olmi Vineyard, courtesy of Tedeschi)



Wines
Lucchine Valpolicella Classico 2015
Made from Corvina, Corvinone, Rondinella and 10% other indigenous varieties, here is a great version of your basic Valpolicella, which is made to drink young and with a slight chill.
Attractive raspberry tea and red cherry aromas are layered with fine spice and dried roses. The palate is juicy and bouncy. It offers fine sweet tannins, and while basic is not overly simplistic, but rather exceedingly charming.

Nicalo Valpolicella Superiore, 2015
Made from partially dried grapes, Corvina, Corvinone, Rondinella and 10% other indigenous varieties, this wine is wonderfully spicy and fresh with tobacco and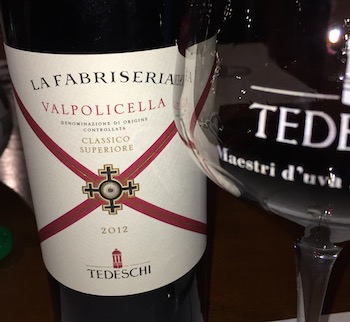 tealeaf, cracked white pepper and dusty red plum aromas.
Lovely vibrancy and lift; the palate is spicy and earthy with dry fine tannins. Overall good structure and great acid balance. (avail in Quebec).

San Rocco Ripasso Superiore 2015
Made from Corvina, Corvinone and Rondinella with 10% other indigenous varieties, this wine is simultaneously chocolaty and earthy with lively and sweet cherry aromas. Pure expressive fruit and mineral flavours with textural tannins. It is bright but firm with an attractively round palate.

Maternigo Valpolicella Superiore 2013
Sweet cherry lead the nose and is followed by meaty and savoury notes along with exotic spice, prune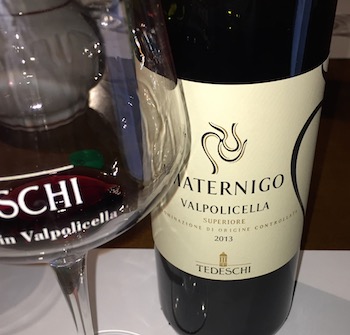 and dried cherry. On the palate, expect dried herbal flavours and textural tannins. Fresh but concentrated, serious and focused from start to finish. Consistent and powerful but also sleek and silky with a lengthy chocolaty and espresso finish.

La Fabriseria Valpolicella Classico Superiore, 2012
Made from Corvina, Corvinone, Rondinella and Oseleta grown on rocky but lighter weight soils, which provides more concentration and more structure.
Expect ethereal dried blueberry, Bing cherry and violets with grounding undertones of dark mocha.
This wine is so beautiful—fruity and silky and powerful in its own distinctly elegant way. Silky and decadent
and delicious. A very complete wine, sinfully close to perfection.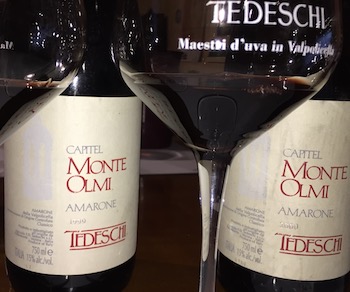 Amarone della Valpolicella, 2013
Corvina, Corvinone, Rondinella and 10% other indigenous varieties.
Beautiful dried cherries and blueberry, tealeaf, faint dried herbs and fine spices with a bouquet of roses and violets. The palate mirrors the nose; lovely sweet glycerol entry and textural but silky sweet tannins. Beautiful balance and brightness with a fine chocolaty finish.

Amarone della Valpolicella Capitel Monte Olmi Classico Riserva 2011
Corvina, Corvinone, Rondinella and 10% other indigenous varieties, which are grown on red clay and limestone soils.
Capitel is a symbol placed in the vineyard which is to protect something – in this situation, the crop. Monti Olmi is considered Tedeschi's clos or cru vineyard.
Intense blueberry tea, cherry and tobacco and sweet mocha. OMG, again on the palate, rich blueberry tea, cherries, vanilla, unique dusty notes and mixed pepper. It boasts a great weight and lovely texture. Seductive, yet complete. Voluminous yet bouncy. Outstanding.

Amarone della Valpolicella Capitel Monte Olmi Classico Riserva 2010
This wine is more youthful on palate than the nose, it is still mightily tight and vibrantly youthful. The nose offers desiccated ripe aromas—the palate is juicier than the nose. The tannins are tight here, requiring more ageing. Very intense, powerful and chocolaty. I have a distinct preference for the 2011.

Capitel Monte Olmi Amarone, 2000
A youthful and well-woven nose, sweet and seductive fruit, showing some oxidation from age alongside coffee and tea, mocha and fine spices. However, the palate is very fresh and chocolaty with firm but ripe tannins.

Capitel Monte Olmi Amarone, 1999
Here, cedary and tobbaco aromas layer with dried flowers and dried fruit. The palate is intense and potent with prune and cherry flavours A bit boozy but still so fresh and wonderfully delicious.

~Daenna Van Mulligen