Sep 16, 2016



There is little that hasn't been written about Black Hills Estate Winery,
at least not on the local front.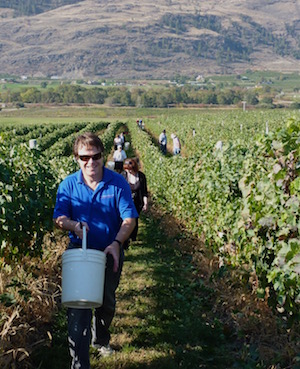 From its 1996 start, by winemakers Bob and Senka Tennant, in an unassuming Quonset winery on the Black Sage Bench, to its current well-orchestrated enterprise under the expert guidance of current president, Calgarian entrepreneur, Glenn Fawcett, Black Hills has made news.

Black Hills arose from nothing, but was pulled up rapidly by its shooting star, Nota Bene.
This Bordeaux styled red, a blend of estate grown Cabernet Sauvignon, Cabernet Franc and Merlot has remained steadfast since its inception, a 1999 release.

Long gone are the Quonset and Tennants.
Fawcett took over in 2007, his new winemaker Graham Pierce (formerly Mt. Boucherie) was guided by Stella Tennant until taking the reins completely, in 2008.

Fawcett

(above right)

raised capital under Vinequest Wine Partners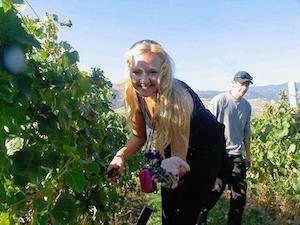 Limited Partnership. He sold 300 partnerships at $25,000 each. People jumped at the chance to own part of what had become Canada's most iconic red wine, Nota Bene.

"It was never our plan to fix something that wasn't broken."
~Glenn Fawcett (on taking over from the Tennants)

That capital gave Black Hills a complete facelift.
Over the years: a new winery (and ongoing addition of necessary technology); additional vineyards; a visitor's center – Wine Experience Center; and food service -- all under what Fawcett calls,
"Continual Quality Evolution."



(Photo right: WineDiva, harvesting Merlot, Oct. 2010, photo Shelley Boettcher/Calgary Herald)



Of course, there will always be followers -- others who nip closely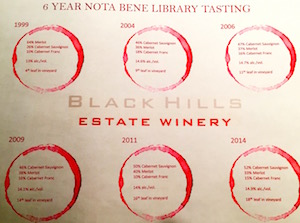 at your heels, who see what can be done -- and many do it just as well.
When it does start to occur, little by little, your pie gets cut into smaller pieces – it happens in all businesses.
How you manage to stay ahead of your followers is what sets you apart.

Fawcett is fully aware. He's a keen marketer, and he oozes charm and diplomacy.

His wine club is powerful, he peppers releases throughout the seasons, and emails hit your inbox with a sense of urgency, a "Get it before it's gone..."
And they do sell out, from what I can gauge, every year.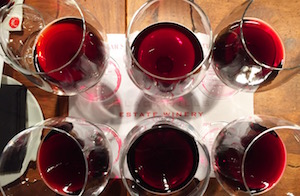 Additionally, to thank his wine club members and keep them devoted, he produces special wines each year, only available Black Hills' members.

Of course, the evolution is more that fancy tasting rooms and iconic labels. Evolution means the wines MUST get better. Resting on past laurels gets you one thing – forgotten.

Which is why Black Hills stays ahead – the wines do get better, year after year. Or, in the case of some, they stay consistently desirable,
such as the focused and elegant white blend, Alibi.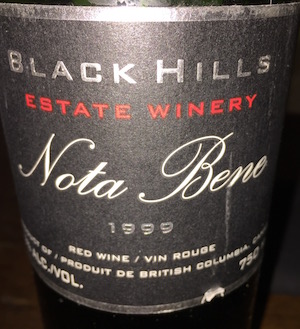 The Carmenere, first released in 2005 has a rabid following and gets better each vintage as the vines get mature. The Syrah, first released in 2009 follows suit with a strong fan base. It shows what this variety can do in BC, it is muscular yet finessed and the current 2014 release took a gold medal at the 2016 InterVin International Wine Awards via Vines Magazine (full results revealed mid-October, 2016).

While Nota Bene leads the pack (many people don't even realize the winery is not called Nota Bene, the wine itself has a life of its own), Black Hills has managed to diversify its portfolio enough that everyone has a favourite.
I'm a fan of the Viognier, for instance.
Yet, Pierce and Fawcett don't let their Monarch's glory fade. They continue to try and achieve a better wine. Older vines, better technology and understanding of what this icon truly is.



Year after year, Fawcett diminishes his liquid library to host tastings for media, trade and consumers -- to share with them the evolution, the provenance of Black Hills' star.
It's not only a way of staying relevant; it's a way of staying in the forefront of people's minds – and the wines show well.

In 2010 I visited Black Hills for a ten-year vertical tasting; it was impressive then and I wrote about Black Hills for Vines Magazine.

How long should you age your Nota Bene?
That's not for me to say...

A recent tasting of select vintages, to celebrate Black Hills' 20th anniversary, shows most are still impressive today.
While some are holding up better and vintage variation becomes more obvious with age, there is consistent growth in quality.

How long should you age your Nota Bene? That's not for me to say.
I can tell you the 1999s are still alive but very mature -- I would drink mine now. It also depends on what you like, maturity or freshness (aka youthful fruit expression).
I prefer some youthful exuberance in my wines, so for me the 2006 was the happy, perfect medium.

Nota Bene 1999: Merlot driven with secondary matured aromas of treacle, dried strawberry, cedar chips, roasted bell peppers, pipe tobacco and just a whiff of brettanomyces. Oxodative palate with interesting umami and saline flavours. It is silky with fine spice, cigar. Nicely woven and integrated palate, which is still fresh.

Nota Bene 2004: Cabernet dominant, chocolaty, baking spice, molasses, wild berries, earthy tones and wild dried herbs. Savoury, both palate and nose. Plush and bright palate, which is warmer (alcohol heat) and more powerful than the 1999.

Nota Bene 2006: Cabernet dominant, the 2006 is the sweet spot for drinking. Expect aromas of cherry jam, salted caramels, chocolate, sweaty saddle leather and pristine cassis aromas. The weight is supple with impressive concentration, wonderful freshness and flavours of vanilla, toffee and licorice. Power, potency (almost liqueur-like) yet finessed. A good point in its evolution, perfect for folks who like some maturity, but still love fruitiness in wine.

Nota Bene 2009: Cabernet driven this wine was initially quite closed, the aromas, a suggestion of dark mocha, wild forest berries - a slight bit feral on the nose. However, high-toned expressive fruit in the mouth, accessible with smooth tannins. Good overall structure and balance.

Nota Bene 2011: Typically Cabernet dominant with chalky notes, cocoa, dark, dusty and intense red fruit. Cooler vintage shows with the brightness of this wine, attractive spice flavours and excellent length.

Nota Bene 2014: Read my recent review


►Black Hills wines, 42 of my reviews, here


~Daenna Van Mulligen