Oct 17, 2012
Marc Kent loves coming to Canada.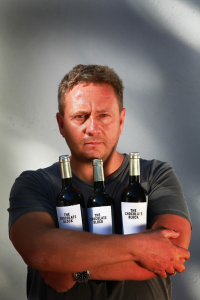 It seems he's here at least once per year. You may have met a time or two at Vancouver's International Wine Festival.

His commitment to the Canadian market has paid off. We love his wine.

Boekenhoutskloof (yes, it's a mouthful) is the name of the Franschhoek winery he controls. Although it was first established in 1776 as a farm, it wasn't until 1993, that the farm was restored and a selection of vines were planted.

The former waiter came on board in 1996 and made his first ever vintage that same year. He has since been lauded, around the world, for making outstanding wine, specifically Syrah, at a very affordable price. Kent heralded a new era in South African wine - he's a bit of a maverick.

Kent is also very pragmatic. His goal is to make exceptional wines at affordable prices, but that's not to say he doesn't deliver some icon wines as well. His Chocolate Block may have intrigued most, first with its name (I'll bet a good amount of its fans are women) and later because it's an undoubtedly well made and delicious multi-variety red blend.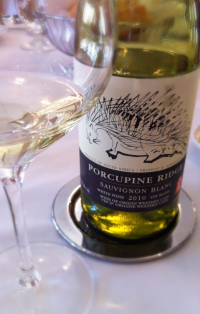 I sat down with Kent for lunch recently in Vancouver. His love of food is no secret, perhaps from the time he spent serving tables and experiencing fine wines from around the world, or perhaps because he lives in Franschhoek, the cuisine hub of South Africa. Either way, he appreciates diverse flavours and exceptional dishes.

In addition to his delicious wines, the most enjoyable thing about this charming South African is his carefree demeanor and open-mindedness whether it be with wine and food or just life, in general.

The Wolftrap White, 2011
Made from Viognier, Chenin Blanc and Grenache Blanc, this fresh and tasty white has been voted the quaffer of the year for the third time by respected South African wine critic, John Platter. Aromas of caramel and spice, quince and honey translate to a fuller bodied white with a creamy texture. There are plenty of melon, tropical fruit and spice flavours culminating in a bright citrusy finish.
$14.99

Porcupine Ridge Sauvignon Blanc 2010
With a small addition of Semillon, this very popular Savvy offers grassy, lemony aromas with a kick of jalapeno. The palate is racy but has an appealing creamy edge. Here lemons and herbs lend a very savoury component to this food-friendly white.
$14.99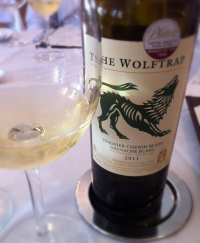 Porcupine Ridge Syrah, 2009
A spicy, rich berry and chocolate scented red. It has a supple and fresh palate (a portion of this wine sees no oak) leads to a peppery finish. What is most appealing here is an old world finesse balanced with new world fruit at a very reasonable price.
$17.99

The Wolftrap Red, 2011
This blend of Syrah and Mourvedre has a splash of Viognier to brighten it up. Again, the savoriness in this wine make it a perfect food wine, especially with red meat, hearty red sauced pastas or hard cheese. It's spicy, meaty and has plenty of briary berry and black cherry aromas. It is full-bodied with supple fruit and spice flavours. It has a chocolaty finish and good length with fine tannins.
$14.99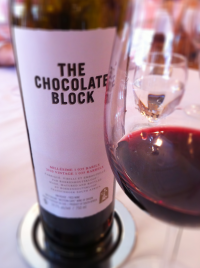 The Chocolate Block 2010
An intricate blend of both sweet and succulent. Plush black raspberry flavours, chocolate, baking spice and meaty undertones roll into flavours of chocolate and plump sweet fruit. Expect wonderful concentration and balance. It's a layered wine, complex yet undoubtedly approachable. An intriguing wine with impressive persistence. 72% Syrah, 13% Cabernet Sauvignon, 7% Grenache, 6 % Cinsault and 2% Viognier.
$44.99



Daenna Van Mulligen aka WineDiva