Sep 24, 2015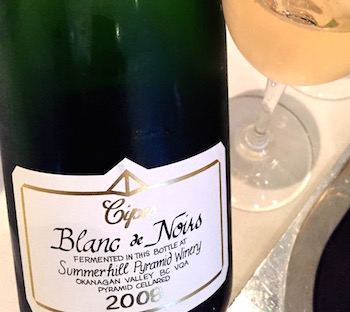 Winemakers in British Columbia have been stretching their
wings for years, but based on recent events, they are beginning to fly.

Just one of those events was the Judgment of BC in August.
Visiting wine writer and personality, Stephen Spurrier, was the catalyst for a blind tasting, pitting BC wines against international superstars.
The results were exciting to say the least.

I applaud those producers who are taking their wines around the world, getting feedback and ultimately realizing how worthy BC wines truly are.

They are finally patting themselves on the back.
How un-Canadian.

Our hosts for this particular illumination were Summerhill Pyramid Winery's CEO, Ezra Cipes, and long standing winemaker and viticulturist, Eric von Krosigk.
This was the second daring comparative tasting held by Cipes in the York Room at Hawksworth Restaurant in a handful of years.

Read about the 2012 tasting which showed the 1998 Cipes Ariel against Krug Grand Cuvee Brut here.

A group of local journalists, bloggers and buyers convened
this week in the striking private room above the restaurant.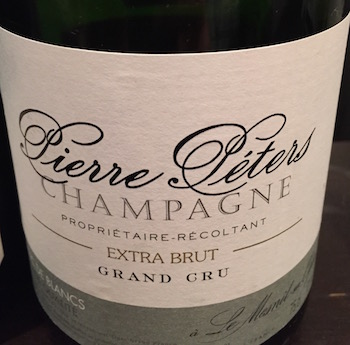 We are all familiar with Summerhill's commitment to permaculture, to organic and biodynamic viticulture as well as their dedication to sparkling wine.
I wrote more about that in 2013, here.
The Cipes family, Ezra, his father Stephen before him and brother Gabe have formidable focus in leaving this planet in a better place than it is today.
A focus, which might surprise the tour busses and
innumerable visitors who have taken a photo beside winery's pyramid and sparkling flute fountain.

Alas, today's tasting was all about the bubbles.

Cipes learned a lot from the tasting we did in this very room three years ago and he wanted to open the discussion again.
Primarily, he wanted to pour what he considers his everyday sparkling wines.
To pit those wines against similar international options.

"They are vintage wines. They are priced and styled as everyday wines."
Cipes was preaching to the converted.
The people in the room would be entirely happy to drink sparkling wine each day.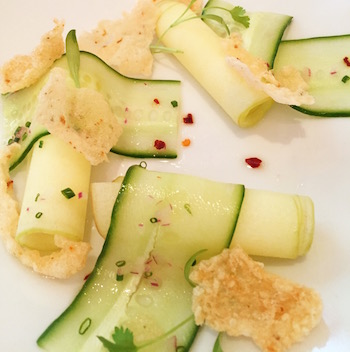 While an impressive 50 wineries in the Okanagan make sparkling wines, none have the depth and breadth that Summerhill does.

Cipes Blanc de Noirs, 2008
Reception wine.
Made from 100% Pinot Noir, it has aromas of fresh yellow apples, strawberry and peach stone atop leesy/bread dough notes. It is showing some maturity on the palate, has lovely persistent bubbles and creaminess. It's still very youthful and bright.
The fruit comes from Summerland, from a farm they have been purchasing
grapes from since the winery's inception in 1991.
Read my full review of this wine, here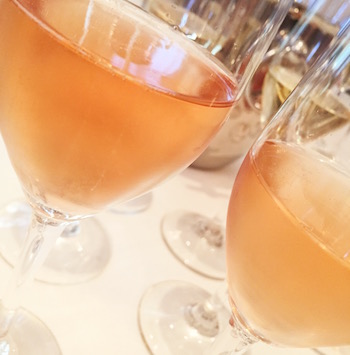 $32

First Pairing
Dish: Green apple, Meyer lemon, chili, rice cracker

Cipes Blanc de Blanc 2010
Made from 100% Chardonnay.
Von Krosigk admits 2010 was a cool year but still, the grapes had all the flavours and necessary requirements to offer just the right amount of Chardonnay character.
"It's young, in bubbly years…"
Von Krosigk suggests a creaminess will continue to develop with age.
This wine has gossamer of delicate but crunchy white fruits,
toasted apple turnovers and nutty hints.
Despite its delicate demeanor it is quite rich, has pristine fruit and wonderful tension.
8.9 grams per liter residual sugar.
$35

Pierre Peters Grand Cru Extra Brut Blanc de Blancs Champagne NV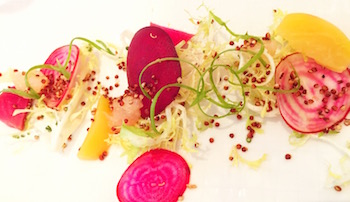 The grapes from this wine are entirely from the 2011 vintage albeit labeled a non-vintage (NV).
Bone dry at 2 grams per liter residual sugar.
The nose is much more robust, very rich creamy and nutty with lemon curds mingling with lively citrus.
As it evolves in the glass it reveals clay, flinty and mineral notes.
Focused and racy, bone dry and quite powerful with excellent persistence.
$62


Second Pairing

Dish: Ggrapefruits, beets, frisee, sherry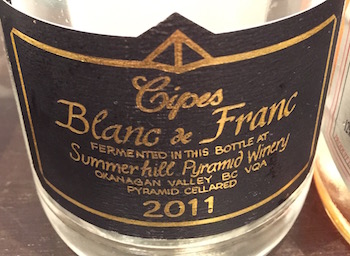 Cipes Blanc de Franc 2011
Von Krosigk says this is one if the more challenging vintages he's had in the Okanagan. In Osoyoos he came across a fantastic block of Cabernet Franc, which he picked at 19.5 Brix on November 18, 2011.
When they got the grapes to the winery, a snowstorm hit and they got they had to dig the berries out from under snow. It was minus six degrees and continued to get colder...basically they were making ice wine.
This special wine will be released in early October, 2015.

Attractive pale peach in colour. It is much more fruit forward than the other bubbles. Quite sweet nose of peaches and cherry and summer berries - very honeyed and fragrant. Secondary vanilla and licorice and ripe purple fruits mingle with chocolate and baking spices.
In the mouth, juicy red fruit alongside blueberry. Good concentration, undeniably unique. Overall very tasty with expressive fruit and wonderful persistence. 4 grams per liter residual sugar.
$35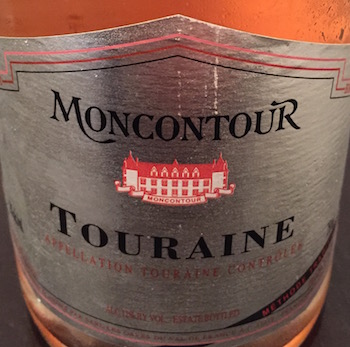 Château Moncontour Touraine Sparkling Rose
The color is a paler version of peachy salmon than the Cipes Blanc de Franc. Undeniably more restrained than the Cipes Blanc de Franc but shows more classic Loire Cabernet Franc character. It is more austere with tangy red fruit, peach stone, mineral and fine spice. Similar stony character in the mouth but fresh and focused.

Third pairing
Dish: Mushroom terrine, sunchokes, pickled mustard seed, potato crisp and fine herbs.

Cipes Traditional Cuvee 1996
The 1998 vintage of this wine has already been released but von Krosigk explained that they had to hold it back, due to its searing acidity.
"It's only just able to drink, to come around. We knew it was time to release it. It's a great bubbly to muse over. It's a very intense style, not light, not delicate."
Unquestionably it has a very unique nose with lemon cream, bordering on bruised fruit alongside marmalade smeared toast, curdled butter and savoury herbs/spices such as dill and cumin.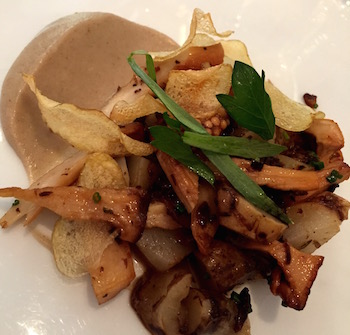 The palate goes in a completely different direction, although rich it has a nervy palate; focused, very tense still almost searing acidity.
The more you taste, the more pleasing it becomes (especially with food).
A polarizing wine with great length.
$44

Schramsberg Blanc de Blanc Brut 2009
A familiar wine in our market this robust (house style) bubbly offers roasted lemons, clay and bread dough with creamed warm butter. It has a lovely weight and lively acidity to balance. Good posture, expressive fruit (becomes quite apple-y with food) and impressive length.
$36

"You cannot let the market dictate… you must make things you want to. In order to change the minds of future drinkers and shake things up, you can not be rational."

~Ezra Cipes
Cipes Ariel Cuvee 1998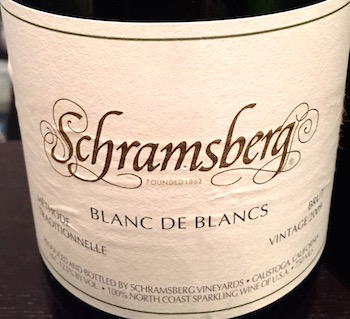 A solitary bubbly.
It presents honeyed brioche, lees, and quince, bruised golden apples and toasted nutty aromas. Nice roundness and expressive fruit. Supple and creamy and lengthy with great structure that rolls into a toasty finish.
It's a very slow seller Cipes admits. He feels the price is much lower than grand Champagnes of similar quality, but still is a challenge in a BC made sparkler.
Read my full review of this wine here
$77


Read more of my most recent reviews of Summerhill Pyramid Winery wines, here

~Daenna Van Mulligen