Jul 09, 2015
Risk and Reward

My fourth Grandes Pagos stop in Spain during a recent trip was to a remote estate owned by retired Spanish movie star, Manuel Manzaneque.
After a two-hour train ride from Madrid, I arrived in Albacete in Castile-La Mancha.
The city is named for its surrounding province and is located in southeastern Spain, about 260 kilometers from Madrid.
It is a clean and quite modern industrial city, known for its production of knives and scissors.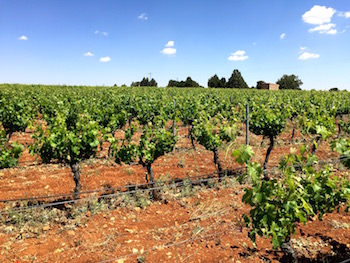 From the train station, winemaker Juan Garcia drove me toward the Sierra de Alcarz mountain range. Roughly an hour later, literally, in the middle of nowhere, we turned onto a rough and dusty red road until we came to a simple winery built around a traditional central courtyard.

It was mid-day and the temperatures were ramping up.

Located at a very significant 1080 meters above sea level (have I mentioned Spain is home to the highest geographical elevations in Europe after Switzerland?) Viñedos Y Bodegas Manuel Manzaneque is 400 hectares in size. The estate also has its own appellation, AKA Denominacion de Origen (DO), known as Finca Elez.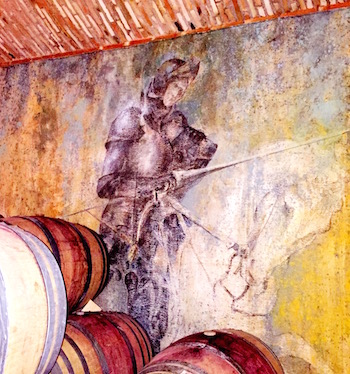 In 2003, the Spanish government recognized the DO – it is one of only 14 single estate DO pagos (vineyards) in Spain. It was chosen as such due to the high quality grapes it produces - berries with thick skin and powerfully muscular tannic structure - characteristics commonly associated with longevity. It could be compared to a French domain.

To make things somewhat more confusing (albeit more prestigious) the DO Finca Elez, is also a member of and is recognized by the private organization, Grandes Pagos de Espana.




(Photos right above: winery, vineyards; photo right: a backdrop from one of Manzaneque's plays, Don Quixote, hangs in the cellar; photo below: winemaker Juan Garcia)



Setting the Stage

Within the 400-hectares are four separate plantations broken into 38 plots, which totals about 34 hectares of vines.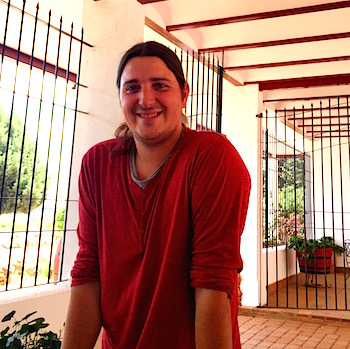 The estate was purchased by Manzaneque (who was born in this region) in 1988 and planted from scratch, starting in 1990.
There were no vines in this region, it had never been considered a wine growing due to its extreme heat in the summer and equally cold and windy winters. But a friend of Manzaneque's, a French viticulturist, thought his homeland would be good to plant vines. The diurnal temperatures, day-to-night in the summer can fluctuate 25 degrees celcius due to its altitude.
As expected, the soil is very poor and chalky but well drained with telltale iron oxide.
Preparing the land for vineyards was a feat in itself, requiring huge amounts of rock to be moved and broken up.
Arid and dry, I noted that a fine layer of red dust seemed to cover everything.

The yields here are low (due to poor soil quality) but the quality high. They have a drip irrigation system in place, which helps when needed.
The vineyards are all organic.
The estate's initial plantings were Chardonnay, Merlot and Syrah. In 1999 the last planting, Tempranillo was added.
As opposed to most other producers I've visited, Manzaneque started big, with plans for larger production. What they discovered was the lower quantities and high quality was more suited to the smaller production of 100,000 bottles per year they are currently at.
Unfortunately, that means a lot of tanks and space, goes unused. Space, which would be perfect to work as a custom crush for other local small wine producers, if there were any.

The goal of Manuel Manzaneque's family and winemaker Juan Garcia, is to extract only the best first press juice and sell off the rest. The estate is known not only for high quality, but releasing their red wines after significant ageing.

Wines

Manuel Manzaneque Chardonnay, 2012
The Chardonnay is harvested in September, which might seem early for some of the world, but due to extreme conditions, here it is typical. It spent 9 months in 900 liter French oak barrels and is golden in colour. Chardonnay is their flagship wine and I can see why. Only two kilos of fruit is harvested from each vine and it has small berries with thick skins. Lees stirring while in barrel adds mouth-feel, and the 14% alcohol is contained.
It is sweet, ripe and generous – very concentrated notes of pineapple, baking spices, buttery caramels, praline and citrus peel.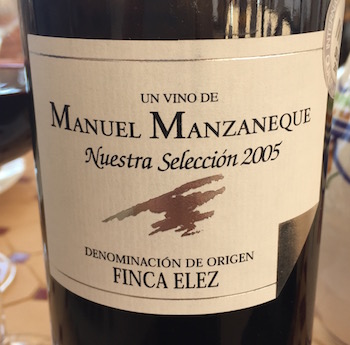 It is potent and you can truly sense the oak here, but due to the concentration of the fruit, it holds up and does not seem like either a butterscotch bomb or overly oaked and chewy.

Finca Elez Crianza 2007
Known as the 'estate wine' it is made from all four parcels from the estate and is a blend of Cabernet Sauvignon (60%), Tempranillo (30%) and Merlot. It spent 14 months in mixed sizes of barrels.
The 2007 is currently in the market.
It is earthy with dusty black plums and some fig/raisin aromas alongside fine spice and pipe tobacco aromas.
It is somewhat bitter (think bitter chocolate) on the entry. It is also very spicy and the tannins are minerally and quite firm but ripe. It boasts a long finish and it is quite an intense and extracted wine – like the others in the portfolio. The skin is really giving a lot of texture and quality to the overall wine.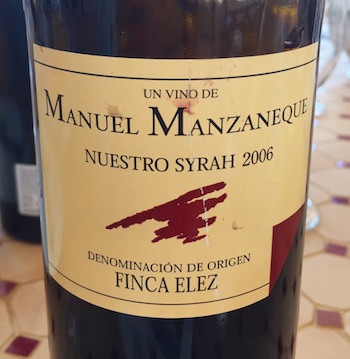 Manuel Manzaneque 'Nuestra Seleccion' 2005
A blend of Tempranillo (40%), Cabernet (40%) and Merlot from the estate's oldest vines. It was chosen to remain aging at the winery to soften the muscular tannins this estate seem to produce.
Expect notes of saddle leather and earth alongside tobacco, sweet dried cherries and black currents, wild bramble fruit and loads of peppery spice. The palate is similarly wild and spicy. It is very rustic, mature and lengthy – entirely unique.
Juan Garcia notes that despite what the vineyard already gives them in spades, they work the wines a lot, to get even more extraction, tannins and colour.

Manuel Manzaneque Finca Elez 2006
This is a very specific wine made from 100% Syrah.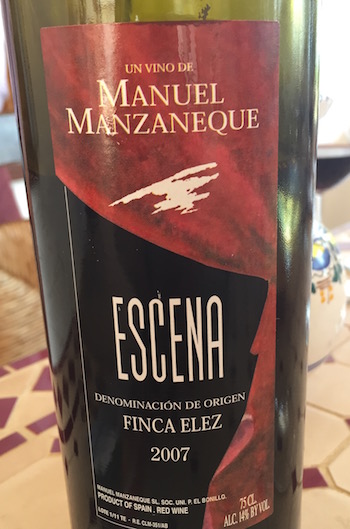 It is really starting to show its age. Dried cherry and fig aromas, leather some licorice root with matured aromas of cigar. The fruit quality in the wines is very good and the iron oxide soil is coming through on the textural finish. It is nicely rounded and intense with great acidity despite that, it seems to be a little over the edge starting to drop off – I highly recommend drinking this 2006 now.

Manuel Manzaneque 2007 "Escena" It stands to reason an actor would name his premium wine, grand finale. They call it their whim, it is made from the best grapes from the estate's oldest vines.
Made from 90% Tempranillo and the remainder Cabernet, it has a nose of red cherries, dried wild berries, saddle leather, pipe tobacco/cigar and fine spices Very expressive and explosive on the palate; powerful but finessed. Expect flavours of dried fruits, spice and licorice. It is a complex and very contemplative wine. Matured in French oak for at least seven years.

~Daenna Van Mulligen


Grandes Pagos de Espana estates visited on this trip:
►Valdespino - Inefficient, Crazy and Romantic: Sherry
►Finca Moncloa - Tradition + Creation
►Cortijo Los Aguilares - The Place Where Eagles Live
►Manuel Manzaneque - Risk & Reward
►Finca Sandoval - Wines of Influence
►Bodega Mustiguillo - The Prophet of Bobal

Learn About Grandes Pagos de Espana: Here