Aug 19, 2014
A recent tour in Spain had me visiting several of regions – some for the first time.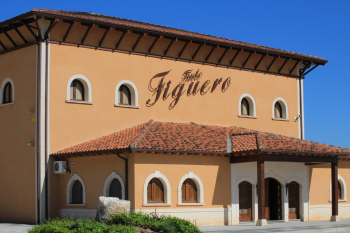 One of those regions was Ribera Del Duero.
Sadly, Ribera del Duero is often overshadowed by nearby Rioja, yet this beautiful region of rolling hills and vineyards interspersed with cereal crops is home to some of the world's most highly regarded producers.
I've had the opportunity to appreciate some of those iconic wines. I sat down and tasted the stunning old vine wines of Dominio de Pingus from La Horra with owner and winemaker Peter Sisseck a couple of years ago. Prior to that I've had the pleasure of tasting the longer established (1864) wines of
Vega Sicilia
.
New to me and to Canada in general were the wines of
Tinto Figuero
.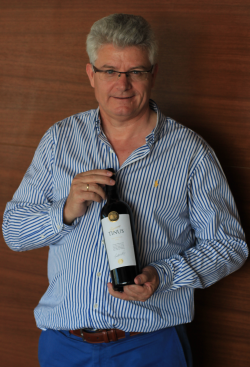 Tinto Figuero is a family owned and run winery in La Horra in the province of Burgos in Ribera del Duero.
Ribera del Duero has seen resurgence in recent years, surely the success of premium producers such as Pingus have been part of that renewed interest. To clarify, in 1982 there were a half million bottles of Ribera del Duero wines sold and by 2013 that number grew to 90 million bottles.
Although a new winery (Figuero released their first wine in 2001), José Maria Garcia and his wife Milagros Figuero have devoted their entire lives to their vineyards – including one planted by Milagros' father, some 80 years ago. The vineyards are a patchwork spread over various hillsides, hilltops and riverside locations.
Son-in-law, J. Felipe Martin
(right),
drove me through several of their vineyards. They are parcels scattered between other producers vineyards but all surrounding (at various distances) the winery, which is the heart of the estate.
We traversed dirt roads through forest and hillside, walked through red clay soils atop limestone and inspected gnarled gobelet vines as Felipe pointed
out his family's parcels and neighboring vines belonging to Dominio de Pingus.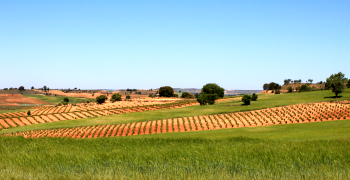 The vineyards rolled along, in most cases gnarly stumps just beginning to flower, dotted the parcels. In the oldest, just a smattering of stunning old en vaso (also known as gobelet, bush vines and head trained) vines, so unlike high-density, modern trellised vineyards.

Of Tinto Figuero's 45-hectares of vineyards, more than half are 60 years old or more – possibly more than any other family winery than anyone else in the region. There are 78 parcels in total.
Like nearby Rioja, Tempranillo is king here.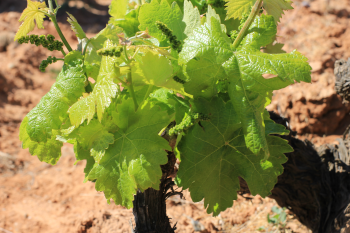 Ribera Del Duero is located in north central Spain, just north and slightly west of Madrid. It is currently home to nearly 30,000-hectares of vines spread across 60 Municipalities in the provinces of Burgos, Sergovia, Soria and Valladolid.
The region runs east west 150 kilometers, much longer than its north south 35 kilometer reach. It follows the Duero River (Ribera means riverbank) and it's main town in Aranda del Duero. La Horra, where I visited Tinto Figuero is in the western portion (and more northerly) of Ribera del Duero, not far from the village of Roa.
The weather here is warm and dry, winds help keep
disease at bay, while winter is quite extreme and very cold.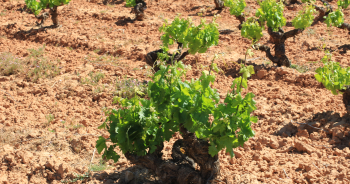 Deciding to make wine instead of simply selling off their grapes to make premium wines for other producers (such as Vega Sicilia, Pesquera, Pingus) took a family effort. Their three children and spouses had to be fully invested. It takes time to build a reputation, to introduce the world to your wines. It is Felipe's job (he is extremely fluent in English and has worked for other EU based companies) to help achieve this goal.
(photo right: 80-year-old 'en vaso' vines that produce Figuero's top wine, Tinus)
The wines are excellent to stunning, they speak for themselves but they still need to be seen and tasted. Hopefully more will be available in Canada soon.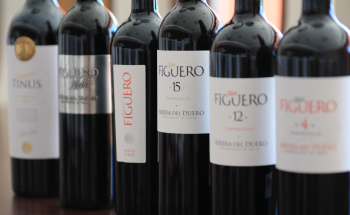 To make things simpler for consumers who aren't savvy on the Denominación de Origien (D.O.) rules governing what constitutes a Crianza, Roble, Reserva and Gran Reserva wine (the rules are the same as in Rioja), Tinto Figuero names the wine by months in barrel, on the front label.
Crianza by law must be aged for two years and spend one of those in barrel at minimum.
Reserva must be aged a minimum of three years, at least one of those in barrel.
Gran Reserva must be aged a minimum of five years, at least two of those in barrel.
Roble is a newer term and simply means "oak". These wines see less time than any others except Joven "young" wines, which see little to no oak and are meant to be fresh and fruity.
Wines
Tinto Figuero 4, 2012 – Considered a Roble, 70% of this wine is aged in American oak and the other 30% in French. It was, as the label states, aged four months in those barrels. On the nose, expect sweet, upfront wild berries and cherry with vanilla, purple flowers and sweet chocolate. The palate has great intensity of lively, clean fruit and spice with hints of cocoa. Lively with good length.
($18 ON)
Tinto Figuero 12, 2010 – Considered a Crianza, this wine is again aged in 70% American and 30% French oak for 12 months. It was aged an additional two years in bottle.
Expect more depth than the 4 with strawberry, licorice and balsamic, spicebox and cherry with hints of licorice. There is a fine peppery spice in the mouth with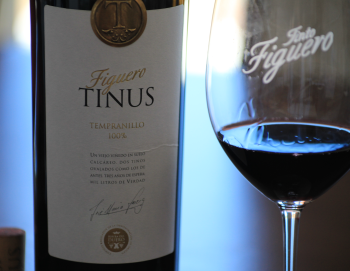 muddled red fruits, spice and pepper. Nicely integrated and smooth tannins.
Tinto Figuero 15 Reserva, 2008 – This wine spent 15 months in equal combination of French and American oak. There is an obvious serious side to this wine - cherry notes roll into licorice root, balsamic, sweet spice and dried strawberries with vanilla. There is a rusticity to the palate with concentration of sweet spices and cocoa. It is silky but firm with wonderful freshness. It has excellent balance, structure and length with an attractive mineral character.
Tinto Figuero Vinas Viejas "SG", 2009 – Made from a selection of vines up to 50-years-old. It is aged for 15 months in 100% French oak (part 500 liter barrels and part 225 liter/barrique) then one more year in bottle. The nose is stewed strawberry, balsamic and cocoa with licorice with rustic characters. Sweet and succulent in the mouth it is pure and expressive like the other Figuero wines, this one with a definite ribena (cassis) flavours rounded out with mineral/soil notes, leather, tobacco.... Balance - acidity keeps it fresh and it has wonderful length. Fantastic.
Figuero 'Noble', 2009 - This wine is made from two parcels, the vines are 75-years-old. It is aged for 21 months in French oak barrels. It has an intense colour with aromas of cooked strawberry jam, balsamic and iodine with pipe tobacco and undertones of richer briary fruit with cocoa and earth. It has a sweet and concentrated palate – pure expressive fruit. And pipe tobacco. Intense, supple and generous with a glycerol texture is extremely appealing. Bordering on ethereal.
Figuero 'Tinus' Tempranillo, 2010
– Made exclusively from Figuero's single best vineyard, which is over 80-years-old. This stunning wine is fermented and aged in French oak and I tasted bottle no.843 of the 1300 made in this vintage.
Initially boysenberry jam leaps out of the glass alongside leather, vanilla, sweet spices, mineral and chocolate. The wine levitates on your palate. It has a textural component, a slight chewiness with glycerol slickness. Expect incredible weight and concentration with intense sweet spice and cocoa lingering. Luscious and complex with a polished, ongoing finish. As I said earlier, stunning. It transcends all but a few wines I have ever tasted. If it were available here, this wine likely run about $300.
View more photos of Tinto Figuero and Ribera del Duero
here.
Legaris
Owned by the expansive
Groupo Codorniu
(Codorniu Raventos is most famously known for their cavas),
Legaris
is a young estate in Burgos, Ribera del Duero.
The modern winery and vineyards are situated in Valladolid and look toward the neighboring village of Peñafie,l famed for its long and narrow ship-shaped castle,
which can be seen for many kilometers
(at right)
.
The first vineyards were purchased in 1998, the first vines were planted in, and construction began, in 1999.
Their first wine was produced in 2003.
The estate is now comprised of over 100-hectares and has a hard focus on Tempranillo (Tinto Fino) and Cabernet. They have added a Verdejo from nearby Rueda (a classic white variety to the region) to the portfolio.
Legaris is not a small winery, it currently produces 800,000
bottles and is growing toward its capacity for one million.
The wines are straightforward. A white (Verdejo), a roble (young wine) made entirely from Tempranillo, a crianza made with a splash of Cabernet and a reserva.
Legaris Verdejo, Rueda, 2013
This white has the classic components I fell in love with while drinking the Verdejos from Rueda while I was in Spain. Gorgeous lemony notes and orchard fruits with a floral perfume. It is tangy and refreshing, bright and lively and has a distinct melon flavour. So easy to drink
and perfect with starters, cheese, fish.
Legaris Roble, Ribera del Duero, 2012
This Tempranillo offers cherry and strawberry, vanilla, licorice and leather. It is fresh (only 3 months spent in American oak) and youthful with balanced acidity and a bittersweet cocoa and spiced finish.
Legaris Crianza, Ribera del Duero, 2010
Made from Tempranillo (96%) and Cabernet this crianza was aged 12 months in American and French (half and half) oak barrels of which 25% was new.
It has distinctly savoury character; smoked meats, savoury herbs, roasted red peppers and layered with sweet cherries, black plum, blackberries and oak spices. Good intensity and length with a very peppery quality. Pair: roasted meats, aged cheeses, slow cooked meat of vegetable stews like the Basque
menestra
, a dish made with braised spring vegetables.
Legaris Reserva, Ribera del Duero, 2006
Entirely Tempranillo. Classic in style and aged 14 months in French oak (part new part second use) the 2006 offers iodine and balsamic notes layered with sweet
spices, leather, dried fruits and sweet black cherry.
Supple on the palate it is still firm and youthful. The
2010 Reserva
is all about purple berries and black cherry with leather, smoked spices, pipe tobacco, sarsaparilla and a potpourri of dried flowers and cedar chips. It is fresh and has plenty of fruit expression. The style has become more modern since the 2006. Perfect paired with the local sheep milk cheese Fleur des Esgueva.
More photos of Legaris and Ribera del Duero
here
~Daenna Van Mulligen