Jul 31, 2014
Weingut Tesch - Tesch Wines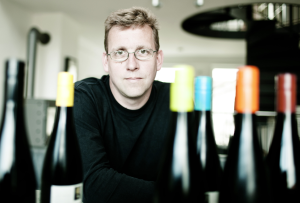 Martin Tesch made his first visit to Vancouver recently. It was a good opportunity to get to know the man who is known as a bit of a rule breaker, a maverick in a very traditional winemaking culture.
Born in the Nahe winemaking region of Germany, into a family with a winery established in 1723, Tesch had no intention of continuing in the family business.
Instead he became a microbiologist.
In his late twenties he had a change of heart and returned to the homestead, but, he was ditching tradition and doing things his own way.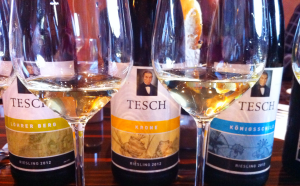 Having not socialized locally and lacking the basic knowledge of what was deemed acceptable wine etiquette (so to speak), Martin began causing a bit of a stir.
Rather than making dozens of wines from six to ten different varietals, Martin decided to make Riesling solely. To top it off he was making dry Riesling.
Realizing how confusing German wine labels are (often even within Germany) Tesch decided to colour-code his labels - a different colour for each of the five different Tesch vineyards.
A stroke of brilliance...even if it was initially frowned upon.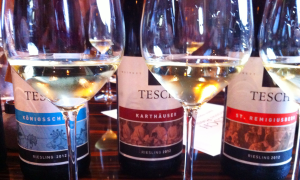 If you cannot remember the difference between his Königsschild and his Karthäuser, all you need to do is remember the former is turquoise blue and the latter, burgundy.

He was quickly becoming the "rule-breaking" black sheep of the German winemaking industry. "I didn't actually break the rules," he says, "because I didn't know there were rules." To his dismay (and likely his father's) sales dropped by 40% when Martin changed the style and labels of the Tesch wines. One thing did remain status quo... the photo of his great-grandfather, whose image had adorned the Tesch wine labels for 150 years. Some things you don't mess with.
Not to worry, sales picked back up with appreciative new clients - wine lovers who embrace Martin's racy and taut Rieslings. Now sales and are better than ever and Martin has become somewhat of a vinous celebrity.

These wines are currently not all available, although some will be arriving in private wine stores.
Oh, and they are perfect with our ethnically varied and seafood-focused West Coast cuisine.

(Photos below right: Racy Riesling is also good with tangy goat cheese and bitter rapini panini as designed by Marc-Andre Choquette at Tableau Bar Bistro.
And, the Tesch wines with their corresponding soils.)

Wines
Tesch Riesling Unplugged 2012 ($27 BCLDB) Just as it says, raw, in its natural state without fudging about. It is über dry and racy with a mineral focus. Expect crunchy white fruits, chalk, slate and citrus peel with textural mineral palate. Amazing restraint. Black label/capsule.



Tesch Löhrer Berg Riesling 2012 ($35+ private stores) Possibly the softest, most delicate of the five. Pretty white floral notes, wet stone, white fruits and citrus with a slight creaminess on the palate.
One of the Nahe's oldest Riesling vineyards - loamy gravel soils.
Green label/capsule

Tesch Krone Riesling 2012 ($35+ private stores possibly) Very focused acidity with grapefruit, lemon drops, wet slate and peach blossoms. It has a spritzy quality and long taut finish. Grown in very stony, coarse loess and sandstone soils. Yellow label/capsule.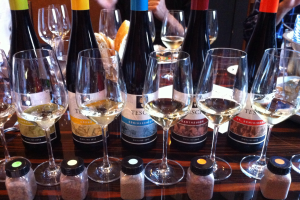 Tesch Köningsschild Riesling 2012 ($35+ private stores) Tightly wound, nervy and very mineral focused as all the Tesch wines are. The texture here is finer like the calcareous-limestone soil it is grown in. Very chic. Turquoise blue label/capsule.

Tesch Karthäuser Riesling 2012 ($28 BCLDB) A Riesling grown in red sandstone soil. It has a slight smokey edge with white fruits a silky texture and powerful finish. Very focused and dry.
Burgundy label/capsule.

Tesch St. Remigiusberg Riesling 2012 ($40+ in private stores possibly) A firm, taut Riesling grown in stony, volcanic and iron-rich red soils. Notes of lemonbalm, white blossoms, honey and crunchy white fruit. Orange label/capsule.

~Daenna Van Mulligen