Mar 14, 2016
The Land of Syrah
After a Grenache-soaked tour of the Southern Rhone I arrived in Tain l'Hermitage late one afternoon with just enough time to unpack at Pavillon de l'Ermitage before dinner.
It was my second stay at this centralized hotel in Tain and it's one well acquainted with visiting journalists.

This visit, my focus was centered on the structured Syrahs of Saint-Joseph and the generous Syrahs of Cornas with a small indulgence in those of Cote Rotie, Hermitage and the luscious whites of Saint-Péray and Condrieu.

(map top right: courtesy of winefolly.com)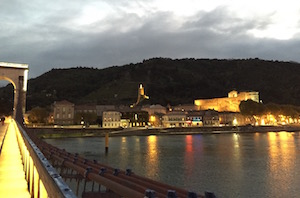 Dinner was a short walk away at Le Quai, a bustling seafood-focused restaurant along the Rhone River, looking across toward Tain's twin city, Tournon-sur-Rhone.
My host, Patrick Rigoulet, Sales Director of Ferraton Père & Fils.


Ferraton Père & Fils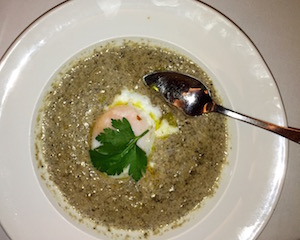 First established by Jean Ferraton in 1946, this family company (Jean and then with his son Michel) began to make wines under their own label in the 1960s.
Michel Chapoutier, a friend of the Ferratons later convinced them to follow his lead into organic then biodynamic viticulture. That transition happened in the late 1990s.
Michel Ferraton's son, Samuel took charge over the company in 1994 but a motorcycle accident left him unable to fully manage it. Michel Chapoutier stepped in and formed a partnership with the Ferratons in 1998 but it continues to run independently with direction from Samuel.
Ferraton's 15-hectares of estate vineyards are located in Crozes-Hermitage and Saint Joseph. While their focus in Northern Rhone, they do produce wines from purchased grapes from elsewhere, including Châteauneuf-du-Pape, Gigondas and under Côtes du Rhône. They try to show the uniqueness of each region -- the wines are undoubtedly premium quality.
As one of the largest producers in the Northern Rhone, Ferraton fills about 35,000 bottles per year.


(photo above right: mushroom soup with poached egg at Le Quai in Tain)



Wines
Saint Joseph 'Les Oliviers' Blanc, 2013 - This stunning blend is comprised of equal parts Marsanne and Roussanne from 20 year old vines within a single plot. It was fermented in oak, went through secondary (malolactic) fermentation and was aged on fine lees 8-10 months in barrel. A luscious golden hue with aromas of honey and beeswax, lanolin, ripe peaches, spice and quince with decadent lemon curd. It is powerful, weighty, spiced an a bit boozy but still wonderfully balanced. Only 2-3 barrels made, but they plan to increase the production of this wine.
Outstanding.

Saint-Joseph 'Lieu-dit', 2013 - A classic 100% Syrah with blackberry and spice, chocolate and mineral focus. It offers the austerity and power of Saint-Joseph but with a supple character and sweet ripe tannins.
Vineyard is on decomposed granite soils on a steep hillside at 250m.
Aged in barrel (only 10% new) for 12-14 months.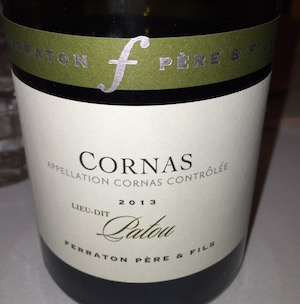 Cornas 'Lieu-dit Patou', 2013 - From a warm, early-ripeing site with full southern exposure and soils of decomposed granite on a steep slope. It is wonderfully inky and chocolaty with blackberry jam and blueberry compotes. A sweet fragrant nose and generous palate with attractive purple fruit and licorice. Amazing freshness and complexity.
Outstanding.

Cornas 'Les Eygats', 2013 - 100% Syrag from a high (300m) southeastern facing site on a vineyard with strong winds, unlike Patou, this is a late-ripening site. It is intense and earthy, mineral dominated with bittersweet chocolate, black currents, raspberry and savoury smoke and meaty undertones. More powerful than Patou, firm with textural mineral tannins and flavours of fine white pepper and coffee.

Paul Jaboulet Aîné
In the central square of Tain l'Hermitage sits the new (now two years old) cellar door, wine bar and bistro of Paul Jaboulet Aîné at 25 Place du Taurobole.

(photo right)


Open only for lunch, the restaurant was the backdrop for my meeting and tasting with Technical Director of Enology, Jacques Desvernois.
Jaboulet, undoudbtedly one of the most influential and recognized of the Northern Rhone producers, was established by the Jaboulet family in 1884.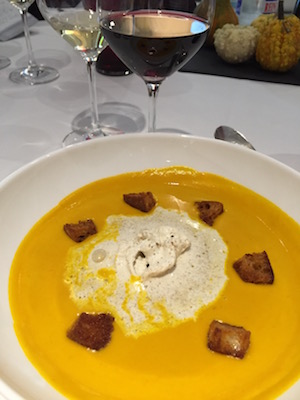 In 2006 it was sold to the Frey family, owners of Bordeaux's Château La Lagune. Desvernois, a friend of family member and winemaker Caroline Frey, began with Jaboulet after the Frey purchase in 2006.
Jaboulet currently owns 115-hectares of vineyards, mostly in the north but also in the south's Châtaueneuf-du-Pape. They also own three of the 50 hectares in Saint-Péray, the most southerly cru of the Northern Rhone appellations it is home solely to white and sparkling wines.
The remainder of grapes needed for production, outside of estate, are purchased.

Wines
'Les Sauvageres' Saint-Péray, 2014 - Granite with silt and limestone soils, this Marsanne with 20% Roussanne offers tangy yellow fruit, mineral, beeswax and lemon oil. Racy and weighty with buttery, mineral and fine spice flavours in the mouth.

'Le Grand Pompee' Blanc, Saint-Joseph 2014 - Made from 100% Marsanne grown on schist and granite soils this delightful wine is honeyed and lemony with some garrigue/herbal tones, mineral and wildflowers. Fantastic concentration with a tangy, waxy and citrusy character resulting in a phenolic finish.
Great tension and persistence.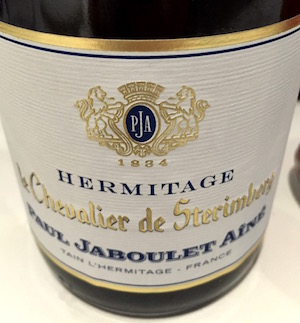 'Le Chevailer de Sterimberg' Blanc, 2012 - Named after the hermit of Hermitage, the man who built the first chapel on the hill of Hermitage and planted vines - although the Romans had beat him to it far before. Hermitage is the smallest appellation on the north's left bank and this wine is made mostly from Marsanne with one-third Roussanne. Desvernois insists this wine must be aged at least a decade. It is plush and ripe, waxy and honeyed with lemon oil, lanolin and golden fruits. Complex and elegant with superlative weight and power, lifted with focused acidity. Outstanding.

Domaine de la Croix des Vigne, 2012 - 100% barrel aged Syrah offering wild black berries, earth, pepper and mineral. Brooding and firm, lifted with bright acidity and blackberry confiture flavours.

'Les Grandes Terrasses', Cornas, 2012 - From some of the lowest vineyard sites in Cornas at 150m, this firm Syrah is quite earthy, but plush - but unlike many other Cornas tasted this trip it is more restrained and austere, more elegant, less fruit-forward. Powdery cocoa tannins line the palate.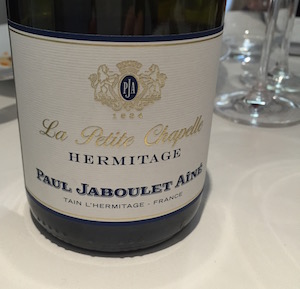 'Domaine de Saint-Pierre, Cornas, 2012 - At a whopping 430m above sea level this fantastic version shows the best side of Cornas with its sweet, ripe ad fragrant nose with expressive purple fruits and fine spice. A superior and concentrated wine for ageing, it cannot be made every vintage. Outstanding.

'La Petit Chapelle' Hermitage, 2012 - Of the 130 hectares of the entirety of Hermitage, Jaboulet owns 25 hectares. While powerful and structures, this wine is easy to drink younger than many. A powerful nose of blackberry jam, chcolate, and violets lead to a powerful and generous but still elegant palate. Rich and concentrated, higher in alcohol it is nonetheless supple with integrated tannins woven across the palate. Outstanding.



Domaine Clape (Domaine August Clape)

From Tain l'Hermitage we crossed to the right bank of the Rhône River and headed south to Cornas.
Arriving in Cornas, we are directed toward an nondescript building along the main street Avenue de Colonel Rousset - I remember thinking we must be in the wrong place, this building could not house a winery.
How wrong I was.
We enter to meet Pierre-Marie Clape

(right)

, son of August.
To be honest, I'd never tasted the Clape wines before and the whole brief adventure was a trip highlight.
Generations of vignerons, the Clapes settled in the Northern Rhône with nothing after having to leave the Languedoc in the early 1900s.
While, considered pioneers in the north, the Clape's wines maintain their humble beginnings and they produce only a small quantity --16,000-18,000 bottles per year.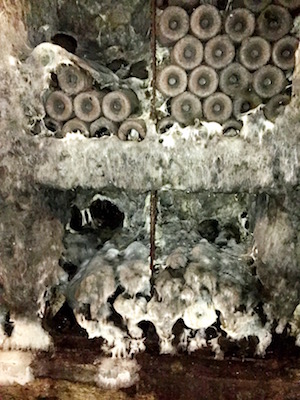 I'm led underground in this simple winery, to a rustic and ancient cellar beneath the Avenue de Colonel Rousset. As I gaze around, it's a throwback to another era before stainless steel tanks and modern winemaking technology -- and it's beautiful. The damp mustiness of the stone cellar delights me

. (photo: right)


Clape begins pulling corks -- they pop as his crank works and he speaks simultaneously.
They own less than 10 hectares in Côtes-du-Rhône, Cornas and Saint-Péray and until 1955 sold their grapes to the negotiant. August began making his own wine in 1955 under the Clape label and in 1968 kept all fruit for themselves. Even today, Pierre-Marie's son, Olivier, has joined the family after making gaining international experience in New Zealand and California.
They stay true to August's philosophy - if it ain't broke, don't fix it.

"My father, my son and I want to make wine a little traditional. Natural yeast, a little pigage... My father made the first bottle in 1955, the style is what he created.
I have no reason to change."

~Pierre-Marie Clape
Wines
Saint-Péray 2014 - Of the 70-hectares of the appellation, Clape owns one. It is mostly Marsanne with 20% Roussanne and boasts honeyed aromas, ripe golden fruits, earthy/mushroom notes and brule with an attractive oxidized character. Gorgeous.

'Renaissance' Cornas, 2013 - Delightful blueberry and raspberry aromas with violets and equally expressive palate. Power with finesse, elegant with sweet ripe tannins.
Cornas, 2013 - Again superlative fruit - expressive and fragrant. Wild purple berries, vanilla, violets, licorice and chocolate. Bright palate, eloquent and energetic.

'Renaissance', Cornas, 2012 - Drinking beautifully now, it is a finely woven wine with blueberry, raspberry sarsaparilla and textured mineral tannins.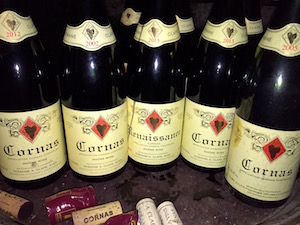 Cornas, 2012 - Good overall power and structure, dry and firm tannins, slightly more restrained fruit with plenty of mineral character underscored with cocoa and tealeaf.

Clape also opened a Cornas 2005, which was still impressively powerful and juicy yet rustic and extravagant at the same time. The Cornas 2002 showed similar power and finesse with a wonderful suppleness. Firm yet youthful with impressive brightness.
"We like to keep some bottles of Cornas, but it's hard - in a good vintage. On a good vintage 10 years is just the beginning of the second life of the wine."

~Pierre-Marie Clape
Domaine Courbis
Heading back north, toward Tain l'Hermitage, our next stop was only five kilometers away at Domaine Courbis on the southern tip of Saint-Joseph, in Chateaubourg
This historic family estate was first established in the 1600s and is currently run by brothers Dominique and Laurent Courbis.
They have a total of 34 hectares in AOP Saint-Joseph, AOP Cornas and AOP Saint-Péray.

Wines
Saint-Joseph Blanc, 2014 - Almost entirely Marsanne with 2% Roussanne from vines of an average of 30-35 years. Barrel fermentation adds complexity - the nose offers toasted spice, browned butter, folden fruits. The palate is sweet and ripe, tropical and honeyed with spice and flamed lemon peel on the finish. Good overall weight, bright acidity and spice on the finish.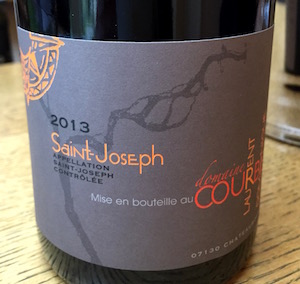 Saint-Joseph, 2013 - Expect spicy red berries with blackberry and pepper. The palate mimics the nose with fresh fruit, which rolls into pepper, licorice, dark cocoa and firm youthful tannins.

'Les Royes', Saint-Joseph, 2013 - Domaine des Royes is a special south-facing amphitheater site on the border with Cornas. The vines are planted on steep slopes of clay and limestone and the site is well protected from winds.
Earthy nose with fine pepper and mixed forest berries. Fresh with more finesse than power on the entry then the power builds and tannins grips the palate firmly.

'Champelrose', Cornas, 2013 - Champelrose is a highly regarded site with poor soils of decomposed granite. Laden with purple berries, sarsaparilla and some oak spice. Juicy and approachable at this stage with overall great concentration and brightness. Firm but plump tannins.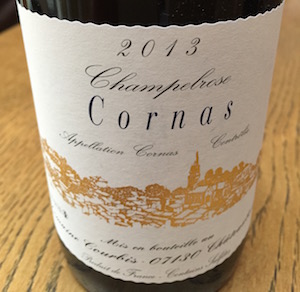 'Les Eygats', Cornas, 2013 - Chic, fresh and balances, juicy fruit and peppery spices. Brightness comes from the higher altitude site at 308m it lends structure and more attractive acid profile. The site provides poor, free-draining soils of decomposed granite.

'La Sabrotte', Cornas, 2013 - The house style is overall elegant - this wine follows suit. The nose is very fresh with high-toned berries that roll into purple fruit. More obvious peppery quality here with cedar and tealeaf and firm but fine tannins. The site provides a base of solid granite over decomposed granite and thin topsoils.

'La Sabrotte', Cornas, 2005 - Showing well at tasting, Laurent admits it's softened up from being nearly undrinkable when young. Saddle leather muddled with confiture of forest berries and spice. Bright and elegant - well-woven and delicious.


Maison Delas Delas Frères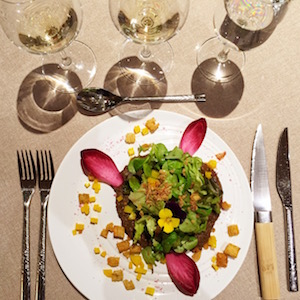 My second night in the Northern Rhone brought me to Le Tournesol in Tournon-sur-Rhone for dinner.
My hosts that evening, Maison Delas and their delightfully charming winemaker, Claire Darnaud-McKerrow.
Delas, part of the Champagne Duetz family makes a broad selection of wines from Vin de Pays to regional (Gigondas, Tavel, Vacqueyras, Condrieu, Crozes-Hermitage, Côte-Rotie, Saint-Joseph, Cornas... to name some) to single vineyard selections in Northern Rhône as well as estate wines.
Founded in 1835 this truly Rhône company started as a partnership called Audibert et Delas. Eventually, in 1924, two of the Delas descendant, brothers Henri and Florentin Delas took over, renamed the company Delas Frères and expanded the Hermitage vineyard while adding the Chateauneuf-du-Pape vineyard. The company continued to grow, internationally and its holdings within the valley, which finally resulted in a partnership with Champagne Deutz in 1977. In 1993 they joined the Roederer group and celebrated 180 years in 2015. In 2017 they will reopen a restored mansion in the heart of Tain l'Hermitage (the former Jaboulet mansion) and fully rebuilt winery. It will be the main winery and the mansion will provide a visitor's center.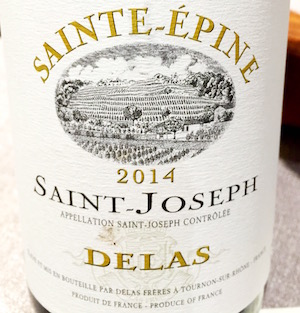 Wines
'Les Challeys' Blanc, Saint-Joseph, 2014 - Classic to the region this is a Marsanne and Roussanne blend. Expect a leesy and creamy nose, honeyed with golden fruits, hazelnuts lemon curd and pine resin. Beautiful weight, pristine character and good persistence. Outstanding.

'Sainte~Epine' Blanc, Saint-Joseph, 2014 - This single vineyard wine is only produced in the best years. It is made from 40-year-old Marsanne vines and only one barrel was made in 2014. It goes through full malolactic fermentation and matured in oak. Amazing concentration, focus and weight. Powerful mineral and citrus character with extensive length. Outstanding.

'Francois de Tournon' Saint-Joseph, 2013 - A ripe style with blackberry jam, sweet spice and licorice. Fine spice and cocoa lead across a supple palate. Textural tannins and abundant acidity.
"More southern [valley], fleshy and powerful." ~ Claire Darnaud-McKerrow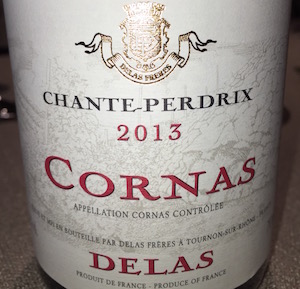 'Sainte~Epine' Saint-Joseph, 2013 - Leather and blackberries, peppery spices, licorice and plum. Very fresh palate with power and structure - cocoa and spice flavours and abundant acidity. Elegant.

'Chante-Perdrix' Cornas 2013 - Deep aromas of blackberry compote and coffee with white pepper with fresh minty character. Plush, supple and opulent with incredible depth. Always the last grapes to come off these vines from three different growers.
Outstanding.


Domaine Alain Voge
Established in the appellations of Cornas and Saint-Péray in the 1960s, Alain Voge became a champion of lost vineyards, resurrecting sites left forgotten for decades.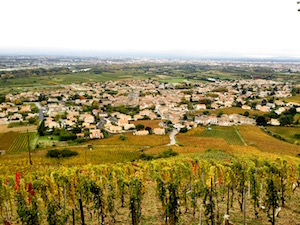 He targeted his initial sales toward fine dining establishments in France. Today Voge holds 12-hectares of vineyards in Saint-Joseph, Cornas, Saint-Peray and Côtes-du-Rhône. Syrah and Marsanne are his focus, the vineyards are planted on steep, rocky hillsides of poor soils consisting of decomposed granite and some old vineyards with clay. The vineyards are organic and moving toward biodynamic.
The wines are made in Cornas where the winery and a small tasting room is located.

(Photo above right: looking out over Saint-Péray;
right: winemaker Alberic Mazoyer in vineyard with old clay soils)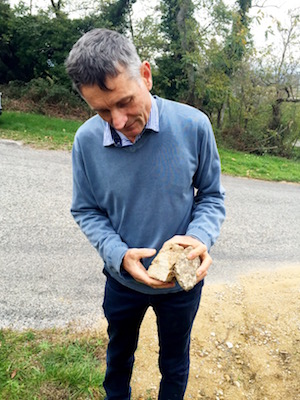 'Les Vinsonnes' Saint-Joseph, 2013 - From 15-year-old Syrah vines this is quite a restrained style with a tightly wound palate. Tangy red fruits, peppery spices, espresso and cocoa. Spicy and tangy red fruit dominates the palate with fgripy but smooth tannins.

'Les Chailles' Cornas, 2013 - From an average vine age of 30 years, this Syrah spent 16 months in oak. The nose here is richer as expected from Cornas.
expect cherry, blackberry and fine peppery spices with cocoa. It is still very youthful, house style seems to play a big part in the Voge wines - full cluster press shows. Restrained with firm tannins and abundant acidity.

'Les Vieilles Vignes' Cornas, 2013 - Earthy core with tangy high-toned red fruit. Young and tight, toasted and grippy - oak stands out here - 20 months aged in barrel.
2012 shows more roundness in the mouth, leather, tealeaf and higher concentration of fruit (notably black raspberry).
A tough wine, firm.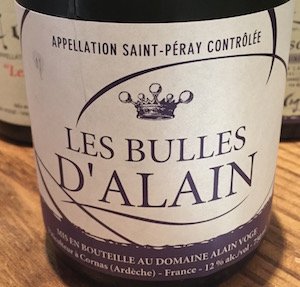 2011 is powerful, peppery with wild forest berries and leather. Overzelous acidity, grippy tannins, tart and linear.

'Les Bulles d'Alain' Saint-Peray, 2011 - This dry (2 grams per liter residual sugar) fizz is made from 25-year-old Marsanne grown on clay/calcareous soils.
It is floral and crunchy, delicate, fine mousse and focused. Delightful. Only six of the thirty producers in the appellation make bubbly.


Comments on recent vintages:
2015, like in the Southern Rhône looks to be exceptional vintage. It was hot and dry in July but August did provide some respite with rains.
2014 is approachable, easy drinking and ripe but some say it's too simple and won't be as age-worthy as say 2010 or 2012.
2013 is a traditional vintage, quite rustic though.
2012 was a late harvest but wines had good concentration, big tannins and deep colour. Perhaps not as good as the 2010 vintage but best recent vintage.


~Daenna Van Mulligen (above: view from Saint-Péray on the right bank over the Northern Rh

ô

ne toward Tain)

Read more on the Rhône

►Northern Rhone: Part 2
►Southern Rhone: Ventoux
►Southern Rhone: Vacqueyras