May 03, 2016
The Land Of Syrah: Part 2
Read The Land of Syrah: Part 1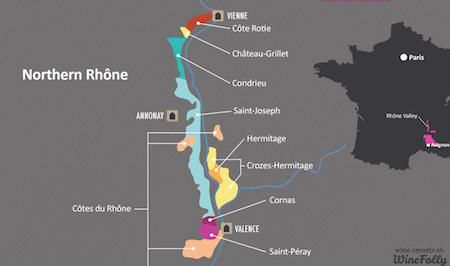 My journey in the Northern Rhône continued after a Grenache-soaked tour of the south.


(map courtesy: Winefolly.com)



This visit, my focus was centered on the structured Syrahs of Saint-Joseph and the generous Syrahs of Cornas with a small indulgence in those of Côte Rôtie, Hermitage and the luscious whites of Saint-Péray and Condrieu.

Domaine Pierre Gonon
In Saint-Joseph's heart, in Mauves, a small nondescript sign greets your arrival at Domaine Gonon.
Fearing we'd missed our appointment we continued to ring the bell on the winery door for several minutes until Jean Gonon

(right)

appeared.

He led us down to the cellar with a handful of glasses to sample from a few barrels and talk about his family's work.
Jean explained that his father Pierre began making wine when he married. The winery had been owned by Jean and his brother Pierre's grandfather. Jean and Pierre took over in 1989 and while the production is small (they make only one white and one red Saint-Joseph) they are some of the most highly coveted wines of the region.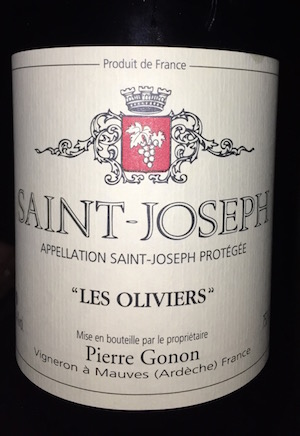 The ten-hectare estate is organic and consists of eight red (Syrah) and two-hectares of rare (in this appellation) whites (Marsanne and Roussanne).
The barrel sample of Syrah we tasted (Gonon had no wine left to open for us) was incredibly fragrant; it was floral and spicy with sarsaparilla and a savoury saline component, which Jean explains is from the old vines (30 years average) and granite soils.
Gonon lets his grapes hang longer than most - until the stems ripen, as he prefers whole cluster press (not removing grapes from stems) on the majority of his fruit.
The 'Les Oliviers' Blanc 2013 is always a blend of 80/20 Marsanne/Roussanne and is simply stunning. Ripe, golden and honeyed with white peach, ginger, fine spice and oodles of exotic flowers. The weight and concentration are outstanding. It is simultaneously elegant and powerful with a phenolic aspect on the finish.
Ganon was generous enough to open a 2003 'Les Oliviers' Blanc, which was decadent. Sublime spice, peach compote, quince and beeswax tones with impressive intensity and heft. Divine.

Domaine Durand Eric & Joel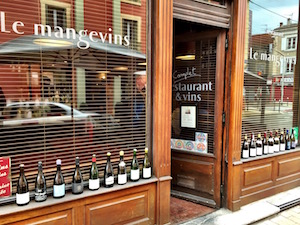 Heading back to Tain l'Hermitage on the eastern bank of the river I was delighted to be returning to Le Mangevins a tiny, 20-seat wine bar and restaurant owned by Vincent Dollat and his wife, Chef Keiko Yamada Dollat (read my article in Montecristo on Le Mangevins here) for lunch. Joël Durand was there to share he and his brother Eric's wines over a seasonal meal.
Their father had a very small vineyard but Joël began to add to it in 1987. His younger brother Eric joined him and they now have vineyards in Saint-Joseph, Saint Péray, Cornas and some high altitude vin de pays, planted with Viognier.
Durand firmly believes Cornas is the true star of the north - better
than Cote Rotie, whose wines he believes are meant to be drunk
younger than those of Cornas.
He refers to Cornas as a sunny wine, riper and more age-worthy.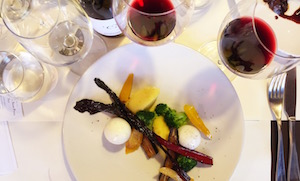 Additionally, like many others I spoke to, Durand feels 2015 is his best year ever. In fact, Marcel Guigal says the 2015 vintage is the one he's been waiting his entire life for, some say comparable vintages could be 1945 or 1961.

Wines
Saint-Joseph Blanc, 2014 is 60% Marsanne and 40% Roussanne of which 40% spent 6 months in oak - primarily neutral. It has a lovely honeycomb, pine and grilled peach character alongside toast and some nutty hints. Overall great power and lively acidity keeps it elevated.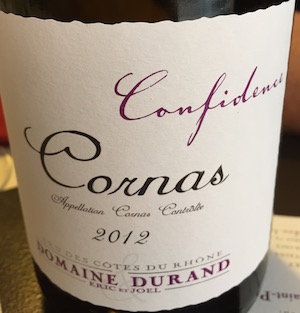 Saint-Joseph 'Les Coteaux' 2013 is an intense brooding wine with toast, bittersweet chocolate and espresso with dark fruit - despite its rumination it is structured and well balanced.

Cornas 'Premices' 2013 is the first cuvee of this wine. The grapes come from a young vineyard, just over a decade old. It shows its youth with high-toned and vibrant purple fruits, lashings of peppery spices, licorice and chocolate.

Cornas 'Enpreintes' 2012 is a complete turnabout from the Premices. It has flashy wild purple berries, violets, tealeaf and spice with leather, cocoa and garrigue. Supple and weighty with expressive palate fruit and a silky plush mouthfeel. A wine drinkable young. Delicious.

Cornas 'Confidence' 2012 is rich and chocolaty with dense purple fruits, and blackberry jam. Generous fruit, a silky texture and long finish. Drinking well now despite its youth. Delectable.
Cave de Tain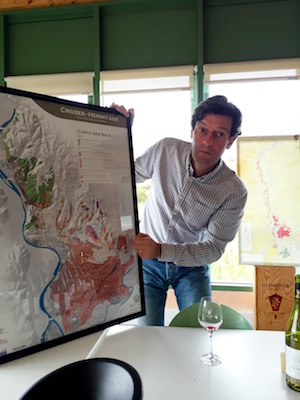 There had been significant changes at Cave de Tain since my previous visit. The Tain l'Hermitage-based co-operative had expanded its winery and added a new tasting room and visitor's center at a cost of 10 million euro.
As Export Manager, David Quillin noted, "We wanted our winery to be on par with our vineyards. It's easy to make good wine with good fruit."

Started in 1933 by Louis Gambert de Loche, Cave de Tain is the largest producer in the Northern Rhone and the largest producer of Syrah in France - in fact, the only red variety they work with, is Syrah. They own significant vineyards (in Hermitage, Cornas Saint-Péray and Crozes-Hermitage) of their own as well as pulling fruit in from 280 growers and 980 hectares of vineyards. Impressively, all of the vineyards are within 15 kilometers of the winery. They prefer to refrain from the use of chemicals and vinify each parcel separately - no easy task when you have that much fruit to deal with. (Right: Cave de Tain's chief winemaker)
Wines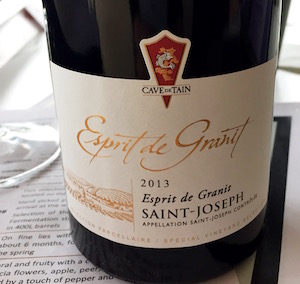 Saint-Joseph 'Grand Classique' Blanc 2014 is made entirely from Marsanne. It has impressive floral perfume, sweet golden fruits and lemon curds. It is racy and pristine in the mouth with a rounded weight and zesty finish with hints of nuts and spice.

Saint-Joseph 'Terre d'Ivoire' Blanc 2014 is also 100% Marsanne from a suspected 100 year-old vineyard (no one knows for sure how old it is). The nose offers white peaches honey, caramel, toasted nuts and sweet butter. It is very fresh and cocentrated with wonderful tension. It starts out quite full on entry then grows more linear toward the finish. Wonderful.

Saint-Joseph 'Grand Classique' 2013 offers cherries and mixed toasted spices, briary berries and red currents. Ripe, powerful and focused with mouthwatering acidity and dry tannins. Quillin notes that Saint-Joseph wines take longer to integrate the tannins and fruit in oak.

Cornas 'Grand Classique' 2011 proof once again of my delight with Cornas wines, this one is so upfront and plush with blackberry jam, sarsaparilla and chocolate with violets. The palate is equally decadent and plump with generous fruit and a long spicy finish. Delightful.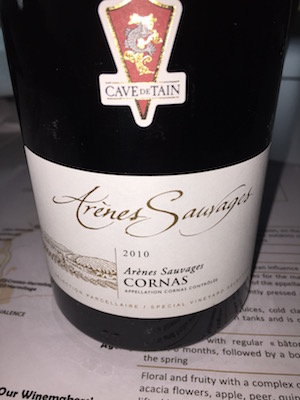 Hermitage 'Grand Classique' 2011 is immediately more muscular - dark briary and forest fruits, mocha, saddle leather, smoked meat, licorice and baking spices. A well-woven and integrated palate with a supple weight and texture.

Crozes-Hermitage 'Les Hauts du Fife' 2012 is spicy and earthy with a mosaic of saddle leather, smoke, mineral, dark cocoa, peppery spices and fading violets. Classic and somewhat rustic with impressive complexity overall.

Saint-Joseph 'Esprit de Granit' 2013 pays homage to the granitic soils of the region and comes from vines on average of 35 years. It is masculine and rustic on the nose - savoury spice, forest berries, cocoa, saddle leather and pepper. Firm but fine tannins coat the palate - the acidity is notable. This wine sees no oak.

Cornas 'Arenes Sauvage' 2010 carefully selected, low-yield plots of Syrah go into making this special wine. Exuberant forest berries, leather, licorice and sweet spices on the nose. It is supple and generous with chocolaty tannins and wonderful overall balance and structure. Purposefully released later, the current vintages arriving in market at 2009/2010.
Vidal-Fleury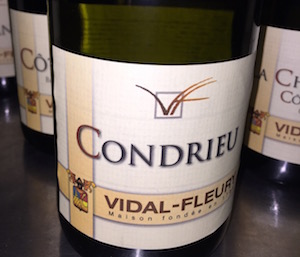 What was the first winery I visited on my previous trip to the Rhone Valley was now my last. Not much had changed except the time of year (October vs. March) provided a better backdrop to the steep terraced vineyards surrounding the winery in Ampuis.
Vidal-Fleury was established in 1781 and is the oldest existing producer in the Rhone. Thomas Jefferson established an export market in the United States and it continue to be VF's leading market. Considered a negotient and grower, Vidal-Fleury was purchased by the Guigal family in 1984.
It was a legitimate situation as the Vidal-Fleury and Guigal families had history - Etienne Guigal was hired as a cellar master and vine grower by Joseph Vidal-Fleury in 1924. When the remaining family had no interest in taking on the challenge of a winery it stands to reason, Etienne's son Marcel would purchase it.
Like my previous visit, General Manager, Guy Sarton du Jonchay, was there to taste me through the wines - VF makes wines from the Southern Rhone to the north.
Wines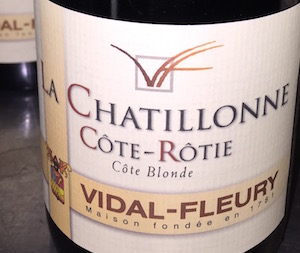 Condrieu 2014 is a decadent pour of intense honey and smoke, rich oily fruits, quince jam, bruised peaches and golden apples. Concentrated and weighty in the mouth with a textural phenolic finish. Made from 100% Viognier, natural yeast fermentation in oak and full malolactic.

Condrieu 2011 very fresh, holding itself up with white pepper, quince and persimmon, peach and lime oil. Lifted silky palate with a gossamer weight and slick texture. The finish is lengthy and powerful.

Crozes-Hermitage Rouge 2012 offers a rustic nose with raspberry, toasted spices and vanilla. Supple and generous with an earthy and spicy palate followed with espresso flavours on the finish.

Saint-Joseph Rouge 2013 leads with peppery and strawberry confiture aromas alongside toasted spice violets and vanilla. The palate is equally peppery with smooth tannins and a cocoa finish.

Hermitage Rouge 2010 was the first vintage since 2005 that this wine was made as the vineyards were renewed. It is a pretty wine, with raspberry and blackberry jam, lilacs and leather Bright palate with a supple weight and textue, dry cocoa tannins.

Côte Rôtie Brun et Blonde is co-fermented with 8% Viognier and has very toasted or grille aromas, baked berries, dark spices and black pepper. Surprisingly fresh in the mouth with glycerol-like texture and tea leaf finish.

Côte Rôtie Blonde 'Chatillonne La Chatillonne' 2010 this comes from an estate owned 0.8 hectare and only 300 cases are made annually. It is a field blend containing 12% Viognier and is co-fermented.
Meaty and savoury with spice, confiture of berry and peppery spice aromas. Supple and concentrated with good freshness in the mouth and a powerful spice and coffee finish.
Les Vins De Vienne

Comprised of three winemakers, who are highly regarded individually, Les Vins De Vienne is the dream team of Yves Cuilleron, Pierre Gaillard and François Villard. In Ampuis, I sat down for dinner with François Villard at the charming little two story wine bar and restaurant Bistrot de Serine in Ampuis on my final night.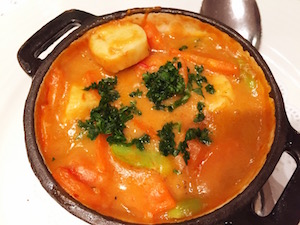 (Photos: hearty dumpling cassoulet, cheese plate)

The story began with Yves Cuilleron, who quietly noted the landscape and exposures of a particular site whenever driving toward Lyon, north of the Rhône Valley. The site is also north of Ampuis and Vienne, on the way to Lyon. It's a sliver of Côte Rôtie called Seyssuel, and upon research, Cuilleron discovered it was once a celebrated winemaking area in the Roman times.
In 1996, along with Gaillard and Villard, they rented some fallow land in Seyssuel, on the right bank of the Rhône River. Seyssuel t is a narrow strip of land with high winds and warm temperatures. It exhibits tendencies more like the vineyards near the Mediterranean - hot with similar scrub-type garrigue. It is comprised of steep terraces and highly preferred south to south-west aspects. The soils are granite with worn schist. The four hectares they planted in 1996 were the first there in more than a hundred years, since phylloxera struck in the late 1800s.
Les Vins de Vienne work 11 hectares now, with the possibility of expansion to 25. Additionally, there are now 14 other producers - all bent on seeking AOP status.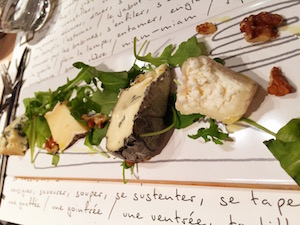 Taking three strong-willed friends with unique winemaking practices ad throwing them together might now be the best plan but it seems to work. They all seek balance in the vineyard and in the wines.
The company has its own winery and is expanded beyond Seyssuel to being a negotiant. The portfolio includes single parcel selections in Northern Rhone's Saint-Péray, Condrieu, Crozes-Hermitage, Saint-Joseph and Côte Rôtie. They also make wines from multiple Southern Rhône appellations, plus Vin de France and Côtes du Rhône wines.
Wines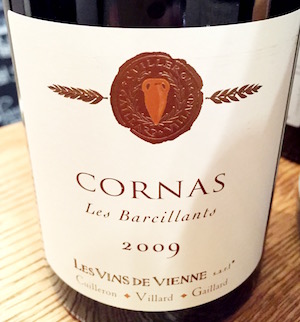 Saint-Joseph 'L'Elouede' 2013 is comprised of Marsanne (80%) and Roussanne, which was aged in barrel, 10% new, for nine months. Quite umami on the nose - shitake, fleur de sel along with pine resin, beeswax, lemon and smoke. An elegant white with phenolic texture on the finish.

Saint-Joseph 'L'Arzelle 2012 offers muddled red fruits, earth, toast, clay, cocoa, tea leaf and fine peppery spices. Restraint here with ripe but dry tannins.

Saint-Joseph 'Les Archeveques' 2012 presents a mix of high-toned red fruits, forest berries, tobacco and fine spice. Very juicy in the mouth with pristine fruit flavours with fine cocoa tannins. Still youthful, needs time.
The 2009 offers sweet red fruit woven with spice and garrigue. Pristine fruit expression - a stylish wine with good posture.

Cornas 'Les Barcillants' 2012 is unique from other Cornas I'd tasted this trip - herbal notes with green coffee beans, tart red fruit that lead to a sweeter/tangy red fruit, garrigue and tobacco on the palate. Very youthful and tightly wound still. The 2009 is a complete departure from the 2012, offering expressive raspberry, violets, licorice and baking spices. The palate echoes the nose, it is fresh and plump on the palate with good length and cocoa tannins.

~Daenna Van Mulligen
Read More on the Rhône
►Southern Rhone: Ventoux
►Southern Rhone: Vacqueyras
►Northern Rhone: Part 1