Jun 02, 2016
Next Stop: Central Otago

From Nelson I caught a domestic flight to Queenstown via Christchurch.
However, the Land of the Long White Cloud (Aotearoa) had other plans.
That white cloud anchored itself over much of the South Island. Landing in the mountainous Central Otago capital requires a ceiling of a couple thousand feet.
Precisely what we did not have. Therefore, I found myself on the most southerly tip of the island, at a blustery little airport, called Invercargill. Busses waited to escort us to Queenstown, three hours north.

Travel brings adventure and I had embarked on another.

Unfortunately, I'd missed my scheduled visit to Carrick in Bannockburn. I'd been looking forward to returning, since my last trip. Not only are the wines and the estate beautiful, but it was one of the most memorable meals I'd had.

I was able to make a late start visit to Akarua.



(Photo above: Quartz Reef vineyard, Bendigo)




Akarua
Akarua was established in 1991 by Sir Clifford George Skeggs. Skeggs made his fortune in seafood and tourism in the stunning coastal fiord-land, Milford Sound. The area was a vacation spot for Skeggs and his family, so he was aware of its potential. As one of the first in a group of people who decided to commit to this region as a viticultural area, Skeggs was able to purchase a large (50-hectare) section of north-facing land in Bannockburn - a notable site.
He planted his first vines in 1996 and in 2014 expanded the estate holdings by 50-hectares adding sites on Felton Road and in Lowburn. While Pinot Noir, Pinot Gris and Chardonnay were the backbone of Akarua, their sparkling program (started in 2009 released in 2012) has become an integral part of the portfolio.
Winemaker Andrew Keenlyside has been at Akarua since 2009 and works with sparkling wine specialist, Tony Jordan on the fizz program.

Wines
Akarua Central Otago Brut, NV - This traditional method fizz has a persistent bead. It has a fresh nose with crunchy white fruits and floral notes. There's lovely tension here and a creamy edge to soften with a slightly nutty finish. The 6 grams residual sugar dosage is quite common and is compelling to most sparkling drinkers. A traditional blend of Chardonnay (56%) and Pinot Noir.

Akarua Central Otago Brut Rosé, NV - Almost equal parts Pinot and Chardonnay with partial fermentation on skins to extract colour. Nice smoky notes with sweet summer berries and peach stone. Racy palate with attractive red fruit, stone fruit and charred tangerine peel flavours. Nice finesse, stylish fizz with 6 grams per litre residual sugar dosage.

Akarua Bannockburn Brut, 2010 - Creamy lemon curds, honeysuckle and
quince aromas lead to an expressive palate with lovely weight and creamy texture.
Seductive.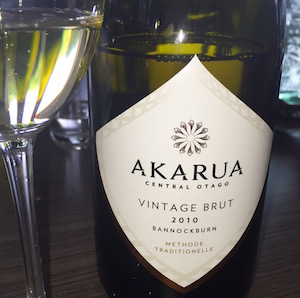 Akarua Chardonnay, 2014 -Barrel fermented then aged in 500-600L puncheons this wine is wonderfully fragrant and expressive. Expect guava, nuts, smoke and ripe golden fruits. Lovely weight and just enough oak to added interest without distracting.

Akarua Pinot Gris, 2015 - Perfumed nose of ripe sweet pears and honey. Pristine and lifted fruit also shows on the palate with great acidity overall.

Akarua Riesling, 2013 - Mineral, spring blossoms and lemon drops. Off-dry with excellent acidity and focus. A long citrusy finish.

Akarua 'Rua' Pinot Noir, Central Otago, 2015 - Spicy and chocolaty
with black cherry, espresso, and red fruit moving into shades of purple.
Minerality present on the palate with black cherry flavours.
Fine and quite delicate yet with a seam of power running through.
Expressive and bright.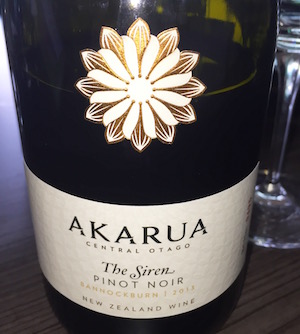 Akarua Pinot Noir, Bannockburn, 2012 - Peppery spices, saddle leather, wild forest berries and currents - somewhat more rustic. Good overall power and substance with tart berry and coffee flavours with fine cocoa tannins. Nicely integrated - excellent power and persistence.

Akarua Pinot Noir, Bannockburn, 2013 - A mix of black and purple fruit, cedar chips, bruised violet, fine spice and tealeaf. Awesome juiciness and top-shelf structure. Chocolaty and espresso roll across the finish. Chic.

Akarua 'The Siren' Pinot Noir, Bannockburn, 2013 - A monumental wine with a sweet perfumed nose of violets and wild purple berries. Excellent structure and power, held in check with eloquent fruit. Complex, finesse... the whole package.

Quartz Reef
The House of Pinot
The last time I visited Quartz Reef was in 2011. While it was an awesome visit, unfortunately owner/winemaker Rudi Bauer was traveling internationally.
This visit, Bauer

(right)

arrived at my hotel, the Heritage Boutique Lake Resort in Mount Pisa, early on my second day in Otago with enviable energy, which I soon learned was pretty true to form.
We quickly grabbed a coffee and drove up to the top of his Bendigo estate vineyard

(photo top of page)

.

Bauer was born in Salzburg, Austria.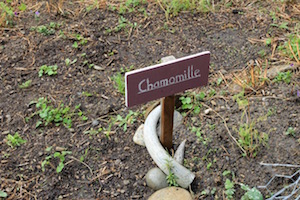 He studied viticulture and winemaking in Austria and later winemaking business college in Germany.
After school he jetted off to New Zealand and landed at the historic Mission Vineyards in Hawke's Bay where he became the assistant winemaker in 1985. From 1986-1988 he did vintages at Simi in California and Sokol-Blosser in Oregon before returning to New Zealand to take over the role as winemaker at Lake Wanaka's Rippon Vineyard, from 1989-1992.
He then did a one year stint in Vosne~Romanee at Meo Cazumet
before the siren call of New Zealand drew him back, this time to Giesen, in Canterbury.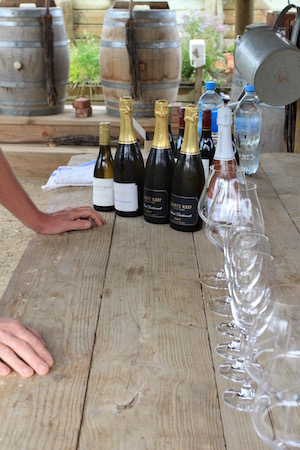 Bauer stayed-put on the South Island after that, forming Quartz Reef in 1996. Of course it was more than a year in preparation. He first saw the north-facing Bendigo site in Otago early in the 1990s, but he made sure he was established before fully committing to jumping ship. In 1993 he plotted the water, the power and vineyard aspects. He and his partners spent a lot of time (and money) planning the vineyard setup before ever planting.
The initial 15 hectares has grown to 30-hectares, somehow... he'd always thought 15 would be enough.

Of course, Pinot (Pinot Noir and Pinot Gris) was always the focus at Quartz Reef but plan B was a sparkling wine program, which means Chardonnay.
We're all grateful for the addition of the fizz.
Of the current production - about 12,000 bottles, one-half is sparkling and one-half is exported.

The name Quartz Reef comes from the fact that beneath Bendigo lay the largest quartz deposit in New Zealand - the region was once well known for mining.
Bauer chose the site for precisely that reason - he felt it would allow a "symphony of flavours" to manifest in the wines.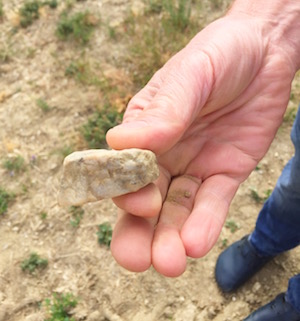 He calls the reef an "extraordinary pillar" for his wines - the soils are poor but sponge-like for good water retention.
The 18-year-old vines look less than half their age, they are quite willowy and struggle on the site, but that also helps control vigor. On his slope the vines produce very little quantity, but the quality is there. Down below on the plain, an old river bed provides loess and alluvial gravel soils, Bauer has learned they are better for the grapes for sparkling wines - there the vines are sturdier and can support more bunch weight.

As part of their progression, Quartz Reef transitioned to organic 2007 and then to biodynamic, which he feels creates more biodiversity in a vineyard which is, for all intents and purposes, a monoculture.


"It's a very busy geographical region; soil types, rolling hiss, lakes and sharp mountains. It will take us a long time to figure all this out (like Burgundy) as there are a lot of complications involved."

~Rudi Bauer
Wines
Quartz Reef, Method Traditional 'Zero Dosage' Brut, Central Otago, NV - Aged minimum two years on lees, this bone-dry fizz has attractive creamy notes with smoke and some toast. Vibrant and juicy nice tension and bracing. Very broad acidity broad. A wine of clarity and purity of fluid - these sparkling wines wines are like a fine diamond, clarity and purity with no where to hide fault.
Upon tasting the wine had been under cork for 15 months. Very chic. 58 Pinot Noir 42 Chardonnay.

Quartz Reef Brut, Central Otago NV - Made from 52% Pinot and 48% Chardonnay with a typical house dosage of six grams per liter.
It's expectedly more open and expressive on the nose than the zero dosage, its crunchy fruit and citrus boast a delicate creamy character. Nice longevity on the palate and more weight overall.
Lemon curd and tangy red fruit flavours are elevated by great persistence and vibrant acidity.

Quartz Reef Brut, Central Otago 2010 - This wine spent 4 years on lees, has four grams per liter dosage, and is comprised of merely seven percent Pinot and the rest Chardonnay.
Expect vague buttery and autolytic undertones, which roll into but creamy pear notes. Palate is so fresh; it has great concentration, weight and character. Focused, expressive and purity.
Excellent length and gorgeous creamy texture.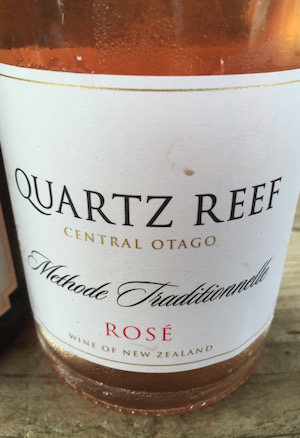 Quatrz Reef Rosé Method Traditional, NV - A pale salmon Pinot Noir rosé with notes of smoke, leather and earth - it is more rustic on the nose than palate. Wonderful expressive berry and peach pit flavours with a creamy weight and texture. the finish is lengthy, and continues its lively berry expressiveness.

Quartz Reef Pinot Gris Single Vineyard, 2014
Overall, lovely concentration. Nice succulent character, impressive weight and a phenolic textural finish. Attractive guava and exotic citrus flavours - weighty but pristine.

Quartz Reef Bendigo Single Vineyard Pinot Noir, 2013
Loads of muddled purple and red fruit, spice and cocoa and cedar with dried flowers, aromas, which also manifest themselves on the palate. This is a very transparent Pinot - solid mineral and fruit, not overly expressive nor brazenly acidic - rather serious and nicely integrated. Good length and wonderful balance. Like all of QR wines, it is transparent - not showy, but boasts oodles of characte

Quartz Reef Bendigo Single Vineyard Pinot Noir, 2014
Expect muddled and tangy red fruits and wild berries with some violets,
cedar, earth and leather. It is a teenager, slightly awkward and youthful
on the nose with less abundant fruit as per the 2014 vintage.
However, on the palate the fruit is much more expressive,
and nicely underscored with a floral character.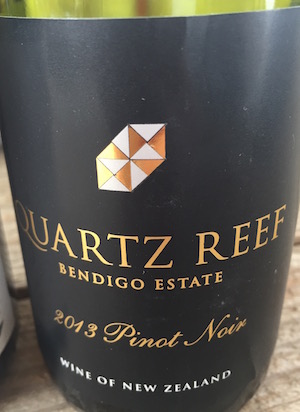 Quartz Reef Bendigo Pinot Noir, 2013 - This wine is chosen from the vineyard not by barrel selection and it's not always same block.
It is a small production, only 1200 bottles. Bauer poured it specifically to show me a different picture of this vineyard. It is a very expressive wine with ruby into purple-ish berries alongside chocolate and cedar with tea leaf. Amazing structure and brightness with quite firm but fine tannins.

Quartz Reef Bendigo Estate Pinot Noir, 2014 – Firm yet equally feminine in style with loads expressive fruit and star anise notes. It is stylish and articulate. Overall, great concentration, weight and structure with attractive vibrancy.




Central Otago 2014 Pinot Noirs Grand Tasting
Peregrine Winery: January 29, 2016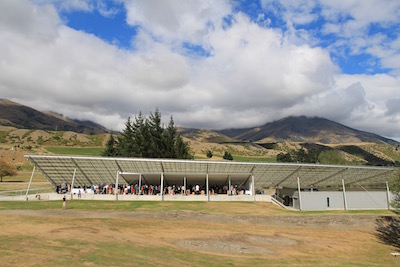 My takeaway from this most recent trip to Central Otago was that in the past five years, there was a new realization in the region.
The wines were more finessed, in most cases less robust - more refined.

In the past, Pinot purists have been dismissive of the region's style - too bold, too masculine, too extracted and brooding... often clumsy. Yet there was (and continues to be) a core fan base for the Otago Pinot Noir style, so different from those in other New Zealand regions, or anywhere else, for that matter.
The vines are getting older and the winemaking and viticulture techniques have equally matured.

Some Pinots I tasted were still quite rustic, but there were also fine to exquisite examples from a variety of sub-regions.
The Standouts
Felton Road 'Cornish Point' Pinot Noir, Bannockburn, 2014 - Pristine high-toned red fruit with delicate floral notes. A fine-boned, feminine and juicy wine - refined and silky.



Felton Road 'Block 3' Pinot NOir, Bannockburn, 2014 - Even more perfumed and floral than the Cornish Point with perfumed and seductive aromas.
Overall lovely weight and purity with so much complexity yet divine clarity. Fine white pepper trails on the finish. Outstanding.

Ellero Pinot Noir, 2014 - Fine elegance and retraint, juicy red fruit. Pristine palate, excellent structure and long sweet tannins.

Ceres 'Composition' Pinot Noir, Bannockburn, 2014 - High-toned red fruit and cedar. Fresh and juicy, lovely purity, tannins still young and tight.

Carrick Piot Noir, Bannockburn, 2014 - Red into purple berries with violets. Lovely focus and weight, a feminine and chic style with fine-boned structure.

Aurum 'Madeleine', Lowburn, 2014 - Whole bunch pressed and foot trodden, this wine is very perfumed and has a fine almost ethereal character with red into purple fruits and violets.



Wild Earth Wines Pinot Noir, 2014 - Beautiful blueberry tea, raspberry, violets and sous bois with an energetic palate with fine tannins. Not to be released until early 2017.

Pisa Range 'Black Poplar' Pinot Noir, 2014 - Expressive high-toned and pristine berry and purple floral notes. Effusive, so lifted. Seductive and charming.

Gibbston Valley 'China Terrace' Pinot Noir, 2014 - Effusive blueberry and raspberry, violets and spice, which continue on the palate. Good structure and acidity, attractive supple weight.

Mt. Difficulty Pinot Noir, Bannockburn, 2014 - Purple berries, tea leaf and perfumed with violets. The palate is juicy, it has a more feminine style, fine boned with sweet tannins.

Domain Road Pinot Noir, Bannockburn, 2014 - Outstanding mixed floral and sun-ripened sweet berry tea and spice aromas, juicy and fresh - a sweet palate and overall extremely stylish wine.



Domaine Thomson 'Surveyor-Thomson' Single Vineyard Pinot Noir, Lowburn, 2014 - This producer makes wine in Gevrey-Chambertin and Central Otago - a world apart. It is a a biodynamic wine fermented with wild yeasts. The fruit is pure, high-toned and sweet. Very good structure and firm youthful tannins. Won't be released for a couple years yet.

~Daenna Van Mulligen

►Read, Return To Middle Earth: Part 1 Nelson