Jan 13, 2020
InterVin International Wine Awards + Judgment of BC



In the second half of 2019 I took part in two group judging events, both of which I had been involved in previously.

First, in August I attended the 11th annual InterVin International Wine Awards in Niagara. I have been a panel head and judge for InterVin since its inception and have enjoyed being part of a wonderful group of judges each summer.

InterVin's head judge, Christopher Waters, who co-founded Vines Magazine more than 20 years ago (sadly, the magazine was shuttered in August of 2019), annually put together the best judging scenario I've been part of. Each panel consisted of a winemaker, a sommelier/educator, and a member of wine media.
While Chris had now taken on the role of wine critic for The Globe and Mail newspaper (a job he deserves more than anyone else in this business IMO), I've only recently learned InterVin will continue.

I plan to be along for the ride as long as I am welcome.

Secondly, I attended the fifth (and final) annual Judgment of BC. I was in attendance for the first and second Judgment as well.
We were all pleased to see Mr. Steven Spurrier (I wrote abut him in Montecristo Magazine here) return for this final challenge as honorary guest, after all, it was his 1976 Judgment of Paris that put him and Napa Valley wines on the map, and he was the reason the BC Wine Institute decided to start this annual process.

Photos
Top: judges/right: Steven Spurrier/ below: Daenna Van Mulligen's judging sheet, all courtesy of the BC Wine Institute.

Below I have the results for both.


Judgment of BC 2019

—the fifth and final.




In each flight I have listed the order the wines were preferred (1-10) and below each, my personal ranking and notes from the blind tasting followed by whether I thought it was from BC, or it was international.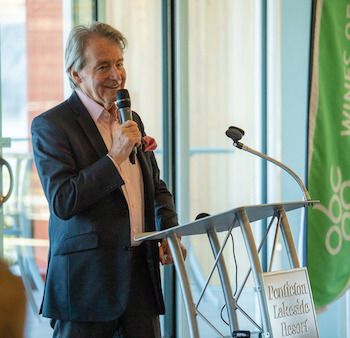 Rieslings
1.Nik Weis St. Urbans-Hof Wiltinger Alte Reben, Mosel Germany, 2014
My ranking: 9
My notes: Musty, foxy, wld honey, petrol and bruised fruit.
Guess: International

2. CedarCreek Estate Winery Platinum Block 3 Riesling, Okanagan Valley, 2018
My ranking: 2
My notes: Honeyed, floral, fruity, chamomile tea and lime. Tastes and smells like BC
Guess: BC

3. St. Hubertus Vineyards Family Reserve Riesling, Okanagan Valley, 2014
My ranking: 4
My notes: Petrol, lime, beeswax. Has both flabby and focused characters, slightly awkward.
Guess: BC

4. Tightrope Winery Riesling, Okanagan Valley, 2017
My ranking: 8
My notes: candied fruit, musky and foxy notes. Lacking [life], limpid.
Guess: International

5. Culmina Family Estate Winery Riesling Decora, Okanagan Valley, 2014
My ranking: 3
My notes: zesty, grren apples, lime; nervy with very bold acid.
Guess: BC

6. Upper Bench Estate Winery Riesling, Okanagan Valley 2017
My ranking: 6
My notes: racy lemon-lime, crunchy orchard fruits. Off-dry and legthy. Acidified?
Guess: BC

7. Chateau Ste. Michelle Cold Creek Vineyard Riesling, Columbia Valley Washington, 2015
My ranking: 1
My notes: wowza, jump outta the glass aromas. Pristine lime and green apples. Residual [sugar] is balanced, very Jolly Rancher green apple flavour.
Guess: BC

8. Rieslingfreak No.3 Reverence of Riesling, Clare Valley South Australia, 2018
My ranking: 7
My notes: very tart; lime, grapefruit and green apples. Mouth; racy, citrus, lacks fruit.
Guess: BC

9. Martin's Lane Winery Fritzi's Vineyard Riesling, Okanagan Valley, 2016
My ranking: 5
My notes: starfruit, pomelo, less precise fruit aromas. Clean, racy, bold citrus peel.
Guess: International

10. Nigl Dornleiten Riesling Kremstal, Austria, 2015
My ranking: 10
My notes: murky, sweet, musky, citrus peel undertones; unclean nose. Palate, bitter and funky.
Guess: International

Pinot Noir
1. Arrowleaf Cellars Archive Pinot Noir 2016 BC VQA Okanagan Valley

My ranking: 6
My notes: sweet fruit herbal, fresh, fine notes but oak notes apparent. Fresh entry, oak spice and bitter finish.
Guess: BC


2. La Crema Pinot Noir Monterey 2016 California

My ranking: 3
My notes: Juicy nose, expressive red fruit and fine spice. Lited, expressive, balanced and charming (Markborough style).
Guess: International


3. Sokol Blosser Pinot Noir Estate Dundee Hills 2015 Oregon

My ranking: 2
My notes: interesting spice aromas, fresh yet also earthy and complex. A pretty wine with more restrained fruit on palate, oak is more apparent on finish.
Guess: BC


4. Sperling Vineyards Pinot Noir 2016 BC VQA Okanagan Valley
My ranking: 1
My notes: lean reserved nose; higher acid notes, spice box and tealeaf. Tangy cranberry and tobacco flavours with a mouthwatering finish. Classic.
Guess: BC


5. Meyer Family Vineyards McLean Creek Road Vineyard Pinot Noir 2016 BC VQA Okanagan Valley
My ranking: 9
My notes: Foxy, earthy, savoury, umami.
Guess: International


6. Louis Jadot Beaune Grèves Premier Cru 2015 Burgundy
My ranking: 7
My notes: complex, earthy, expressive red fruits. Tight, needs time. Youthful, purity and lingering tealeaf and spice.
Guess: BC


7. Shaw + Smith Pinot Noir Adelaide Hills 2016 South Australia
My ranking: 4
My notes: leaner nose, cedary notes and herbs. Seems to have some age (in both fruit and colour) but refined and Old World in style.
Guess: International


8. Tightrope Winery Pinot Noir 2016 BC VQA Okanagan Valley
My ranking: 10
My notes: initial fruity nose then foxy and sweaty. Herbal, tealeaf, bruised strawberry and oxidative notes.
Guess: International

9. Quails' Gate Winery Richard's Block Pinot Noir 2017 BC VQA Okanagan Valley

My ranking: 8
My notes: beet greens, herbal, leather, tart red fruit. Palate darker fruit, weight and intensity, obvious tannins, seems warmer climate style.
Guess: BC

10. CedarCreek Estate Winery Platinum Block 2 Pinot Noir 2016 BC VQA Okanagan Valley

My ranking: 5
My notes: silky sweet nose, candied beets and kool-aid and mushrooms. Seems to be played with/contrived, but still tasty.
Guess: BC



Chardonnay



1. Meyer Family Vineyards Chardonnay Tribute Series Donovan Tildesley Old Main Road Vineyard 2016 BC VQA Okanagan Valley

My ranking: 5
My notes: matchstick and toasted golden fruits, intense, toasted and lemony—very Hawke's Bay style. Palate is also toasty, oaky, precise with a slightly bitter finsih.
Guess: International


2. 50th Parallel Estate Winery Chardonnay 2016 BC VQA Okanagan Valley

My ranking: 7
My notes: oystershell, pain grillé, matchstick, burnt lemon peel. Lean, precise, fresh but toasted.
Guess: BC

3. Craggy Range Chardonnay Kidnapper's Vineyard 2017 Hawkes Bay, New Zealand

My ranking: 1
My notes: inense, sharp lemony, buttery toasted and mineral aromas. Angular, mineral, complex and Chablis in style.
Guess: International

4. Nk'Mip Cellars Qwam Qwmt Chardonnay 2017 BC VQA Okanagan Valley

My ranking: 6
My notes: vibrant golden fruit on nose. Good expressive yellow orchard fruit in mouth, slightly watery but very drinkable.
Guess: BC

5. Chartron et Trébuchet Pouilly Fuissé 2017 Macon, Burgundy

My ranking: 4
My notes: lifted melon, pineapple and golden apples with dusty undertones. Oodles of fruit in mouth; clean and balanced.
Guess: BC

6. Laroche Chablis Premier Cru La Chantrerie 2016 Burgundy, France

My ranking: 8
My notes: sweet, almost apricot brulee aromas; floral and peachy. The palate is very muscat-like, peachy, weird, watery, confected.
Guess: International

7. Tantalus Vineyards Chardonnay 2015 BC VQA Okanagan Valley

My ranking: 2
My notes: buttered toast, spice and sweet lemon. Pure sweet fruit on palate, lifted and less "oak" than the other in lineup.
Guess: BC

8. Monte Creek Ranch Winery Chardonnay Reserve 2016 BC VQA British Columbia

My ranking: 3
My notes: toasted grilled lemons, oak, and pain grillé. Classic palate, good weight with a creamy edge. The finish is really what makes this wine.
Guess: BC

9. Culmina Family Estate Winery Chardonnay Dilemma 2014 BC VQA Okanagan Valley

My ranking: 9
My notes: sweaty nose, angular, sharp, toasted oak, bitter finish.
Guess: International


10. Bethel Heights Vineyard Chardonnay Estate Eola-Amity Hills 2015 Oregon
My ranking: 10
My notes: initiallly closed, then on second whiff pure honey stuck with dust. A pretty palate, but strange.
Guess: BC

Syrah
1.Tightrope Winery Syrah 2016 BC VQA Okanagan Valley

My ranking: 7
My notes: sweet purple berries, floral and sweet spices with significant peppery notes and a grippy finish.
Guess: BC

2. Le Vieux Pin Winery Cuvée Violette Syrah 2016 BC VQA Okanagan Valley

My ranking: 1
My notes: berry compote with vanilla, licorice and white pepper. The palate is sweet and savoury and juicy. Classic.
Guess: BC

3. Stag's Hollow Winery & Vineyard Syrah Amalia Vineyard 2016 BC VQA Okanagan Valley

My ranking: 6
My notes: meaty, smoky, savoury, earthy and peppery.
Guess: BC

4. Saint Cosme Crozes-Hermitage 2016 Northern Rhône, France

My ranking:10
My notes: smoked meat, peppery spices, leather and a watery, bitter palate.
Guess: BC

5. Torbreck Woodcutter's Shiraz Barossa Valley 2017 South Australia

My ranking: 2
My notes: jammy purple fruits, eucalyptus. Expressive, sweet fruit, classic Barossa and delicious.
Guess: International

6. Time Winery Syrah 2014 BC VQA Okanagan Valley

My ranking: 3
My notes: fresh, vibrant fruit, dark chocolate, spice and leather. Powerful, grippy and savoury palate.
Guess: BC

7. Painted Rock Estate Winery Syrah 2016 BC VQA Okanagan Valley

My ranking: 5
My notes: a lovely nose with earthy purple fruits, leather and black pepper. Toasty, savoury eathy yet fruity. Delish.
Guess: BC


8. Domaine Jamet Syrah Collines Rhodaniennes 2015 Northern Rhône, France
My ranking: 9
My notes: sour forest fruit, onions, garrigue and forest floor. Palate is juicy.
Guess: International

9. C.C. Jentsch Cellars Syrah 2016 BC VQA Okanagan Valley

My ranking: 8
My notes: muddled plums and blueberry, spiced mocha and pepper. Plump, plush expressive fruit. Heat [alcohol] and some flabbiness.
Guess: International

10. K Vintners MCK Syrah 2015 Washington State, USA

My ranking: 4
My notes: jammy sweet fruit, banana, cola spices, raspberries and herbal notes. Seems like a coastal style--perhaps Chile?
Guess: International

InterVin International Wine Awards

2019—Top Picks
Image right: 10th anniversary of InterVin in 2018, judges, head judge Christopher Waters. Courtesy Vines Magazine


Wineries of the Year
CedarCreek Estate Winery (Okanagan)
50th Parallel Estate Winery (Okanagan)
Mission Hill Family Estate Winery (Okanagan)
Thirty Bench Wine Makers (Niagara)
Painted Rock Estate Winery (Okanagan)
Gold Medal Winners



2027 Cellars, Niagara Peninsula, Ontario
2017 Wismer Vineyard FoxCroft Block Riesling $19.95


50th Parallel Estate Winery Okanagan Valley, British Columbia
2016 Chardonnay $39
2016 Riesling $40
2016 Unparalleled Pinot Noir $50
2015 Unparalleled Pinot Noir $50


Adamo Estate Winery Mono, Ontario
2018 Estate Riesling $29

Foxcroft Vineyard, Okanagan Valley
2016 Chardonnay $26.50


Angove Family Winemakers, South Australia
2017 Hopes End Red Blend $14.95


Cambria Estate Winery, California, United States
2017 Chardonnay $29.95 2015 Pinot Noir $34.95


Cassini Cellars, Okanagan Valley, British Columbia
2015 Cabernet Franc $40
2015 Maximus $40


Catena Zapata, Mendoza, Argentina
2016 Cabernet Sauvignon $19.95


CedarCreek Estate Winery, Okanagan Valley, British Columbia
2018 Platinum Block 3 Riesling $30
2017 Platinum Syrah $50


Fort Berens Estate Winery, Lilloet, British Columbia
2017 Cabernet Franc $27.99


Georgian Hills Vineyards, Town of Blue Mountains, Ontario
2017 Wild & Inspired Chardonnay $30


Gray Monk Estate Winery, Okanagan Valley, British Columbia
2018 Pinot Gris $16.99


Henry of Pelham Family Estate Winery, Niagara Peninsula, Ontario
2017 Speck Family Reserve Baco Noir $24.95


Inniskillin Niagara Estate, Niagara Peninsula, Ontario
2018 Reserve Sauvignon Blanc $20.95


La Crema, California, United States
2017 Sonoma Coast Pinot Noir $34.95
2017 Willamette Valley Pinot Noir $44.95


La Frenz Winery, Okanagan Valley, British Columbia
2015 Merlot $28


Leaning Post Wines, Niagara Peninsula, Ontario
2018 Sauvignon Blanc $28
2017 The Fifty Chardonnay $21.95
2017 Wismer-Foxcroft Vineyard Riesling $24.95


Megalomaniac Winery, Niagara Peninsula, Ontario
2017 Bravado Cabernet Sauvignon $34.95


Mission Hill Family Estate Winery Okanagan Valley, British Columbia
2018 Reserve Riesling $22
2016 Compendium $82.99
2016 Quatrain $74.99


Painted Rock Estate Winery, Okanagan Valley, British Columbia
2016 Syrah Cabernet Sauvignon $34.99
2015, Merlot $39.99
2015 Red Icon $54.99


Pillitteri Estates Winery, Niagara Peninsula, Ontario
2015 Riserva Famiglia Fruttaio $98


PondView Estate Winery Niagara-on-the-Lake, Niagara Peninsula, Ontario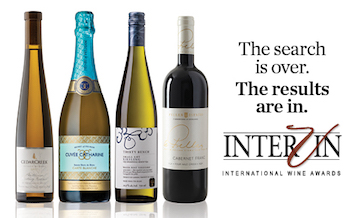 2016 Bella Terra Meritage $44.95


Robert Mondavi California, United States
2016 Napa Valley Cabernet Sauvignon $44.95

Image right: courtesy of InterVin

Rosehall Run Vineyards Prince Edward County, Ontario
Ceremony Blanc De Blanc $34.95


Siduri Wines Santa Lucia Highlands, California
2017 Pinot Noir $49.95


Tawse Winery Niagara Peninsula, Ontario
2013 Quarry Road Vineyard Chardonnay $35.95


The Foreign Affair Winery Niagara Peninsula, Ontario
2016 Temptress $44.95


Thirty Bench Wine Makers, Beamsville Bench, Niagara Peninsula, Ontario
2017 Triangle Vineyard Small Lot Riesling $29.75
2016 Small Lot Cabernet Franc
$75 Sparkling Riesling $38.75


Tinhorn Creek Vineyards, Okanagan Valley, British Columbia
2016 Oldfield Reserve
2016 Cabernet Franc $40.25
2015 Oldfield Reserve Merlot $33.34


Two Sisters Vineyards Niagara Peninsula, Ontario
Lush Sparkling Rosé $54


Volcanic Hills Estate Winery Okanagan Valley, British Columbia
2015 Eruption $29.99


Wakefield/Taylors Wines, South Australia
2016 St. Andrews Shiraz $50


Wild Goose Vineyards and Winery
Okanagan Valley, British Columbia 2018
Gewurztraminer $17.39 2017 Red Horizon $24.35


Winemaker's CUT, Okanagan Valley, British Columbia 2017 Syrah $34


Wolf Blass, South Australia
2017 Yellow Label Cabernet Sauvignon $16.95

~Daenna Van Mulligen