Mar 17, 2015


On a recent visit to Tuscany I spent more times inside, tasting hundreds of wines rather than the usual portion in the vineyards and cellars.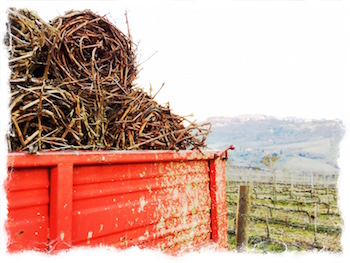 Fortunately I was able to squeeze some time, late one afternoon and evening during my time in Montepulciano, to visit a couple of estates.


Salcheto

While I'm not usually a fan of most tank or barrel tours, in some cases heading into the cellar underscores the entire philosophy of a producer.
Salcheto is one of those.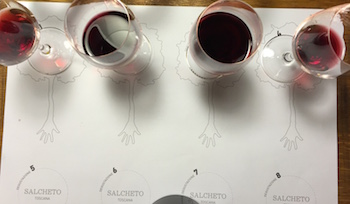 Actually, the tour started above ground, just outside the winery's tasting room and restaurant. A wide deck (the roof of the underground winery) was dotted with glass domes. Winemaker and vineyard manager Michele Manelli explained that these domes were an American design which gathered and reflected light deep underground through a series of mirrors. Essentially lighting the cellar only by the sun itself, making it completely off-grid.
He explained that as the sun was heading over the horizon we'd best hurry down before all the daylight was gone.


Correct he was. The early evening light was minimal, only enough to see some of the outlines of his experimental tanks, designed by a Venetian manufacturer.
The tanks use CO2 to gently turn the cap by "burping" it during alcoholic fermentation. Basically, a gentler form of punching down or pumping over. In addition, these tanks use virtually no energy as well. It's no wonder Salcheto won the Gambero Rosso's 2014 Sustainable Winery of the Year award.
Additionally, the water used on site is managed and recycled, what is remaining of the annual vine pruning is collected (above right) and eventually burned creating more energy.
They estimate the energy saved is an impressive 26,000 kilowatt hours per year.
Salcheto was the first winery in the world (2011) to have certified the footprint of a bottle of wine.

After a brief but eye-opening tour I sat down for a casual
dinner with Manelli and manager Mario Turrini in the Salcheto enoteco.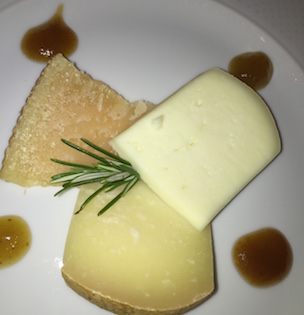 It was (of course) lit by candlelight.
The flickering light and relaxed atmosphere was exactly what I had hoped for after so many days of intense tasting, crowded buffets and banquet dining.


Salcheto 'Obvius' Rosato 2014 - a refreshing and much appreciated aperitif after a day of bold reds. Made from Sangiovese and other Italian and international varieties. Fresh strawberry, floral and blood orange notes, A lovely cranberry colour and wonderful paired with local cheeses (right) and a mixed vegetable quiche (below right).

Salco 2089, NV
A very uncommon wine, which Manelli blends vintages.
We did some blending trials using barrel samples of his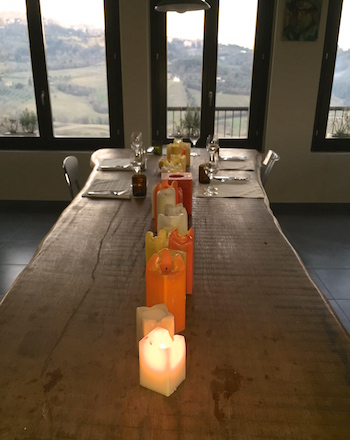 2011/2012/2013 estate Sangiovese.
The first was a blend two vintages beginning with the 2008/2009 vintage.
Rich chocolate cherries, mixed spices and a bouquet of roses and violets atop leather. A very expressive and complete wine with wonderful freshness and balance.

Salcheto Vino Nobile di Montepulciano 2012 (barrel sample)
Chocolate cherries, mint, vanilla sarsaparilla. Fresh entry, expressive fruit with similar spice and liquorice as the palate. Supple with sweet spiced finish. Drying but not bitter tannins. Checks in all the right boxes, very enjoyable.



More details:
►Salcheto was established thirty years ago in the Vino Nobile district of Tuscany.
►The 50-hectare estate is both organic and biodynamic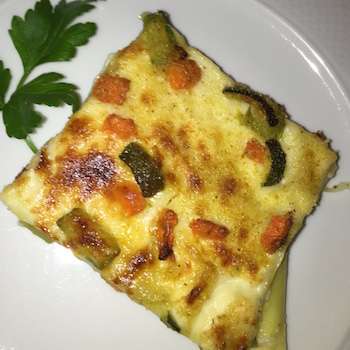 and produces 290,000 bottles per year of Vino Rosso and Vino Nobile di Montepulciano.
►Grapes: 100% Sangiovese. Clone: Prugnolo Gentile.
►The enoteca is open from May to October seven days per week


~Daenna Van Mulligen



Azienda Agricola Poliziano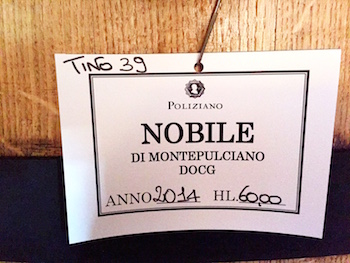 The name pays homage to the Montepulciano-born poet Angelo Ambrogini known as Il Poliziano. The combined name of the commune is derived from Mont (mountain) and Poliziano (the village), which became Montepulciano.
Dino Carletti established the winery in 1961 with 22-hectares of land in the commune. The Poliziano estate now holds a total of 150-hectares of vineyards in several parts of the commune of Montepulciano and in neighboring Cortona and in Maremma.
In 1980 his son, Dr. Federico Carletti, took over and grew the estate to a total of 240-hectares, of which 120-hectares are located in DOC and DOCG zones.

They are now one of the largest family run estates in the region.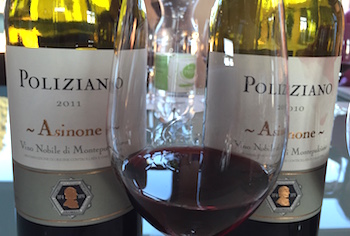 The goal to expanding the vineyards was to increase not only quality but consistency, export manager David Redondi told me during my afternoon visit in February.
Dr. Carletti, who is also the vineyard manager, plans to have all vineyards organically managed in the next five to six years but he's more concerned with making good wine, so it's not a hard deadline. Additionally, the wines have been made using indigenous yeasts, starting with the top wines in 2009 and the remainder since 2012. The winery is producing at 70 percent of their capacity with 500,000 bottles per year. The majority of their production (70 percent) is export.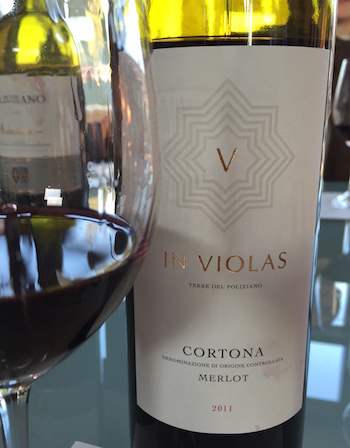 Poliziano Rosso di Montepulciano DOC, 2013 - Made with 80% Sangiovese and 20% Merlot from the Cortona vineyard this wine is made very traditionally in large concrete vats and only 10% tonneau (barrel) aged. Meant to drink within five years it offers tobacco, cherries, and fine peppery spices. It is very fresh, juicy approachable - an easy-drinking Rosso.

Poliziano Vino Nobile di Montepulciano "Black Label" DOCG, 2011 - From the 4**** 2011 vintage, this is the current release of this wine and it was aged 18 months in barrique. Made from 85% Sangiovese and 15% other local varieties is offers cherries and strawberries, bittersweet chocolate, pepper and leather. Expect cedary flavours alongside dried violets and dried herbs with tea leaf. Tannins are starting to soften here, it's a traditional and classic wine with solid character.

Poliziano 'Asinone' DOCG, 2011 -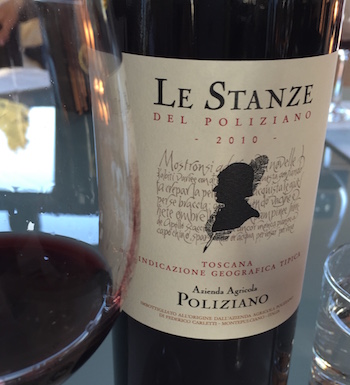 Asinone was one of the first single vineyards (cru) in the region, it was designated in 1983. The vineyard is located in the small appellation known as Pietrose 8 kilometers from the winery on harsh stony and clay soils - producing small, tough skinned berries. The name is derived from the shape of the vineyard, which from a map looks like a "big ass" or donkey. Expect gorgeous and expressive fruit - briary berry, cherry and peppery spices on the nose. Excellent freshness, supple and bright with wonderful berry fruit on the palate. Very good structure and length - a very stylish wine.

Poliziano 'Asinone' DOCG, 2010 - Called a classic vintage, the 2010 is showing much more rapid maturation. The nose offers plum cake, prune and raisins with tobacco and spice box notes. Despite the lively acidity there is an oxidative quality on the nose with similar dried fruits. Blind, I would have pegged this wine as having ore of a decade of age already.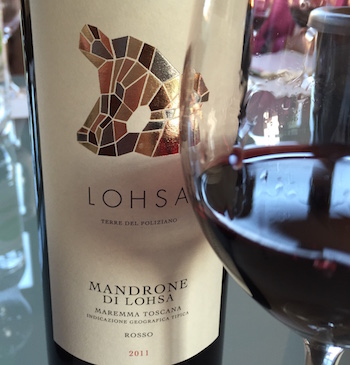 Cortona 'In Violas' Merlot DOC, 2011 - A very hot vintage according to Redondi, this wine offers chocolate, plums, black cherry, Earl Grey tea and spice on the nose. Similar plush chocolate appears on the palate underscored with vanilla. Ripe and generous.

Le Stanze Del Poliziano IGT Toscana, 2010 - One of the first Super Tuscan style wines made in Montepulciano, it has been produced for 30 years. Made mostly of Sangiovese with the addition of 20% Merlot it has some wild and gamey notes layered with earth, savoury spices and saddle leather. Spicy with dominant dried fruits it is showing maturation in the same was the 2010 Asinone is. Fine dusty tannins across the palate with a bitter cocoa finish.

Lohsa 'Mandrone di Lohsa' Maremma Tuscany IGT, 2011 - Made from the seaside Maremma region (known for its Super Tuscan wines) the Lohsa is 80% Cabernet Sauvignon, 10% Petit Verdot and 10% Alicante Bouschet. Aged 10 months in new French barrique it is ripe, redolent in chocolate and spice with hints of fleur de sel. Plump purple and black berries dominate the palate. Excellent structure, length and potency.

►Read my reviews on all the wines I tasted in Montepulciano in February 2015 here


~Daenna Van Mulligen