Jan 27, 2020
It's Time is Now

Within Languedoc's vastness, an abundance of landscapes and wide variety of wines is to be expected. However, there is one constant for those who toil in the soils of the Languedoc: the Mediterranean is the region's greatest influence.
Languedociens refer to their region as the largest vineyard in the world; its 40,000 geographically identified hectares currently include 23 approved appellation d'origine protégées (AOPs). Within its broad protected geographical indication (IGP) known as Sud de France, are 19 smaller ones.
The AOPs are further broken down.
At the top, its approved crus are found in singular settings, at higher elevations where freshness is paramount: Corbiers Boutenac, Pic Saint Loup, Minervois-la-Livinière, La Clape (image below right), and Terrasses du Larzac.
However, these five crus make up a tiny fraction of Languedoc's wines.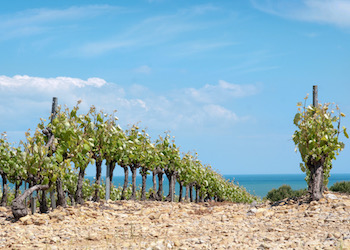 Awaiting cru status (in the French system, this can take a decade or more) are many more appellations; including those currently referred to as grands vins du Languedoc (a tier one step lower than cru), which comprise 70-percent of Languedoc's AOP wines.
Undoubtedly with so many designations arching broadly alongside the Mediterranean, consumer confusion is bound to be an issue.
To add to the conundrum, Languedoc produces an array of styles. Known mostly for its full-bodied reds, Languedoc also succeeds with briny and floral whites (Picoul de Pinet), sparkling (Blanquette de Limoux), and sweet wines (Muscat de Frontignan).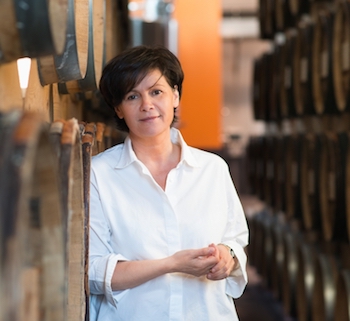 And now, thanks to the world's voracious appetite for rosé wines, pink threatens to overshadow Languedoc's more traditional red production; the region now makes more rosé than any other in France—yes, including Provence.
Nayan Gowda, a former flying winemaker covering France, South Africa, Chile and beyond, left London, England to live in Languedoc
"I moved to Narbonne for love, mostly; the weather and the more relaxed lifestyle were also very appealing," he shares, continuing.

"The most understated thing here is the genuine warmth of the people. It's a very poor region, but (and I know this is cliche) people are so giving."

On of the region's staunchest advocates is Miren de Lorgeril (above right), the president of the Conseil Interprofessionel des Vins du Languedoc (CIVL). "It is increasingly becoming a most important region in France. Not only because of our history but for the diversity of our terroir," she states.
Twenty-five years ago, de Lorgeril (née de Saint Chamas) joined her husband Nicolas at his family estate, the historical monument of Château de Pennautier in Cabardes. Now a refurbished and popular destination, the Château, described as the Versailles of Languedoc, was a launching point for expansion; they now own five more domains and are both producer and négociant.

right: Farming oysters at Le St. Barth

Another challenge Languedoc has had to overcome is while grapes have been grown in the area for centuries, its wines have long been regarded as inexpensive and coarse.
In recent years, that image has chaged; and especially since the CIVL was formed nearly 15 years ago.
"We have had to work very hard, but we are making more precise wines now. With our climate we have sun and freshness, from the hillsides close to the mountains, and from the sea. Languedoc is now the most dynamic and innovative region in France," de Lorgeril explains.
"Personally, I feel that the key challenge (and key strength) is Languedoc's diversity of soils, of climate, and of grape varieties. Bordeaux and Burgundy are easy: left bank, right bank, Côte de Beaune, Côte de Nuits. Five varieties in one region, two varieties in the other—boring." ~ Nayan Gowda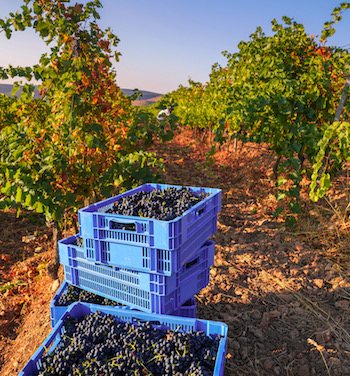 Red blends dominate Languedoc's impressive production; those consist primarily of Carignan, Cinsault, Grenache, Mourvèdre and Syrah. Meanwhile, the whites rely upon Chardonnay, Clairette, Grenache Blanc, Macabeu, Malvasia and Picpoul.
And while it is a distinct area, Languedoc is often linked to, and works closely with neighboring Roussillon (both are part of the larger Occitanie region), especially when the two communicate with the international market. Between them, they cover a massive swath of the French Mediterranean, which starts at the Spanish Catalonian border and stretches eastward, past Montpellier toward Nîmes and Provence.
Of the two, Languedoc is by far the more prolific.
Perhaps one of the most appealing aspects of the Languedoc is its southerly seaside border. The Mediterranean's influence on the vines—sun and warm breezes—is gospel, but it's also a draw for French and international visitors.
With that increasing interest, there is a renaissance taking place: enthusiastic young winemakers come looking to buy affordable land to plant vines while established vignerons energize their estates by embracing wine tourism.
Suddenly Languedoc is becoming a very appealing destination.
"Languedoc is a place of passion, a young forward-moving region where tourism is still preserved. Unlike the busy Côte d'Azur, we still have quiet places, that are not overrun, or too busy. With all the investment and restoration [happening] the next 10 years will be fantastic." ~Miren de Lorgeril
We will be watching, and raising our glasses in support of a newly burgeoning Languedoc. After all, everyone loves it when the underdog wins.
Where to Stay
Château St. Pierre de Serjac
Located near Bezier, this sublime wine estate boasts fully renovated rooms and villas with private pools, vast groomed grounds, fine dining, and a spa. Relaxation and indulgence are guaranteed.
Château L'Hospitalet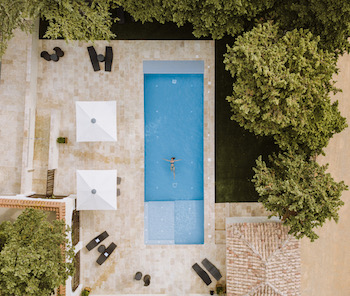 Owned by Languedocien wine giant, Gerard Bertrand, this cozy wine estate has 38 rooms, a pool, fine dining, and a selection of local artisan shops. Its proximity to the seaside resort Narbonne-Plage is noteworthy.
Image right credit: Geoffrey Lucas
Eat & Play



Tarboureich Le St. Barth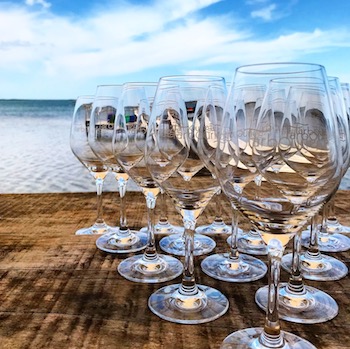 If you want a true seaside experience, a visit to Tarbouriech Le St. Barth in Marseillan is a must. Gorge on the highly prized Etang de Thau oysters with shallot vinegar while sipping Picoul de Pinet, then jump on a barge and tour the oyster farm in the lagoons of the Mediterranean.
La Voile Blanche Beach Club
In the summer months, the beaches close to Narbonne become vibrant seaside getaways. On the wide white sands of nearby Gruissan, you can catch some rays,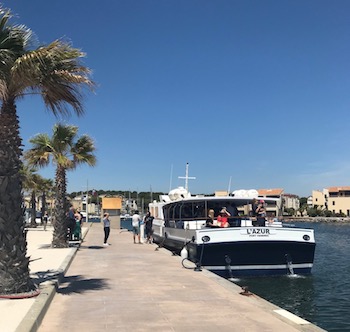 play in the surf, and then settle into a beach chalet at the oasis known as La Voile Blanche. Sip savoury Mediterranean whites, chowing down on seafood and wash it all down with an ice cream sundae—all whilst keeping your feet in the sand.

~Daenna Van Mulligen

*as written for Vines Magazine, 2019

Images not credited are courtesy of (Consiel Interprofessionel des Vines du Languedoc (CIVL)