Jun 14, 2013

Pairing Vegetarian Food with Wine

If you're as big a fan of, The Hitchhiker's Guide to the Galaxy as I am, then you'll find Douglas Adams' famous tagline, Don't Panic, perfectly suited to this article.

Food and wine pairing can make most people hyperventilate a little. But for those who eschew meat, fish and fowl it can seem to be a bit more of a conundrum.
But heed those famous words, don't panic.

I talk a lot about wine - everyday, in some capacity. I use my words to describe wine, terms to convey what I smell, taste, feel and see. I like to think I keep those terms fairly approachable, not too abstract and without too much floral prose (as my Ryerson prof disdained). I also give pairing suggestions with most of my reviews. I always like to have at least one vegetarian option when I suggest pairings.

Here's the thing. It's not difficult.
Let me rephrase. It's only as difficult as you make it.

Here's the dealeo for those of you who are veg and for those of you entertaining a veg.

Keep It Simple

Let's get one thing out of the way to start - there are no absolutes when it comes to wine.
Wine changes vintage to vintage, it changes in the bottle, as it breathes in your glass...
Terroir (where the wine is made, the climate, the soil the vines grow in, the people who tend the vineyard...) impacts a wine. A Merlot made by the same person but grown in two different vineyards a hundred meters away, will be different.
The same is with food and wine pairing. There are no absolutes, but there are consistent suitable and often perfect pairings. We wine writers know them, as do sommeliers, many chefs and servers.

Nothing is ever really cut and dry though - so don't sweat it, experiment.

Common sense solutions to food and wine pairing.
Weight and Balance

Crisp, light foods + crisp, light wines
Hearty, dense foods + hearty, dense wines

Seems pretty simple, right?
The Absolute Basics

Light: Salads, cold Asian-style noodles and al dente veggies with a crisp Sauvignon Blanc, a dry Riesling, a Gruner Veltliner.
Light-Medium: Creamy pastas, starches like corn on the cob, buttery mashed potatoes + fuller bodied whites like Chardonnay and oaked Chenin Blanc.
Medium: Earthy beets, squash ravioli, mushroom risotto + a fuller bodied Pinot Gris, a Viognier or a lighter-bodied red such as rose, Pinot Noir, Gamay.
Dense: Grilled eggplant, bean casserole, grilled Portobello burger + Malbec, a Cabernet or a Merlot.
Let's Break it Down, Shall We...

Cheese
Creamy
Very creamy cheeses, runny with a higher fat content - my go-to is a dry sparkling wine. The bubbles cleanse the palate of the fat.
Smoked
You'll never go wrong with a buttery Chardonnay with smoked cheese - a match made in heaven.
Chevre
Creamy young goat's milk cheese is a classic, tried and true pairing with a grassy and equally tangy Sauvignon Blanc.
Aged goat's cheese
I discovered in the Southern Rhone how good the red wines there pair with aged goat cheese - generally Syrah, Grenache, Mourvedre blends (among others).
Camembert
Why, I'm not sure, but Merlot. Try it.
Blue Cheese
This potent cheese is usually best with a sweeter wine like Port or late harvest wine. If you want red, try Cabernet Franc - a surprisingly good duo.
Hard and aged
Dense cheeses call for equally weighty or tannic reds. The best way to deal with a tannic red beyond decanting it, pull out some cheddar, some Parmesan, aged Gouda and serve it alongside. It's magic.
Washed rind
Sweet and sticky, soft to medium cheeses like oka, Le Brin, Le Nuits d'Or with a light fruity red like Lambrusco, Beaujolais, New Wrold Pinot Noir or a fuller bodied yet fruit white like Gewurztraminer or Viognier.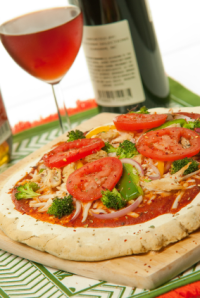 Check out my Cheese Page

The Proximity Rule
if you're at a loss, still stumped, look at the providence of the dish.
German schnitzel and German potato salad go extremely well with Riesling.
Regional Italian dishes suit the wines from the same area.
Spanish tapas is the same, look to the location.
Cheeses are often best served with the wine of their region too.

Right: Some days I'm certain I eat more classic Margherita pizzas than anyone else. I'm a connoisseur of them. A fruity red such as a slightly chilled Tuscan Chianti (Sangiovese grape) or dry rosé is perfect.


Spice Factor
Asian-inspired dishes are the staple for many vegetarians because they pack so much flavour and intensity into each dish.
If you love spice as I do, I recommend a fruity wine. An off-dry Riesling, Gewurztraminer or New Zealand Sauvignon Blanc will fit the bill as will an off-dry rosé or a bubbly Italian Lambrusco. Beware of wines with alcohol over say, 13%.
Alcohol lights spice on fire rather than taming or complimenting it.
If you're craving chili with beans I recommend a spicy and fruity Zinfandel - especially if the chili isn't too spicy.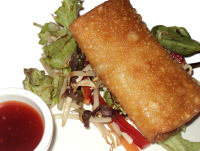 Wine Suggestions
Getting Saucy
Creamy/Buttery Sauces (like those associated with Fettuccine Alfredo)
Good with sparkling wines that will cleanse the fat (cream) off the palate. But these decadent sauces also love the buttery quality of Chardonnay or oaked South African Chenin Blanc.
Wine Suggestions

Oil and Herb Sauces
Crisp whites - wines that cleanse the palate and still play nicely with herbs. Think Italian Pinot Grigio. Vinho Verde from Portugal, Albarino from Spain or Sauvignon Blanc.

Barbecue Sauces
Tangy, sweet and smokey with spice (think marinated tofu or tempeh). I'll usually go with a Zinfandel but rosé will also be great as will a sweeter style Riesling.

Mushroom Jus and Earthier Sauces
Call for earthier wines - Pinot Noir is great as is a Rhone Syrah, but I discovered in Argentina that Malbec plays very well with mushrooms too.

Tomato Sauces
Tomato sauce has a dfferent acidity than other sauces. These sauces can be quite flexible so, as long as there's good acidity in the wine, a red, rosé or white can work. It depends on what else in involved alongside the sauce. My quick and dirty for red sauced pastas - a lighter-bodied red Chianti or a Barbera. They have juicy red fruit, savoury components and the key factor - acidity.
As with pizza with a tomato sauce base, Chianti or Barbera will be great but also many other Italian white wines such as: Vermentino, Trebbiano, Vernacchia, Fiano, Greco.
Wine Suggestions

Grill Marks
Grilled vegetables become more intense in flavour, they have more depth and will pair with the same wines you would pair with what the carnivore has thrown on the barbie. Fuller-bodied reds such as Cabernet, Zinfandel, Merlot, Malbec Sicilian Nero d'Avola, Pinotage (classically South African) and Shiraz are all companions to the grill.
Great grillers include: Portobello mushrooms (the meat of the veg world), grilled eggplants and peppers.
Whenever corn is involved (corn bread, corn succotash, corn chowder, creamed corn) - trust me an oaked Chardonnay will always be your best bet.
Savour the Earth
Savoury dishes such as lentils, (think Puy lentils with red wine sauce and shallots) are a sure bet win with Bordeaux-style blends (Cabernet Sauvignon, Merlot, Cabernet Sauvignon).
Bean casseroles and sides have a depth and heartiness to them to warrant a wine of the same ilk.
Roasted beets, grilled sweet squash, caramelized onions or wild mushrooms and herbs can be a delight with lighter bodied reds like Pinot Noir or Gamay or fuller-bodied and fruity whites like Viognier or Pinot Gris (Alsatian-style) which has a tendency for an earthy character.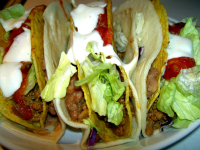 Junk Yard
Chips and popcorn. Savoury foods with salt love sparkling wine. If you can drink Champagne while snacking on buttered popcorn or kettle chips, go for it.
For more information read my article on pairing with junk food in Tasty Wine & Snack Pairings

Right: chili stuffed tacos with cheese - try a chilled bubbly Italian Lambrusco, a slightly chilled Beaujolais or rosé

Troublemakers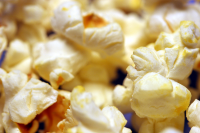 Artichokes and asparagus. These wines are notorious for being difficult to pair with but in almost all cases think Sauvignon Blanc or perhaps a Spanish Albarino. Crisp citrus and herbal qualities in wines tame these as well as a eggy herbed quiche. For other egg alternatives try sparkling wine and especially the breakfast bubble known as Prosecco from Veneto.

Right: Junk foods such as popcorn and chips love to be paired with a dry sparkling. You don't have to splurge on Champagne - a good Spanish Cava is perfect!



See my Perfect Pairings for all of your food & wine pairing requirements

~Daenna Van Mulligen