Oct 31, 2012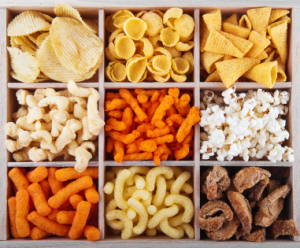 I've always enjoyed pairing snack foods with wine, even if I don't always get a chance to test all my theories (like when I'm scanning the aisles in the grocery store) I like to play a game with myself each time I see a new flavour of chips or odd confectionery.

What wine would taste good with that...?

The reality is, people don't just sit at the dinner table with a glass of wine. We collapse on the couch while watching movies, we pull up a patio chair and soak in the sun or lounge by the fire in chillier months. Generally every occasion requires a different snack or a seasonal wine to suit the mood or temperature.

If tonight is the night to curl up on your couch and watch your favourite movie or TV shows - snacks are a must.


What Snack?
Salted Caramel Popcorn

This recipe from Say Yes to Hoboken is a fairly simple one that requires:


1 batch of basic stovetop popcorn

1 stick of butter

1 cup of brown sugar

1/4 cup of corn syrup

1 t of salt

1/4 t of baking soda

1/4 t of vanilla extract
What Wine?
What Snack?
Grownups Rosemary, Parmesan and Truffle Oil Popcorn
This is one of my favourite snack recipes. I make it when people come over and for parties - it steals the show! I first had it at
Sumac Ridge Winery
several years ago and developed my own version - it's not a perfect recipe, sorry.
You can make this in a pot or in an air popper (I have an air popper, which works fine).
Popped popcorn - make sure it's still warm and fresh
a couple sprigs of fresh rosemary, chop the leaves into tiny pieces.
Freshly grated Parmesan cheese (Pecorino Romano will work well too)
Butter - melted
Truffle oil
Good sea salt
Freshly ground pepper

Slowly drizzle equal parts truffle oil and melted butter over the popcorn and toss until covered. Add the grated cheese and rosemary and toss more.
Taste for saltiness (it depends on the cheese and the amount you use) then season with salt and freshly ground pepper to taste.

Dive in and make sure you've got a napkin!
What Wine?
Sparkling