Aug 30, 2016
Gisborne: New Zealand Chardonnay & Sparkling Symposium

After four days in Marlborough, for the inaugural International Sauvignon Blanc Celebration (read my article in Vines Magazine here), the remaining international media and guests boarded two small Air New Zealand planes for a Wine Flight.

On board, we were served small bites paired with a selection of New Zealand wines, while flying over their home region.
From Marlborough we flew west, over Nelson, then crossed the Cook Strait from the South Island to the North Island.
The almost constantly windy Cook Strait is one of the roughest bodies of water in the world. Yet, on this day, the clouds parted for us, it was a smooth flight with clear blue skies.
We then flew past Wellington toward Martinborough (to be my last stop on this trip) and finally on to Gisborne where we landed.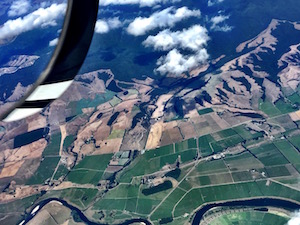 Gisborne greeted us with a traditional Maori welcome, a powhiri, and later that evening, the haka.
Over the course of two days we enjoyed a dinner on the beach, a picnic in the park, being serenaded by the Gisborne Boy's Choir during a dinner at Matawhero, and visited to two local wineries.
However, our mission was to attend the New Zealand Chardonnay & Sparkling Symposium, hosted by winemakers from all over New Zealand.

The seminars were broken up into morning and afternoon, and provided us some serious conversation and impressive tastings.

About Gisborne
Despite being the third largest wine-producing region in New Zealand, Gisborne has struggled for popularity, while others have thrived.
One reason, it became known for bulk wines after New Zealand's largest producers set up wineries here after the 1960s. For another, it's isolated.
It's a region hemmed in by ocean and mountain, but boasts an interesting historical fact, it was the first place Captain James Cook
stepped foot on land in New Zealand, in 1769.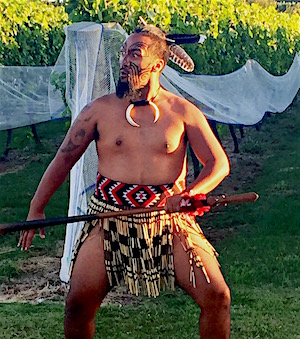 The beach where he landed is known as Poverty Bay – a name the locals dislike.
Bay of Plenty, would be preferable.
It is the first place in New Zealand to see the new day, and is blessed with plenty of sunshine and some of the country's warmest temperatures - they are generaly the first region in New Zealand to harvest. The soils are rich and deep, which contribute to the ripe fruitiness of the wines, and low acidity can be an issue.
From a wine perspective, ripe fruit is a trademark of Gisborne -- the wines show notable fruitiness, not common in other areas. The dominant variety is Chardonnay but Pinot Gris is in strong second place.
Additionally, Viognier, Gewürztraminer and Merlot, along with others, make a stand.
The region is known for its sparkling wine production and for being dry-farmed.

Tasting Notes of Gisborne Wines/Producers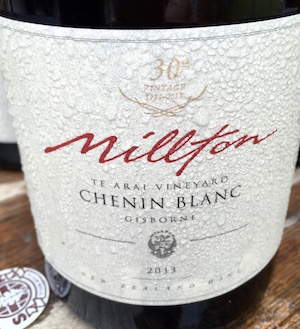 Milton Vineyards & Winery 'Riverpoint Vineyard' Viognier, Gisborne 2014: this small biodynamic producer was one of two wineries I visited, while in the region. This outstanding Viognier boasts Peach Melba, lime oil, honey, ginger biscuits, exotic spice and equally exotic blossoms. It is weighty and potent with significant savoury aspects and a juicy peachy finish.

Milton Vineyards & Winery 'Clos de Ste. Anne' Chardonnay 2010: A rich golden colour to view and equally golden nose offering and brown butter, grille, roasted yellow apples and pineapple on palate. The fruit is wonderfully exuberant and juicy. Expect a fantastic weight and concentration with lively acidity, which props up that delicious fruit. It is an outstanding wine with a lengthy caramel finish.

Milton Vineyards & Winery 'Te Arai' Chenin Blanc, 2013:
Delightfully lemony, with crunchy stone fruit and pretty white floral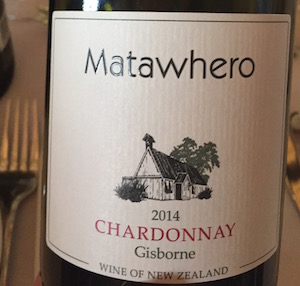 notes. It boasts a mouthwatering and exuberant palate with lovely and creamy, mid-palate weight. Again, like the other Milton wines, outstanding length with some phenolic texture on the finish.

Bushmere Estate Rose 2015:
2015 was a good vintage in most places in the world, equally, Gisborne. A unique blend of Sangiovese and Montepulciano made from young, 5 year-old vines. These producers are excited about Montepulciano here and rightly so, if this rose is an example. Expectedly fruity and floral with lovely orange peel notes and juicy, dryish and spritzy palate.

Matawhero Chenin Blanc 2015: 2013 was first vintage this wine was made, so the vines are still young. It sees no oak and is light-weight and crisp with a restrained nose but lots of fruit on the palate through the finish.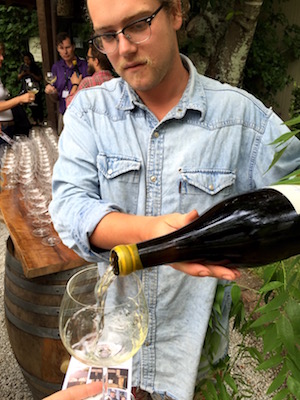 Matawhero Pinot Gris 2014: Delicate entry, fresh and light and wonderfully juicy. Pristine floral and fine spice along with orchard fruits and citrus peel. Some phenolic texture on finish adds interest.
A solid offering.



(right: pouring magnums of 2010 Clos de Ste. Anne Chardonnay at Milton Vineyards & Winery)



Ashwood Pinot Gris 2011: in word, ripe. A decadent and honeyed style with oozing peaches and pears atop earthy, mushroomy notes. Equally, the palate is superbly intense. Very Alsatian in style with 20gr.L of residual sugar.

Cooper's Creek Arneis 2014:
The company is based in Auckland but make wine from Gisborne. Although it is quite shy and mineral-driven on the nose (think citrus and white flowers) it is weighty, quite honeyed and intense in the mouth. Overall, great acidity and focus.

Coopers Creek 'Bell-Ringer' Select Vineyard Albariño 2015: The use of x5 yeast makes this a very aromatic and peach-scented wine with perfumed floral and some candied orange peel scents.

Divinely mouthwatering, yet weighty, with a lovely creamy character and fabulous orange blossom flavoured finish.

HIhi Malbec 2013: A sweetly scented and fruit forward style, which is oozing with blackberry jam, violets, chocolate and sweetened coffee with vanilla, licorice and baking spice. The palate is dry with some herbal and meaty flavours leading to and cocoa tannins. Dry palate.
Hihi planted Malbec in 2000 and has been making it since 2006.

Bridge Estate Matawhero Cabernet Merlot 2009: Here is a blend of mostly Cabernet Sauvignon with 26% Cabernet Franc, 16% Merlot and a splash of Malbec.
Part of Poverty Bay Wine, the Bridge Estate vineyard was, up until just over a decade ago a horse paddock.

The nose is forthright - amazing cassis, blueberry, vanilla and chocolate, baking spices with crushed purple flowers. Delicious with incredible concentration and good complexity.

Lindauer Blanc de Blanc NV: expect an attractive leesy and autolytic nose, which is echoed on the palate. Ripe and creamy overall, with good weight and balance.

Huntaway by Lindauer Gewurztraminer 2013: very aromatic and spicy, classic Gewurz expression – basically, all the bells and whistles of roses, Turkish delight, lychee and spice.
Nice weight and balance.

747 Estate 'Marsanne & Friends' 2014: expect some resinous notes alongside citrus, white fruits and stony mineral - not overly aromatic.
Ripe and weighty in the mouth with similar flavours of spice, pine and citrus peel.
Excellent concentration and weight on a phenolic-textured finish.


Teawa 'Left Field' Albariño 2015: lovely aromatic profile of stone fruit, Muscat-y aromas and and orange blossoms. Good weight and acidity, lovely fruit expression.
Teawa was recently purchased by Villa Maria.

Thornbury Chardonnay 2015: pure fruit expression, golden and pretty with nice freshness just a hit of creaminess to round it out. Mostly neutral oak barrel aged for 8 months. Very approachable.
Thornbury is owned by Villa Maria

Villa Maria Reserve Chardonnay. Gisborne 2014: Buttery roasted nuts and grilled pineapple on the nose with hints of popcorn.
Palate follows suit nicely; deftly balanced oak and good ripe fruit expression on the palate make for an enjoyable Chardy.

Wright's Vineyard Winery Late Harvest Semillon 2015: Luscious golden hue with lovely aromas of apricot preserves, quince and orange blossoms. Equally rich and honeyed on palate – balanced and decadent.


Tasting Notes from the Chardonnay & Sparkling Symposium General Tasting:

Trinity Hill Chardonnay, Hawkes Bay 2014: nice roundness and complexity. Sweet tropical fruit flavours with fine spice and nutty hints across the finish.

Trinity Hill Gimblett Gravels, Hawkes Bay 2014: this is Trinity Hill's premium Chardy. Expect brown butter and expansive citrus notes with loads of mineral. Overall, complex, with a trendy (love it or hate it) reductive character, and focused acidity.

Milton Vineyards & Winery 'Opou' Chardonnay Gisborne, 2014:
a very floral and fruity style with an attractive creamy edge.
Tropical fruit with an interesting whiff of mint. Nice weight and citrusy finish - tasty.


Milton Vineyards & Winery 'Crazy by Nature', Gisborne 2014: expect a fresh and juicy nose. It is made in a consumer style, for the USA market. Overall, juicy fun and fresh with caramel and spice.

No.1 Family Estate, Marlborough NV: this fizz was left on less for 7 years. Expect nice Chardy character and beautiful complexity with plenty of expressive fruit. Focused ,yet creamy with fresh acidity with a long finish. Some expected autolytic characters with a phenolic textural finish.

No.1 Family Estate Virginie Cuvée, Marlborough 2009: this cuvée (a blend of 80% Chardonnay and 20% Pinot Noir) spent 4 years on lees. It has attractive richness on nose fresh and yet more yeasty
autolysis character than the NV. Impressive acidity juxtaposed with great complexity.
Attractive tangerine citrus flavours layered with tangy fruit.

Remarkable focus and length.

Pegasus Bay 'Virtuoso' Chardonnay, Canterbury 2009: overall appealing weight and bright acidity some toasted nuts and caramel notes. Good weight and spice with a noticeable toasted oak character.

Escarpment 'Kupe', Martinborough 2013: Fresh, perfumed on the nose with fragrant sweet and ripe fruit. Nice roundness on the palate, fruit and oak balance nicely handled. Great acidity; fruit holds tight, highlighted with a succulent spice butter kick on the finish.

Escarpment 'Single Vineyard' Chardonnay, Martinborough 2013: in this version, spice and bold toast are dominant on the nose. In the mouth, tightly wound with citrus and oak spice. Good overall complexity, but still young.

Elephant Hill Chardy, Hawke's Bay 2014: An extremely aromatic version with honeysuckle notes, candied citrus peel and pear dried. The same sweet and expressive fruit appears on the palate - impressively generous and lengthy.

Elephant Hill Reserve Chardonnay, Hawke's Bay 2013:
Freshness leads the nose and it rolls into some oak and spice,
which waltzes with Fuji apple, pineapple chunks and honey.
Very fruit expressive on the palate as well; yet oak still dominates.
Expect depth weight and complexity balanced with a generosity of fruit.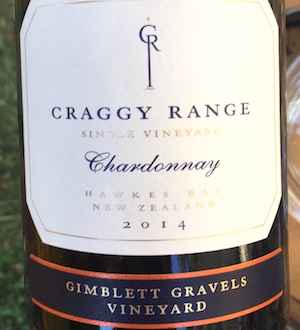 Craggy Range 'Kidnapper's Vineyard' Chardonnay, Hawke's Bay 2013; the grapes for this wine hail from a seaside site, which bears a significant impact on the finished wine. It offers pleasing fruit and spiciness on the palate with hints of saltine cracker and a whisper of oak – think peach melba, pear, star anise and other exotic spices. Made using Indigenous yeasts and very little goes through malolactic fermentation.

Craggy Rnage 'Gimblett Gravels' Chardonnay, Hawke's Bay 2014: overall, good fruit expression and structure and notes of creamy pears. Pineapple, toasted oak and sweet spices.
It is made from a warmer inland vineyard than the 'Kidnapper's' and is also made with indigenous yeast, barrel fermented with just a pinch of malolactic and much of it is aged in 500L barrels. It is a pretty wine boasting impressive power and structure although not at the cost of all that glorious ripe fruit.

Pegasus Bay Chardonnay, Canterbury 2013: expect a nose,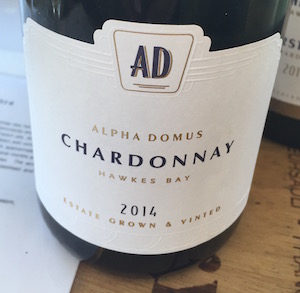 which is smoky and buttery with some wild/musky honey notes. Overall, good acidity and spice on palate. Milder style, more delicate with lightly toasted oak notes on the finish. 30% of this wine was aged in 500L barrels.

Babich 'Irongate', Gimblett Gravels 2014: made from a single vineyard, the Irongate, this wine was fully barrel fermented with wild yeast to add complexity, rather than take away fruit character. However, it is quite delicate on nose - expect more engagement on the palate than the nose. Lovely tropical fruit, a firm structure with nice spice and caramel to play supporting roles.
Overall, nice weight, and creaminess, and long finish.

Alpha Dominus 'First Solo', Hawke's Bay, 2014:
sweet expressive nose, very fruit-forward with notable tangerine and peach.
To echo that, the palate shows generous fruit, a lovely weight.
It is quite potent and demonstrative, with a long sweet finish.
Wonderfully unique and delightfully fresh.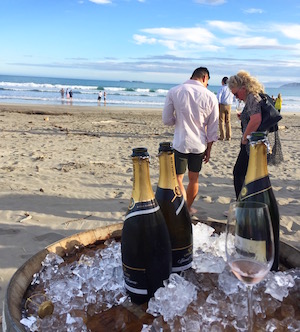 (Right: celebrating with fizz on the beach at Poverty Bay)



Alpha Dominus Chardonnay, Hawke's Bay 2014: A bit more rripe caramel and toffee and pineapple chunks with tangerine and peach. A lovely honeyed palate boasts spice and stone fruit compote.

Huntaway 'Lindauer' NV Brut, Gisborne: made from 100% Chardonnay, which spent two years on its lees. It's one of New Zealand's best values. Expect very ripe and toasted notes with grilled lemons. Tangy and extremely ripe (tropical fruit preserves) in the mouth with exuberant mousse and flavours grilled citrus and some citrus pith. Overall, weighty and quite powerful.

Tamata Estate Chardonnay, Hawke's Bay 2014: this is an entry level Chardy in New Zealand with a nice peachy character on the nose and oak on the palate. Made from the popular Mendoza clone,
about 40-50% spent time in French oak and on lees 3 for months.


Tamata 'Elston' Chardonnay, Hawke's Bay 2014: from a site with heavier soils than the estate Chardy, this wine was entirely barrel fermented with indigenous yeasts in old and newer oak, and was put through malolactic (secondary fermentation). Expect a wine, which is spicy and ripe with good citrus to give lift. Overall, complex and powerful.


(right: greeted in Gisborne with a Maori powhiri welcome)



Matawhero Chardonnay, Gisborne, 2014: expect fresh golden fruit like yellow apples and pineapple notes with equally sweet tropical fruit on the palate. Overall, attractive weight, balance and freshness.

Matawhero 'Church House' Barrel Fermented Chardonnay, Gisborne 2014: it has a pleasing buttery character alongside spice,
toasted nuts and the typical Gisborne expression of ripe tropical fruit.
Lovely weight and lively acidity make for a delicious version.


Vinoptima: Gisborne
Vinoptima Gewurztraminer: Vinoptima is a single varietal producer, one grape: Gewurztraminer. It is owned by Nick Nobilo (from the Nobilo family, which later sold their brand) who has 55 vintages under his belt.
Nobilo built a winery specifically for the Gewurztraminer variety. It's eccentric, but that's his passion. He likes to age his wines and each parcel he picks is fermented and aged separately - some in tank, some in large format neutral oak. He cold soaks the grapes for 20 hours prior to ferment, to achieve more color and phenolics, then stops ferment when he feels like it – resulting in a range of 0-50 grams per liter of sugar.
These wines are aged and later sold for $70-$75 dollars.
2004: very lemony and bright –think candied citrus peel and ginger. It is also resinous and weighty and despite the sweetness it's not cloying. Delicate spice flavours really show here. Excellent length, however, still very youthful and phenolics cling to the palate.
2006: is resinous with lemony, orange blossom aromas.

Drier on palate than the 2004 it is powerful and concentrated - potent.
It's less weighty than the 2004 but slicker in texture, with a marmalade finish.
2008: a shy nose but similar resinous notes resound with all. A weighty umami character and spicy palate with lemony/pithy flavours layered with oil of roses. The finish is long, clingy and oily.
2010: notes of marmalade, ginger and saline. Sweetness dominates on this younger wine. Expect a grapefruity/pithy palate, with a warm and persistent finish.
Impressively weighty and potent like the lineup.

Symposium sparkling standouts:
Quartz Reef Rose, Central Otago NV: Pale pinky-salmon colour (100% Pinot). Shows immediate minerality and citrus focus with tangy red fruits nicely harnessed by a bit of Pinot funkiness – earthy and farmyard, saddle leather character. Focus in the mouth linear, a line-drive down the middle of the palate with amazing tension and elevated by a pristine character. Complexity and elegance. 2016 marks the 10th harvest of these vines. 6 grams per litre (gm/L) dosage.

Nautilus Rose, Marlborough, NV: pale salmony colour (100% Pinot).
Definite restraint on the nose; attractive mineral and shy fruit with peach stone aromas. The palate is quite racy and mineral driven, very dry with less creaminess and more texture.
A long finish also features that mineral texture with a hint of charred orange peel. An austere style with 6.4 gr.L dosage and vine age of 9 years. It spent 24 months on lees yeast and was disgorged about 18mos prior to me tasting. Sold through the cellar door, not exported.

Allan Scott 'Cecilia Blanc de Blancs, Marlborough, 2011: classic Chardonnay nose of yellow apples and pears with lemon cream and toasted nuts.
Lovely weight and complexity with pristine fruit expression on the palate. A dosage of 5gm/L, this fizz was aged on lees for 24 months prior to release and vine age is 15-years.

No. 1 Family Estate Blanc de Blancs, Marlborough NV: a rich nose boasts creamy white fruits, toast and bright citrus with a hint of minerality. The palate is deliberate with wonderful tension, a spine of acidity and full mousse culminating in a lengthy finish of citrus peel and toast. The vine age is 20-years and it spent 72 months on lees followed by 12 months in bottle prior to release.

Church Road Blanc de Blancs, Hawke's Bay 2006: undoubtedly showing more age, this wine is however a different beast from the previous B.de.Bs tasted. Toasted and ripe, weighty with a creamy roundness and ripe golden fruit and toastiness. Only 1gm/L dosage and aged on lees for 84 months.

Verde Brut, Gisborne NV: Rich and creamy overall with golden apples, warm yellow pears, roasted nuts and croissants toasted. Impressive mousse, a full-bodied fizz boasting wonderful flow and integration with a mouthwatering finish. Aged on lees for 36 months, vine age 2-20-years-old and a blend of Chardonnay (80%) and Pinot Noir.

Hunter's 'MiruMiru' Reserve, Marlborough 2011: made from Pinot Noir (55%), Chardonnay (41%) and Pinot Meunier. High-toned berry and cherry aromas with roses and violets. A pristine palate matches the nose, with lovely weight and creaminess but still vibrant and juicy. Aged 36 months on lees with a dosage of 6.5gm/L and vines age of 15-17 years.

Akarua Brut, Central Otago 2010: a rich and earthy version made with 58% Chardonnay and 42% Pinot Noir. Grille (toast) with roasted pears, red plums and citrus. Extremely well-balanced with precise acidity rounded out by a creamy weight. Excellent length. Vine age is 15 years and this wine spent 36 months on lees, disgorged and then another 48 months on lees. The dosage is 6gr/L.


Symposium Chardonnay standouts:
Church Road Grand Reserve Chardonnay, Hawkes Bay 2013: rich golden in colour with aromas of charred lemon peel and tangy yellow fruit, spice and toast. Fantastic creamy weight, layers of complexity, good focus and style with flavours of sweet butter and tropical fruits.



(Left to right: Chardonnay panel: Michael Brajkovich MW, Kumeu River; Tony Bish, Sacred Hill/Tony Bish, Matt Donaldson, Pegasus Bay; Warren Gibson, Trinity Hill; John Belsham, Foxes Island)



Felton Road Barrel Fermented Chardonnay Central Otago, 2002: mineral and nuts with creamy lemon curd aromas. Fantastic mouthfeel and impressive freshness boasting a nutty and toasted spiced flavour profile followed up by a tart lemony finish. Acidity is profound for the age. Long citrus peel finish, which tapers off elegantly.

Te Mata Estate 'Elston' Chardonnay, Hawke's Bay 2010: restrained initially, then lemon curds spread on toast and savoury brown butter. Expect sweet upfront fruit on the palate and buttery popcorn and tart lemon flavours alongside coriander and almond. It has a pleasing roundness; notable acidity kicks in mid-palate and it has excellent length.

Greywacke Chardonnay Marlborough, 2010: notable marmalade, exotic spice and golden fruit notes are layered with struck match and toasted nuts. Nice round and sweet palate; good fruit expression all in all, well woven and integrated. Expect a bold grapefruit-y finish. Lovely… complex and elegant

Kumeu River 'Hunting Hill' Chardonnay, Auckland 2006: a bit of the wild on the nose with less overt fruity aromas than many of the others. It enters the palate softly then bolder spice and citrus peel flavours kick in. It has assertive acidity and a long elegant finish. A complete Chardonnay, from a vineyard, which tends to take to age well

Milton 'Clos de Ste Anne' Chardonnay, Gisborne 2013:
Impressively ripe tropical nose, thanks to its Gisborne roots, additionally, sweet vanilla and caramel aromas. Acidity is juicy; this is very attractive approachable style with attractive weight and a sweet-spiced finish.

Villa Maria Single Vineyard 'Ihumatao' Chardonnay, Auckland 2013:
Profound aromas of vanilla liqueur with pineapple chunks whisked with sweet citrus. Wonderfully supple on the entry with oodles of fruit offset by a toasty element, which quickly kicks in. Those sweet upfront tropical fruit flavours on the palate are nicely rounded with vanillin and caramel; the finish is mouthwatering.

Neudorf 'Moutere' Chardonnay, Nelson, 2014:
Splendid white floral aromas alongside and orchard fruits, tangerine and honey. Great expressive fruit on palate as well; wonderful balance of oak spice, fruit and acidity with excellent length.

Greystone Chardonnay, Waipara Valley 2014: a lovely rich yellow hue with gobs of sweet tropical fruit, stone fruit and underlying citrus and vanilla. Mouth is an echo of the nose; great fruit expression, creamy lemon curds and fine spice but overall fresh with an expressive palate and notable length.

Old Coach Road 'Unoaked' Chardonnay, Nelson 2015: lovely pristine aromas of pear, exotic citrus, such as tangerine and lime with a mineral undertone. Beautifully fresh and expressive palate – it is mouthwatering - pure expression of variety

Tony Bish 'Golden Egg' Chardonnay, Hawkes Bay, 2015: this is a new wine for Sacred Hill winemaker, Tony Bish. Expect lemon curds and minty/herbal notes, smoke and musky undertones - a bit of wild and wooly. A singularly unique style with a slick oily texture, notable citrus expression and obvious oxidization from being aged in the concrete. It has a mineral textural-type finish classic to being housed in concrete. Bish noted the egg constantly does its own battonage.



(Right: Oz Clarke, UK; Daenna Van Mulligen; John Belsham, Foxes Island at Poverty Bay in Gisborne)



~Daenna Van Mulligen
More on New Zealand: Return to Middle-Earth
►Part 1: Nelson

►Part 2: Central Otago, Pinot Noir Celebration