May 30, 2016

In early 2015 I received an email from Patrick Materman,
chief winemaker for Marlborough pioneer, Brancott Estate.
In the email, he asked if I would be interested in being one of the speakers at the inaugural International Sauvignon Blanc Celebration (ISBC) in Marlborough in February, 2016.

It was a no-brainer - I boomeranged a reply.

Not only was I eager to return to New Zealand, but I was ecstatic to be part of this celebration, which I soon discovered, included such famous wine names as Oz Clarke, Steven Tanzer, Matt Kramer, Leslie Sbrocco, Jamie Goode, Young Shi and Robert Joseph, among others.

One year later, my first stop was Nelson.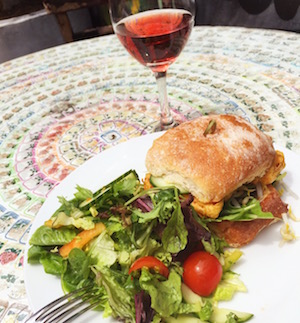 I had a comfortable overnight flight from Vancouver via Auckland on my favourite (I've written about this airline before) long-haul carrier, Air New Zealand.

Upon arrival on Monday morning I had the better part of the day to squeeze in a run and get my bearings before grabbing some lunch at a nearby restaurant, East St.
This colourful and relatively new vegetarian spot in the heart of the city of Nelson had accumulated high praise from locals. So, I sat down to a crunchy battered tofu burger and a glass of Aronui rosé, from Nelson.



Tohu/Kono/Aronui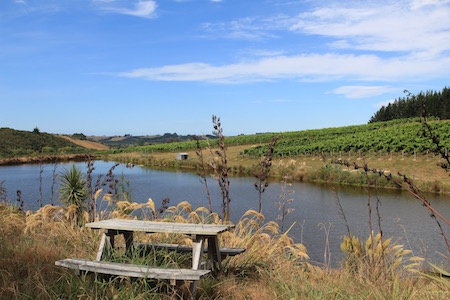 Later that afternoon, Dan Taylor, the sales manager of Tohu/Kono/Aronui wines, arrived to escort me to a special vineyard owned by the members of a parent company called Wakatu.
Wakatu translated fro Maori, means Nelson.

Dan drove me up into the Moutere Hills vineyard of Whenua Matua. Whenua Matua is Maori for valuable or significant land.

(photo: right)



There I was greeted in Maori (Te Reo) by Wakatu viticulturist, Jonny Hiscox.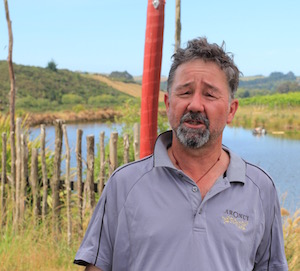 Hiscox

(right)

immigrated to New Zealand 25 years ago from Birmingham, England.
His fluency in the Maori Te Reo is thanks to studying the language after the birth of his daughter, Hani. He figured since it was part of New Zealand's school curriculum, he'd like to be able to speak the language with her.

All Kiwis believe in sustainability, but it runs deeper than simply lessening their carbon footprint. They firmly subscribe to leaving the planet in a better place than it was when they came into it.

"We are the temporary custodians,"
~Jonny Hiscox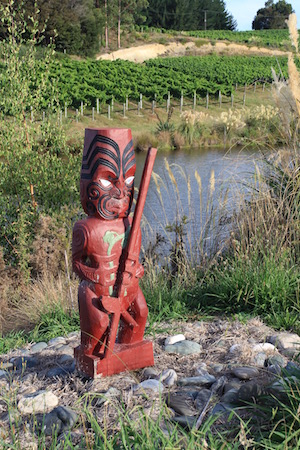 Hiscox explained Tohu was started in the 1970s by Maori, James Wheeler. He went on to tell how generations past, an agricultural tribe of Maori relocated from the North to the South Island. Here in Nelson they found a rich land well suited to growing resources. They were trade-minded and eager to develope relationships with the new people - specifically a British man named Wakefield who had laid claim to the lands in the area.
The tribe was promised land from Wakefield in trade but the reality was never fulfilled, at least not until the mid-20th century when they finally received some of the land from Wakefield's original promise.

When James Wheeler established Tohu, he began to trace some 4000 members from four tribes of the extended family (whenau whanui) to include them as partners. The company, which started in 1977 had an asset base of 11 million dollars has grown to over 260 million in assets. The company holdings include vineyards and orchards, which produce fruit and high quality beverages, hops, fruit bars and they also farm seafood. The family is the descendants of four tribes, known as Ngati Koata, Ngati Rarua, Ngati Tama and Te Atiawa.

The entire Whenua Matua site is 60-hectares and roughly one half of it is under vine. It consists of 24 planted blocks with such names as: eel block, dragonfly block, high vineyard and steep vineyard. The soils are ancient clay with some desiccated gravels. The land was initially cleared of invasive gorse shrubbery and since then, not only vines have been planted but some 180,000 indigenous plants - making this an area of great biodiversity.

While Whenua Matua may be the heart of the Wakatu holdings, they also make wines from Gisborne, Hawke's Bay and Marlborough.

Wines
Kono Sauvignon Blanc, Marlborough 2015 – Classic Marlborough, which is both crisp and herbaceous with nettle, grass clippings, passion fruit and a long tangy finish. ($15 BCLDB)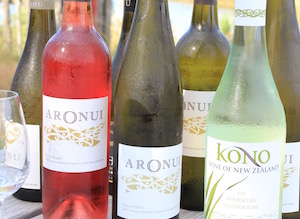 Kono Pinot Gris, Nelson, 2014 – Lively with snappy citrus, guava, and white flowers. It has lovely weight and concentration good persistence and oodles of grapefruit. Read my full review. ($15 BCLDB)

Tohu 'Rewa', Blanc de Blanc, Method Marlborough, NV - Made from 100% Chardonnay. Less than 10 companies currently use the Method Marlborough (MM) stamp on their label. It is a designation available only to those who the use of classic Champagne varieties and traditional method of production. Expect attractive toasted brioche aromas, it is lemony with crunchy white fruits and has a creamy mousse.

Tohu 'Mugwi' Reserve Sauvignon Blanc, Marlborough 2014 – Creamy lemon curds nose with intense (bordering on potent) palate. Overall great complexity, it is also quite leesy with a phenolic textured finish.

Tohu 'Single Vineyard' Sauvignon Blanc, 2015 - Read my full review ($23 BCLDB)

Aronui Albarino, Nelson 2014 – The Aronui label was released in 2013. Expect aromas of straw, dried flowers, lemons and pomelo with white peach and crunchy nectarine. It is clean and tangy and quite precise with bracing acidity and flavours of saline and an engaging and lengthy finish. Delightful.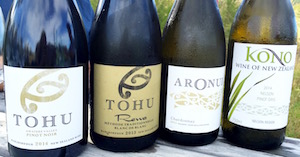 Aronui Gruner Veltliner 'Single Vineyard, Nelson, 2014 – Only the second vintage of this varietal, overall it offers good weight and notes of broom flowers and pomelo. Good persistence and weight with mineral structure.

Aronui Rose, Nelson, 2015 – Made entirely from Pinot Noir, this pink is a brilliant ruby/cranberry colour with tangy red fruit and orange peel nose. The palate is drier yet juicy with tangy pink grapefruit on lingering on the finish. Very refreshing quaffer.

Aronui Chardonnay, Nelson, 2014 - Nice golden hue with aromas of buttered toast, lemon curds, yellow fruits and spiced nuts. Classy yet weighty with great concentration and style. Very fresh with impressive mid-palate exuberance. Excellent.

Aronui 'Single Vineyard' Pinot Noir, Nelson, 2014 – Very sweet and expressive fruit on the nose with vanilla, star anise, rosehips, lilac raspberry and Maraschino cherry. It has a youthful palate, it's juicy but leaner than nose offering tobacco, cedar and fine spice flavours.

Tohu Pinot Noir, Awatere Valley, 2014 – A white peppery nose with savoury spices, raspberry, sweet cherry, licorice and pipe tobacco. Goof concentration, very expressive fruits with length and concentration.


Waimea Estates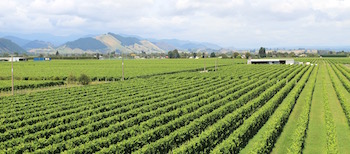 The following day I visited Waimea Estates located on the Waimea Plains, which are situated near Nelson city.
The fertile plains rest below the higher elevation of the cooler and damper Moutere Hills sub-region.



(photo right: looking out over the Waimea Plains from Waimea Estates)



The Bolitho family established Waimea Estates in 1993.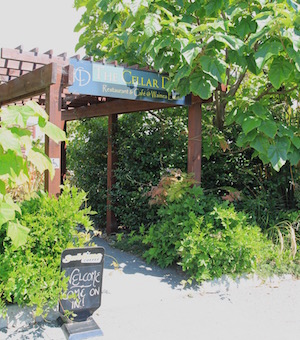 The family was orchardists keen to move into grape growing. Vines were planted in 1993 and 1995 and their first vintage was 1997. Today the winery is home to a separately owned and run restaurant. This bustling Cellar Door & Café had been renovated a few years prior to my visit.
Here, I sat down for lunch with winemaker, Trudy Sheild and export manager, Martin Carrington.
Sheild has been at Waimea for 12 years and head winemaker since 2010. Originally from Hawke's Bay, Sheild has experience in every aspect of running a winery and making wine.

Wines
Waimea Estate Albarino, 2015 – A delightful wine, probably the most expressive of this variety I've tasted. Nelson, by the way, has more Albarino than any other region and I think it's a good variety to hang their hats on. This one offers expressive peachy notes, lychee, guava, apricot, exotic flowers, loads of honey and citrus.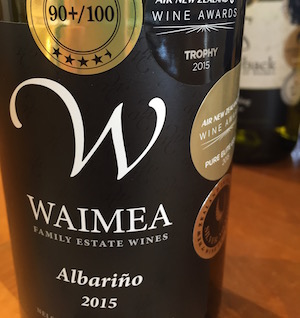 Delightful concentration and weight, racy acidity and just a kiss of fruity sweetness. Style is reminiscent of a Muscat or Gewurztraminer.

Waimea Estates Viognier, 2014 is perfumed with stone fruits, ginger, honey and orange blossoms. Wonderful focus and precision, nice heft but not flabby.

Waimea Estates Rosé, 2015 – made from Pinot Noir it is brimming with tangy red fruits, violets, cedar and fine spice. A medium-dry style with nice mineral backbone. Lively in the mouth with decent structure.

Waimea Estates Pinot Noir, 2013 – Expect wild forest berries, earth, bruised violets and cedar with tealeaf on the nose. Equally brambly in the mouth with a serious backbone and youthful, still grippy, tannins.

Waimea Estates Trev's Red, 2013 - is a unique blend of Cabernet Franc, Syrah and a splash of Viognier. It is minty with rooibos tea, dried herbs and red current aromas. Nice structure and balance – a medium-bodied red with classic cooler-climate character.


Neudorf Vineyards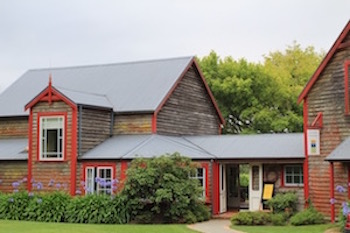 In all honesty, the reason I was in Nelson was because of Neudorf.

On my previous visit to New Zealand, I had dinner one evening with Felton Road owner, Nigel Greening.
He ordered a Neudorf Chardonnay to start. It was a wine I'd never had, from a producer I'd never heard of.

When asked where I'd like to visit upon on my return trip to New Zealand, Nelson was a priority.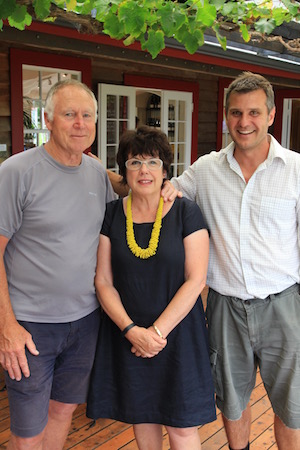 Established in 1978, former flower children, Tim and Judy Finn were finally ready to set down roots – to get back to the land, so to speak.
The Finns were undoubtedly pioneers in New Zealand wine, and more specifically, Nelson.
Like most entrepreneurs, they experimented to see what would work; having no experience with viticulture seemed only a small challenge - little did they know.
We should all be thankful for their youthful enthusiasm and flexibility when facing the unknown.



(photo right: Tim Finn, Judy Finn, Todd Stevens)



Today, Neudorf is recognized worldwide as one of New Zealand's iconic producers, one who has helped raise the bar in, and notoriety of, Nelson. They have a distinct house-style, their wines are complex and consistent yet their evolution continues as they take on the challenges of growing wine organically. This evolution is aided greatly by viticulturist Mike Saunders and winemaker Todd Stevens.

Neudorf is also one of New Zealand's premier wine estates, part of the Family of Twelve, which also includes: Kumeu River, Craggy Range, The Milton Vineyard, Ata Rangi, Palliser Estate, Nautilus,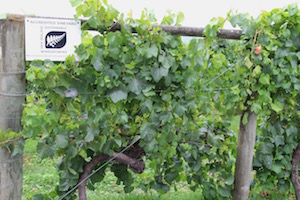 Lawson's Dry Hills, Pegasus Bay, Felton Road and Villa Maria.

Wines
Neudorf Sauvignon Blanc 2014 - Nice overall tropical fruits, nettle and grass clippings with exotic floral notes. Nice verve on the palate with excellent length and some phenolic texture. 20% of this wine is barrel fermented and some of it goes through spontaneous malolactic fermentation. Todd Stevens, who previously made wine at Felton Road in Central Otago, is aiming to have this wine made entirely with wild yeasts. It is currently 50% wild yeast ferment and is unfiltered.

Neudorf 'Twenty-five Rows' Chardonnay, 2014 - Known for their Chardonnays, this particular one comes from a special part of the vineyard and is made from the Mendoza clone - common in New Zealand. It is tank fermented with wild yeasts and goes through 100% malo. It is aged in puncheons (large format barrel) before bottling but the oak does not impart much - they prefer this to be a brighter style and just want to get it out of its reductive environment (tank). Initially quite restrained on the nose with yeasty undertones and bright citrus it rolls into a creamy palate with nice lively character. The acidity really pulls it in and cleanses the palate.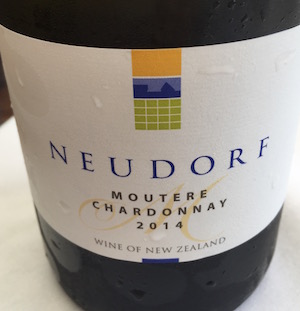 Neudorf Estate Chardonnay, 2014 - This wine is made from a blend of all the parcels which don't make it into the Moutere (top-tier) Chardonnay. It is whole bunch pressed, goes through natural fermentation with 15% secondary (malolactic) fermentation and is entirely barrel fermented in nothing higher than medium toasted French barrels. It has aromas of toasted bread, buttered nuts, grilled lemons, pear, not-quite-ripe pineapple and jasmine flowers. Sweet fruit dominates the palate with firm resinous undertones. Excellent.

Neudorf Moutere Chardonnay, 2014 - Made from the estate's original old vines, it offers browned butter, golden fruits, toast and roasted nuts with fine spice. It is powerful, focused and thoughtful - an utter epiphany in a glass. excellent pedigree and racy character.
As Tom Stevens aptly states, this wine is, "More horsepower, more torque."

Neudorf 'Tom's Block' Pinot Noir, 2013 - This is actually an estate blend from vines on average of 15 years. It is unfiltered and unfined and sees 25% malolactic fermentation along with full oak ageing (not new oak). The aromas here are a compote of tealeaf, cedar, bruised violets, tangy red cherry and forest berries. The palate is silky and juicy but youthful and still wrapped up quite tight.

Neudorf Moutere Pinot Noir, 2013 - Here you get more raspberry and even purple fruit aromas alongside violets and dried herbs and tealeaf. The palate is fresh, feminine and fine-boned but also boasts excellent structure. Pure finesse. Stevens notes that the vines for this wine are roughly 30-years-old - not teenagers anymore but trying to figure out what they are doing with their lives. He also suggests these wine are made for ageing the are not short on acidity or structure. I would agree.

"We're not heavy in fruit opulence, you can see through the wine."
~Todd Stevens, winemaker, Neudorf
General tasting of a few other Nelson wines hosted at Seifried Estate Winery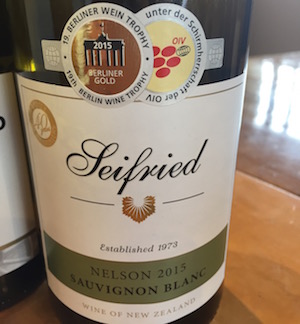 Seifried Estate Winery 'Old Coach Road 'Sauvignon Blanc, 2014 - Tangy and more green or verdant and herbascous aromas with an earthy, savoury character – there is less overt fruitiness than Marlborough with hints of smoke and gooseberry. Good weight, pleasing acidity quite focused and linear. Good power on finish.

Seifried Estate Winery Sauvignon Blanc, Nelson 2015 – Expressive guava and passionfruit, line and pomelo, lemongrass. Tangy and zesty in the mouth, good weight, pristine character. Excellent tension and length.

Spinyback by Waimea Estates, Sauvignon Blanc, 2015 - A very pretty nose boasting pristine elderflower, exotic citrus and tropical fruits. Leaner palate with loads of citrus and mouthwatering acidity. Nice style, very quaffable with a lengthy lime and grapefruity finish rounded out with guava.

Waimea Estates Sauvignon Blanc 2015 - More initial forwardness and good depth - some smoke and grilled herbs, citrus peel and passionfruit/gooseberry on palate and and nose. Very zesty citrus flavours, mouthwatering but not aggressive finish. Long finish.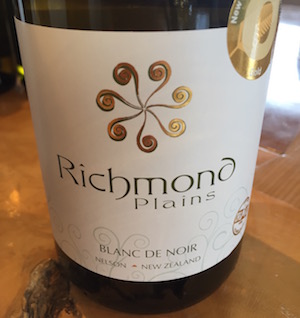 Waimea Estates Sauvignon Gris, 2014 – Tart fruit, citrus and gooseberry. Thicker, weighter palate - almost oily with great concentration, nice smoky, lime and soapy texture. Weighty, substantial honey and musk melon flavours linger.

Waimea Estates Sauvignon Gris, 2015 - Interesting exptic fruit notes, feijoa, gooseberry guava and plenty of grass clippings, elderflowr branch. More linerar and focused than 2015, but juicy and bright, honey and guava on the palate.

Richmond Plains 'Blue Moon' Sauvignon Blanc, 2014 - Organic producer. Some oxidized notes, fruit smells bruised, musky and honeyed. Palate is somewhat one dimensional, linear acidity with no roundeness Tart finish.

Richmond Plains 'Blanc de Noir' 2014 – Made from handpicked organic Pinot Noir grapes with slight skin contact. Only slighty pinkish hue.
On the nose, some red tart berries, hints of peach skin and orange citrus rind. Good weight, more white than red in profile, with plenty of citrus and herbal flavours.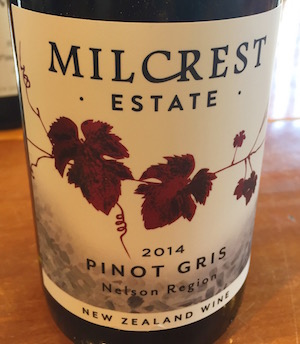 Spinyback by Waimea Estates Riesling 2014 - Classic and expressive Riesling aromas, lime and peach stone, honeysuckle and lemon drops. Tangy and dry style, nice lime/lemon edge to keep it lively and zesty. Fresh and enjoyable

Waimea Estates 'Classic' Riesling, 2014 – sweeter honey, mango, peach aromas. The palate is dry and tangy, more weight and concentration here. Mouthwatering acidity and tangy finish. Very clean and chic.

Waimea Estates 'Pinot Gris' 2015 – Expect very pretty, pear, guava melon and honey. Mouth is weighty and fresh, good concetration, not bone dry but very easy drinking. Nice length, solid fruity style.

Te Mania Pinot Gris, 2014 very citrus on the nose with lemon and pomelo and even some fresh grass. Good concentration, again more citrus and herbal with zesty overall character. Not really Pinot Gris but more Grigio in style.

Milcrest Estate 2014 Pinot Gris – Quite interesting soapy and earthy, notes with some honey and caramel not overly fresh but rather notes of dried pear and peinapple pieces. The palate is an echo of the nose. Good weight but fruit tastes like it was a later harvest. Very honeyed.

Waimea Estates Gruner Veltliner, 2014 - Very fresh and expressive lemon grass and mineral, wildflowers and straw with some honey. Weighty and tangy, leaner fruit expression, more wet stone and citrus oil. Focused and tangy finish.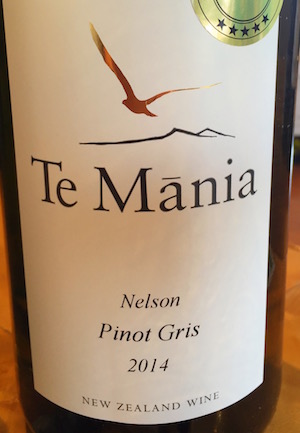 Waimea Estates Chardonnay, 2014 – Buttered nuts, toast and spice with pear and pineapple undertones. Nice balance of oak and fruit, spicy and grille (toast), nice power, acidity and weight. Mouthwatering finish of citrus, lemons grilled.

Waimea Estates Chardonnay, 2013 – Again, toast (grille) and citrus but a more well-integrated mid-palate than 2014. Finish comes back in force with spice and buttered nuts, slightly toasted oak/green finish.

Waimea Estates Gewurztraminer, 2014 – Wow, slam, pop. This is full on lychee rose oil Turkish delight and pink grapefruit on steroids. Mouth-filling and drier than expected, a soapy texture and flavour profile to mimic the nose. Great Turkish delight, honey and spiced finish.

Richmond Plains Pinot Noir 2014 - Organic and biodynamic producer. Spicy red cherry, raspberry and forest berries alongside vanilla and violets. Palate is juicy with oodles of white pepper (on nose too). Good overall freshness and classic Pinosity. Sweet expressive fruit, cocoa and fine spice box flavours.

Te Mania Reserve Pinot Noir, 2013 – Shy initial nose. Leans more to earthy and spiced with red tangy fruits and dusty red plum too. Good structure and spiciness. Good acidity, Old World style, more restrained with tea leaf flavours.

Seifried Estate Winery 'Sweet Agnes' Riesling, 2015 – Honeyed and apricot/ peachy aroms, candied citrus peel. Sweet as expected on palate with beautiful lemony and peach flavours in the mouth. Nice acidity helps cleanse the palate. Very long and zippy finish.

About Nelson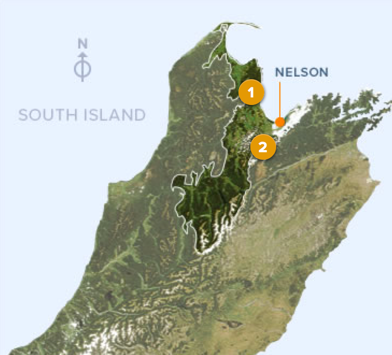 Located central-west on the top of the South Island, Nelson is known for its sunny and hospitable weather.
The area is home to a vibrant scene of artisans, artists and cafés and it produces a wide range of wine varieties.
The main winegrowing region is the fertile alluvial Waimea Plains (2) and to a lesser extent in the gravel-clay soils of the more westerly Moutere Hills (1).
1123 hectares of vineyard
2.4% New Zealand's wine production
Chardonnay accounts for 93-hectares, aromatic varieties 209-hectares, Pinot Noir 241-hectares, Sauvignon Blanc 540-hectares.
34 wineries associated with New Zealand Winegrowers
Map courtesy of New Zealand Winegrowers
►Read my feature article in Vines Magazine.
Staying Power: What's Next For Marlborough Sauvignon Blanc
~Daenna Van Mulligen