Feb 16, 2016
The Southern Rhône: Ventoux
I was itching to get back.


My last visit to the Rhône Valley had been in 2010. It was an eye-opening yet whirlwind tour of the region.
I had been joined by friend and fellow journalist, Beppi Crosariol of the Globe and Mail. With a single guide, we started in Lyon and drove down to Ampuis on a journey that would take us roughly 250 kilometers from northern Rhône, south to the Mediterranean.

In a three page article I wrote in Vines Magazine in the October/November 2010 issue, User's Guide: The Rhône I described the region as, "...the shape of a ladle, the northern Rhône would be the handle and the southern Rhône the spoon".



(Map: courtesy WineFolly.com)



After a couple of days in Ampuis and then Tain l'Hermitage, the steep terraced vineyards of the north gave way to broad open swaths of land in a more barren Ardeche. The Ardeche is basically where the north becomes the south. Not only does the landscape change from north to south but the winds (mistrals) pick up, often with great force. The landmark Dentelles de Montmirail (a jagged teeth-like range) and the impressive Mont Ventoux provide you direction. Direction that is, if you can see them. The running joke on my recent visit was the Snuffleupagus called Ventoux, which seemed shrouded in cloud and fog for most of my time there. It finally (cheekily) showed itself on my last day in the south.
The temperatures are notably warmer in the south, aided by the warming mistral winds coming from Africa. The food itself is different too, more seafood, avocado and Provençal-type cuisine.
Alas, the south is also the home of Grenache, a variety that fares better with heat than the king of the cooler north, Syrah.

It stands to reason, the Rhône is France's oldest wine producing region.

Even before the important Roman occupation the Greeks were here - there is proof the vineyards predate the birth of Christ.
Being a Mediterranean climate, the terroir seemed more suitable to grape growing. From Italy along the Roman built road, Via Domitia to Spain, grapes were planted.

On this trip, I arrived in Marseilles and was then driven to Avignon. In the heart of the old city I was given one of four rooms at Maison de Fogasses a unique, notably eccentric inn, which doubles as a gallery and pop up restaurant featuring cooking classes. Mine was up nearly 100 steps in a tower loft. Ask for one of the lower rooms if you have significant luggage, but the full kitchen is a bonus if you want to save some money while there.

That first night we had dinner at an equally colourful and eccentric restaurant

(right)

just around the corner from Maison de Fogasses.
La Cuisine du Dimanche is a husband and wife team. He is front of the house and she prepares stunning local and seasonal dishes in the back.
It was flavourful and authentic yet very imaginative cuisine.

I was fed a rich pisto (a sort of a vegetarian cassoulet) with tomato base, white beans, red bell peppers and plenty of cheese and basil to top it off. Next up was a decadent goat cheese lasagna, again with oodles of fresh basil.
We tried a number of wines that night but the highlights were Brotte Chateau de Bord, Laudon, Cotes du Rhone Villages, 2014 - a rich and oily Clairette, lime mineral, white flowers - crunchy fruit and beeswax on the palate. Domaine des Escaravailles 'La Ponce' Rasteau, 2012 - a fresh granitic and wet stone nose with high-toned expressive berry flavours in the mouth. A high quantity (possibly 80%) Grenache.

First Stop: Ventoux
The next morning we drove to Carpentras, the main city of the region, for a general tasting of Ventoux wines.
The tasting was conducted completely blind and included an assortment of vintages of white, rosé and red.

A little about Ventoux:
Although wine has been made here for thousands of years, Ventoux only received its AOC status in 1973. The main varieties are Syrah, Grenache, Cinsault, Mourvedre and Carignan with secondary permitted varieties of Bourbelenc, Clairette, Viognier, Roussanne, Marsanne, Grenache Blanc, among others.
Located east of Avignon (the large green area on the map above) the region is an amphitheater shaped valley, somewhat cooler and higher in elevation than neighboring regions resulting in higher protection from the mistrals.
It has limestone, sand and clay soils with some alluvial pebbles.
Ventoux has a total surface production area of 2900 hectares and produces 60% red wines with 35% rosé and 5% white.
Standouts:
Whites
Aymard 'Elegance', 2013 - 3000 bottles produced, it is a blend of Grenache Blanc, Clairette, Roussanne. It is golden and fragrant with stone fruits, citrus oil and beeswax notes. Lemon curd, fine spice and waxy texture on the palate.
Domaine des Anges Blanc 2014 - 13,500 bottles produced this is a blend of Grenache Blanc, Bourboulenc and Roussanne. An intriguing bouquet with exotic flowers, sweet golden fruit and peachy notes. It is elegant, complex and weighty with a long spicy and zesty finish.
Available via Barrel Select in Ontario, approx $18.
Vignerons du Mont Ventoux (VMV) 'Grange des Dame', 2014 - Made from Clairette, Grenache Blanc this co-operative made wine was the most fragrant of the whites I tasted this day and, full of character. Very pretty with pristine golden fruits, honey and jasmine on the nose. Fresh, generous fruit and great concentration in the mouth with a persistent spicy and zesty finish.

Available in Europe and Asia.
Demazet La Cave de Canteperdix Blanc, 2014 - A 50/50 blend of Clairette and Grenache Blanc produces 45,000 bottles. Honey, stone fruits, jasmine and citrus aromas. Nutty and spiced in the mouth with excellent concentration. Available in France and Japan.

Reds
Cellier des Princes 'Domaine de Ju', 2014 - Grenache (60%) with Syrah (35%) and Carignan. expressive ruby and purple fruits, roses and violets. The palate mimics the same high-toned fruit with cocoa and licorice. Fine sweet tannins. A chic wine.
Domaine Des Yves, 2014 - Syrah (62%), Grenache (23%), Carignan (15%) produce 66,000 bottles. Has a very pretty nose of blueberry, raspberry and violets followed with expressive fruit on the palate. Fine dry tannins cling to the finish. Not available in North America.
Marrenon 'Orca', 2014 - Dominated by old vine Grenache (60-100 year old vines) this is a wine that would do well in Canada with the Orca label. There are 80,000 bottles produced and it offers sandlewood, roses and violets with juicy high-toned berries. Feminine, pristine and wonderfully fresh. Stylish fine wine. Available in USA for about $21/BC $30 approx.

Marrenon 'Terre du Levant', 2013 - Syrah (80%), Grenache (20%) 120,000 bottles. It is a lovely fine-boned and fresh wine with impressive delicacy and freshness - expect violets, raspberry and purple fruits. Overall charming. Available for about $13 in US.
Chateau Campagne Bacchus Ventoux 'Campagnole', 2012 - Grenache (65%), Syrah (35%), Carignan (5%) 4500 bottles produced. My notes read, lovely, fresh and expressive with sweet cherry, raspberry, wildflowers, exotic spice and licorice. Feminine and charming.
Chateau Unang 'La Croix', 2012 - Grenache (70%), Syrah (25%), Carignan (5%) 5000 cases produced. Showing well with some age under it is still bright purple in colour with dried fruits, molasses and expressive fruit, especially on the palate. The finish shows sweet tea and berries, the weight is attractive and supple. Represented in Quebec by Symbiose Vins et Compangnie
St. Jean du Barroux 'Pierre Noir', 2011 - No word on the blend, bottles produced or availability but this wine offers an attractive muddle of dried fruits, blackberry jam and molasses and baking spices. Quite powerful and concentrated with still youthful tannins and fresh acidity.


After an outstanding lunch at Chez Serge, which included a hedonistic salad served with a slab of fresh burrata, pistou and tomatoes, a penne pasta with butter and French truffles followed by a local cheeses course, we headed closer to Mont Ventoux.

TerraVentoux
Our first stop in the region was TerraVentoux.
Thrilled to get some fresh air and a semblance of exercise we mounted electric bikes to take us up the foot of Ventoux, which was still shrouded in cloud. A 10 kilometer round trip took very little effort with these six-speed electric bikes.

It made me think these two wheeled machines would be the perfect commuter vehicle, back home in Vancouver.
TerraVentoux owns 20 of these ebikes and does a booming enotourism business from March until the end of October. They plan on adding 20 more bikes this year. The tours are popular with a sommelier and a picnic lunch - a sort of tailgate but with more exercise.

TerraVentoux is a co-operative with pockets of vineyards spread over 500 hectares. They source from 100 growers and, as only 5% of wines from Ventoux are white, likewise only five percent of TerraVentoux's production is white.

Terres du Truffes Blanc, 2014 - A blend of Grenache Blanc and Clairette with a splash of Viognier.

Lovely peach and apricot notes, candle wax and honey. Very clean with good structure and lively acidity, warm lemon curd finish. Yummy. Available in Canada.
TerraVentoux Rosé, 2014 - A blend of Grenache, Syrah, Cinsault (80/15/5%) with a pale salmon pink hue. Tart and tangy fruit, nice clean style and bright finish. 35% of wines from Ventoux are rosé, likewise 35% of Terra Ventoux's production is as well.
TerraVentoux 'Gran de Granacha', 2012 is dominated by Grenache with 5% Syrah. This is only the second vintage of this wine. Cocoa, leather, tangy red fruits, star anise - spicy and peppery. Good brightness with a slightly bitter finish.
Chateau Bonadona 2012 - This single plot Grenache (60%) and Syrah (40%) blend comes from 20 to 60 year old vines. Clay, concord grapes and purple berries on the nose - pristine and concentrated in the mouth with impressive length.
TerraVentoux 'La Cavee' 2012 - Made from Grenache (30 year old vines) and Syrah (50 year old vines) offers expressive cherry and purple berries, spice and earth. It is supple and powerful with a long cocoa finish.

Château Pesquié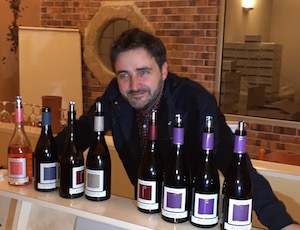 Frédéric

(right)

and Alexandre Chaudière are brothers from the third generation of winemakers under the Château Pesquié brand.
The long established chateau was purchased in the 1970s by the brother's grandparents, René and Odette Bastide, right around the time the AOC Ventoux was finally established, in 1973. The brothers took over from their parents (Edith and Paul Chaudière) and grandparents in 2003. They began converting to organic in 2007 (now certified) and as of the 2015 vintage the Chaudiere brothers have begun their conversion to biodynamic vineyard practices.

Frédéric took us on a tour of some of his vineyards and pointed out the unique terroir of Ventoux.

He explained how different it is from the surrounding southern Rhone regions. The valley is similar to an amphitheater, it boasts more protection from the mistral (winds off the Mediterranean) but is also higher in altitude, sitting in the Ventoux foothills. Slightly cooler than neighboring appellations, Syrah is more dominant than other regions here in the Ventoux. An anomaly in the south. Additionally the percentage of white production is also slightly higher.
He pointed out the higher levels of gypsum (a good nutrient) in the soils, which comprise of various types of clay and limestone (the Holy Grail of soils) with some sandy aspects. In addition to Syrah and Grenache the estate also has Cinsault, Carignan, Mourvedre, Roussanne, Clairette, Viognier and Chardonnay.

"If you are going to grow more Syrah in the southern Rhone, Ventoux is the place to do it..."

~Frédéric Chaudière
Wines
The wines of Château Pesquié fall into three tiers: Terrasses, Quintessence and Artemia at the top.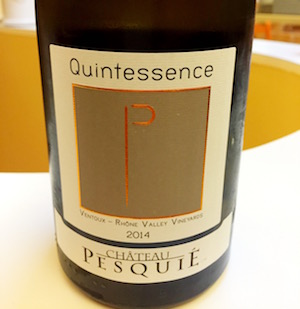 Quintessence Blanc 2014 - Comprised primarily of Roussanne with 20% Clairette this laudable white was barrel fermented. Warm golden fruits, honeysuckle, lemon oil and candle wax infused with herbal notes. It shows impressive tension on the palate, good weight and a distinct saline character.
Terrasses 2014 Rosé - A soft pale pink colour with delicate berry fruit, spice, dried violets, cedar and tangy citrus. Overall good power and structure, a dry rose strong enough to stand up to meat. Made of Cinsault, Grenache and Syrah, direct press - not saignee (bleeding off of juice) method.
Terrasses Red 2013 - Grenache dominant with 40% Syrah this intense red offers rich blackberry jam, bittersweet chocolate, toasted spice and smoked meat. The palate follows suit, cocoa, oak spice, and peppery spices lead to espresso and game meat on the finish. Despite seeming higher, 70% sees no oak ageing while 30% is in older barrel for five months. $20 BC
Terrasses Red 2014 - Again, Grenache dominant with 40% Syrah Chaudière informs us 2014 was a tougher year for most of the south (pronounced heat) but less so in Ventoux, where it is cooler. I was immediately more attracted to the 2014, The blackberry notes seem more freshly picked as opposed to jam, there is a brightness and juiciness overall. The fruit is expressive and is layered with earthier dark chocolate, coffee, tobacco and spice, which trail on the finish. Excellent power and persistence.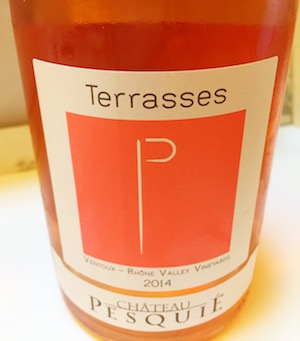 Quintessence Red 2012 - Syrah leads this blend with only 20% Grenache. Intense colour, aromas of wild blackberry, dried violets, mocha and toasted spices. The palate is quite succulent and weighty. Good presence.
$25 Canada, approx.
Quintessence Red 2013 - The same 80/20 blend as the 2012 this vintage is fragrant and floral with oodles of black and purple fruit layered with cocoa. A rich chocolaty palate highlights expressive and vibrant fruit. Very good lift and freshness with amazing intensity. More feminine than 2012.
Artemia Red 2012 - A 50/50 blend of Grenache and Syrah it shows finesse and charm with fragrant purple fruit and floral alongside sweet spice. Despite its finesse it is potent and concentrated with drying but polished tannins.
Artemia Red 2006 - Starting to show some age with notes of fruitcake followed by clay, purple flowers and cocoa. Powerful although with age the tannins have released some of their grip. Toasted, espresso and wild meaty undertones.
Artemia Red 2007 - Only a year but what a difference from the 2006. Sweet fruit and fragrant floral notes. More approachable overall, effusive purple sweet fruit with seductive weight and texture. Outstanding.


Domaine de Fondrèche

Domaine de Fondrèche is owned by winemaker Sebastien Vincenti

(below right)

and his mother, Nanou Barthélemy.
Purchased in 1993, then formally established in 1995, the estate is home to roughly 40 hectares in three communes, 20 of which are located around the winery in Mazan.The soils around the winery are quite unique according to Vincenti, they contain silex (silica) with sand and about 20% clay, which helps rejuvenate the soil. Vincenti's goal is to make elegant wines, which strongly reflect the Ventoux terroir. Vincenti specializes more in white (25%) and rosé (25%) wines, which unlike other Ventoux producers, making up 50% of his production.

Wines
Domaine de Fondrèche Blanc 2014 - A blend of Grenache Blanc, Roussanne, Vermentino and Clairette this effusive white was partially fermented in oak and stainless steel. The Roussanne really grabs your attention here; a nose of lanolin, beeswax, pine and tangy citrus. Hints of nuts and spice with crunchy white fruits in the mouth lead to a long zesty finish. Overall good complexity and weight.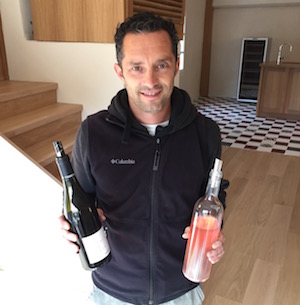 Domaine de Fondrèche 'Persia' Blanc, 2014 - Entirely comprised of Roussanne from 35 year old vines, Vincenti ferments this wine in foudre (large wooden vats of various sizes) then aged in tank for three to four months then oak barrel again for three to four months. There is a distinctly toasted or grille nose with roasted nuts, lanolin and lemon butter with spice. As powerful as a red but with oodles of tension from the acidity. The persistent finish is impressive.
Domaine de Fondrèche 'Nature', Vin de pays de Vaucluse 2014 - Made with zero sulphites added this is a blend of Grenache, Syrah, Mourvedre and Cinsault. Made in a reductive style with dominating earthy character. Dark and savoury with espresso and charred earth with a chalky texture and hints of dried fruits. It rolls into a finish of dark cocoa.
Domaine de Fondréche 'Il Etait une Fois' 2012 - Grenache with a bit of Mourvedre, this red had expressive grapey and summer berry aromas with purple flowers and fine spice. Quite nice finesse and a lovely juicy character. Comes from old Grenache vines planted in 1936 and 1938. Delightful.
Domaine de Fondréche Rosé 2015 - (Tank sample). Made from one-half Cinsault with equal parts Grenache and Syrah this charming pink sells out quickly each vintage and I've no doubt why. Beautiful aromas of roses and cherry blossoms, orange slices and peach stone with red apples. Awesome structure with a tangy, dry and juicy palate. Comes from a specific sandy plot this wine is sold in restaurant in France, the UK and USA.


Château La Croix des Pins
Located in the commune of Mazan in central Ventoux, La Croix des Pins sits on 22 hectares in Ventoux with additional vineyards in Gigondas and neighboring Beaumes de Venise.
It is owned by

(photo right)

winemaker/director Eric Petitjean and business partner Jean-Pierre Valade (of the Institute Oenologique de Champagne in Epernay), who purchased and revitalized this chateau from near ruin in 2009.
The eldest part of the Chateau was built in the 1600s and its history included being the home of silk (worm) production. The previous owner's husband had perished in a car accident years before and she was unable to keep up the chateau and its vineyards. It seems a good twist of fate that the business partners could set set down roots in what Petitjean thinks is the best option for cooler-climate wines in the southern Rhone.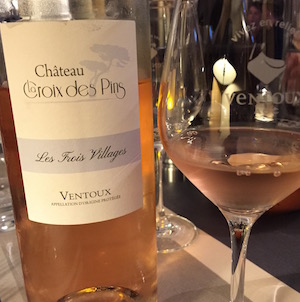 Although it's not well-established yet, the chateau is also home to a B&B, there are two multi-level suites with full modern kitchen on site.
The chateau is also a draw for its restaurant, aptly named, A Ventoux . Opened by two friends in 2015, it seems to be holding court for many locals as well as tourists.
As both Petitjean and Valade had previously worked together for some twenty years, mostly in Champagne, they both agree on a house style of vibrancy and acidity in the wines. By 2013 to 2014 the estate was finally coming together.
The winery/tasting room/B&B and restaurant have since been completely restructured and 80% of the vines replanted (most have been certified organic since 1998) while they have maintained some of the 80 year old vines on the property.

"What you're seeing now, is just the beginning..."

~Jean-Pierre Valade
Wines
'Les Trois Villages' Rose, 2014 - Made from Grenache, Syrah and Mourvedre it is a pale salmon-hued rose with tangy red berries and lively citrus. It is clean, racy and tangy.
'La Tete a l'en Vers' 2013 - Entirely compised of Syrah this unique wine is made with no sulpher (only ascorbic acid) and therefore is sold and shipped upside down to prevent spoilage and oxidization that natural wines are known for.
It has an earthy and powerful nose; chocolaty, pure blackberry extract and bittersweet cocoa aromas. The palate is weighty and rustic; saddle leather, earth and spice. lead to a long finish. Natural yeasts ferment.
'La Noria' Grenache 2012 - It has the addition of a splash of Syrah but the Grenache really shines here... raspberry, purple berries, violets and baking spice on thos nose lead to an expressive and juicy palate. Great acidity and polished tannins.


Marrenon

While I did not visit the winery, I did sit down with Philippe Tollert from the Marrenon Wine Makers and Wine Growers Union.
Marrenon is a large group consisting of 1200 producers harvesting from 7600 hectares of vineyard. I was impressed that two of their wines stood out (Orca & Terre du Levant) during my Ventoux General Tasting (notes above).
Marrenon was established in 1965 and the vast majority of the wines come from Ventoux and the more southerly Luberon.
The company holds an impressive nine wineries in nine different communes and produce 15% of total Ventoux AOC wines, making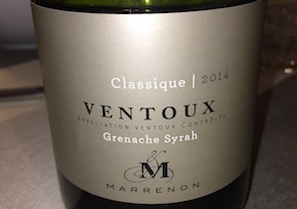 them the largest producer in the region.
Ventoux wines make up 25% of their total wine production.
They produce a number of different labels under three tiers: Classique Range, Altitude Vineyards and Single Vineyards (AOC) at the top.

Wines
Marrenon 'Terre du Levant' 2014 Blanc - An equal blend of Clairette and Roussanne, this wonderfully attractive white offers notes of spring blossoms, pine resin, honey and peach stone. The palate is lemony and herbal with racy acidity and an oily texture. $18 LCBO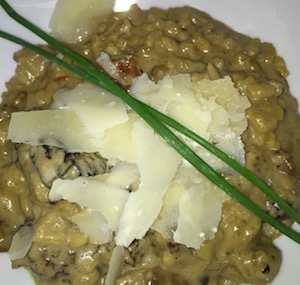 Marrenon 'Classique' Ventoux, 2014 - A very approachable blend of Grenache and Syrah this tasty red doles out juicy berry fruit, licorice, sweet spices and pepper. Good overall structure and balance with an attractive price tag.
Approx. $19/BC
Great paired with rich mushroom risotto served at A Ventoux restaurant at La Croix des Pins.

Marrenon 'Capella' Ventoux 2014 Selection Parcellaire - Expect plenty of peppery notes with blackberries, purple flowers, grape-y tones and licorice and vanilla. Amazingly fresh in the mouth with a very drinkable character. Syrah dominant with 20% Grenache.

Read More on the Rhône:
►
Vacqueyras
►
Northern Rhone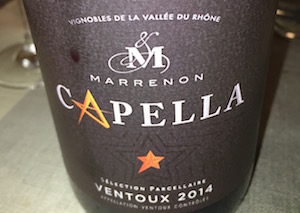 ►Northern Rhone: Part 2




~Daenna Van Mulligen