Aug 26, 2015


There are good days, great days and days you'll never forget.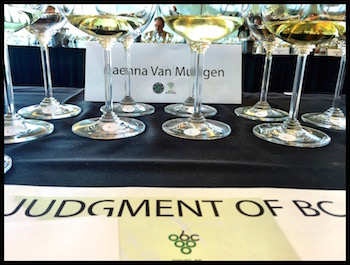 Little did I know, August 25, 2015 would be one of those.

Precisely 25 years after the formation of the BC VQA (Vintners Quality Alliance) on August 24, 1990 and, after two years of planning, Wines of British Columbia accomplished a massive coup.
They brought Steven Spurrier, the British wine expert from the United Kingdom to spend five comprehensive days in British Columbia's wine country and get to know what we're all about.

He got up close and personal and liked what he saw.

"For me wine is the three P's: the place, the people and the product. British Columbia ticks all these boxes with exuberance, elegance and conviction."
~Steven Spurrier

Spurrier, who has accomplished much in his life of wine, is also the founder of Academie du Vin and Christie's Wine Course. He is currently the consulting editor of Decanter Magazine.
He told me what his mentor, Master of Wine (and similarly famous wine critic) Michael Broadbent started, he's continued. Others such as Jancis Robinson have followed suit.

Perhaps to the average wine lover he is more widely known as the man who arrived to California in the mid 1970s. He found the wines to be good (despite it being only a developing region and the fact that no one outside of it knew about them).
They were soo good in fact, he brought them to Paris.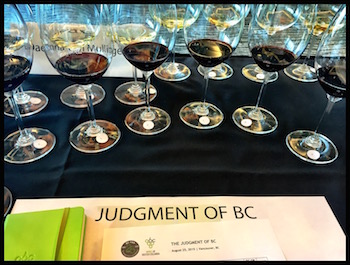 Spurrier explained to me how he and his young wife moved to Paris in from the UK in 1970 and remained there for 20 years. While there he owned a small wine shop called Les Caves de la Madeleine. Their two children were born in Paris.

His goal in bringing those wines to Paris was to host a blind tasting challenge with European wine critics, who thought there was no possible way a California wine could stand anywhere near (let alone in the same room) as a French wine.

It was called the Judgment of Paris.
It was held on May 24, 1976.

The judges were all French except Spurrier and one other judge from America.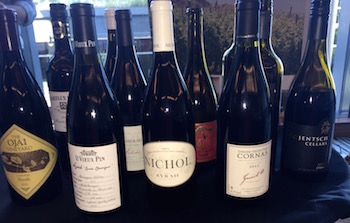 As it turned out, California fared exceedingly well, Chateau Montelena's 1973 Chardonnay took top place for white wines and Stag's Leap Wine Cellars' 1973 Cabernet Sauvignon for the reds.

If you've seen the movie Bottle Shock (circa 2008) you'll know how it all went, at least from a Hollywood point of view.
As a side note, Spurrier is the polar opposite of his rather pompous and dismissive character, portrayed by Alan Rickman, in the movie.


So, on August 24, 2015 at Vancouver's stylish Fairmont Pacific Rim, roughly 20 wine experts, sommeliers and critics from Western Canada sat down to taste two flights.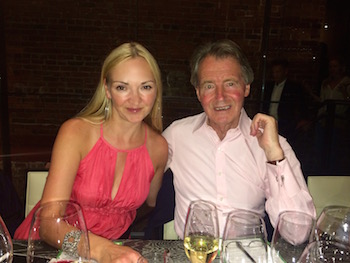 The first was a flight of Chardonnays. Six from British Columbia and six from around the world.
The second flight was Syrah. Again an even split between Okanagan Valley and international.

The flight of Chardonnay was more difficult to judge than the Syrah. They were all of excellent quality and balance, some just stood out more.
After 40 minutes our decisions were made and our scoring sheets calculated.


(Photo right courtesy: Michaela Morris)



We repeated the process for the Syrah, which appeared to me to have far more variation - not in quality, but in style.
I knew the Syrah competition would come down to individual preference.
When you're dealing with such a high quality of wine, that's where the decision has to be made.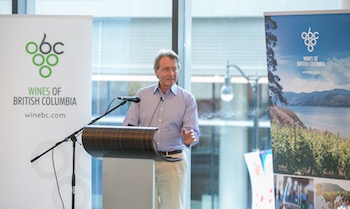 "It's very brave of BC to do this. It is after all a competition - actually it's a confrontation."

~ Steven Spurrier

Head judge, D.J. Kearny, who cleverly organized the wines for this tasting, noted after tasting the Chardonnays, "This [tasting] is capturing our opinion of these 12 wines, right now, on this day."



(Photo right: Steven Spurrier and below right, courtesy of Wines of British Columbia)



The results in order of score
Chardonnay
1. Soumah Single Vineyard Chardonnay, Yarra Valley Australia, 2013 | $27
2. Kumeu River Hunting Hill Chardonnay, Auckland New Zealand, 2012 | $35
3. Hamilton-Russell Chardonnay, Hemel-en-Aarde, South Africa 2014 | $40
4. Jean Marc Brocard Chablis 1er Cru Montmains, France 2012 | $45
5. Bouchard Pere et Fils 1er Cru Genevrieres Meursault, France 2011| $86 *
6. Blue Mountain Chardonnay Reserve, Okanagan Valley BC 2013 | $30
7. Tantalus Chardonnay Okanagan Valley 2012 | $24
8. Robert Mondavi Chardonnay Reserve, Carneros California 2013 | $44
9. Quails' Gate Rosemary's Block Chardonnay, Okanagan Valley 2013 (tie) | $30
9. Mission Hill Chardonnay Perpetua, Okanagan Valley 2013 (tie) | $65
11. Meyer Family Micro Cuvee Chardonnay, Okanagan Valley 2012 | $65 *
12. Haywire Canyonview Chardonnay, Okanagan Valley 2013 | $25

Syrah
1. C.C.Jentsch Syrah Okanagan Valley, 2013 | $30
2. Langmeil Orphan Block Shiraz, Barossa Valley Australia, 2012 | $35
3. Domaine Vincent Paris Cornas Granit 60, Rhone France | $66 *
4. Nichol Syrah, Okanagan Valley 2012 | $40
5. Le Vieux Pin Cuvee Classic Syrah, Okanagan Valley 2013 | $50
6. Ojai Syrah, Santa Barbara California 2011 | $30
7. Jackson-Triggs Sunrock Shiraz, Okanagan Valley 2011| $30
8. Orofino Scout Vineyard Syrah, Similkameen Valley 2012 | $29 *
9. J.L. Chave Selections Crozes-Hermitage Silene, France 2012 | $40
10. Tyrrell's Vat 9 Shiraz, Hunter Valley Australia 2011 | $49
11. Laughing Stock Syrah, Okanagan Valley 2013 | $38
12. K Vintners The Beautiful Syrah, Walla Walla Washington 2012 | $70

* These are wines I incorrectly guessed when asked while scoring, are they international or BC?


"The panel is the key thing. The results are only as good as the judges."

~Steven Spurrier


My own results, top four only
Chardonnay
1. Soumah Single Vineyard Chardonnay, Yarra Valley 2013
2. Kumeu River Hunting Hill Chardonnay, Auckland 2012
3. Quails' Gate Rosemary's Block Chardonnay, Okanagan Valley 2013
4. Bouchard Pere et Fils 1er Cru Genevrieres Meursault, France 2011

Syrah
1. Ojai Syrah, Santa Barbara California, 2011
2.Tyrrell's Vat 9 Shiraz, Hunter Valley Australia 2011
3. Nichol Syrah, Okanagan Valley 2012
4. Jackson-Triggs Sunrock Shiraz, Okanagan Valley 2011

"You are a deserving region, not an emerging region. You undervalue yourselves here. Your wines are sensational, cooking sensational... All of this is very new to me and it will stay in my heart and mind for a very long time... A very memorable six days of my life."

~Steven Spurrier
~Daenna Van Mulligen