Feb 18, 2016
Vacqueyras

Having completed my visit in the Ventoux AOC/AOP, I moved on to Vacqueyras, Ventoux's much smaller neighbor to the north.
While the charm of Ventoux is its cooler-climate and protected vineyards, which produce naturally higher acid wines, Vacqueyras is a warm region of voluptuous reds - the premier coming from the roughly 800 hectares of the Plateau de Garrigues.
A sea of Grenache, the Vacqueyras exudes potency and approachability, but with balance.
Vacqueyras has been referred to as the poor man's Châteauneuf-du-Pape, but
I would more kindly refer to it as CNP's little brother, lesser-known and offering better value overall.

The Vacqueyras AOC (now AOP) was granted in 1990.
Syrah and Mourvedre are the other key components in the wines of this appellation, small (up to 10%) of other Cotes du Rhône varieties are also permitted.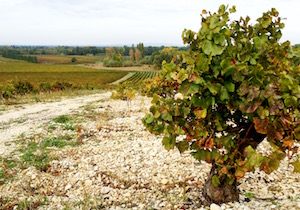 While 97% of the wines here are red, there is a smattering of rosé (1%) and of course, seductive whites...
The darlings of the whites include: Viognier, Marsanne, Roussanne, Clairette, Grenache Blanc and Bourboulenc.
Its Latin-inspired name translates from valley of the rocks, apt as you see the photo at right.
Located at the feet of the Dentelles de Montmirail (jagged teeth-like mountains jutting fiercely toward the sky) the summers are hot and the warm mistrals (winds from Africa) provide disease protection.
The soils are sandy-clay with alluvial pebbles and the total production area, a mere 1400 hectares.

Having seen a succession of fantastic vintages I was told by more than one producer during my travels, the 2015 vintage was perhaps the best they have ever seen.
Meanwhile, I was reveling in the structure and generosity of the Vacqueyras wines. They undoubtedly offer significant value.


(map: courtesy of WineFolly.com)



Vacqueyras General Tasting: 67 Wines
All wines were blind tasted.

Standouts
Whites
Domaine Brunely Blanc, 2014 - Made of one half Marsanne with 30% Roussanne and 20% Viognier/Clairette this lavish white offers immediate lime and pomelo, which rolls into resinous notes and lanolin. Concentrated and weighty in the mouth with a long finish of fine spice and citrus peel. Aged five months in tank with regular lees stirring. 14% alc.
La Monardiere 'Gaéjade', 2014 - Made from Grenache Blanc and Roussanne, this blend was matured for one year in large barrel. It has a rich almond and browned butter with grilled lemon and pineapple.
Ripe yet balanced - a stand out. 13.5% alc.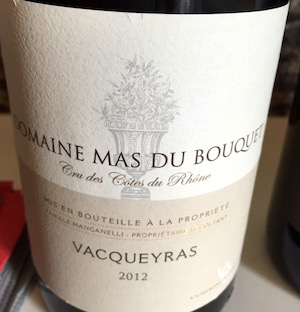 Montirius 'Mineral' Blanc, 2012 - Made mostly from Bourboulenc with 25% Grenache Blanc and 25% Roussanne, this biodynamic wine is entirely aged in bottle. The hue gives away some of its age, while the nose is quite reminiscent of a Semillon offering immediate notes of lanolin, resin and bold citrus followed up with rich pineapple, honey and quince. The palate is both mouthwatering and concentrated. Stylish and complex with power. A wine with great presence. 13% alc.
Montirius 'Mineral' Blanc, 2009 - Made mostly of Bourboulenc with 25% Grenache Blanc and 25% Roussanne, this biodynamic blend is entirely aged in bottle with no oak contact. Harmonious and persistent, this wine is well woven with its age. Honey brown spice, golden fruits and quince. Intense, with a fabulous citrus compote/marmalade finish that rolls on and on. 13% alc.

Reds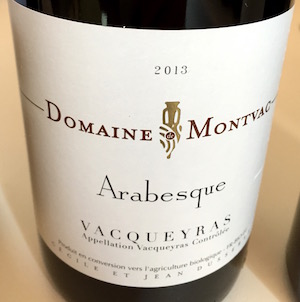 Domaine la Garrigue 'Osez le Detour' 2014 - Made from Syrah and Grenache this fresh red was made in concrete tanks with no barrel use. Spicy and herbal/garrigue notes with sunbaked earth and chocolate. Impressive structure and balance, good overall power with a cocoa and espresso finish.
Caves Les Coteaux du Rhone 'Domaine Grandy', 2014 - A blend of Grenache, Syrah and Mourvedre offers attractive black raspberry and fresh earth, chocolate and sweet peppery spices. Expressive and bright with pleasing structure and powdery tannins. 13.5% alc. $21 LCBO
Domaine de Longue Toque, 2014 - Grenache dominant with 30% Syrah this delicious blend was aged 16 month, only the Syrah in barrel. It was made by parent company Gabriel Meffre. It has beautiful ripe summer berries, cedar, dried violets and spice. Expressive sweet fruit underlines the bold use of Grenache here and it is both complex and quaffable. $30 LCBO
Louis Bernard Rouge, 2014 - Grenache, Syrah and Mourvedre combine to make this delicious and fragrant red. Notes of blueberry compote, raspberry, candied violets and licorice lead to a palate of liqueur-like intensity, supple weight and generous fruit. $26 Canada.
Domaine Chamfort 'Les 2 Louis'. 2013 - An equal blend of oak barrel co-fermentation of Grenache and Mourvedre, this delightful red offers generous sweet blueberry and raspberry tea with licorice, vanilla and baking spice. It has a medium body and generous fruit expression and a finish trailing vanilla and fine spice. 14%
Domaine de Montvac 'Arabesque', 2013 - A fragrant blend of Grenache with 25% Syrah and 5% Mourvedre. Fermented in stainless steel and aged in concrete, it truly maintains its fresh character. Expect a bouquet of violets and lilac on the nose alongside sun-ripened blueberry, raspberry, licorice and sweet spice. A generous palate of high-toned berry fruit leads to fine spice and tealeaf on the finish. 14% alc. $22 in Quebec.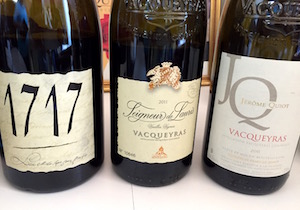 Domaine la Garrigue 'Cuvée Tradition', 2013 - Cocoa and spice, wild forest berries, cedar chips and clay undertones. The palate is expressive, concentrated and supple with excellent structure. Made from Grenache, Syrah and Mourvedre and matured in concrete. 14% alc.
Rhonea 'Mas du Bouquet', 2012 - Grenache dominant with 41% Syrah and 8% Mourvedre it was aged on fine lees to add complexity. Expressive black raspberry, purple flowers and spice lead to a sweet, spicy and charming palate with flavours of blackberry liqueur, licorice bark and candied violets. $18 USA, 14% alc.
Domaine les Semelles de Vent 'Vieilles Vignes', 2012 - Mostly Grenache with 25% Syrah this wine was spent 14 months in a mixed barrel program. The nose is earthy, clay and confiture of berries. Sweet plush and plentiful fruit on the palate. It is an expressive and stylish wine. 14.5%
Chateau des Roques 'Chateau des Roques', 2012 - Fruit jam, floral, chocolate and licorice notes lead to a plush and generous palate with oodles of acidity to brighten. A unique blend of Grenache with 15% Marsanne and 15% Syrah that was aged in tank and barrel for nine months. 14% alc.
Arnoux & Fils '1717', 2011 - Made from Grenache with 30% Syrah is ripe and rich with blackberry liqueur, espresso, chocolate and vanilla. It is an epiphany of texture so plush and genrous with expressive fruit, leather, vioets and baking spice flavours. The standout of this tasting. 15% alc.
Arnoux & Fils 'Signeur de Lauris', 2011 - Grenache with 30% Syrah while less expressive than the '1717' it is still outstanding. Espresso, wild berries, spice licorice and vanilla with secondary notes from age. Flavours of sweet fruit, coffee and baking spices. Complex and stylish with excellent balance and structure. 14.5% alc. 28 days maceration.
Vignobles Famille Quiot 'Jerome Quiot', 2011 - Grenache, Mourvedre and Syrah combine to make this attractive red with sweet forest berries, river stone and spice aromas. Tasty and spicy, bright and expressive. Juicy. Aged one year, 10% barrel. 14.35% alc. 15 days of maceration and significant oak barrel ageing.

Domaine La Fourmone
This charming and specialized domaine has the enviable position of selling 60% of their wine through the cellar door. They have a long standing clientele and successful online e-commerce site.
The domaine's farmhouse is the tasting room and offices. It was established by the Fourmont family and taken over by the Combe family in 1910. The three consecutive generations of the winery side have built a clientele base of 20,000 over the past three-to-four decades.
As brief as my visit to Domaine La Fourmone, I was impressed with the estate and the wines.
Briefly, the estate makes wines from Vacqueyras and Gigondas. They own 20 hectares in Vacqueyras (10 are around the estate in Hotel Montmirail), 10 in Gigondas and seven more scattered sites.

Wines (Vacqueyras)
Le Poete, 2013 - Dominant Grenache blend with 30% Syrah is a pristine wine with a highly fragrant and floral nose - think violets, rose petals, sun-ripened summer (purple) berries and baking spice. It is pretty and exquisitely juicy, nice overall complexity yet highly quaffable.
Le Poete, 2011 - The same components as the 2013 but overall spicier on the palate. Red summer berries, peppery spices - a potpourri of dried violets a cedar chips. Quite a toasty/spicy and earthy character, which belies its stainless ferment and concrete aging.
Les Ceps d'Or, 2011 - (Ceps is a local word for vine) Made from old vine Grenache with a bit of support from Mourvedre. The Mourvedre shows through on the nose - sunbaked earth and grille lead to
high-toned fruit on the palate with a solid tannic grip.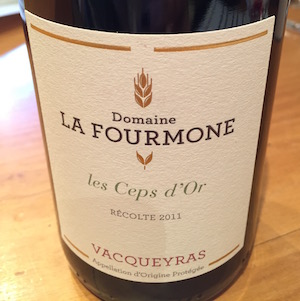 Le Fleurantine Blanc, 2014 - A stunning equal blend of Grenache Blanc and Clairette from vines with an average age of 30 years, this wine spends six months in larger format barrel. Honeysuckle and crunchy white fruits and tangerine aromas lead to a pristine palate if expressive fruit and sweet but tangy citrus. Excellent length and concentration.
Le Fleurantine Blanc, 2006 - The same components as the 2014 with 100% oak ferment and age. Golden in colour with the aromas of white raisins, honey and warm butter on croissant, toasted nuts and spice. The palate, quince, honey, dried apricots and phenolic texture on the finish. Outstanding.

Rhonea
Standing hilltop, looking out over Vacqueyras, there was no doubt the Mistral dial was set on high speed.
Trying to stay upright as we tasted three wines (tailgate-style) off a Rhonea company jeep was proving difficult. The 80-year-old vines on the site were worth the battle.
Needless to say, Rickman Haevermans, Director of Marketing for Rhonea was able to share some history of the company. Merely months before, Vignerons de Caractere of Vacqueyras and Balma Venetia of nearby AOC/AOP Beaumes de Venise joined to become Rhonea. The history of the two goes back to the 1950s when a group of six established cooperative cellars in the two appellations.
Rickman tells that combined, they have 236 artisan vignerons, 1140 hectares (Gigondas, Beaumes de Venise and Vacqueyras) and have successfully managed to merge the two cellars and two regions. They produce seven million bottles per year to 30 different countries.
After visiting the vineyard we headed to lunch in Beaumes de Venise to their busy restaurant, Dolium

(right),

and visitor center for lunch.
Rhonea celebrates its 60th anniversary in 2016.

Wines (Vacqueyras)
Seigneur de Fontimple Blanc, 2014 - One of the three wines under this label (all sell for 13 Euros) this blend of Viognier, Grenache Blanc and Clairette offers solid stone fruit, lime and ginger with exotic flowers. God freshness overall with a phenolic finish to add substance.
Seigneur de Fontimple Rosé, 2014 - A pale salmony pink with tangy red fruits, kumquats, cedar and tobacco. Dry and crisp with good structure and length, culminating in fine spice and citrus peel flavours.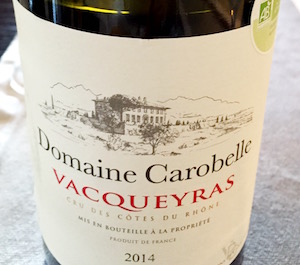 A blend of Grenache and Cinsault.
Seigneur de Fontimple Rouge, 2014 - Aromas of blackberries muddled with other wild forest berries, tobasso, earth and spice lead to a palate of similar roasted spices, earth, espresso and dark cocoa.
A blend of Grenache and Syrah.
Domaine Carobelle, 2014 - This organic Grenache and Syrah blend offers smoke and toasted spices, chocolate and fresh wild black berries. It is very approachable and smooth without lacking complexity.
Les Hautes de Castellas, 2014 - Made from Grenache, Syrah and Mourvedre, aged 10 months in oak, 20% of which is new. Expect smoked spices and briary berries with a good floral component. Spice and chocolate dominate the palate. Harmonious and supple.
Éternite 2012 - Dominated by Grenache with 20% Syrah this supple and chocolaty red is only made in the best vintages. Expect purple berry confiture, fine peppery spices and fine cocoa tannins.


Domaine des Armouriers

This family winery was established by winemaker and viticulturist, Jocelyn Chudzikewicz.
The Domaine des Armouriers label was launched in the 1980s. Prior to that, Chudzikewicz sold his grapes to a co-operative.
Eventually, after his passing in 1997 Chudzikewicz's son, Igor

(right, with harvest-stained hand)

, took over winemaking in 2008, after an assisted transition by Patrick and Pascale Gras.
Igor is joined by his sister, brother and mother.
The estate is comprised of 30 hectares, part of which rests in the Vaucluse IGP (Indication Géographique Protégée).
The vines average 50 years and they have been certified organic since 2014.
The domaine is situated at the far north of the Vacqueyras Plateau de Garrigue and they produce roughly 35-45-000 bottles from the appellation.
The soils here are limestone and clay with pebbles

(photo top of page vine/soil is Domaine des Armouriers)

.

"White soils are best for white [wines] and red soils for reds."

~Igor Chudzikewicz
Wines (Vacqueyras)
Blanc, 2014 - This blend of Grenache Blanc, Roussanne, Clairette and Viognier will curl your toes it is so pretty. Effisive aromas of honey and tangerine, stone fruits and exotic flowers. Pristine yet weightly in the mouth with just a kiss of sweetness to lift the fruit. Expressive and perfectly balanced.
Signature, 2013 - Mostly Grenache with Syrah and Mourvedre, this expressive and fresh red offers raspberry, forest berries and violets. Juicy in the mouth with some good Mourvedre structure on the tail. Cocoa flavours trail on a firm finish.
Signature, 2012 - Made from the same components as the 2013, Chudzikewicz says that 2012 was more of a classic vintage. Nice floral components with forest berries, tobacco and fine spice. A toastiness on the palate continues with garrigue and spice. Superfine tannins.
Les Genestes, 2013 - From the estates oldest parcels this nearly 50/50 blend of Grenache and Syrah only sees concrete tank ageing. It offers high-toned fruit with smoke, cocoa, earth and spice. Extraordinarily expressive.
Les Truffières, 2012 - From Grenache vines 40-95 years old and Syrah vines up to 45 years this highly memorable red offers expressive berry fruit, cedar chips and a bouquet of violets and roses. Fantastic palate weight, texture and concentration. Simply beautiful.

Montirius Domain

My visit to Montirius was a unexpected surprise.
Our scheduled stop had been thwarted by a family emergency and so we decided to crash the party at the biodynamic producer at the south end (opposite of Armouriers) of the Plateau de Garrigue - aka Montirius.
This winery was new to me, although I had rated their 'Mineral' Blanc 2009 and 2012, as two of my top four, blind-tasted, white wines in the Vacqueyras general tasting (notes at top of page).
Montirius is a family owned estate, producing wines here in Vacqueyras and in nearby Gigondas. They are all estate made wines (from 58-hectares in total) and the vineyards and wines have been biodynamic for 20 years - an impressive amount of time.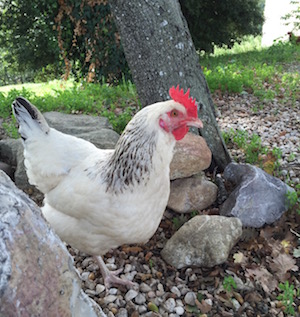 The family is more than committed, they vehemently preach the gospel of bio-dynamic practices and even those who think it's a bunch of voodoo are still compelled to listen to Christine Saurel.
Christine

(right)

is the matriarch of the Saurel family, married to Eric for more than two decades, together they have worked toward a common goal. Their children Justine, Marius and Manon work in various capacities either full or part time. An additional winery and vineyard crew of about 10 round out the team.
The domain produces 150,000 bottles per year.

Wines
'Mineral' Blanc, 2014 - A blend of Roussanne, Grenache Blanc with 50% Bourboulenc, this wine is expectedly mineral and citrus driven with a backup of crunchy white fruits, resin and lanolin. Weighty and crisp with an oily texture. Vine age average of 30 years.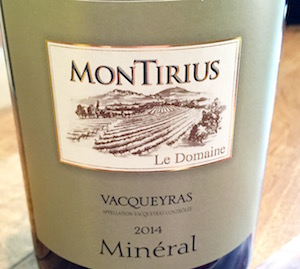 'Garrigues' Rouge, 2013 - Grenache dominant with 30% Syrah from average 65-year-old vines this blend saw no oak but spent 18 months in concrete before bottle age. It has a sweet yet earthy nose with red berry leading the charge followed by peppery spice. A common element over the reds I tasted is the fine mineral textured tannins, which add substance.
'Le Clos', 2013 - An equal blend of Syrah and Grenache, the Le Clos has more dominant peppery spice alongside red fruit. Elegant wine with quite a bit of restraint on the palate, again with those textural mineral tannins and loads of acidity. From average 23-year-old vines it was aged in concrete for two winters then put into bottle.


Additional Wines Tasted/Vacqueyras
Ogier - While they are the largest producer of wines from Châteauneuf-du-Pape, Ogier, established in 1859, makes wine from Vacqueyras as well. Their total production of 10 million bottles range from Côtes du Rhône to Côte Rotie. Ogier does not own a lot of vineyards, rather they buy wine primarily, and grapes.

These are the wines I tasted from Vacqueyras:

Ogier Boiseraie Vacqueyras, 2013 - Mostly Grenache (80%) with Syrah and a splash of Mourvedre, this ripe and fruit-forward red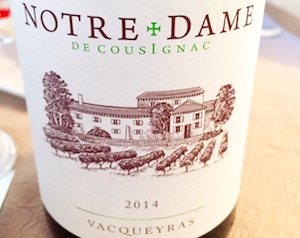 lets the Grenache shine. Purple fruit, vanilla and chocolate aromas lead to a palate, which shows lovely weight with spice, saddle leather and ripe cocoa tannins. A pretty wine.
Ogier 'Heritages', 2014 - Grenache, Syrah, Mourvedre and Cinsault grown on limestone and clay soils with top pebbles. Quite an earthy/mineral initial nose with blackberry, blueberry and toasted spices. Equally fresh on the palate a stylish wine that is bright and supple with cocoa and spice on the finish.
Notre + Dame de Cousignac, Vacqueyras, 2014 - A partnership with Ogier, which was established in 2004.
This Grenache, Syrah and Mourvedre blend oozes ripe purple berries layered with red fruit, sweet spice and licorice. It has a peppery palate and a long finish with bittersweet cocoa and espresso. Good overall power and structure.

Read more on the Rhône:

►Read about Ventoux
►Read about Northern Rhône: The Land of Syrah
►Read about Northern Rhône - part 2

~Daenna Van Mulligen