Apr 01, 2019
My Top 20 Picks from the 2015 Vintage

In January, I returned to Verona to take part in the annual Antiprima Amarone.

This year, the 2015s were being released, which were noticeably better the previous 2014 vintage, which was a difficult one in general.

I tasted all 68 wines released during the sit down tasting on February 2, 2019.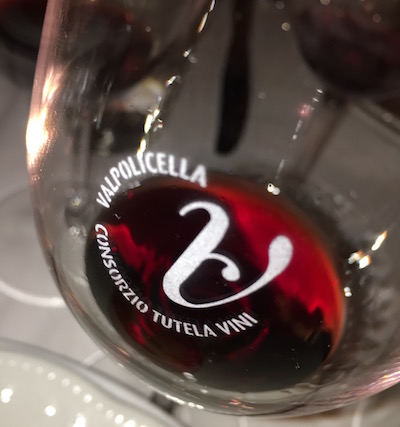 From that tasting, these are my 20 top picks:

Stefano Accordini Amarone Della Valpolicella Classico Acinatico:
A sort of velvety, earthy, briny and savoury character with dried cherries, herbs, balsamico and spices. Succulent mouthfeel, spicy and vibrant, great balance, lift, and purity overall. Nice focus and tension. Elegant.

Aldegheri Amarone Della Valpolicella Classico:
Sweet high-toned fruit, violets, perfumed and feminine with cherry twizzlers and raspberry. The mouth follows suit; quite distinct fruit, spice, a sort of saddle leather and tobacco combined flavours with classic bitterness on finish. Quite pinched at the end, definitely needs time to open up.
Good length with cocoa flavoured tannins.

Antiche Terre Venete Amarone Della Valpolicella:
Gorgeous nose; pretty floral and high-toned, with cedar chips and rose petals, spice and tealeaf palate. Firm bittersweet grape tannins; lengthy and spicy and firmly-wound but still very approachable and with time will be more so. Silky palate with a balsamico flavour.

Bolla Amarone Della Valpolicella Classico:
Sweet perfumed fruit; blueberry and raspberry, cherries in syrup very vanilla and licorice. Same on palate, expressive, fruit-driven but fresh, not rancio. Think cherry syrup and ribena. A firm finish with grape tannins; tightly woven and shows good age-ability. Overall, a slick palate, juicy entry, good glycerol weight.

Ca' dei Maghi Amarone Della Valpolicella Classico Camparsi:
Expect aromas of cherry juice, vanilla, and star anise. It's silky and supple with generous fruit and good overall structure. Tannins are polished and pleasing but still youthful. Very pleasing wine with a chocolaty/cocoa finish.

Ca' la Bionda Amarone Della Valpolicella Classico Vignetti di Ravazzol:
Expect a chalky nose with subdued fruit, vanilla and sarsaparilla. Very bright and bouncy fruit on the palate with hints of dried cherries and some blueberry flavours. Classic Amarone bitterness is present but in a good way, fine and firm tannins.

Marinella Camerani Amarone Della Valpolicella Botte 57—Vigneto Dietro Casa:
A pretty, wine with pipe tobacco and violets, cherries, licorice and vanilla on the nose. The palate entry is a silky dream; generous fruit, plush texture, good intensity, very pleasing and pure with perfect structure, balance and brightness.

Gerardo Cesari Amarone Della Valpolicella Classico Cesari:
Expect some herbal and tealeaf aromas woven with coffee, cedar, earthy notes and wild tart red fruits. Bright entry, classic, elegant and long-lived in style. Tannins are fine, textural but sweet and managed. It has a hot finish, but is classic but clean.

Corte Figaretto Amarone Della Valpolicella Valpantena Graal:
Pretty raspberry tea and vanilla nose, it is fine and fainty floral. Lovely weight and purity, the fruit shines here. I adore this style, with floral and tealeaf flavours. A lifted wine, very enjoyable, with good bounce to the palate. Lovely.

Corteforte Amarone Della Valpolicella Classico Corteforte:
Another pretty nose, hightoned and perfumed with flowrs and red fruit, which translates to the palate. Fine, fresh, elegant and juicy, yet approachable. Lovely.

Falezze di Luca Anselmi Amarone Della Valpolicella:
Fresh and floral and seesm to show a volcanic-soil character. Good high-toned fruit with pretty vanilla and flowers. There is some wood tannins and oak influence, but it's handled well and can be forgiven. It's delicious and silky, seductive and generous. A balanced and bright, and pretty wine.

Gino Fasoli Amarone Della Valpolicella Alteo:
Glycerol and slick, weighty and plush palate, soft and generous on the palate. Very enjoyable, but would benefit from more acid.

Gamba Amarone Della Valpolicella Classico Campedel:
Ripe and plump, generous red and purple fruits; notable cherries, leather and tobacco. A gutsy yet refined wine, powerful and plump with fleshy fruit and a pretty character.

Le Bignele Amarone Della Valpolicella Classico:
This wine is pretty and generous, glycerol in texture and spicy overall. In the mouth, a plump palate is expressed by bright high-toned fruit feature grapey and raspberry flavours, licorice. The tannins are silky.

Massimago Amarone Della Valpolicella Massimago:
Pretty tealeaf, raspberry and fine, feminine and floral-type aromas. In the mouth it is elegant and refined, silky and stylish.

Monte del Fra Amarone Della Valpolicella Classico Lena di Mezzo:
Smoky and savoury nose, sweet upfront fruit on palate, which rolls into sausage and meaty notes, layered with bittersweet chocolate. Good structure, length and balance. A unique style always, but classic to this estate.

Roccolo-Grassi Amarone Della Valpolicella:
Best described with rancio (dried) aromas, figs and soy sauce and balsamico but with a strong chocolaty edge. Weighty and powerful the firm youthful tannins are grippy. A bittersweet chocolate finish is lengthy and warm.

Tenuta Chiccheri Amarone Della Valpolicella Campo delle Strie:
Sweet with good intensity; aromas of cherry and balsamico, black raspberry, vanilla and licorice, vanilla. It has a slick glycerol-textured palate.

Tenuta Santa Maria di Gaetano Bertani Amarone Della Valpolicella Classico Riserva:
A pretty wine; juicy, and complete, fleshy generous fruit. No bitterness here, good balance, but showing fine youthful skin tannins.

Valentina Cubi Amarone Della Valpolicella Classico Morar:
Tealeaf and hightoned fruit. Floral and fresh; an honest delicate character that is pristine and pretty, the tannins are skin and refined, it is slightly warm but elegant.

~Daenna Van Mulligen


Read more of what I have written on Valpolicella

►WineDiva—Get to Know Valpolicella: Blending Components & Grape Characteristics
►WineDiva—Get to Know Valpolicella: The Corvina Grape
►WineDiva—Summer is For Valpolicella: Just Chill
►Vines Magazine—Modern Love
►Vitis Magazine—Valpolicella: Valleys of Red
►Vancouver Courier—Valpolicella: A Red By Any Other Name