May 23, 2017
"Engaging people is about meeting their needs, not yours."
~Tony Robbins

However, finding out how to engage people can be exceedingly difficult.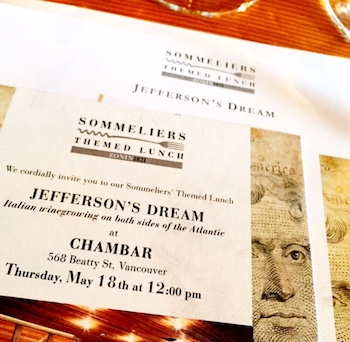 Especially with the endless splashy imagery and perpetual information being fired at us today. How do you present a story in a way it's never been told?
How do you step away from the hard-sell?

While I have heard many wine stories over the years (some strikingly similar), tales of history and subjugation, and fortune and failure, the story of Thomas Jefferson and Virginia, Barboursville Vineyards and vines, was a completely new one—one without remote comparison.

Most know of Jefferson's passion for European pleasures; his years in France, starting in 1784, left indelible impressions, including that of fine wine and food.
A founding father, the third President of the United States, and an author of the Declaration of Independence,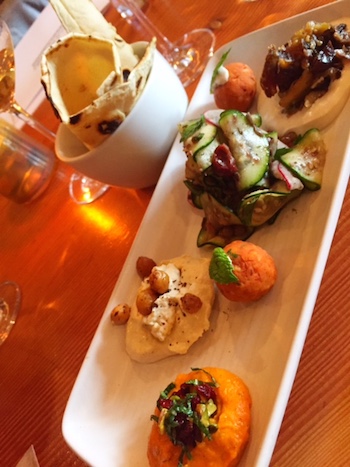 Jefferson brought many customs back to America upon his return.
One of those was vines. As a patron of fine French wine, Jefferson attempted and failed to grow Vitis Vinifera vines at his Monticello plantation in Charlottesville, Virginia.



(Right: Moroccan/Mediterranean flavours where a strong lunch theme)



He was not the only one to fail, those who followed did as well, until successful vineyards were established on the west coast of America.

Today, Virginia has a small but thriving wine production (more than 200 producers), much larger than I was aware, however most of it is consumed locally.

Gianni Zonin, having stepped out of his family's Italian homeland, established Barboursville Vineyards in the community of Barboursville, in 1976. The estate was named for Jefferson's friend, fellow politician, and neighboring plantation owner James Barbour. People must have thought Venetian Zonin was crazy, not only to buy a plantation in Virginia, but also to plant vines and try to succeed where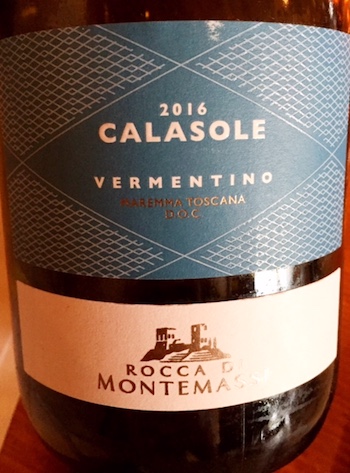 Jefferson had failed 200 years previously.
Instead Zonin set an example and started a movement.

Jefferson's Dream is a series of sommelier-themed lunches hosted in great restaurants across Europe, Canada, and in the UAE.
They feature outstanding cuisine paired with wines from Zonin1821 properties: Barboursville Vineyards, Principi Di Butera (Sicily), Rocca di Montemassi (Maremma, Tuscany) and Castello di Albola (Chianti).

Hosted by Gianni's son, Vice-President Francesco Zonin (one of three brothers who now run Zonin1821) these one-of-a-kind tastings both challenge and intrigue us wine geeks.
Called a "Multi-sensory Gastronomical Journey" the wines are tasted in flights, alongside courses and, the wines are tasted blind. You know half are Italian in origin and the other from Virginia, but that is all.

The process is very democratic.

Held recently at Chambar, this incarnation of Jefferson's Dream
was four courses with a strong Moroccan/Mediterranean
theme; the wines were a delightful evaluation.
Sommeliers from Chambar, Hawksworth, Nightingale and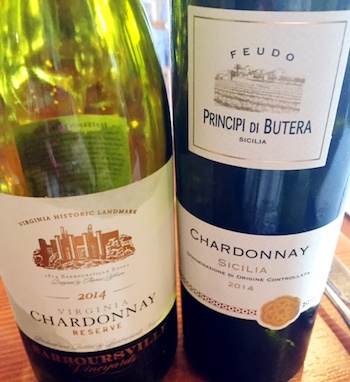 Hy's (plus this one journalist) sipped, sniffed and deliberated.

The wines, some easier than others to determine (vintage, region and variety) all managed to charm.

We were all fully engaged...


Wines
1st course:
Calasole Vermentino, Rocca di Montemassi 2016 (Currently available in BC: 2015, $20 approx.)
Vermentino Reserve, Barboursville Vineyards 2013
2nd Course:
Chardonnay Reserve, Barboursville Vineyards 2014
Chardonnay, Feudo Principi di Butera 2014 (estimated retail BC $23)
Astraio Viognier, Rocca di Montemassi 2012 (estimated retail BC $23)
Viognier Reserve, Barboursville Vineyards 2013
3rd course:
Chianti Classico Riserva, Castello di Albola 2008: (Currently available in BC 2011, $28 approx.)
Nebbiolo Reserve, Barboursville Vineyards 2011
Octagon, Barboursville Vineyards 2012
Toscana, Rocca di Montemassi 2010 (Currently available in BC: 2012, $48 approx.)
Dessert: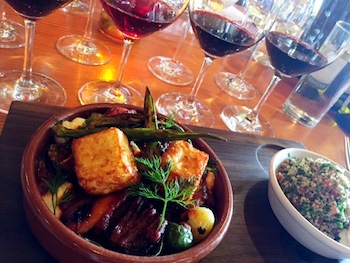 Vin Santo, Castello di Albola 2005: (Currently available in BC, $71 approx. 500ml bottle)
Paxxito, Barboursville Vineyards 2010
~Daenna Van Mulligen