The fact that I'm getting this out in early 2014 tells it best.
But that's an aside.
January
January is the month I roll out my annual budget bottles list. It's the time of the year when we're feeling bloated and poor, so a list of wines under $17 seems to hit the sweet spot.
February
The results of our visits and all of our judges meetings (filled with discussions, disagreements and joyful discoveries) wrapped on the second week of the month so that the winners and plaques could all be prepared and delivered on March 1st.

March
The tasting brought back some fantastic memories of my tour in 2008 and a thirst to return.

May
June
On a roll.
Italy came in like a storm in the spring and didn't let up until June when the best of the best, the Gambero Rosso came to town in a rare event, brining their Tre Bicchieri World Tour to Vancouver. Tre Bicchieri means three glasses and refers to the best wines in Italy. Participating producers can be awarded one, two or three glasses in the annual Gambero Rosso wine guide. Being awarded the Tre Bicchieri is gold - you can take it to the bank. These wines represent the top tier and icon wines of Italy. There were a lot of thirsty people in room and

none of them went home disappointed.
It was also a lovely reminder of a sultry evening in Rome several years ago when I dined on wood-fire oven pizza rooftop at the Gambero Rosso building at the end of a tour of Umbria, Marche and Tuscany.
In a return visit to Burgundy (I was last there in 2010) I was able to visit individual producers and spent an amazing morning with Master of Wine Jean~Francois Renaud, who lives in Burgundy and has an encyclopedic knowledge of the region. Jean-Francois led me through vineyards in Puligny~Montrachet from the base of the slopes to the tops, discovering the soils, the expositions and what makes Burgundy so incredibly unique. If that wasn't enough, I also had visits to Domaine Faively, Domaine Comte Senard in Pommard, the wondrous cellars of Bouchard Pere & Fils, and pent an inspirational morning at the Mercurey-based Domaines Devillard tasting their numerous labels (and learning about their new luxury vineyard rental homes ). In addition, I visited a tiny and very quaint family winery in the village of Meursault, Domaine Sylvain Dussort and dined with the Dussort family and their good friend, ex-pat American and winemaker, Alex Gambal, at the hottest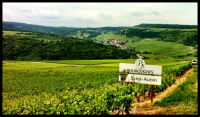 new dining spot in Burgundy, Auprès du Clocher, in the village of Pommard.
July & August
Summer is a notoriously quiet time for most of us in wine, generally even for those in the vineyard. There are not a lot of visiting winemakers or producers and few if any tastings. I look at the summer as a chance to catch up on what's been overlooked in the madness of previous months.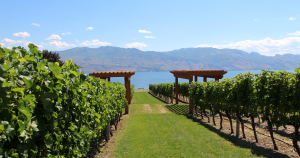 Inniskillin's soft spoken winemaker, Sandor Mayer visited Vancouver and hosted his first ever wine lunch with a few media at the slick new The Wine Bar (TWB) at Provence in Yaletown. Mayer celebrated his 20th year as winemaker for Inniskillin in 2013.
►Read more here
Work hard and play hard, we always have fun at the end of the day. I look forward to seeing my fellow judges and tasting some great Niagara wines, each summer.
Additional articles you may be interested in:
►Vines Magazine August/September issue. Lasting Legacy - Jackson Family Wines and Chief Winemaker, Randy Ullom (unlinked article)
September
Next time, I would like to taste sherry in Jerez, Spain.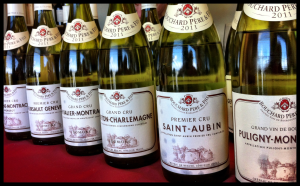 Luc Bouchard returned to Vancouver in September. It was like seeing an old friend for the third time in one year. We tasted through a selection of wines available in our market and enjoyed lunch at Le Parisien on Denman Street.
►Read what I wrote earlier in 2013 about Bouchard Pere & Fils, here.
It had been a number of years since I had seen Kiwi, James Wheeler of Tohu. Wheeler is part Maori and the Tohu winery is set in the beautiful Awatere Valley in Marlborough, on New Zealand's South Island. I missed visiting Tohu, when I was there in 2011 so I was pleased to revisit some of the pristine wines Wheeler brought with him, while we dined at the cozy Campagnolo on Main Street.
Standouts included two Pinot Gris, the fresh entry level Kono 2012 and the richer Aronui Pinot Gris 2012(this new label was launched earlier in 2013), the 2013 Tohu Single Vineyard Sauvignon Blanc and 2013 Kono Sauvignon Blanc and the fantastic juicy Tohu Single Vineyard Pinot Noir 2012 and the Tohu Rore Reserve 2012 Pinot Noir.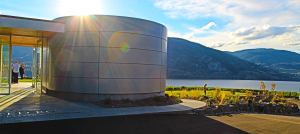 What a first impression! I've been tasting the wines of Painted Rock above Skaha Lake in Penticton for several years. I had heard about the beautiful site the vineyards and winery were built upon, by John Skinner and the Skinner family, but had never viewed it myself. In mid-September I flew up to Painted Rock for the grand opening of their new stunning new visitor center. It was a beautiful day for the event and the crowd of friends, family, Okanagan vintners and media enjoyed the views and
hospitality.
►Read what I wrote, here.
►View photos of Gonzalez Byass, Tohu, Bouchard Pere & Fils, Finca Decero, Painted Rock, here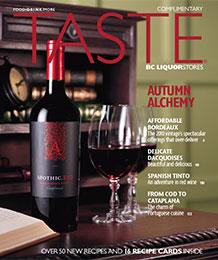 Additional articles you may be interested in:
►My Secrets to Wine & Food Pairings
►TASTE Magazine Fall 2013 - Argentina's Wine Evolution (p22); Barstar Gez McAlpine, Keefer Bar (p78); La Pentola de la Quercia and Chef Lucais Syme (p62)
►Become a Better Wine Taster
October

November
Additional articles you may be interested in:
►Vines Magazine December 2013/January 2014 - The Eternal - Drinking In the Charms of Alsace (unlinked) p.33
►TASTE Magazine Winter 2013 - Le Crocodile celebrates 30 Years, an interview with chef and owner Michel Jacob (p.96); BarStar Robert 'H' Holl-Allen (p.56)