Mar 10, 2014
It's A Wrap

Wine festival week is a bit like Christmas, or depending on how stressful your Christmas holidays are, a bit like a trip to wine nirvana.
Everyone has a different schedule; journalists, wine writers, lifestyle bloggers etc. are slotted into different lunches, tastings, grazers and dinners in order to spread the love and to share their wide-range of experiences.

I've learned over the years, how to spread my schedule around over multiple days. Trying to do everything generally means I'll miss something that tends to happen on the fly.
Vancouver International Wine Festival is a time to connect and to learn and for me, to see friends and acquaintances I rarely do.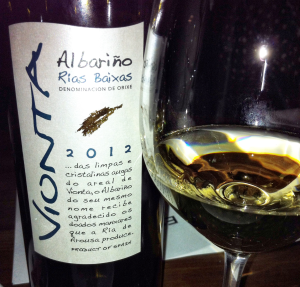 Here are some of my most informative and tantalizing moments, during the recent 36th annual Vancouver International Wine Festival (VIWF).
Viva España with Nathalie Bonhomme

Montreal born winemaker, exporter and bon vivant Nathalie Bonhomme moved to Spain more than 20 years ago. I first met Nathalie several years ago when she spoke at my Diva(s) at the Met event, which ran from 2009 to 2012 as part of the Vancouver International Wine Festival. Later I joined her for an extremely rare tasting of the revered Dominio de Pingus wines, led by owner and winemaker Peter Sisseck.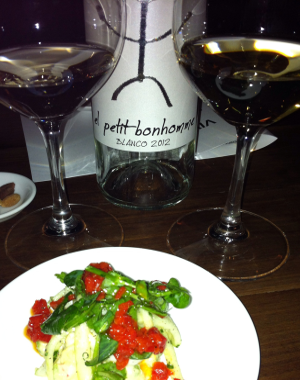 Nathalie has returned to the Vancouver Wine Festival several times to share her own wines, Les Vins Bonhomme and this year she hosted a dinner at España on Denman Street, which found her wines and others paired fantastically by Chef Neil Taylor.

El Petit Bonhomme, 2012 & El Petit Bonhomme Blanco, 2012 read reviews here
El Bonhomme 2012, Valencia offers a rich nose of chocolate covered cherries, wild berries, vanilla. It has a supple palate with generous fruit, ripe tannins and a suggestion of mineral. ($17+ private wine stores)
España paired: Goat's cheese ball, spiced up a bit, breaded and then deep fried then topped with orange blossom honey.

Other wines worth mention:

Vionta Albarino 2012, Rias Biaixas was delightful and fresh - apples, citrus, tropical fruits and mineral with light floral notes. A vibrant and lively palate with a tangy citrus peel finish.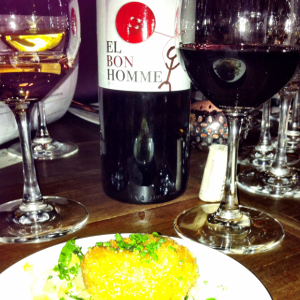 ($27+ private wine stores)
España paired: Russian potato salad, green apples and pea shoots with Dungeness crab (vegetarian version: quail's egg)

Acustic Cellar Blanco 2011, Montsant is a stunning example of the classic Cava varieties, Macabeo and Xarel-lo partnered with 60% Garnacha Blanca. The nose emits smoked quince and tropical fruits, honey, spice and citrus aromas, which translate on to the palate. Sweet ripe fruit and pristine mineral stream flavours layered with spice and citrus with a lengthy finish. ($25+ private wine stores)
España paired: Grilled sea bream with hot olive and smoked paprika (vegetarian version: grilled vegetables with romanesco sauce)

Elias Mora Toro 2010, Toro read review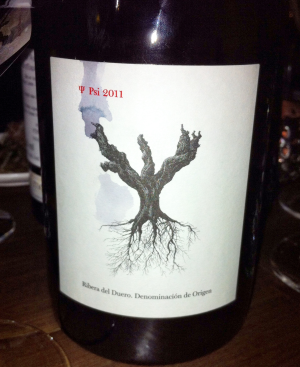 España paired: Roast duck breast, trinxat (cabbage and potato) potato cake, smoked bacon, quince, pistachios and rosemary (vegetarian version: goast cheese stuffed pequillo peppers)

Acustic Celler Tinto 2010, Montsant is a blend of Samsoa (aka Carignan) and Garnacha. It offers smokey mineral aromas with black raspberry, roses, chocolate, star anise and coffee liqueur. It is plush and supple, a mouth-filling and ripe new world style. ($25+ private wine stores)
España paired: Poached quail egg & wild mushrooms on toast with shaved Manchego

PSI Ribera del Duero, 2011 is made by Peter Sisseck of Dominio de Pingus. Made from 100% Tempranillo and this is the fifth vintage it has been made.Rich chocolaty aromas lead to raspberry and purple berries with spiced mocha. It has wonderful balance, juicy fruit and structure with polished tannins. ($52+ private wine stores).
España paired: Braised oxtail, sunchoke puree, Catalan style brussels sprouts (vegetarian version: sunchokes Catalan style brussels sprouts topped with romanesco sauce).
Delizie e Vino with the wines of Marchese Antinori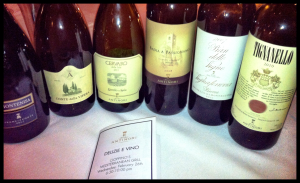 When you put together, the great wines of Antinori and the brilliance of Vancouver chef, Pino Posteraro, you know it's going to be a fantastic evening. Posteraro is of course the owner, founder and executive chef of the world recognized Cioppino's Mediterranean Grill & Enoteca, which he opened in 1999 in Yaletown.

The Montenisa Franciacorta Brut, NV was poured as a reception wine before dinner. As a fan of the "Champagnes of Italy"
from the Lombardy DOCG (Denominazione di Origine Controllata
e Garantita)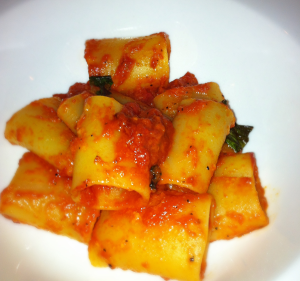 of Franciacorta, I once spent the better part of a day tasting an amazing selection of these sparkling wines during VinItaly several years back. The Montenisa is very fruit - orchard fruits and citrus with just a hint of toasted pastries. It's delicate with a kiss of sweetness.

Conte della Vipera, 2011 is a blend of Sauvignon Blanc and Semillon. I have great affection for Italian white wines (from north or south) and would love to see more appreciation of these wines in our market - of course without education and introduction to them, it's virtually impossible to convince the consumer. This wine is complex and elegant. It offers oily citric notes, lanolin and honey and tropical fruits, cut grass, caramel and a whiff of fine spice. A gorgeous slick weight leads to a vibrant, long and tangy finish.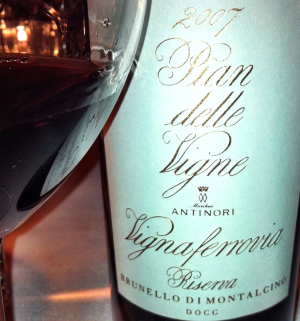 Fantastic concentration. ($36+ private wine stores)
Pairing: Albacore tuna with Mediterrranean flavours (vegetarian version: beet salad with delicate greens).
The Cevaro della Sala, 2011 is an Italian Chardonnay with notes of acacia blossoms mingling with oak, smoke, vanilla, tropical fruits, browned butter/brulee and creamed pears. The palate, which went through malolactic fermentation (secondary fermentation to give it roundness and soften the acidity) and lees stirring has a wonderful weight, intensity and acidity with toasted oak, spice and roasted nuts around a core of lemon flavours. ($66+ private wine stores)
Pairing: Warm crepe stuffed with buffalo mozzarella on potato fondue.

Chianti Classico Riserva Badia a Passignano, 2008 is a delight of dried herbs, rose petals, leather and tobacco, sun-scorched
earth, smoke and spiced cocoa around atop sweet cherry aromas.
The supple and balanced palate is an echo of the nose,
the finish is long and smooth. ($50+ private wine stores)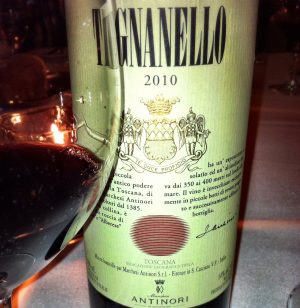 Pairing: Barley Risotto with Calamari (vegetarian version: Barley risotto with spring peas and brussels sprouts).

The Brunello di Montacino 'Pian della Vigne Vigna Ferrovia', 2007 was the highlight of the dinner for me. I've long been a fan of the Pian della Vigne estate's Brunello in the black bottle with red script. This more specific, single parcel within the estate vineyard is 100% Sangiovese (aka Brunello di Montalcino from the region surrounding Montalcino). The nose is unbelievably alluring - sweet cherry notes mingle with raspberry, vanilla, plush chocolate, baking spices, dark earth and dried flowers. Supple in texture and generous in weight and fruit but lifted with wonderful acidity. The fruit does not diminish across the palate but maintains and trails on a lengthy finish. ($110+ private wine stores)
Pairing: Saltspring Lamb ragout with Paccheri (large tubes of pasta, Neapolitan style). (Vegetarian version: Paccheri with rich and spicy tomato sauce)
Tignanello 2010 - The famous Super Tuscan, the first of its kind (the father of Super Tuscans), is a blend of Sangiovese, Cabernet Sauvignon and Cabernet Franc. It is a hedonistic wine, with sunwarmed cherries and wild black raspberry aromas, vanilla, rose oil and sweet spices. Gorgeous weight, intense plush fruit with pencil shavings, spice, vanilla and leather flavours. Said to be, possibly the best Tignanello ever produced, to date. ($100)
Pairing: Alberta beef with shallot and red wine (vegetarian version: a platter of white beans, Puy lentils, pan seared vegetables and ratatouille)

Champagne Barons de Rothschild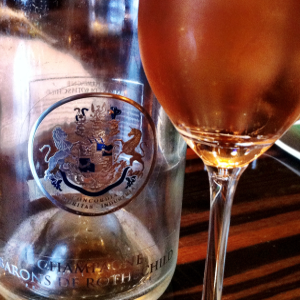 As luck would have it, this year the theme region of the wine festival as France and the global focus, bubbly, which means Champagne.
I sat down over lunch with Frédéric Mairesse, Managing Director and CEO of Champagne Barons de Rothschild, over lunch at Tableu Bistro in the Loden Hotel.
250 years of this family's history finally resulted in a Champagne house, which came about a mere decade ago.
One would wonder, what took them so long?
In 2005 they purchased in their first grapes. The initial focus, Chardonnay (the three varieties, which go into making Champagne are: Chardonnay, Pinot Noir and Pinot Meunier) produced roughly one-half million bottles of high-quality Blanc de Blancs (white from white). In 2006 the family purchased a house and then an old cave and winery in 2007, which they tore down and rebuilt. Each vineyard and variety is vinified separately, in small tanks to closely monitor the quality coming from each vineyard and village.
In 2009 the first wave of Champagnes were released in specific locations; Japan, Germany and Australia were the first to taste these wines. In 2010 Champagne Barons de Rothschild was expanded into multiple Asian markets, in 2011 to the rest of the European Union and 2012 to the USA. This was the first appearance of these wines, I noted long lineups during the international tasting room's trade tastings.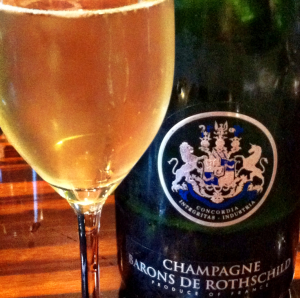 There are currently three wines being brought into the Canadian market.

Brut NV (+182709 $85) A cuvée made of 60% Chardonnay, dominated by Grand Cru vineyard selections with 40% Pinot Noir and Pinot Meunier. This wine will remain the truest of house style (as Champagne houses do) and it is a fine and fresh style; pretty fruit, citrus, light dough/pastry notes, nuts and flowers. It has a delicate palate. A style, which will suit those who like their sparkling wines, fresh and lighter versus, toasted and richer.

Rose NV (+182915 $110) A pretty salmon-rose colour leads you to a nose of tangy red berries, peach pit, cedar and some yellow fruits mixed in with kumquats. The palate similarly brings floral notes with blood orange, peach and berries. Slightly more robust than the Brut with a pleasing roundness, fine bead, refreshing acidity and a sweet/fruit juicy finish. 85% Chardonnay with Pinot Noir (4-5% was added as a separate still red wine)

Blanc de Blancs NV (+182956 $110) A stand out for me, the Chardonnay charms with creme brulee, honey roasted nuts, citrus and yellow fruits. It is the creaminess on the palate, which is undeniably attractive and boasts glorious richness. It is wonderfully balanced with refreshing acidity and tiny, palate-cleansing bubbles.
This is the flagship wine of Champagne Barones de Rothschild.
France As The Theme Region
Glorious, mysterious, coveted and collected.
The seminars conducted over the course of the VIWF don't exclude the rest of the world, but for me, this was the year to gobble up France.
My visits to the old world are always a feast for the senses. I lived in Paris in the 1990s and I hunger for my visits, especially when I can assure myself an extra day or two to wander through old haunts.
The Birthplace of Terroir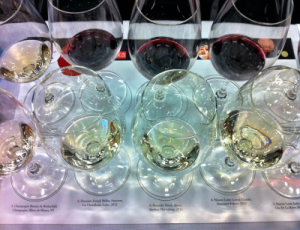 Trying to rehash a seminar in writing can be akin to watching paint dry. I encourage people to attend these educational moments; take it in and taste the wine for yourself.
On this day, the basic premise was to consider terroir (terroir is a combination of the soil, the climate and the people who toil in it, which lends specific character to the wines from that place) from the French perspective.
Yes, every region in the world has terroir, but what makes the stuff in France so unique.
Moderator John Szabo and Sopexa pulled together a panel of great estates and principals representing each.
It started with a philosophical overview of why France is the birthplace of terroir, how religion played a part via monasteries and the monks (Cistercians, Benedictines, Trappists...) who began making wine a couple thousand years ago in an organized fashion. Similar comments I've heard from the lips of wine journalist, Matt Kramer.
Often these conversations can get overly abstract for attendees who are waiting to taste the wines and hear what the principals have to say, but they serve a purpose - especially to give wine geeks something to gnaw on.

The wines:
Champagne Barons de Rothschild. Wine: Blanc de Blancs, NV: (Frédéric Mairesse, Managing Director and CEO; see above)
Domaine Joseph Mellot, Sancerre. Wine: La Chatelenie, Loire 2012
Domaine Zinck, Alsace. Wine: Pfersigberg, 2010 (owner Philippe Zinck)
Maison Louis Latour Chablis/Bourgogne. Wines: Simonnet~Febvre 2012/Corton~Charlemagne Grand Cru, 2010 (Mark Allen, export director)
Maison Louis Jadot, Bourgogne. Wine: Volnay 1er cru Clos De La Barre, 2010
Baron Philippe de Rothschild, Bordeaux. Wine: Chateau d'Armailhac, 2009
Romaine Duvernay, Rhône. Wine: Hermitage 2009
Gerard Bertrand, Languedoc. Wine: Corbieres Boutenac La Forge, 2011
Famille Perrin, Chateauneuf-du-Pape. Wine: Chateau de Beaucastel, 2011 (Thomas Perrin, family member, partner)
Rhône Perfection: M. Chapoutier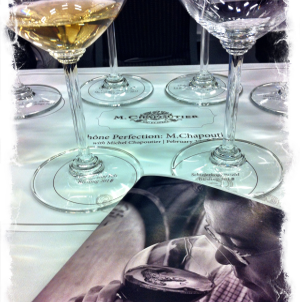 Several years ago, on a cool March day, I visited Maison Chapoutier in Tain l'Hermitage in the Rhone Valley. I was able to taste through some of his fantastic wines and walk in his Hermitage vineyard flanking Tain, below the famous La Chapelle at the top of the highly revered hillside. (see map below)
I wrote about this visit in Vines Magazine, October 2010.

Sadly, Michel was traveling when I was there but I've sat with him since, during lunch in Vancouver.
He is a bit of a mad genius when it comes to viticulture, biodynamic agriculture and exceptional wine. Keeping up with him can be difficult but you always go away armed with newfound knowledge, a few cheeky quotes and a healthy respect for his drive.
Despite the seminar's title, Rhône Perfection, Chapoutier poured wines from several estates he dabbles in, including Alsace and Roussillon. Chapoutier makes wine throughout the Rhône Valley and the South of France but also in Victoria, Australia; Douro, Portugal and Oregon.
Wines
Alsace
Schieferkopf Lieu-Dit Fels Riesling, 2010 (+650341 $50) richly coloured, golden glints. Notes of quince, honey and exotic citrus but dominated by smoke, mineral, saline and forest floor/mushroom. Amazing concentration, tropical fruit, mineral and exotic citric flavours and racy acidity. Excellent persistence.

Schieferkopf Lieu-Dit Buehl Riesling, 2010 (+659103 $55+ private wine stores) I gushed over the Fels - this one I fell in love with. Similar saline and mineral notes an glinted golden hue but with marmalade and lemon curd, honey and lanolin, smoke, earth and forest floor. Slightly less racy than the Fels but it's all about texture. Sensuous.
Rhône

Chante-Alouette, Hermitage, 2011 (+444281 $76)
Besides Champagne, if there was one wine I had to choose, to take with me to a desert island, this wine would be a contender. Golden glints, notes of earth, mineral, garrigue, honey and beeswax with lemon meringue. Stunning concentration, laden with tropical fruits, Asian spices, honey on toast and citrus. A whole package; integrated, intense, weighted and yet elegant. A fantastic, lengthy and phenolic finish. 100% Marsanne.
(map, courtesy of M. Chapoutier)

'Belleruche' Rouge, Côtes du Rhône, 2012 (+476846) Made from Grenache with Syrah this delicious red undoubtedly offers the best value in the lineup. Blueberry and raspberry, vanilla extract, sweet spices, white pepper, garrigue and licorice. Great balance with savoury flavours underscored by ripe fruit and spice.

'La Bernardine' Châteauneuf-du-Pape, 2011 (+432385 $53) Dominated by Grenache with some Syrah and Mourvedre. There is a very mineral quality to this CNDP; stony minerality and dark earth atop black raspberry, mocha and sweet spices. The palate is silky, supple yet powerful with wild briary fruit, pepper, smoked meat and spice. Fine but firm ripe tannin.

'Monier de la Sizeranne', Hermitage, 2010 (+180422 $100+ private stores) Made from 100% Syrah it is intensely coloured and flavoured. The nose presents black currents, black raspberry, bacon fat, minerals and pepper. It tastes like you're licking a stone; salty and mineral-driven with peppery spice on the finish. Supple, generous and silky with integrated tannins.

'Le Méal' Ermitage, 2010 (+579847 $243) Ermitage and Hermitage is basically the same, Ermitage is the old way. Made from 50-year-old Syrah from the Le Méal vineyard of the hill of Hermitage this wine offers impressive focus and power. The nose is more feminine; briary fruits - raspberry, blackberry jam with soot, chocolate and faint floral notes. Still youthful and quite tight; great focus, intense and quite grippy. Fantastic texture, amazing acidity to balance and a powerful finish. Best to hold this wine for a decade or more.

Tasting Room Radio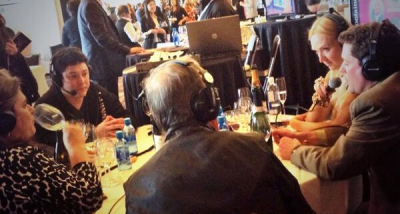 Each year, for the past five, during the VIWF Thursday trade tasting in the International Festival Tasting room, Terry David Mulligan and I interview some awesome wine personalities (proprietors, winemakers, viticulturists) from around the world for Tasting Room Radio.
This year was no exception as we spoke with: Etienne Hugel (Hugel, Alsace); Clovis Taittinger (Champagne Taittinger); Thomas Perrin (Famille Perrin, Rhone); Philippe Zinck (Domaine Zinck, Alsace; Marica Bonomo (Monte del Fra, Veneto); Joe Giusti (Giusti Prosecco, Veneto); Matt Mavety (Blue Mountain Vineyards and Cellars); Sandra Oldfield (Tinhorn Creek). Plus chefs: Frank Pabst; Quang Dang; David Hawksworth... to name just a few.

►To listen to part one (March 1) on podcast, link to iTunes here

►To view all of my photos of Vancouver International Wine Festival 2014, link here


~Daenna Van Mulligen