May 15, 2018
Rosé Champagne Celebrates 200 Years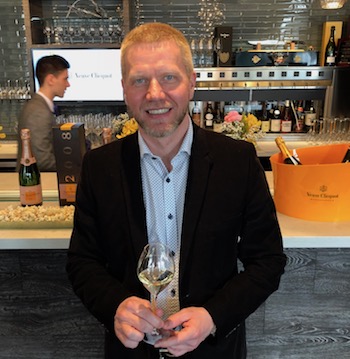 Veuve Clicquot winemaker Bertrand Varoquier

(right)

shared the story of how Madame Clicquot invented the first version of rose Champagne, over lunch at The Wine Bar in Vancouver. In 1818, she blended beloved red wines from Bouzy into her still white wines (pre-secondary fermentation, which causes the bubbles); thereby creating what is acknowledged to be the first ever rosé Champagne.

The brand, which was established in 1772, is famous for its trademark Pantone 137c warm yellow packaging and detail, however what's inside is what counts, and Varoquier notes, "The house style is about Pinot Noir, which brings the structure and strength, but is always well balanced with freshness and minerality and tension."

An agreeable way to describe Veuve, which I've always found to be one of the heftier styles of Champagnes; for those who like a full-bodied Champers, this is your bubbly.

Veuve Clicquot Yellow Label NV: considered the signature of the brand's style this iconic fizz is mostly Pinot Noir with about one-third Chardonnay, and the remaining 15-20% is Pinot Meunier. It is golden in hue with yellow apples and brioche, leesy notes at the core and hints of red berries and blood orange.
Paired: foie gras with quince jelly on puff pastry.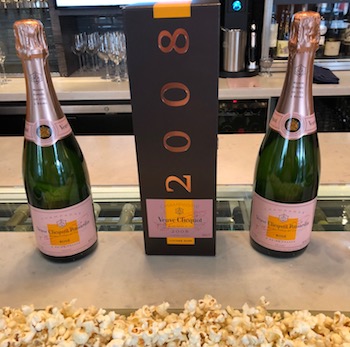 Veuve Clicquot Rosé NV: pink and yellow collide attractively on the label. The nose is berries and cherry, toasted pastries and warm citrus. A full-frothy palate mimics tangy red fruit on the palate. It is both broad and finessed.
Paired: seared Albacore Tuna with sun-dried tomato vinaigrette.

Veuve Clicquot Rosé 2008: made from grand cru and premier cru vineyards of Pinot Noir, Chardonnay and Pinot Meunier shows citrus and red fruit, brioche, saline and orange peel, on the nose.
Paired: Seared lamb chop with a crust of Dijon and herbs and gnocchi.

Le Grande Dame Rosé 2006: more than one half Pinot Noir and close the same amount of Chardonnay from grand cru vineyards, this wine was first created in 1988, and later released in 1995. Salmon and rose gold glints with savoury components, tart red berries, cedar, mineral, toasted brioche notes lead to a dry-focused palate; powerful yet finely woven with tiny bubbles and a lengthy finish.
Paired: crab and lobster risotto, snap peas and burre blanc.

Remarkable Rhone

Established in 1859, Ogier began as a cooperage (making wooden barrels) before delving into vine growing and wine making.
Expansion really took flight when the company was purchased in 1995 by Jeanjean, now AdVini (France's fourth largest wine group); they later acquired the 1926 established Clos de l'Oratoire des Papes, of Chateauneuf-du-Pape.

In total, they hold an impressive package of Rhone parcels, which total 3200 hectares.

I've visited Maison Ogier—it was several years ago, but their message remains steadfast: a focus on the four most distinct terroirs of the Rhone Valley.

Visiting winemaker Raphael Pommier (he's been with Ogier for 17 years) tasted through a selection of wines this spring at The Wine Bar, while describing these particular soils: limestone, sandy rock, rolled sandstone and rolled pebbles (especially famous from Chateauneuf-du-pape, but also found in the new cru of Cairanne).

Limestone: adds minerality, firm tannins and elegance. Unlike the rolled pebbles of CNP and Cairanne, the limestone reflects the sun rather than harnessing it. The result is less acidity and more palpable tannin.
Sand: the result is expressive fruitiness, soft tannins and elegance.
Rolled pebbles: these create jammy, full-bodied and round with plenty of spice.
Red sand stones: soft tannins, minerality and freshness.
Heritages Cotes du Rhone Blanc, 2015: a longtime favourite of mine this delicious white blend offers lime and waxy lanolin, smoked peaches, spice and mineral with impressive weight but balanced freshness.



Heritages Crozes Hermitage, 2014: approachable with cocoa, purple fruits and spice. The palate is juicy and supple.

Lou Caminé, Lirac, 2016: this baby Chateauneuf-du-pape is fruity and supple, chocolaty and fresh and vibrant, more bouncy than the de l'Oratoire.

Heritages Cotes du Rhone, 2016: savoury, earthy and spicy, bold and dry but good balance. A good candidate for a slight chill.

Clos de l'Otatoire Chateauneuf-du-pape, 2015: a blend of Grenache and Syrah with a hint each of Mourvedre and Cinsault. This is a complete wine, silky and fruity, harmonious and minerally; sweet and salty.


Boutinot chief winemaker, Eric Monnin recently visited Vancouver. We sat down to lunch at Ancora, focusing on a specific region in their portfolio. While Boutinot has makes wine (and has wine partnerships) from New Zealand to South Africa and across Europe, we tasted those specifically from the Southern Rhone Valley.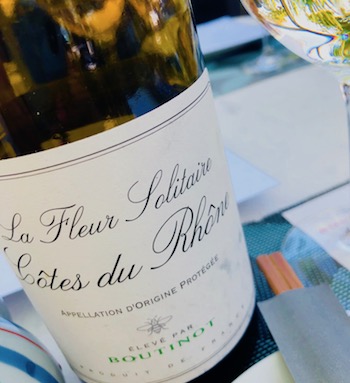 Monnin explained how Boutinot began in England, in 1972.
Former mason Paul Boutinot joined his father's Manchester restaurant and found himself dismayed at the poor quality of the wine selection available.
He headed to France (as one does, when English) in a van, setting out to stock it full of quality wine.
His instincts were noted, and neighboring restauranteurs began asking him to help stock their cellars as well; thus, in 1980, a new business called Boutinot Wines was born.
Now one of the United Kingdom's top quality wine distributors, with wines from the UK, France, Spain, Italy, New Zealand and South Africa; Boutinot is 1600 labels strong.

Perhaps one day soon, Canada will also be represented in the Boutinot portfolio.

Boutinot 'Les Cerisiers', Cotes du Rhone Rosé, 2016: classic style, and made from Grenache with Cinsault and Syrah, this pale-hued pink offers tangy red fruit and tangerine peel; it is dry and silky with a lively character.

Boutinot 'La Fleur Solitaire' Cotes du Rhone Blanc, 2017: a dream of a white blend, with great finesse and freshness, from a region that can easily produce blousy and boozy whites. Made from Grenache (blanc), Viognier, Roussanne, Marsanne, Clairette and Bourbelenc, 20 Meyer lemons and honeysuckle, lanolin and yellow fruits dominate; it is creamy but harmonious and slick texture, balanced with attractive acidity.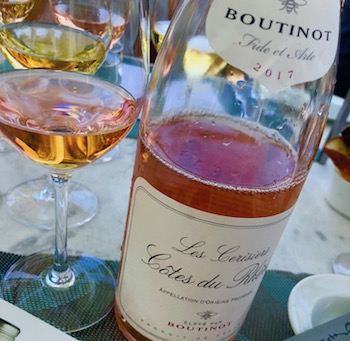 Boutinot 'Les Coteaux Schisteux', Seguret, Cotes du Rhone Villages, 2014: hailing from a single high-altitude Grenache and Syrah vineyard named Les Turcs' from vines a minimum of 50-years-old, above the village of Seguret. It has a more muscular character—slightly brooding with a firm backbone asssisted by 22 months in barrels (228L and 600L). Spicy and full of forest berry and mocha flavours.

Boutinot 'Les Six', Cairanne, Cotes du Rhone, 2014: made from six red varieties: Grenache, Syrah, Carignan, Cinsault, Counoise and Mourvedre, harvested from Cairanne's pebbly vineyards (like those of Chateauneuf-du-pape) this concentrated yet finely hewn red was aged 22 months in large neutral barrels. Spicy and structured but with a freshness to add lift, it leans toward darker fruits with pepper and mocha.

Boutinot 'La Cote Sauvage', Cairanne, Cotes du Rhone Villages, 2014: mostly Grenache and Syrah from Cairanne's Pebbly vineyards (like those of Chateauneuf-du-pape) it offers wild red and purple berries and warm spice, it has finesse and levity, a finer-boned example from the Southern Rhone.

Beguiling Brunello
Montalcino producer Altesino, has an estate roughly double the size of its 25 hectares of planted vines. The vineyards are impressively located in five areas—spread over the crus of Altesino, Macina, Castelnuovo dell'Abate, Pianezzine and Montosoli.

Established more than 40 years ago, Altesino grows the classic Sangiovese di Montalcino along with Cabernet Sauvignon, Merlot, Trebbiano, Malvasia, Vermentino, Viognier and Chardonnay.
Elisabetta Gnudi Angelini purchased the estate in 2002 (Angelini also owns nearby Caparzo, in Val d'Orica, since 1998), she believes quality comes from combining "tradition and inovation".
The name Altesino is indeed associated with fine Brunello di Montalcino.

Look for: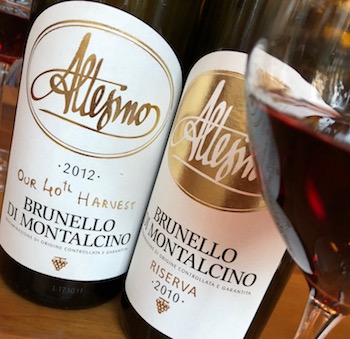 Altesino Bianco, a blend of Chardonnay, Viognier and Vermentino, it has a floral and yellow fruit characters with citrus; slick and weighty but also harmonious, with good brightness, and is very drinkable. BC Private wine stores about $22.
Altesino Rosso di Montalcino is made of Sangiovese, aged 7 months in oak barrels and then further in bottle. It has floral nuances and overtones of cherries with fine spice and leather. It is available for $28 in BC Liquor Stores
Brunello di Montalcino 'Our 40th Harvest' is aged 5 years (minimum of 3 years in barrel) and is made entirely of Sangiovese. Structured and plush with earthy and dried floral notes woven with leather and tobacco, it is available in BC Liquor Stores for $57.

Top Drop Vancouver

Now in its fourth year, this annual wine tasting takes place from 7-9:30 on Friday May 18th at the Roundhouse in Yaletown. It is an exceptional example of terroir-influenced and handcrafted wines from a collection of small hands-on wineries, craft breweries, cideries and food purveyors, both local and international.
The lineup of producers is impressive, and proceeds go to an amazing cause, the BC Hospitality Foundation.

Event is now Sold Out

~Daenna Van Mulligen