Jun 10, 2014
Summer of Love: Riesling & Rosé

June 21st (summer solstice) is really only a day when we officially welcome summer, but for most of us in the Northern Hemisphere, the month of June heralds the season.
So far, it's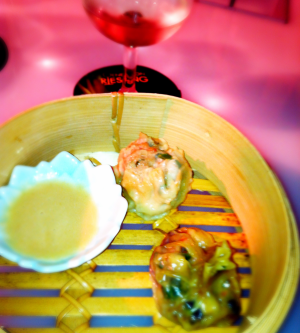 been about Riesling and rosé.

Wines of Germany rolled into town to launch a successful event with Generation Riesling.
As Germany's official variety, Riesling was of course the focus of this tantalizing tasting. As Generation Riesling states: "Wine has been an essential part of Germany's culture for centuries and we are delighted that wine lovers such as your selves are discovering more and more of our wonderful wines."
Nadine Poss, the German Wine Queen 2013-2014 (yes, they do elect a new queen each year) joined us to share her take on German wines. Meanwhile, Wines of Germany took on the task of pairing suitable cuisine with Riesling wines; smartly with a local and modern twist.

In a sit-down tasting wines were poured in flights alongside succulent and exotic dishes from two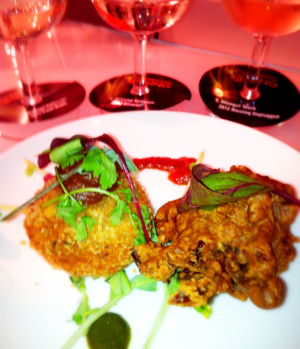 highly lauded Vancouver food trucks - Roaming Dragon and Vij's Railway Express.
A delightful experience, which showed the diversity of German Riesling.... It's not just about schnitzel and spargle, after all.

The most important tip to remember, when pairing spicy foods with wine is to make ensure the wine has a good amount of residual sweetness.
Those of you who balk at sweet wines - get off your high horse.
Remember, it's about balance.
The beauty of Riesling (specifically) is its natural racy acidity, which balances sweetness when the wine is in check.
Acidity cleanses the palate, not only of fat (think creamy sauces and cheese) but of sweetness.

Roaming Dragon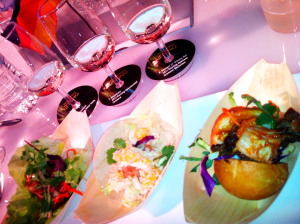 Prawn & Pork Dumpling/Vegetarian Dumpling - pan fried and served with ginger vinaigrette.

Taco Trio:
1. Malaysian Tofu Lettuce Wrap - with sui choy, pickled purple cabbage, carrots and shitake mushrooms
2. Oceanwise Prawn marinated in lemongrass, garlic, shallots, galangal - with sui choy, pineapple and green onion aioli on a corn tortilla
3. Mini Korean Bulgogi Gordita. Shaved Bulgogi-style beef brisket topped with apple sui choy, kimchi and Asian mayo on a sesame fry-bread.

Vij's Railway Express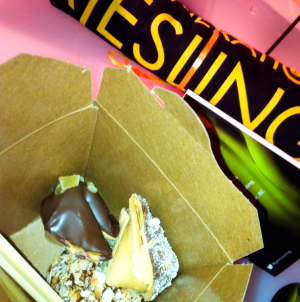 Fish Cakes - with tamarind chutney and citrus zest
Oyster Mushroom Pakora - with basil chutney

Butter Chicken Schnitzel with rich tomato-fenugreek cream curry, mango raita
Mini Spicy Lucknow Lamb Kebobs. Served with cumin infused basmati and naan bread.

There are numerous Rieslings (as well as Gewurztraminer, Pinot Gris, Muller-Thurgau) from Germany available to pair with exotic foods like those above, but for more classic pairings, here are some options.
Kabinett Dry (trocken): Fresh light and racy Rieslings, which are drier in style with pronounced acidity pair well with oysters, poached fish, mixed salads and more delicately prepared white meats or schnitzel. Also suited to dry sparkling Rieslings.

Kabinett (off-dry) or Feinherb (half-dry): Slightly sweeter, these wines pair with spicier Asian or Moraccan dishes, wild game birds, braised vegetables, spicy pasta dishes, pulled pork, spicy sausage.

Spatlese or Auslese (those that are fuller-bodied but drier versions): oily fish, crab and lobster, aparagus (spargle: aka white asparagus) with hollandaise, meats in cream sauce (think stroganoff, goulash-type dishes), fatty cuts of meat (pork belly) and poultry.

Spatlese or Auslese (sweet): Strong cheeses such as Gorgonzola (blue cheeses) or Gjetost (Brunost), fresh fruit pies (apple, peach, apricot), white chocolate (also with Eiswein) or these decadent and exotically flavoured fortune cookies (photo: above)

*Remember to stick with lighter and delicate wines (less alcohol) with lighter, fresher and more delicate flavours.
Richer, fuller-bodied and sweeter wines equally match richer, fattier and spicier dishes, which can overwhelmed lighter-bodied wines.
Riesling Reviews:
Mosel
Rheingau
Pfalz
Rheinhessen
Nahe
Other, Germany

St. Urbans-Hof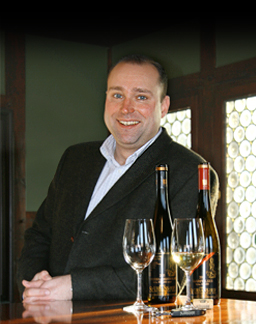 The Mosel is home to some of the world's most coveted and desirable white wines - specifically, Riesling.
Nik Weiss' family has been growing grapes and making wine for generations but only began making wine under their own label, Weingut St. Urbans-Hof , after World War II, in 1947.

Nic's grandfather launched the winery as the first winemaker and eventually handed the reigns over to his son, Hermann, who became famous for his vine nursery. In fact, the first German Riesling clones in Canada came from Weiss' nursery. The first ones landed in Niagara in the 1970s (it was St. Urban Vineyards and is now Vineland Estates) and shortly thereafter near Kelowna, at Pinot Reach (now Tantalus). Those Riesling vines are now the oldest in British Columbia and undoubtedly produce some of our finest Riesling.
Nic Weiss (photo:right) took over the winemaking helm in 1997.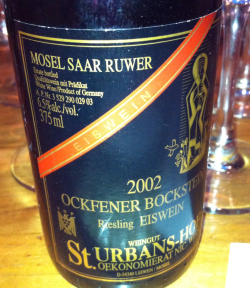 The estate vineyards are located in the Middle Mosel and Saar and include three "Grand Cru" Sites: Leiwener Laurentiuslay (Middle Mosel), Ockfener Bockstein (Saar), Piesporter Goldtröpfchen (Middle Mosel) and three Village Sites: Wiltinger (Saar), Saarfeilser (Saar) and Mehringer (Middle Mosel).

When he visited in early June his focus was on the family's pride and joy, the Ockfener Bockstein Vineyard in the Saar. The vineyard sits on steep southwest facing slopes in gravelly and grey-slate soils, which lend the wines incredible minerality.
St. Urbans-Hof Rieslings
Ockfener Bockstein Kabinett 2001- Mineral, lime peel, smoky musky, wildflowers. Nice oily weight, honey and racy acidity.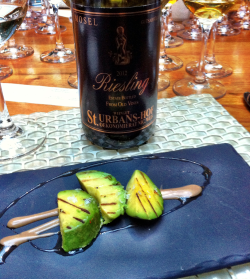 Ockfener Bockstein Kabinett 2012 - Lemon drops, mineral, smoke and a hint of marzipan. Pristine, fresh and focused with lively acidity.

Ockfener Bockstein Spatlese 2002 - Hints of petrol, lemongrass, stone fruits and wildflowers wrapped in slate. A bit more austere on the palate, precise and persistent.

Ockfener Bockstein Spatlese 2007 - Stone fruits and apples, slate, grapefruit and petrol. Amazing weight and intensity of flavour with a persistent and sweet finish. Wonderful balance.

Ockfener Bockstein Auslese 1990 - Intense character - quince and petrol, marmalade, beeswax and minty notes.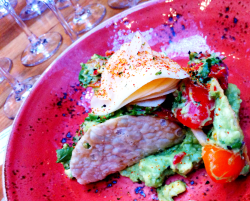 Amazing concentration, honey, stonefruit, mint and musk. Electrifying acidity to cleanse the palate.
Ockfener Bockstein Auslese 1997 - Lemon drops, stone fruits, slate and white blossoms with a distinct savoury quality. Fantastic length and concentration, elegant with flavours of stone fruits wrapped in honey.

Ockfener Bockstein Auslese 1999 - Sweet apples and apricots, lemons preserved in honey, wild flowers. Racy acidity, charm and finesse. A wonderfully intense wine, the standout of the tasting.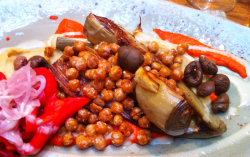 Ockfener Bockstein Auslese 2003 - Very petrol on the nose with slate, smoke, stone fruits, apples and mint. Weighty, dense and slick with honeyed flavours. The obvious minerality on the palate helps cleanse the sweetness.

Ockfener Bockstein Eiswein 2002 - Expectedly sweet with quince jam, tropical fruits, apple pie and caramel turnovers.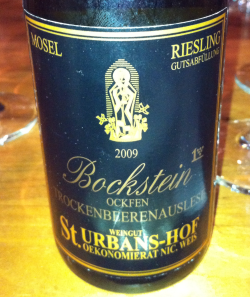 Unctuous with racy acidity to keep it lively. Excellent length.

Ockfener Bockstein Trockenbeerenauslese (TBA) 2009 - Apricot jam, tea leaf, chamomile and candid citrus peel. Sweet and plush, thick and concentrated but well-balanced.

Currently Available:
St. Urbans-Hof Estate Riesling, 2012 +597997 $23
St. Urbans-Hof "Urban" Riesling, 2011 +71589 (private wine stores) $20
St. Urbans-Hof Ockfener Bockstein Kabinett Riesling, 2011 +310524 $32
St. Urbans-Hof Ockfener Bockstein Spatlese Riesling, 2011 +175356 (private wine stores) $45
St. Urbans-Hof Piesporter Goldtropfchen Auslese Riesling, 2011 467514 (private wine stores) $70

Photos above right: Yew Seafood + Bar dishes by Chef Ned Bell.
Grilled avocado with honey drizzle; avocado stuffed tacos; grilled artichoke hearts with red peppers and fried chickpeas.

The Rosés of Provence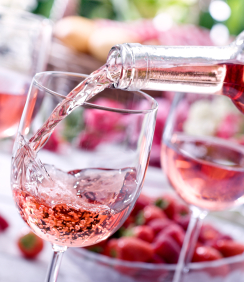 Ah...the pink wines of Provence.
If you have ever visited, or read one of the numerous tales of life in Provence, you'll know that more than a place, Provence is a feeling.
It's a moveable feast for the senses; the geography from mountain to vineyard, the sunshine, the breezes carrying the scents of lavender, thyme, the sea... And the simple yet colorful cuisine centered around the fresh local produce.
Food is integral to the wine in almost every place I've ever visited.
Yet, none seems so much more colourful, fresh, healthy and uncontrived as that in Provence.
The wines seem equally simple, refreshing and colourful - but, when I refer to simple, I mean exceedingly easy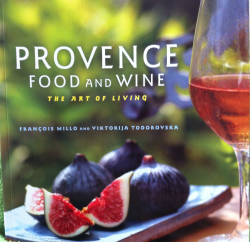 to drink.

It is a region, which has honed its skills making perfect rosés - after all, they've been doing it for nearly three thousand years.
Provence has been making wine longer than any other region in France.

Why pink when you have a plethora or fantastic red grape varieties such as Grenache, Mourvedre, Cinsault, Syrah...?
The answer is startlingly simple. In the early days of winemaking, people had not yet realized the skins of the red grapes produced the colour. As you know, the longer the skins maintain contact with the juice after pressing, the more colour is extracted from the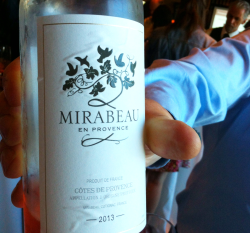 skins. In those early days, the skins were removed from the juice quite quickly and the colour of the final wine would always be light.
As it is today.

It's a beautiful thing.

I have a preference for pale rosés. Perhaps it's due to my days living in Paris or my subsequent visits when I can easily drink my weight in French pink.
Pale means dry, and I like dry.
For North Americans, pale seems to be related to blush wines, sweeter white Zinfandels, which are extremely popular (despite the groans and
turned up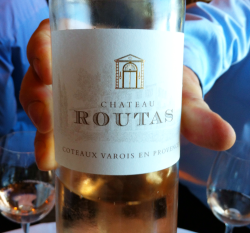 noses of wine snobs) still. Perhaps that is why so many of our local pinks are left on skin contact so long they become ruby. In fact, they are so dark ruby if you line them up, front to back on a shelf in a wine store, they look red.
Marketing departments, let's talk.
Sadly, I've come to associate those ruby rosés with sweeter styles.
Every so often I am pleasantly surprised when they come up dry.

In early June, the authors of "Provence Food and Wine: The Art of Living", Francois Millo and Viktorija Todorovska, came to town to promote their book and talk about Provence. The tasting showcased the best of 2013 Provence wines currently available in BC Liquor Stores paired with
small bites prepared by Pacific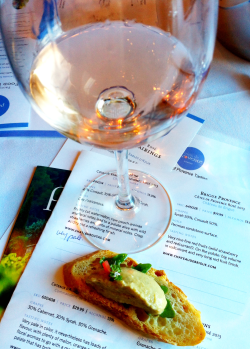 Institute of Culinary Arts (PICA) Executive Chef, Julian Bond.
The book is a keeper, brimming with mouthwatering recipes and colourful imagery set in the succulent backdrop of Provence.
The Wines

Gassier 'Sables D'Azur' Côtes de Provence, 2013 (Grenache Cinsault, Syrah) The most delicate of the lineup with peel of orange, tart red berries, fine spice and a hint of cedar. The wisp of sweetness partners well with mildly spicy dishes. $22

Mirabeau Classique Côtes de Provence, 2013 (Syrah, Grenache, Cinsault) Offers more overt sweet berry aromas with wild flowers and citrus. Delicate yet fuller-bodied than the Gassier, it has a strong yet fine feminine character. Great freshness and good length. $24

Château Routas 'Rouvière' Coteaux Varois Provence, 2013 (Cinsault, Grenache, Syrah) Very pale in colour with good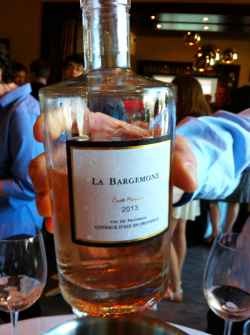 concentration of floral, mineral, wild summer berries and citrus. It has a mineral texture and a bit more power on the palate. A great pairing with mildly spicy babaganoush (eggplant spread) on toast (photo: right) $22

Château de Brigue Provence Côtes de Provence, 2013 (Syrah & Cinsault) Coppery in colour with smoky notes and tart red berries. Straightforward but very nice structure and balance. $20

Famille Quiot 'Domaine Houchart' Côtes de Provence, 2013 (Grenache, Cinsault, Mourvedre, Cabernet, Syrah) A very fresh and floral nose with sweet red berries and stone fruits leading to a tangy, citrus peel palate. $18

Château l'Arnaudet 'Cuvée Nuit Blanche' Côtes de Provence, 2013 (Grenache, Cabernet, Syrah, Rolle, Cinsault) Ladies in the old-fashioned swimsuits adorn the label of this fine pale pink. It stood out as the driest of the bunch with primary saline and mineral notes wrapped in summer berries. $28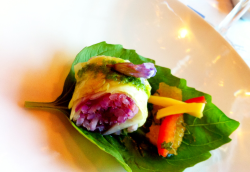 Commanderie de la Bargemone 'Cuvée Marina' Coteaux de la Aix-en-Provence, 2013 (Cabernet Syrah, Grenache) Lovely, light and fresh with charming wild berry and currents, melon and exotic citrus. Fruity but powerful palate, which was a perfect pairing with a richer and salty bite of wild mushrooms on toast.
(photo: bottom right) $30

Château La Mascaronne 'Quant' Saisons' Côtes de Provence, 2013
(Grenache, Cinsault, Mourvedre, Syrah) Lovely lavender, stone fruits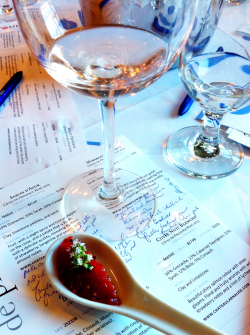 and berries atop garrigue (wild brush and herbs). It has more weight, power and excellent structure. A very expressive rosé - a standout. Nicely partnered with wild mushroom and (the regional specialty) and ratatouille popover. $25
A Little Extra Trivia

►Provence has six appellations - Appellation d'Origine Protégée (AOP), which used to be called Appellation d'Origine Contrôlée (AOC).
They are: Côtes de Provence, Côtes de Provence Sainte Victoire, Côtes de Provence Fréjus, Côtes de Provence La Londe, Coteaux d'Aix-en-Provence, Coteaux Varois en Provence.

►Provence has 600 producers and 72 negociants with a total production on 162 million bottles per year.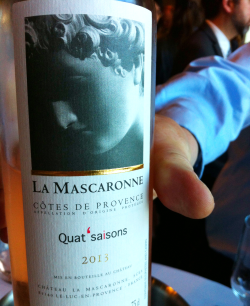 ►Global consumption of rosé is up 11.8% in the past 8 years. Sales of rosé in British Columbia are up 61%.

►France is the largest consumer of rosé wines, followed by the USA, Germany, United Kingdom, Russia, Spain and Italy.

►Provence produces by far the lightest colour and driest rosés with between 1-4 grams per liter of residual (natural) sugar.



~Daenna Van Mulligen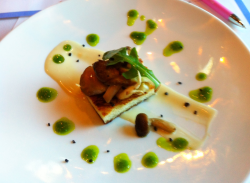 ►For my ongoing summer list of international rosés link here