Oct 27, 2012
George and Trudy Heiss celebrate their 50th wedding anniversary this year.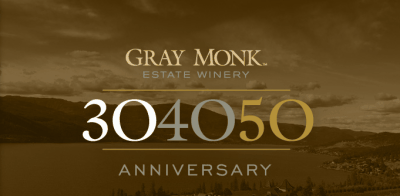 They also celebrate 40 years since planting their vineyards in 1972 and 30 years since the winery was established in 1982.

The name Gray Monk comes from Grauar Mönch, which translates to Gray Monk, the name given to Pinot Gris in Austria, the Heiss' homeland.
The Heiss family were the first to plant Pinot Gris in Canada - so the name is entirely suited.

Their three sons, George, Stephen and Robert are fully involved in the winery in logistics, marketing, viticulture and management, which keeps Gray Monk a true family owned and operated estate.



I've been to Gray Monk a few times over the years and they are undoubtedly one of the anchor wineries of British Columbia. Long established with consistent quality and pricing, their wines are well-known to locals and visitors alike. It doesn't hurt to have one of the most spectacular views in the valley, overlooking Lake Okanagan and one of the region's favourite dining spots - The Grapevine Restaurant, on site.


Congratulations George, Trudy and the entire Heiss family, including winemaker Roger Wong, who continue to make delicious still, sparkling and dessert wines for us all to enjoy. It's heartwarming to witness and celebrate their successes.
And I know I'm not the only one who gets nostalgic for wines made from Kerner, Siegerrebe and Ehrenfelser - varieties Gray Monk continues to make, and make extremely well!

Here's to the next 10 and the 40, 50 and 60th!



Daenna Van Mulligen