Jun 08, 2015
Inefficient, Crazy and Romantic: Sherry
I'd just stepped off a train in Andalucia, in the town of Jerez de la Frontera, in southern Spain.
It was mid-day. I could tell it was quickly going to get much hotter.

Luckily I was handed a straw hat with a La Guita branded ribbon.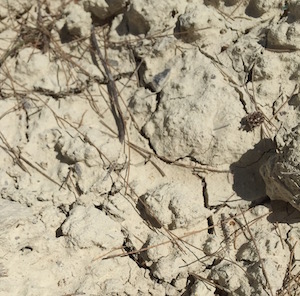 Best to keep the sun at bay as long as possible.

Valespino is part of Groupo Estevez, the largest vineyard holder in Jerez-Xeres-Sherry, who now own more than 800 hectares.

Under Groupo Estevez there are three wineries: Valdespino, Marques del Real Tesoro and since 2007, Spain's largest Sherry brand, La Guita.

Soon, on this nearly cloudless May day, my luggage and I were in a car headed to the highest point of Macharnudo Alto, in the rolling hills of Jerez Superior.

Just minutes outside of Jerez, Macharnudo is a special and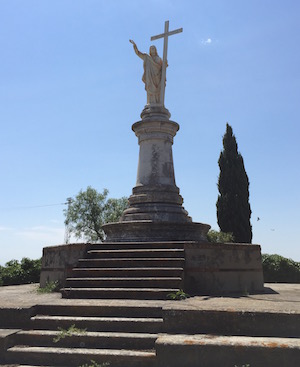 significantly sized vineyard area famed for the unique bone-white albariza soil.

(photo: above right)


I'd first discovered the albariza (alba means white) soil last May during a similar visit to Jerez.
I was fascinated by this chunky and sponge-like, calcium carbonate rich soil (chalk with limestone and clay), which soaks up water in the rainy winter season and slowly releases it to parched vineyards during hot summer months.

Upon arrival at Macharnudo Alto, we stopped at 140 meters above sea level - the highest point in the Denominacion de Origen (DO). It is marked by a towering statue.

(photo: right)


The sun was beating down and butterflies danced around the gesturing hilltop marker which read "In hoc signo vinces" (In this sign you will conquer).

I can only assume it refers to removing the Moors from their
hundreds of years of rule over this land.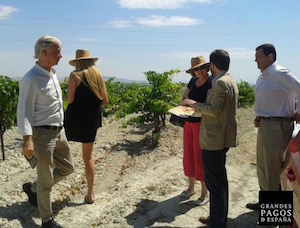 This is the vineyard or "pago" recognized as one of the Grandes Pagos de Espana – the reason for my visit.

I was pointed out recent replantings of vines and others 40 years old. It's typical at Valdespino that the vines are replaced at roughly 40 years, when their production diminishes.
Valdespino owns 56 hectares of this special place.

As I began to sweat in the mid-day sun I started wishing for a breeze; either a warm levante, which blows across the land from
the east or a moist poniente from the direction of the Atlantic, over the water.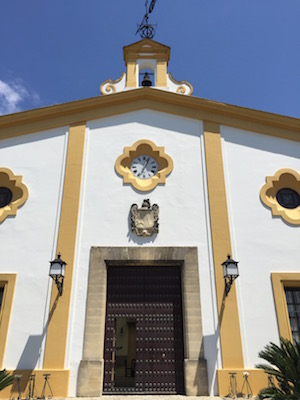 Was the salty air I smelled merely a memory of the briny finos I drank while I was last here?

Palomino is the best variety to be gown on albariza and generally, it's the only vine grown on this soil. The other main varieties, Pedro Ximenez and Moscatel, are saved for other places.

This is the grand cru of Sherry I am told. So only the best finos come from this low yielding Palomino vineyard.

While Palomino as a still wine is quite an uninspiring variety with low acid - it is perfect for fino Sherry.



From the Groupo Estevez website:

"The origins of the Bodega Valdespino date back to 1264 A.D. The first member of the Valdespino family to cultivate and age Sherry wines was Don Alfonso Valdespino, one of 24 Christian Knights who fought for King Alonso to re-conquer the City of Jerez from the Moors.
As a reward for a successful battle, the King rewarded the Knights, including Don Alfonso Valdespino by giving them land in the City of Jerez.
Although commercial activities are recorded as far back as 1430, the company was not registered until 1875. In 1883 the House of Valdespino became a purveyor of Sherry to the Royal House of Spain and in 1932, they also became purveyors of Sherry to the Royal House of Sweden.
The Valdespinos had the initial idea of registering the trade mark for the SACRISTIA in 1910. The Sacristia is the area in the ageing cellars, known as bodegas, where the very best casks of Sherry the a bodega has are kept. Other bodegas now use this term, but it is only Valdespino who have the right to use it.
The Valdespino Bodega also produces Fino Inocente, the only Sherry wine whose grapes are harvested from only one vineyard, the Macharnudo Estate. It is also unique in that it is the only Sherry wine fermented in oak barrels, being now the norm to ferment in stainless steel tanks. It is also certainly the only Fino which has 10 'Criaderas' or nursery cask stages, instead of the usual 2 or 3 for other Finos."


Back at the bodega (winery) I was happy to be escorted into the cool expanse of the cellar.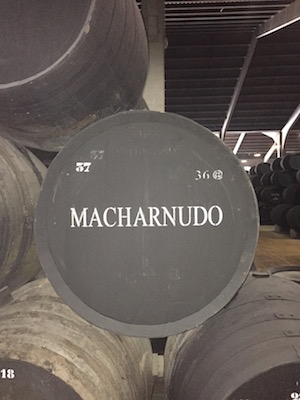 Twenty-thousand barrels strong, the cellar rows are a grid of alleys. The barrels lined up like soldiers labeled with their contents - be it vineyard or style.
The solera system in its finest form, the painted black barrels (easier to tell if a barrel is leaking) stacked four high atop one another in triangular format.

The smell is intoxicating.
Valdespino is considered a boutique Sherry producer with ageing cellars in all three DO towns of Jerez, Sanlucar and El Puerto. They are also the only brand to produce single vineyard Sherries - Inocente, Tio Diego, Viejo C.P and Cardenal. Although there are records of Valdespino transactions in regards to Sherry in 1430, they did not become and official firm until 1875. The Groupo Estevez acquired Valdespino in 1999.
Tasting Notes:

**Manzanilla Deliciosa 'En Rama' 2015: More evolved than typical Sherry as it is unfiltered. It is also more honeyed and quite yeasty and bready - more briny than the others I have had. Textural and quite potent. Intense and saline with tart apple flavours - same as nose. Very good length. Slightly more delicate in body than fino – typically. A flor/phenolic finish. Made from Palomino from the Miraflores area, closer to the coast. Average age is five years.
The main differences between Fino and Manzanilla (produced the same but from different areas) is that Fino is less yeasty and doughy but more briny and minerally (especially on the palate) than Manzanilla and I find it to be more delicate too.

***Fino Inocente: A single vineyard wine from the Grandes Pagos Macharnudo pago. Nice golden hue, yellowish glints. Nose is quite briny. It has 10 years (average age) with notes reminiscent of playdoh - very yeasty, bready and some straw floral hints on the nose – wildflowers and bitter almonds – savoury and slightly bitter character.
Very good intensity.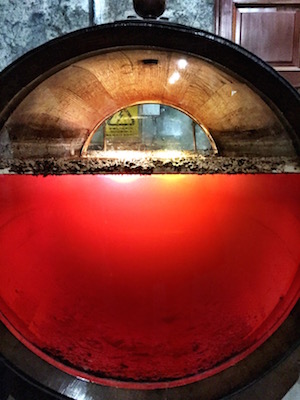 (Photo right: barrel with clear heads shows the unique growth of flor under light)

**Amontillado Tio Diego: More mahogany in colour – biological aging (under flor at roughly 15.5 degrees grape spirit) in American oak barrels for 2-3 months. Then it is re-fortified for the oxidative ageing (alcohol degrees upped to 18%). This is what makes it an Amontillado.
It has an interesting and nutty nose - almost sour cream and onion layered with toffee and honey, baking spices. The briny, salty and savoury returns on the palate. This is a 15-year old wine (average) you still taste the fino side of it - basically it's a very nice juxtaposition between the nutty amontillado the briny and bitter of the fino.
Pairings: oxtail or consume, cepes and artichokes and green asparagus – balances bitter of those veg. Also excellent with good quality anchovies. Should be served slightly chilled.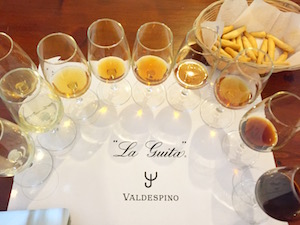 *Palo Cortado Viejo CP: Made from Macharnudo grapes - albeit those grapes with less quality than fino. For some reason the fino develops in a different way (not same character – creamy and buttery flavours, basically fuller-bodied than their fino brothers), so it becomes this, a palo cortado Sherry instead of a more precise fino.
Mahogany with coppery glints. Nose - very much like Amontillado with toffee and honey and salted nuts and rich, dry and yeasty. Very expressive – bordering on potent salty/briny notes and a higher glycerol weight and texture. Intense and bitter almond with spice and salt, very persistent. A 20-year aged wine. Nose is reminiscent of an amontillado, but palate is more reminiscent
of a weightier Oloroso.
Pair: intense soups and Indian cuisine or hard, aged cheeses.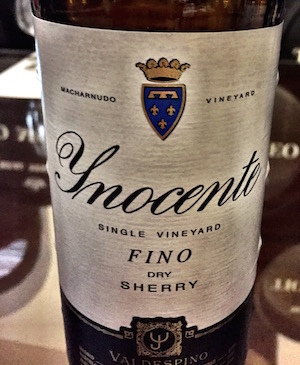 **Palo Cortado "Cardenal" VORS (Very Old Rare Sherry) made from Palomino Fino. Average over 30 years (youngest criadera is at least 20 years). Richer mahogany colour with - aromas are whisky, dough and brine with powerful and spiced toasted and nutty, intense and long – bitter/savoury/smoked finish. Aged biologically (under flor) and then oxidative (without flor).

*Amontillado Coliseo: This very old Amontillado was aged in Sanlucar by the sea. Toffee and Dutch salted licorice, varnish notes, balsamic and very salty (like licking a salt block or eating a heavily salted caramel). Like the Tio Diego it has biological and oxidative ageing. Pair: Aged Manchego

**Oloroso "Solera de Su Majestad" VORS: Immediately darker in colour and aromatic (due to oloroso style). This Sherry was chosen to be an oloroso right from the start.
So it never saw any biological ageing (under flor).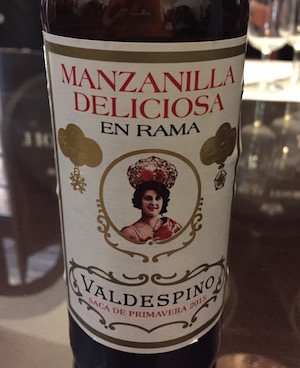 Honeyed and nutty with caramel – burnt orange peel and brown sugar in a hot pan - very liqueur-like. That burnt sugar and flamed orange peel bitterness (good bitterness) also appears on the palate. Very tangy and with impressive acidity. Oloroso should be bone dry – there are adulterated versions like off-dry and sweeter styles - but this one is blessedly bone-dry.

***Moscatel Promesa: Made from 100% Moscatel with an average of 10 years oxidative ageing and 250 grams per liter residual sugar.
Notes of stewed apples, apricots and figs, bruised and dried, rum-soaked fruitcake, some flamed orange peel and honeysuckle (made like PX slightly later harvest and grapes are dried on mats in sun). Coffee liqueur and dried fruit with classic briny flavours. Like fruitcakes soaked in seawater. Weighty like honey and glycerol. Sweet but with good acidity to balance. Finishes clean.
Great old red label.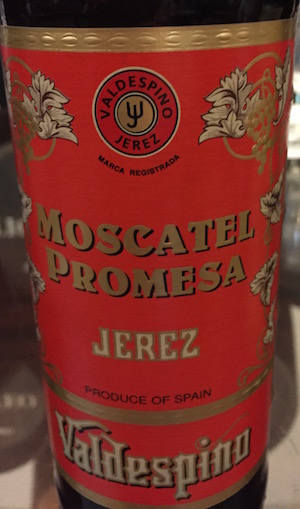 ***Pedro Ximenez El Candado: Dense rich and thick at 450 grams per liter sugar here with 17 degrees alcohol and an average age of 30 years.
Grapes were dried for one week outside after harvest. Intense colour – mahogany into brown – salted coffee and caramel, burnt toffee and some savoury characters. Salty caramel favours as well. Powerful and intense - a thimbleful at a time would do. Sultana raisins on the palate with coffee soaked fruitcake on the nose.

***Pedro Ximenez Niños VORS: Truly unctuous and potent at nearly 500 grams per liter sugar and 15 degrees alcohol. Only the rarest casks of the solera of PX El Candado (above) are used. After 30 years of ageing a limited volume is released.
Very mocha/espresso, burnt sugar salty and briny with great acidity, which holds on and gives lift. Rich and dense, thick and ultra crazy potency with a silky persistence.

*Good
**Excellent
***Exceptional


~Daenna Van Mulligen


Grandes Pagos de Espana estates visited on this trip:
►Valdespino - Inefficient, Crazy and Romantic: Sherry
►Finca Moncloa - Tradition + Creation
►Cortijo Los Aguilares - The Place Where Eagles Live
►Manuel Manzaneque - Risk & Reward
►Finca Sandoval - Wines of Influence
►Bodega Mustiguillo - The Prophet of Bobal

Get to know Grandes Pagos de Espana