Mar 29, 2017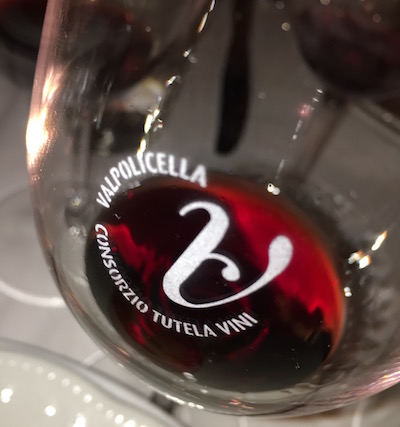 I recently wrote a Valpolicella Primer on WineScores.ca.
In it, I reviewed my top picks from the 2013 Amarones (from those blind tasted at Antiprima Amarone in Verona in January), as well as some background on the region itself, and the 2013 vintage.

While staying in Verona I visited a number of producers within the Valpolicella region: small, medium and large.
Here is a recap and tasting highlights of those meetings.


Scriani
In Italian, scriani means scribe.
The cellar and winery, located in Fumane,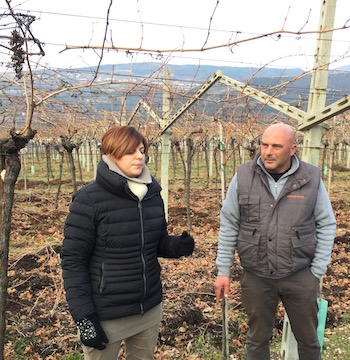 is owned by the Cottini family and run by third
generation member, Stefano

(right).


Started by his grandfather, Stefano, the eldest of three brothers, was the one to continue the winemaking tradition. His wife and now daughter also co-run the winery on the business side, while Stefano focuses on winemaking.
The name Scriani was chosen, as Cottinis were the scribes of the village, historically.
The parceled vineyards have various ages, ranging upward to 57 years. The main vineyards, located on Monte Sant' Urbano range between 250 and 400m above sea level scattered on plateaus and terraced sites.
Scriani is a small winery but they have a true knack for marketing - it's a slick little business, from labels, to monogrammed glassware and website to small, modern cellar.

Wines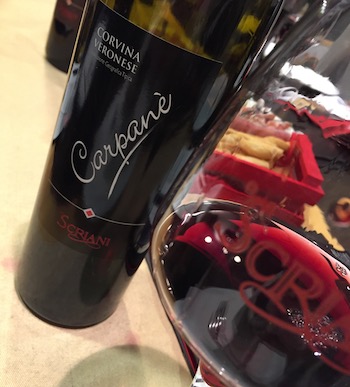 Valpolicella Classico Superiore 2014
Made from Corvina, Corvinone, Rondinella, Croatina, Oseleta which was aged in large oak casks for 12 months. Very expressive berry nose with, purple flowers and peppery spices. Lifted red fruit on the palate with bright acidity, which really makes this wine sing. Nicely formed and modern in style. The 2015 vintage of this wine, recently bottled, is still youthful and awkward, but has vibrant cherry, violets and spice followed by a rich espresso finish.

Carpanè Corvina, 2012
This single vineyard, single varietal red stood out with its unique character. Plus it's much more common to blend in Valpolicella. Partially dried grapes (30 days) are fermented in large wood barrels, then aged 12 months in barrique, followed by six months in bottle. It is very savoury; wild, spicy and intense with mocha, dried violets and pepper. It has a silky suppleness, which is quite attractive.

Amarone 2012
Enticing notes of wild flowers, cherry confiture and licorice with succulent layers of oregano, coffee liqueur, pipe tobacco and spice. A seductive glycerol weight, suppleness, brightness and extensive finish complete this wine.

Stefano Accordini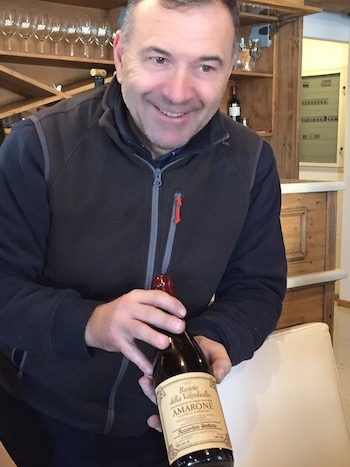 Hilltop in Fumane, at 550-600 meters above se level, rests the highest winery in the region (to date). On a clear day, it is surrounded by unparalleled views of rolling vineyards. In total, 28 hectares (part in Negrar) are ppart of the family estate, with an addition four being planted.
The business began in the early 20th century when Gaetano Accordini purchased five-hectares of land in Negrar. His son, Stefano made wine for the local market from the estate vines. 1973 was the first vintage under the label, Stefano Accordini. His sons, Tiziano (management and marketing) and Daniele (enologist) later took over and now, a fourth generation is studying winemaking and another works in the cellar currently.
Forward movement is always on the mind of Tiziano

(right)

, who sat down with me during my visit. Part of this is planting new vineyards, vine management and irrigation systems (90% of his vineyards are under drip irrigation, which he can use in certain vintages when necessary). Additionally, the old ways are returning to many in Valpolicella; the use of larger oak barrels, which impart less character on the wine itself, and a return to the classic pergola vines from the more ubiquitous (internationally) vertical shoot positioned (VSP) Guyot pruned vines.
Site.

Wines
Valpolicella Classico 2015
The volcanic (only a few small pockets in Valpolicella) soils contribute a very unique character to the wines in the region. This one has levity; cherry, fine spice and mineral tones. It is juicy and finessed with a savoury/salty (sapido in Italian) lilt.

'Acinatico' Ripasso Classico Superiore, 2008
Smoky, succulent, sapido and attractive freshness. A finessed palate still tightly woven but with excellent fruit purity. Somewhat austere with ripe and finely textural tannins.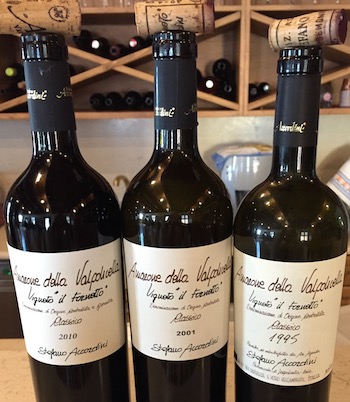 Amarone Classico della Valpolicella 'Vigneto Il Fornetto', 2010
From a single vineyrad planted by Stefano 90 years ago in Negrar, this Amarone has an expressive purity on the nose; sweet red cherries, Turkish delight, prune, toffee, vanilla, licorice and rose petals. It has crazy concentration and excellent balance, structure and persistence. Outstanding.

Amarone Classico della Valpolicella 'Vigneto Il Fornetto', 1995
Although we also tastd a 2001 vintage of this wine, the 1995 stood out with its youthfulness, fine weave, and fresh character. Some herbal/peppery tones, smoked meaty/savoury tones but also silky red fruit and undeniable elegance.

'Acinatico' Recioto della Valpolicella, 2013
Amazingly concentrated dried fruit flavours, with pipe tobacco and violets. Still very youthful but a very complete wine, balanced and wonderfully persistent.

'Acinatico' Recioto della Valpolicella, 1981
Life-changing toffee, prune, dried cherries and molasses with caramel covered chocolates and allspice. My perception was how beautifully this wine was tasting, at that moment in time. Tiziano felt it might be a bit past its time.
I'm going to go with outstanding.

Monte del Fra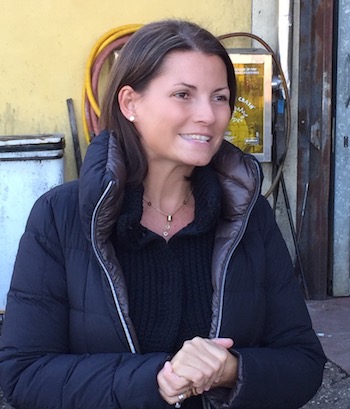 Monte del Fra is a solid favourite of Vancouver wine lovers. The family owned and run estate winery, while not large, is still of significant size.

Located only 15 kilometers from Verona, in the town of Custoza (very near Lake Garda), Monte del Fra was established by the Bonomo family in 1958. However, there is a significant amount of back story, including its monastic origins from the 1400s, battles over use, and even expropriated lands, thanks to Napoleon Bonaparte.
Today, with 140 hectares of vineyards in Custoza, Lugana and Bardolino (plus another significant holding in Fumane, where they have a second winery to make their classico range) the Bonomo family of Monte del Fra tends to more than a dozen different grape varieties, which go into 20 different wines.


(Right: Marica Bonomo)



'Lena di Mezzo' Amarone Classico, 2012
Wood smoke and truffles, dates, violets and licorice, dark chocolate and brown spices with wonderfully intense and pure fruit expression. The palate is rich and chocolaty with espresso layers. Nicely integrated tannins—a complete wine.

'Lena di Mezzo' Amarone Classico, 2010
Delightfully divergent notes of peppery spices and sun-warmed raspberries. Plush with mocha and tobacco flavours layered with wild berries.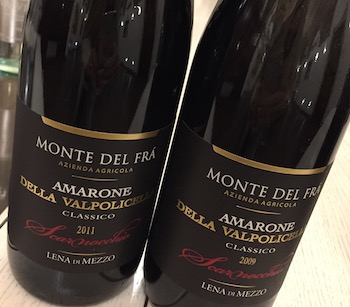 'Lena Di Mezzo' Amarone Classico, 2009
The Lena di Mezzo is an entirely terraced estate of nearly 18-hectares that lies in the heart of Fumane. It is a splendidly hilly zone with tufo, clay and limestone soils
It produces wines, which are savoury, sapido and brooding. Expect small forest berries, cherries, spices and botanicals - the tannins are firm, dry and have grip.
These wines are undoubtedly made to age.

'Scarnocchio' Amarone Classico, 2011
Supple and powerful, spicy and chocolaty, earthy and still tightly wound. It is also broodish, extracted and uncompromisingly concentrated with a lingering finish of tomato leaf and dark cocoa.
The 2009 vintage version is also amazingly powerful, bold, and compact. Ripe black cherry, minerals and spicy with mocha and dark earth notes are the result of thick skins and small berries. The tannins here are obviously skin-derived and firm.

►Monte del Fra wines reviewed on WineDiva.ca


Valentina Cubi
While most producers have a house style, some are immediately conspicuous, and entirely unique.
The wines of Valentina Cubi are precisely that.
Keep in mind, when a house style is strong, the wines are often polarizing. That's okay, you can't be everything to everybody,
The Cubi estate (13-hectares), is home to predominantly pergola-trained vines (a strong emphasis on Corvina) and olive trees. The estate has been certified organic since 2014, and is presided over by Valentina Cubi herself. The transition to organic was done slowly and methodically, the price to produce is higher, but Cubi believes she has a customer base willing to absorb the 20-30% cost increase. She also finds the results of organic viticulture lead to fresher and naturally fruitier wines.

Wines
Iperico 2014
Corvina, Rondinella, Molinara (65%, 25%, 10%) unoaked but bottle aged for 6 months.
Lighter in colour than most in the region - more ruby in hue with notes of dried flowers, cherries and high-toned red berries. It is fresh and tangy; cedar, tealeaf and botanicals
with juicy and tart red fruit expression on the palate.
Lovely.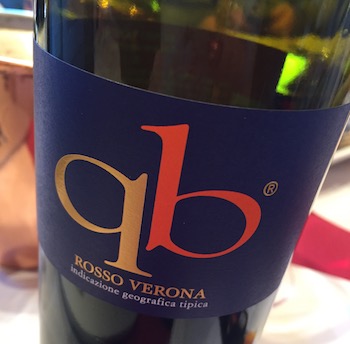 Sin Cero 2015
Corvina and Rondinella (75%/25%) This organic wine is sulphite free (from added sulphites), is fermented with indigenous yeasts and is only made in the best vintages.
Ruby in colour with a funky nose; wild grasses and botanicals, spicy and earthy with distinct red current and rooiboos tea.
It has an angular and austere palate, some oxidative characters and a tart finish.

Iltabarro Valpoicella Classico superiore 2014
Aged one year in oak in botte (large barrel) and barrique but never new. Then aged an additional six months in bottle.
A blend of Corvina 65% Rondinella 25% Molinara 10% with a pristine nose of wild ruby coloured berries and tart red cherry atop fine wood spices.
Expect awesome acidity and a purity of fruit. Despite it's life and fruitiness it shows great depth. Obvious skin-derived tannins cling to the palate.

Arusnatico Classico Superiore Ripasso, 2013
Corvina 65%, Rondinella 25%, Molinara 10% which despite being from 2013 vintage, is still organic. It spent 12 months in large Slovenian oak - a portion in French barrique, then six months in bottle.
Slightly deeper colour due to age and the portion of dried grapes. The notes are vanilla and tealeaf — spicy and tart aromas, showing some oxidative characters – palate and nose. Funky palate, a little austere and entirely unique. The finish trails spice, tealeaf and fine cocoa tannins.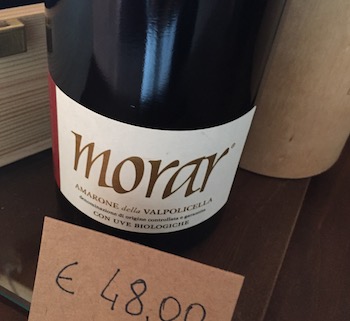 'qb' (an acronym for Cubi) Rosso della Venezia IGT, 2013 is a blend of Corvina, Rondinella, Molinara, Sangiovese and Cabernet. Only made in the best vintages, specifically when Cab and Sangiovese is great, otherwise they sell those grapes. It has the classic brilliant ruby hue common on all her wines. The nose offers oxidative hints alongside very expressive red currents and forest fruit, red plums and tobacco with violets. It boasts a juicy and spicy palate, quite bright overall, with and more structure than the previous wines. The acidity here is bracing; a line drive right down the mid-palate – very precise.

Morar Amarone della Valpolicella, 2010
The pinnacle of production, this excellent organic wine spent 33 months in large oak barrels and 12 more months in bottle.
It is Corvina 70%, Corvione 25%, Rondinella 5% featuring a gorgeous weight, expressive fruit, precision, complexity and completeness with and textural tannins and spicy elements. Drinking very well right now, overall an excellent and expressive wine with more oomph than all others. A silky seductive palate with some saline and savoury hints on the finish — pristine and lengthy.
Morar 2007 Bolder nose more oxidative and aged on nose as to be expected. Flavours of cocoa and tobacco yet still so fresh and lively. Great concentration and silky. Excellent.

Cantina Valpantena
Valpantena, meaning, valley of the gods, in Greek, also translates to, valley of all vines, in Veronese.
Valpantena is a successful co-op, which was established in 1958.
It started with only 10 growers and now includes 400 growers (paid by quality and quantity), harvesting 800-hectares of vines from Soave to Lugana.
They employee three full-time winemakers who are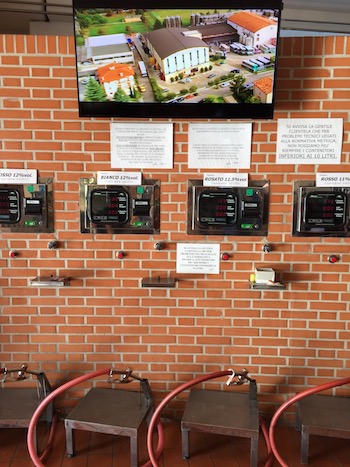 responsible for 10-million bottles annually, plus enough for a substantial bag-in-box and bulk local wine sales business.

Right above: Traditional wood drying racks called Arele
Right below: Cantina Valpantena does a thriving business with locals for box wine and refills.

Wines
Baroncino Chardonnay 'Anfora' Del Veneto, 2016
This Chardy saw lees contact and some barrel age, in small neutral barrels for three months.
Expect attractive notes of creamed pears and golden fruits wrapped in smoke and nutty tones with caramel and spice.
It is fresh, clean and quite tasty overall; easy drinking and well balanced.

'Torre del Falasco' Garganega, 2016
The Torre del Falasco line is Cantina Valpatena's flagship, it is the bulk of their production. Here, lovely floral notes (think fresh cut flowers) and lemony aromas dominate - golden fruits and guava light up the palate. There is a pleasing oily texture, offset by a vibrancy and a juicy a kiss of sweetness.

'Torre del Falasco' Corvina IGT, 2016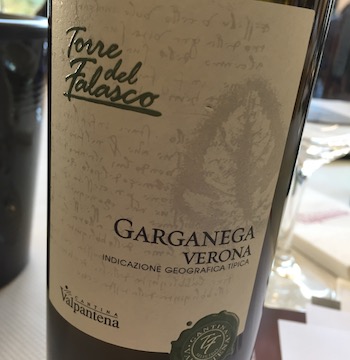 A portion of the grapes are dried for one month to add depth and intensity.
The wine is grown just outside of the DOC, which is why it is labeled an IGT.
Expect smoked cherries, leather and fine spices with tart, small red berries and some herbal undertones. Palate is sweet and juicy; high-toned berries, grape-y flavours, wild herbs and tealeaf.
Again, quaffable and tasty - a goood everyday red.

'Torre del Falasco' Valpolicella DOC 2016
Initially quite closed; however, it is earthy and ruby-hued with violets, rose petals and juicy purple and red berries. It has a cola-flavoured palate—juicy and bouncy and extremely drinkable. The tannins are sweet and ripe.
A blend of 70% Corvina/Corvinone, 20% rondinella and 10% Cabernet Sauvignon.

'Torre del Falasco' Valpolicella Ripasso Superiore, 2014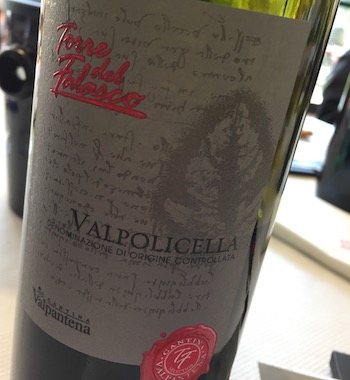 Sweet, ripe and fruity palate and more textural tannins. Dry and classic character. Smooth and balanced overall, with textural but ripe tannins on the finish.

'Torre del Falasco' Valpolicella della Amarone, 2013
A distinctly meaty and savoury style; spicy and smoky with dried cherries, prune and toasted spice. Dry tannins but sweet character overall. Not bitter, but some attractive chocolaty and coffee undertones.
Aged in Slovenian, French and American oak.

'Torre del Falasco' Tesauro Recioto della Valpolicella, 2012
A blend of Corvina Veronese and Rondinella with classic aromas of dried fruit, molasses, licorice and spice and smoke. Attractive weight and not too sweet. Chocolaty and dried cherries, slick and concentrated with a lengthy finish. Pairs well with the cookie-like Dolce Artigianale Sbrisolona.

Tenute SalvaTerra

Located in Negrar, in San Pietro in Cariano, Tenute SalvaTerra, a stunning 11-hectare estate, was resuscitated in recent years by a group of investors in a club deal.
First established by the Furia family in the 1990s, the current estate (a 16th century mansion called Villa Giona, home to orchards, gardens, olive trees and a pond), was purchased and became a hospitality center and agritourismo with the additional capital from its investors.
The beauty of the grounds lures plenty of weddings.
Additionally, the investment led to improvements in viticulture and technology in winemaking.
Previous to the SalvaTerra purchase of this historic estate, Allegrini had planted Merlot, Syrah, Cabernet and Sangiovese on the site. SalvaTerra then re-grafted the vines with local varieties in 2014, with a focus on the
Oseleta variety.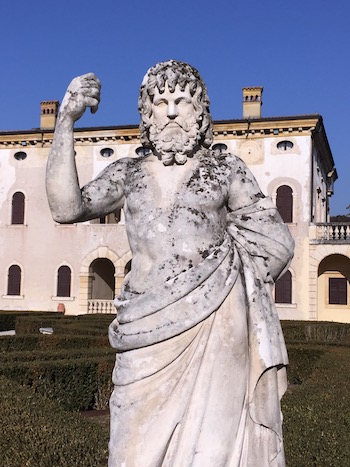 SalvaTerra feels that with tannic wines returning to vogue, Oseleta is a solid choice.
SalvaTerra also owns 200-hectares in Prosecco; 100 of Glera and 100 of Pinot Grigio.

Wines
Prosecco, NV
Classic floral and fruity with some honeyed notes. It is moussey and fresh, juicy and fun. Prototypical Prosecco.

Valpolicella Classico 2014
Sweet and spicy, laden with red cherry and summer sun-warmed fruits layered with some clay/earth notes. The palate offers smooth texture doled out in a classic style showcasing tart red fruits, cocoa, spice and fine tannins. A straightforward and unoaked wine, a blend of Corvina, Corvinone and Rondinella.

Valpolicella Ripasso Classico Superiore, 2013
80% of this wine spent 8 months in barrique,the rest in stainless steel to age. Expect a chocolaty wine with ripe berry notes, dried cherries, tobacco and spices. It has a supple entry and attractive acidity. Flavours of tangy red fruit, bittersweet cocoa and spice cocoa. A rustic wine with dry and powdery tannins.

Corte Giona Amarone della Valpolicella, 2013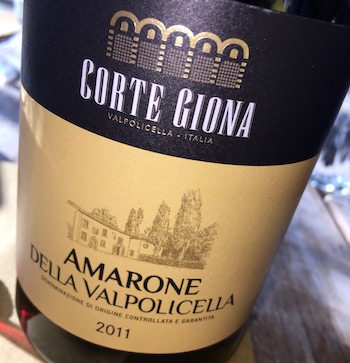 A classic, yet elegant style, with aromas of tobacco leaf, cherry, licorice and violets
Very fresh and sturdy but also outstanding fruit expression. Attractive weight, albeit not glycerol in form, classic in style. Fresh, vibrant and bouncy—youthful but delicious.
Excellent.

Valpolicalla Superiore, 2009
Expect dried cherries and tea leaf, inviting licorice, chocolate, ripe summer fruit, dark chocolaty undertones. Intense and classic in style with cigar tobacco, mocha and spice.

Valpolicella Riserva Superiore, 2007
Lovely sweet dried cherries, leather and fine spice tones. A silky weight, very fresh for its age, still excellent bones and classic elegance. Lively and juicy.
Great with aged cheeses.


Montresor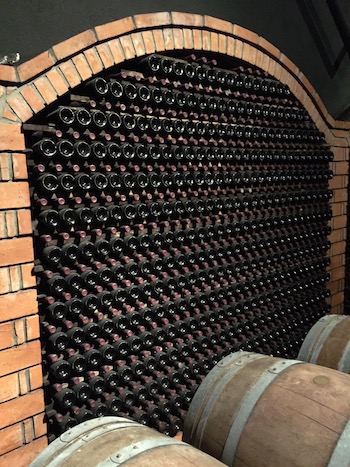 A branch of the Montresor family came to Italy from France, 200 years ago.
Viticulturists, they settled in the Veneto, near Lake Garda.
Considered one of the oldest winemaking families in the region, they are also credited with being the first to make Amarone (as we now know it), in the 1960s.
Prior to that it was even more intense and Port-like.
Now in the hands of the fourth generation, Montresor has grown to 2.5 million bottle production per year. Their recognizable black, bowling-pin shaped Amarone bottle is a favourite in Western Canada.

right: In the historic cellars at Montresor
below: In the drying room with winemaker Corrado Benedetti.


Wines
Primo Ripasso 'Casteliere Delle Guaite', 2014
Primo refers to the first pressing from dried grapes (allowed to be pressed up to 3x) and it spent 2 years in large oak casks ageing, no barrique.
It is an elegant wine, proffering spicy and sweet cherry aromas with cedar chips, licorice and cocoa.
The palate is focused and bordering on austere.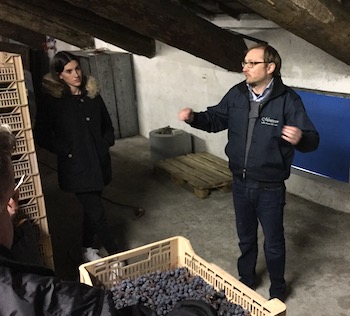 Concentrated and potent but not jammy at all. Quite a rustic and traditional style, youthful and tightly wound still.

Amarone della Valpolicella Classico, 'Capitel della Crosara' Monopolio Montresor, 2010
This wine comes from old vines, up to 50 years of age and is a field blend of the classic Valpolicella varieties.
Chocolate, roasted nuts, tiramisu and peppery spice aromas are delivered to the nose. Palate is plush and silky although still youthfully awkward, with quite firm and tight tannins.
Impressive concentration and the generosity of fruit I detected on the nose comes back on the mid-palate. It is liqueur-like in its intensity and flavoured with peppery spice. leather, savoury/meaty undertones and sweet ripe fruit. It wraps up with chalky chocolate tannins. The acidity is very flashy and it is fat mid-palate, then tapers into the finish.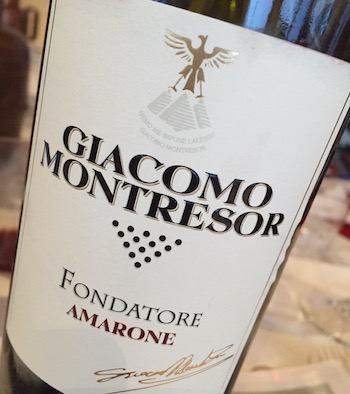 The 2003 of the same wine offers dried herbal/botanicals, leather, raisins and dried cherries, spicy with sweet red plummy notes alongside fresh briary berries - a silky and plush nose. Palate is fat and broad, tapering slightly toward the finish. Good breadth overall with spicy cocoa, tobacco and cedar, intense licorice and vanilla with a peppery finish. Powdery and dry – seed tannins.
Extremely classic style of Amarone – great youth and acidity overall, despite the hot vintage it was born into. This vintage, Montresor recommends minimum three more years yet to start drinking.

Giacomo Montresor 'Fondatore' Amarone, 2003
This wine from the 2003 seems to show much more advancement of age on nose; oxidization, bruised apples and bruised cherries, which differs from the Capitel. The impression of sweetness is more dramatic here though—especially on the finish. It is powerful, has flavours of toasted spices and vanilla, white pepper and cocoa. The power of this wine comes later in palate and very dry, skin tannins. Powerful finish with hints of fine white pepper and cocoa. Traditional styling, and its suppleness is notable in the entry to mid-palate.

More Montresor reviews


Pasqua

The family-owned Pasqua is a Venetian company, which was established by the Pasqua brothers who settled in the region after leaving from Puglia in 1925.
When the third generation took over (Giovanni, Riccardo, Cecilia and Alessandro Pasqua) in the new millennium, they grew the company, expanding into an import company based in New York, and seven years ago, moving the main production and offices to San Felice, Valpolicella.
In part for the sake of larger production facilities, but also allowing them to produce Amarone.
While Valpo wines are an important part of the Pasqua brand, their flagship remains their Pinot Grigio, which Riccardo Pasqua

(right)

noted, should fall into the expected addition of DOC Venezia, next year.
Within Pasqua's multi-million bottle per year production,

they also make a significant amount of Prosecco and six-percent of all production is bag-in-box.
Locally, you might recognize their globally successful Romeo & Juliet label, which was launched in 2014.

Wines
Prosecco Extra Dry, NV
Expect mineral and leesy notes woven with tree fruits. It is crunchy and earnest with nice restraint, more than the prototypical style. A textural phenolic finish, adds interest.
Very good.

Prosecco Treviso Brut, NV
This fizz is more fruit forward and less serious than the extra-dry Prosecco. There is a nice element of cut flowers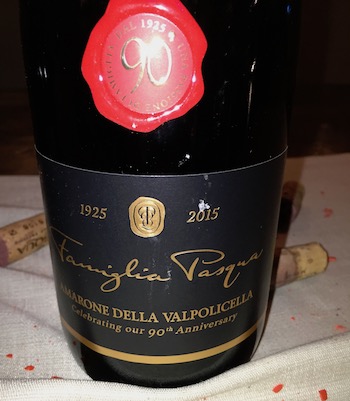 and it boasts attractive weight. Sweetish to off-dry but bouncy and easy to drink.

Mai Dire Mai Valpolicella Superiore DOC, 2012
Two wines are made under this label, this one and an Amarone.
Mai Dire Mai is a pet project of Riccardo's, it means, never say never.
He tells the story of falling in love with the terrain of a mountaintop vineyard and his fortune at being able to get access (via lease) to it.
It is 26 hectares, with great terroir and a lot of Oseleta (Oseleta, tannic and high acidity, is trending right now in Valpolicella). The wine is brooding and powerful, it is spicy and earthy with bitter chocolate, black plum, wild berries and back cherries. The site gives a lot of phenols an it shows. It is extracted and toasty, sapido and spiced.
It has broad shoulders and the tannins are fine and dry. Still tightly wound and youthful—one for the long haul.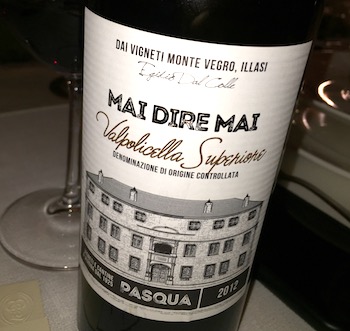 Amarone Della Valpolicella Riserva, 2006
Expect a juicy nose of dark cherries, mocha, toast and spice with iodine, dried violets, saddle leather, molasses and clove. Great balance, lively acidity and impressive style. It is powerful yet elegant with a glycerol weight and lengthy spiced finish.



More Pasqua Reviews


Zanoni Pietro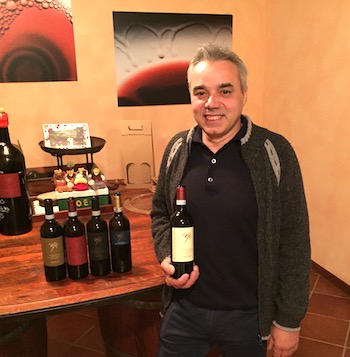 Pietro Zanoni's father was wine as a grower.
Keeping it in the family, Zanoni

(right)

returned to his home to help his father and began making his own wine in 1998.
He now produces 22-thousand bottles from 6.5 hectares of Corvina, Corvinone and Rondinella.
He has a new winery, north of Verona and his vineyards are pretty much organic. He does not use pesticides or chemicals in the vineyards, but like many, doesn't necessarily buy into the idea of certification or the cost involved with it.

Wines

Valpolicella, 2013
This fresh wine spent 8 months in old barriques. Unquestionably spicy and vibrant it has a clean and modern style. Straightforward and charming yet precise and stylish
with attractive red cherry and current/red berry tones.
Supple entry, classic tannic composition and good balance.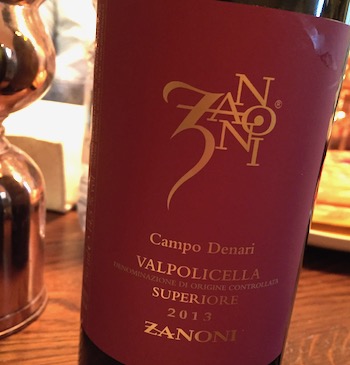 Valpoicella 'Campo Denari' Superiore, 2013
The grapes for this wine are grown on rocky, dense and basalt soils, they were dried briefly for several weeks and then spent 18 months in barrique. Mostly Corvina with 5% Rondinella, it is laden with raspberry and blueberry, vanilla, and baking spices, star anise/licorice and roses/lilacs.
The body and structure are quite unique; it has notable minerality, yet is very modern in style. Pure fruit expression and although the oak shows through on finish it seems to be well-handled and balanced, overall.
A pretty wine; pristine, juicy and charming.

Zanoni Valpolicella Ripasso Superiore, 2013
Very high-toned and bright fruit, juicy and pristine with summer-warmed berries, notably raspberry with some dried cherry notes and pipe tobacco,
The palate entry is sweet, it boasts good structure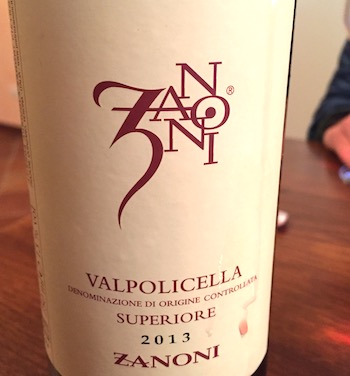 and firm dry but sweet tannins kick in mid-palate - the finish is quite grippy.
This wine spent one year In barrique then in bottle for almost 2 years. It is made with a good dollop 40-year-old Corvinone (40 years old vines) from hillside vineyards.

'Zovo' Amarone della Valpolicella 2013
This wine was gritty and closed when I first approached it. I was able to pull some chocolate, espresso, cherry and plum, and tobacco notes out of the nose. Expect sweet fruit on entry then grippy tannins kick in again on the mid-palate. Generous fruit keeps it from being brooding, it has a nice weight but is not a fat wine. Very clean, overall. Zanoni adds more bottle age on this one - longer than barrel age.
The blend: 40% Corvinone, 50% Corvina, 10% Rondinella.


Novaia

Novaia was perhaps the most compelling visit during my stay in Verona.
I found the wines to be quite ethereal, feminine and wonderfully precise and unique.

Hilltop, at 300-400 meters above sea level, above the village of Marano is seven-hectares of vineyard belonging to Marcello Vaona

(below right)

and his family. Vaona took over running the winery (winemaking) from his father (Gianpaolo) and uncle (Cesare) several years back, they prefer to work in the vineyards. Meanwhile his cousin Cristina, organizes winery tours.
Marano village is the smallest of the five Classico areas - it is the historical heart of the region.
The vineyard is a mix of guyot and pergola, with a progression back to the old way of pergola.
Vaona agrees that guyot produces better quality, but on his site, the heat is more extreme of late, so pergola is better suited. And, since 2011 Novaia has farmed organically; the transition was complete in 2014. Vaona uses cow manure for compost but stops short of use of horns, or any reference to biodynamics.

"To believe in biodynamics, you must believe in it like you believe in god, and I don't believe in god, so..."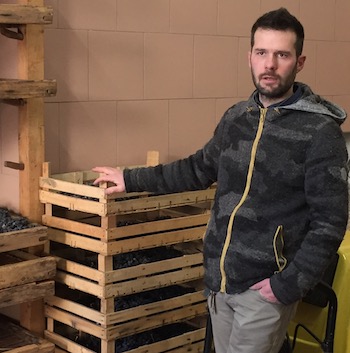 The old winery, house and historic cellar (from the 14th century) rest at 300m. His family has lived here since the 17th century and they made wine for personal consumption. In the late 1800s and early 1900s they began making wine to sell.
Nearby, on the property, Vaona's family has built an impressive new gravity fed winery.
The soil is heavy clay, in this original site, so Vaona makes Amarone from this suitable terroir. Higher up (nearer to 400m), the soil is more mineral-laden and Vaona prefers making his Valpolicella Superiore from there.

Wines

Valpolicella Ripasso, 2014
Sweet white cherry, which is reminiscent of raspberries, in my mind.
Lighter in colour with a lovely, mineral undertone and beautiful fruit. Stylish and feminine. White cherry notes are more typical to tufo soils like they have on the hilltops, Vaona explains.
Bouncy and exceedinly fresh with a mineral textural finish (almost ash-like), pure expression of the varieties with good focus.
Aged 12 months in barrel, the style of his ripasso is not full and jammy but more restrained.
Blend: 50% Corvina 30% Corvinone and 20% Rondinella.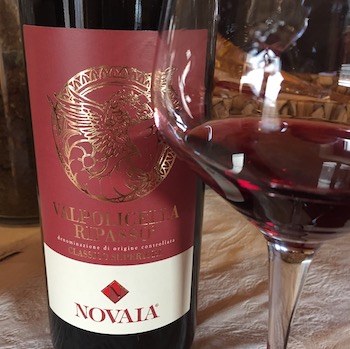 Novaia Valpolicella Classico Superiore 'I Cantoni', 2013
Grown on the more mineral tufo soils, Vaona dried the grapes for one month. He notes that tufo lends elegance to the wine but not bold structure. In that month he get only 10% of water loss in the grapes it is not much, but just enough to add additional structure.
This wine is earthy and fine boned very well balanced with super-fine textural tannins. Juicy and bright with a medium-plus body weight, but ultimately it can best be described as fresh and fine boned, but with excellent backbone.
50% Corvina 30% Corvinone and 20% Rondinella.


Amarone della Valpolicella 'Corte Vaona'
Only made in best vintages from best barrels – it's the family name, so they must be on their game with this one.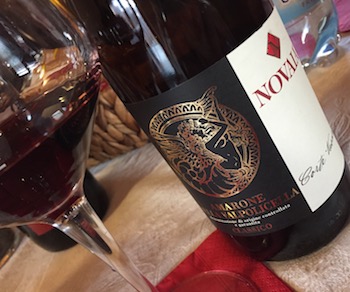 Expect an explosion of red fruits and violets and cedar; a fresh pristine wine. It is finely hewn and very pretty – a delightful and charming wine with a silky palate. Vaona says, "A wine is made to drink, not just to be tasted."
Delicious.

Amarone della Valpolicella Le Balze' Riserva, 2011
Grown in the clay type soils lower on the property, this Amarone offers wild forest berries, some small purple berries, tobacco and fine spices and a layer of dusty red plums. The palate doles out liberal sweet fruit; pristine and fine and stylish and chic. A fine example of Amarone; pure, expressive, and with a sense of place. Good tannic structure - from grapes, not oak.
Excellent.


~Daenna Van Mulligen