Aug 22, 2016
Lillooet, Kamloops, Shuswap & Lake Country
It's often hard to gauge the impact of an emerging region.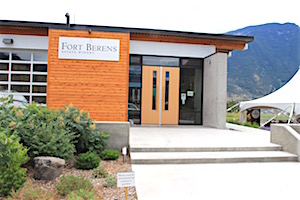 For instance, there are emerging regions in every winemaking country in the world I can think of (off the top of my head), but how far reaching is their existence?

For those of us in the wine industry, we live and breathe wine. We talk about it endlessly; we compare notes, share bottles and talk about our favourite recent trip or find.
It would get boring to those around us, if it weren't wine.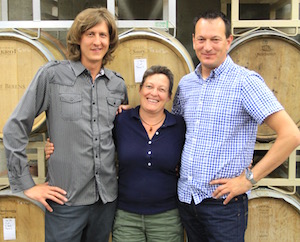 Think about it, wine is a ubiquitous thing – although I have met a person or two who doesn't drink it, or care.
However, that is rare. Probably in part because of the company I keep.

Wine writers and wine trade folk live in a bit of a bubble, of their own making. By the time something becomes mainstream, we've moved on. Wine people can be fickle and easily bored, so we like to discover new places and be among the first to write about, or visit, a place. Yet, sharing an emerging region, (as is talking about an unknown variety or controversial winemaking technique) with readers can be difficult for a number of reasons.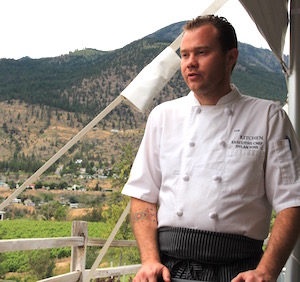 One of those reasons is how to sell the story. Are the wines available if we write about them, is there a cellar door to visit, et cetera?
Another is emerging regions are often playing catch-up. Meaning they are still discovering themselves. Typically they are dealing with growing pains; marketing challenges, a lack of knowledgeable talent in the vineyards or winery, or enough capital to accomplish most of these things. They may simply be too far off the beaten track.

In these days of social media, getting people to know you exist is easier than ever, but nothing beats good old-fashioned synergy.
In other words, working together: the whole is greater than the sum of its parts.
When the producers of a region work together, they can accomplish a lot, a lot faster as well.

So, for me, visiting an emerging region is about seeing its long-term potential.
Where does the region fit in the local, national, or possibly international, picture?
How unique are they or what they are doing?
That is exactly how I approached a recent trip to some of British Columbia's emerging regions: Lillooet, Kamloops and the Shuswap.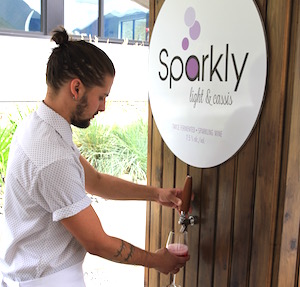 Lillooet
Departing from Vancouver, we drove the Sea-to-Sky corridor, past Whistler and Pemberton, continuing along the narrow and winding highway 99. The roughly four hours, 250 kilometers drive, is stunning.

Our first stop was one I'd been most eager to visit. I'd never been near Lillooet, but heard how beautiful the Fraser Canyon was and I was not disappointed.

Equally impressive is the new Fort Berens Estate Winery.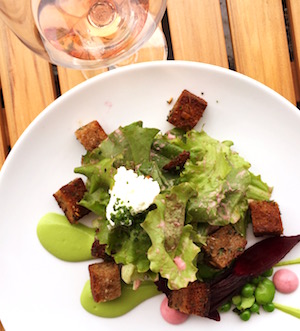 Modern and sleek, with a covered dining patio overlooking the estate vineyards, and Lillooet, the new structure is something to be proud of.

Proprietors, Heleen Pannekoek, and her husband, Rolf de Bruin (top right with Danny Hattingh), left their careers at ING Bank and Ernst & Young in Amsterdam, to move to Canada with their young family. After looking at other more expensive (Okanagan) options, they settled in Lillooet in 2009.
There they established the area's first commercial vineyard on 20-acres where the winery now rests.

Of course, making wine (like owning an airline) requires a large fortune to make a small one. Realizing they had run out of money, and without backers, might need to return to Holland, they took on partners. Today, there are a total of eight.
It was a necessary move. It allowed them to purchase more land,
build the winery and find a more experienced winemaker and viticulturist to join the team.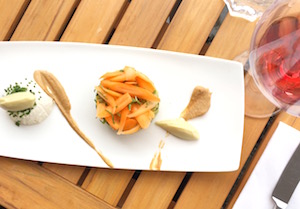 The strength of Fort Berens lies in its somewhat remote location, whereas most often, that is a curse. They have a strong following in the region and in the nearby tourism hub of Whistler.
The new Kitchen at Fort Berens provides a destination above and beyond the cellar door, and they chose well with Chef Dylan Foss (above right) at its helm.
He delivers beautiful, delicious dishes.
Foss utilizes as much sustainable local produce as possible – he estimates 98% is organic. Foss has developed strong relationships with growers, supports the local farmer's market and is thrilled with a
new,young generation of small farmers coming to the region.
He hopes to have a garden on site within a couple of years.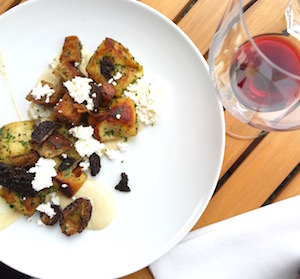 Vineyard Manager Megan de Villiers and her husband, winemaker Danny Hattingh (both from South Africa) joined the team in 2014. Both will be instrumental in the winery's growing quality, and vineyard expansions planned for the future. While half of the grapes for their wines are still being sourced from the Okanagan Valley, de Bruin admits he would like to be 100% estate wine, someday.

They've come a long way in seven years, forging a new path for themselves while providing a fantastic destination for locals and visitors alike. It's clear, as the vineyards age and quality continues to improve, the name Fort Berens will grow even more significant.

The region's additional vineyards and undoubtedly new wineries,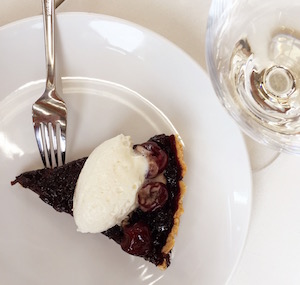 will cement Lillooet as another destination for wine lovers.

►Read Fort Berens wine reviews on WineDiva.ca

Photos: Sparkly Cassis, a Fort Berens original, is like a dry kir royal, on tap and currently only at the winery;
Salad of greens, Saskatoon berry vinaigrette, house-made ricotta, veg puree with 2015 Fort Berens rose;
Tabouli with fresh local veg, herb oil, goat cheese panna cotta with Fort Berens' 2015 Riesling and Pinot Gris; Morel gnocchi with house-made ricotta and veg puree with Fort Berens 2013 Meritage, 2013 Cab Franc; Cherry and strawberry pie with chantilly cream with Fort Berens 2014 late harvest Riesling.

Kamloops Wine Trail
The Kamloops Wine Trail is well on its way to greater recognition.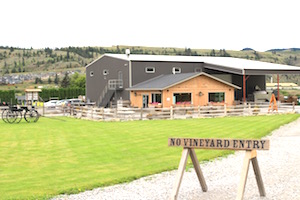 Thanks in part to its location along the Trans Canada Highway, some serious investment, and a good sized local population, word is spreading.
Additionally, there is some synergy.
The Thompson River Valley, is home to what is called, BC's newest wine experience.
Harper's Trail, Monte Creek Ranch and Privato Vineyard & Winery are all members of the Kamloops Wine Trail.
They've developed a website, hired an experienced marketing representative, and each brings its own unique character to the group.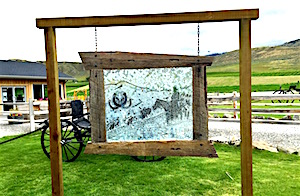 According to the website, these three licensed wineries hold six vineyards and a current total of 78-acres of planted vines, but by my math, that an understatement.


Harper's Trail

Harper's Trail Estate Winery was the first to come onto my radar several years ago.
While I was visiting the Okanagan Crush Pad in Summerland a few years back, Vicki and Ed Collett

(right)

dropped by to check on their wine.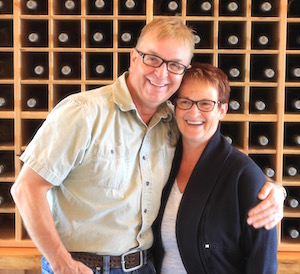 The wines, like many other startup labels, were being made at the custom crush and the Okanagan's respected winemaker, Michael Bartier, has been their consultant from the onset.
Ed Collett, who grew up in Kamloops started his own mining sales and service company in the late 1980s. Travelling for work to Chile and Australia made him realize the vineyards there bore similarities to his own region and after a getaway to the Okanagan, the couple decided to build their own dream at home.
They were the first to open a winery in Kamloops.
In total, the Colletts have 125-acres, 24-acres are under vine, and another 60-acres being prepped for planting.
They have a small tasting room attached to the current winery and plan on expansion over the next several years. First, an underground cellar will be built, eventually followed by a larger visitor's center, a restaurant, and an acre-sized pond to add biodiversity.

Top Picks
Pinot Gris 2014: fresh guava, peaches, honey and mineral notes. Pristine palate with pehnolic textural finish.
Rose 2015: made from Pinot Gris and Cabernet Franc (for colour) it has a pale salmony hue and notes of crunchy red berries, peach, apple and tangerine. Kiss of sweetness on the palate is balanced by bright acid. A fun pink with a honeyed finish.
Dry Riesling Pioneer Block 2014: marmalade, green apples, crunchy peaches, honey and tangy, piercing acidity. Great tension and focus with nice mineral component on the palate.
Riesling Silver Main Block 2014: fleshy stone fruits and honey dominate the nose while tart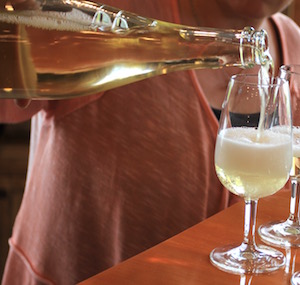 green apple, grilled lime and flinty mineral palate.
Blanc de Blanc: this wine is to be released in the fall of 2016, look for a racy fizz with nice leesy character.
Cabernet Franc 2014: definitely a food wine. Smoked bell peppers, dried herbs, spice tobacco and juicy wild forest berries. Leaner style, fresh and quite elegant but still grippy, tight tannins.

►More reviews from Harper's Trail on WineDiva.ca




Monte Creek Ranch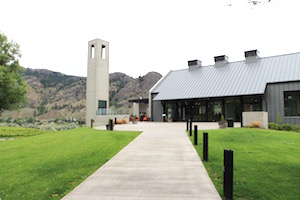 Owned by the Sidhu family (Sidhu & Sons Nursery Ltd.), known for fruit farming and nurseries, Monte Creek Ranch is an unstoppable force. Only 10-minutes outside of Kamloops, Monte Creek came to light in 2009.
The expansive 1200-acre ranch is home to vines, free-range cattle, goats and horses, haskap berries (a rare, delicate-skinned and tart blueberry-type berry - pictured right)) and beehives, plus a dramatic new visitor's center/winery/Terrace Restaurant, which opened in July 2015.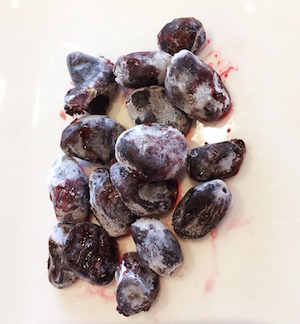 They have 65-acres under vine on two sites - one on each side of the river. Next year, close to another 20-acres will be planted. The cooler southern site (winery side, accessible from the highway) is planted with hybrids (developed in Minnesota), such as La Cresent (white) and Marquette (red), plus Foch. The Lion's Head vineyard is planted with, Chardonnay, Riesling and Pinot Noir and Gamay (both new), as well as Minnesota hybrids Frontinac Gris, Frontinac Blanc and Marquette
The owners have little direct involvement with the winery; instead they wisely hired a general manager with vast experience in sales and marketing.
Erik Fisher is the GM of Monte Creek, he and his team are given free reign to run the winery, develop the product and market it.
Winemaker, Galen Barnhardt, grew up in nearby Shuswap and gained experience in the Okanagan, Australia, Oregon and New Zealand.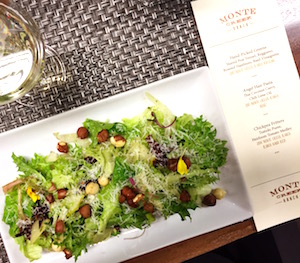 The drive-by traffic (local and visitors coming through from Alberta) has solidified the growing popularity of Monte Creek Ranch as both stopping point and destination for lunch. The place (restaurant patio and adjacent tasting room) was absolutely bustling when I was there in June.
The customer, Fisher notes, is not pretentious about wine, meaning they don't care about the use of hybrid varieties. However, with the focus on beef, at the ranch and with their target customer, big reds are still a necessity for Monte Creek, so they do buy Merlot and Cabernet Sauvignon from the Okanagan Valley, among other grapes.

Photos: hand-picked greens, shaved pear fennel, Reggiano, roasted hazelnuts, basil vinaigrette paired with 2015 Riesling; Chickpea fritters, tzatziki puree, heirloom tomato medly paired with 2014 Ranch Hand Red.
Menu online here

Top Picks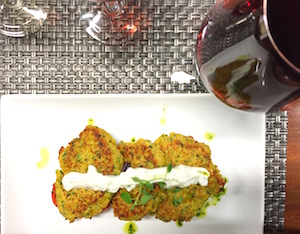 Riesling 2015: partial estate and partial Okanagan Falls (Covert Farms) fruit, it has a nice golden colour with tangy lemon and lime, mineral, crisp white fruits and a racy finish.
Hands Up White 2015: made from Okanagan fruit and La Cresent, Frontenac Gris and Frontenac Blanc from the estate. Spicy and lush tropical nose leads to a palate of banana, pineapple,and stone fruits. Fresh, clean finish.
Ranch Hand Red 2014: read review here
Cabernet Sauvignon 2014 Reserve: black currents, licorice, black cherries, mocha and pipe tobacco. A powerful, bright and almost chewy palate, with cocoa, spice, espresso and smoke. Weighty and potent. (Cabernet Sauvignon, Merlot, Cabernet Franc).

►More reviews from Monte Creek Ranch on WineDiva.ca

Privato Vineyard & Winery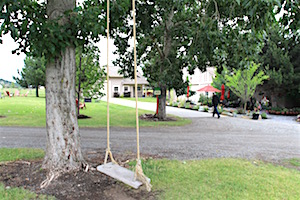 At the other end of the spectrum from Monte Creek Ranch, Privato is positively charming.
Owned by husband and wife, John and Debbie Woodward, this boutique winery is located on an 80-acre Christmas tree farm. Privato is described as idyllic and I would agree. Trees and vineyard warmly ensconce the grounds of manicured lawns and gardens.

Quickly gaining a following by discerning private buyers via their wine club and cellar door, Privato specializes in Chardonnay and Pinot Noir.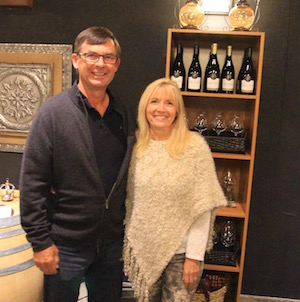 Sadly, they are not able to produce enough, and of a certain quality of clone to be fully estate wines.
They have four-acres of estate Chardonnay and Pinot Noir with a splash of Riesling and Ortega, planted. The remainder, Woodward buys from Vernon, Kaleden and the Naramata Bench in cooler years.
Jacqueline Kemp, winemaker at Penticton's Moraine Winery, is the consulting winemaker, while Woodward, a former forester and ginseng farmer, tends to the vines.
This is a house that likes oak, thicker staves and medium and medium plus toast barrels. Chardonnays spend 7 months in oak, full malolactic and up to 25% new oak. Pinots spend roughly 18 months in oak.
Top Picks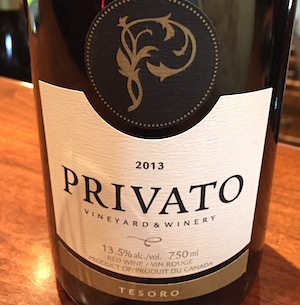 Rose 2015: made from Pinot Noir and Chardonnay it offers plum compote, red cherries and violets on the nose. The palate is gutsy with high-toned red fruit and an herbal underbelly.
Pinot Gris 2015: notes of guava, crunchy golden fruits and smoke. Follows the Privato house style of a heavy hand with oak with flavours of toffee and spice. Good freshness and a powerful toasty finish.
Chardonnay 2013: made from Kaleden fruit, it offers browned butter, griled lemons, hazelnut and toasted oak with a spicy, toasty mouthwatering finish.
Woodward Canyon Pinot Noir 2012: a nose of dreidflowers, purple berries and cedar chips (reminiscent of a Central Otago style). The tannins are textural, there is good grip and flavours of tea leaf across the finish.
Tesoro Pinot Noir 2013: differs from the Woodward Canyon with a distinct mineral character - clay, wet stone... restrained fruit but a juicy palate.
Grande Reserve Pinot 2012: lovely floral nose with black cherry, toasted spices, cocoa, espresso. A complex and substantial Pinot with weight, acidity and structure in spades.




Shuswap Wineries

The Shuswap winegrowing region can be most easily described as charming.
Located north of Kelowna and east of Kamloops, it is noted as one of the most northerly wine regions in North America.

The current Shuswap Wineries association is made up of six wineries: Celista Estate Winery, Larch Hills Estate Winery,
Marionette Winery, Orvino Winery, Recline Ridge Winery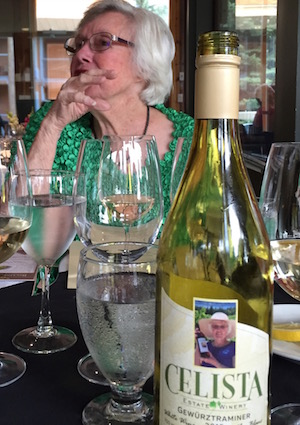 and Sunnybrae Vineyards & Winery.
You may have heard of one or two, or, if you're a frequent visitor to the beautiful Shuswap lakes area, you may have even visited some – however, not all of the northern wineries are members of the association.

The region is primarily made up of four valleys, each with its own microclimate.
Summer days are warm and dry, nights cool and fresh. Little to no irrigation is needed as winter snows take care of most water needs.
The vineyards are located on plateaus, benches and lakeside locations.
Some do supplement their wines with Okanagan grapes.

Overall, this is a cottage industry and not a new one (Recline Ridge's vines are 22-years-old). It plays an important role in local spirit, and adds vibrancy to the region's tourism.

However, between talking to winery owners and noting the association's website slogan, "The BEST north of the Okanagan!" one quickly senses a rivalry of sorts from the Shuswap wineries toward her southern big brother, the broadly recognized and lauded, Okanagan Valley.
It seems pointless, as the Shuswap is completely unique.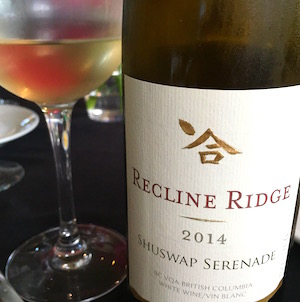 The production size, climactic conditions and varieties planted; among other things, ensures it will never rival the Okanagan.

And that's okay - I think she compliments big brother.

There is a sense the region has been overlooked, that they've been left to fend for themselves.
Unless searching for it, there's very little information available on the region. Although a recent (printed March 2016) Wines of British Columbia booklet - Discover the wines of British Columbia - does place emerging regions (Shuswap, Prince George, Lillooet, West Kootenays and Kamloops) on its map.
So, things might be about to change.

There appears to be adequate synergy within the six of the current association. Some wines are better than good, and despite a substantial portion of the plantings being cool-climate secondary, crossed or hybrid varieties, the customers don't care.

As an example, the varieties planted include: Ortega, Madeleine Angevine, Kerner, Siegerebe as well as Gewurztraminer, Pinot Gris, Marachel Foch and Pinot Noir.
The winery's cellar doors sell the lion's share of the region's production
with the rest is sold through local wine stores and restaurants.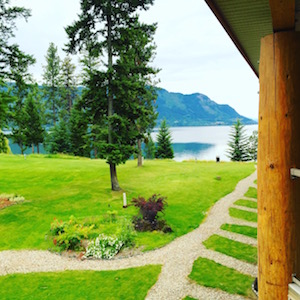 I sat down for dinner at Quaaout Lodge with the owners of Celista (Jake and Margaret Ootes) and Recline Ridge (Graydon and Maureen Ratzlaff) in late June.
The next day, I paid a visit to Sunnybrae, meeting winemaker Jessie Steinley.

Top Picks
Celista Gewurztraminer 2015: classic perfumed style with rose scented cold cream, lychee, exotic spice and citruses. Tangy, wonderful weight and concentration with a mouthwatering finish.

Recline Ridge 'Shuswap Serenade' 2014: an equal blend of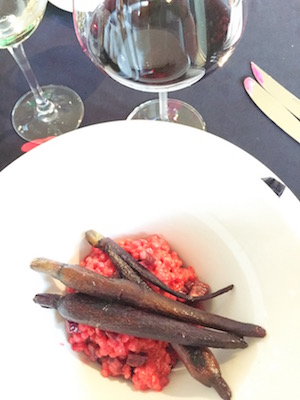 Madeleine Angevine and Sylvaner it offers mineral notes, spring blossoms and crunchy white fruits. Dry and crisp.

Sunnybrae Vineyards & Winery 'Turner Road' White 2014: a pretty wine made of Kerner and Schoneberger. It is a straightforward but charming white, pristine - crunchy fruit shines here.

Sunnybrae Vineyards & Winery Ortega 2014: stone fruits, honey, orange Muscat notes. Overall bright and honeyed with lively acidity.

Sunnybrae Vineyards & Winery 'Bastion Mountain Red' 2015: picked at an impressively high (27 brix) sugar level, it is inky in colour with oodles of chocolate and a kind of grapey fruit expression. Very nice freshness on this red.

Sunnybrae Vineyards & Winery Marachel Foch 2015: Attractive purple fruits, dried violets, smoked savoury undertones and nicely integrated tannins. Solid style.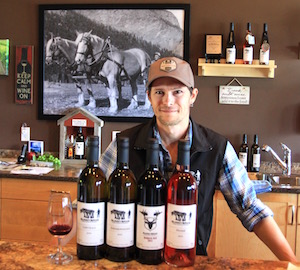 Photos of Shuswap Wineries from top:
The stunning Sunnybrae vineyard with Bastion Mountian in the back; Celista Estate Winery Gewurztraminer with owner Margaret Ootes who's also portrayed on label; Recline Ridge Shuswap Serenade; Quaaout Lodge, view onto Little Shuswap Lake; Quaaout Lodge's roasted carrot and beet risotto from Jack Sam's Restaurant; Jessie Steinley, winemaker at Sunnybrae Vineyards & Winery.
Lake Country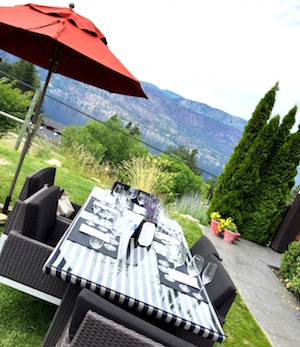 While I would generally be hard pressed to call Lake Country an emerging region, there have been some newish and notable additions to Kelowna's backyard.

Lake Country is considered part of the Okanagan Valley, the northern part anyway, and is located partway between Kelowna and Vernon.

George and Trudy Heiss established Gray Monk, the most notably long residents of the area, in 1972.
Arrowleaf, founded by Swiss immigrants, the Zuppiger family, followed early in the new millenium.

Today, 50th Parallel Estate Winery, Intrigue Wines and Ex Nihilo Vineyards have joined their ranks, adding texture, thus making the area an even more appealing wine destination.
I should note, there was an additional winery that popped up in my
research called Blind Tiger Vineyard, however I've never visited, nor have I tasted their wines.

Ex Nihilo Vineyards
Ex Nihilo is Latin, meaning, out of nothing.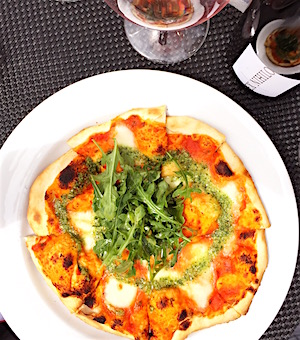 Jeff Harder and his (now) wife Dacoa came across a piece of art several years ago, while visiting Napa Valley. It was a replica homage to the sculpture on the Washington National Cathedral by Frederick Hart.
Harder fell in love with the work and later named his Lake Country winery after it. Harder is an indulgent character, an extrovert with who has dabbled in multiple fields and worked with celebrities such as Cheech Marin, and the Rolling Stones, on projects in the libations sector.

The built a manageable (14,000 case) winery and tasting room, along with a kitchen, which serves up delightful pizzas and salads under red umbrellas, on the grounds. Chaos Bistro is open throughout the summer, seven days a week, 11am to 7pm.
Menu here.

Jeff and Dacoa are partnered with Jeff's high school friend from Edmonton, Jay Paulson and his wife Twila. They have 25 acres of estate planted Riesling, Pinot Gris, Pinot Noir and Chardonnay with a bit of Schoneberger. They also buy fruit from further south in the Okanagan.

Top Picks
sX Tous Imagine, 2015: simple but fun. A carbonated blend of Riesling and Gewurztraminer with some saignee bleed-off for colour. Salmon pink-hued with herbal, stone fruit and zingy tangerine notes. A kiss of sweetness is balanced with lively acidity.

Pinot Gris 2014: Crunchy Asian pears, pomelo, wild honey and herbal tones. Nice weight, racy acidity and excellent length.

Riesling 2014: made entirely from estate hillside Riesling it offers racy lime and tangerine peel, green apples and spring flowers with a lovely mineral spine. Great acidity and focus, entirely quaffable.

Privata Chardonnay, 2014: browned butter and golden apples with a solid core of spice and toffee. A bit of reductive/struck match notes and some oxidative character on the palate. Overall good freshness. One half was fermented in barrel then aged eight months sur lie in French and American oak.

Pinot Noir 2014: a mix of estate and Vernon fruit, this is a fresh and leaner Old World-ish style Pinot. Notes of tealeaf, sour cherry, rhubarb, leather, cedar and spice. Tangy and juicy in the mouth.

Arrowleaf
Arrowleaf is truly a family project.

In 1986, Joe and Margrit Zuppiger, and their son Manuel, moved from Switzerland to Canada. They purchased their Seacrest Vineyard in 1996 and son Manuel went back to Zurich to train as a winemaker.
Finally established in 2001, Arrowleaf opened its doors to the public in 2003.

If you haven't visited the winery in a while, you're in for a pleasant surprise, the new winery and tasting room is very alluring.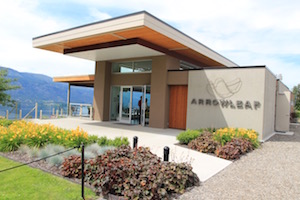 It is open and bright, modern and clean, yet perfectly suited to its Okanagan surroundings.
The view from the main visitor's room and patio, overlooking the lake and vineyards, is stunning.

After a tasting, pull up a chair on the patio and select some locally-inspired veg-friendly delights from The Kitchen counter, all prepared in house by Manuel's sisters.
Menu here

Top Picks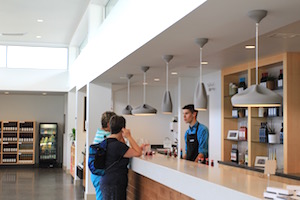 Pinot Gris 2015: a pristine character with oodles of guava and Asian pear with honey and white blossoms. Lively acidity, a honeyed sweetness on the palate but balanced with a mouthwatering finish.

Riesling 2015: made from young vines, this attractive Riesling still offers lovely ripe peachy-mango aromas a hint of green apple and liberal honey. Nice racy character and pure fruit expression.

Snow Tropics 2015: made of Riesling with 25% Gewurztraminer, Snow Tropics is another floral and honeyed offering, with aromas of apricot jelly, melon and peach. Pristine but sweet fruit and lemon verbena flavours with
impressive concentration and a long tangy and prickly finish.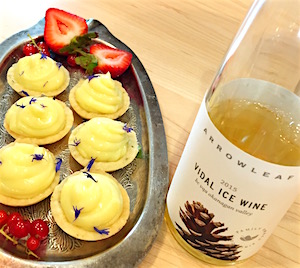 Gewurztraminer 2015: classic Gew notes of lychees, rose scented cold cream, marmalade, lime and spice. Quite sweet and exotic with a lengthy and spicy finish.

Pinot Noir 2014: a bit wild and wooly; smoky, bacon fat, fresh forest berries and rhubarb with smoked peat undertones. The palate shows tealeaf, toasted oak, and sweet fruit on the entry, it then becomes more herbal and restrained.

Zweigelt 2014: vibrant purple-ruby hue with aromas of cherry cough drops and savoury undertones. Exuberant palate, fresh and medium-bodied – reminiscent of a peppery licorice twizzler.

Vidal Icewine 2015: A first go, this is a delightful wine, perfect with lemon tarts (from The Kitchen). Expect creamy peach and apricot with honey and lovely weight, length and intensity.

Photos of Lake Country from top:
Dining under red umbrellas at Ex Nihilo; Margharita Pizza from Ex Nihilo's Chaos Bistro; Ex Nihilo Pinot Gris;
Arrowleaf, the view; Arrowleaf's new winery and tasting room; Inside the tasting room at Arrowleaf;
Arrowleaf Vidal Icewine paired with homemade lemon tarts from The Kitchen.


~Daenna Van Mulligen