Sep 20, 2013
In wine, there are no absolutes.
Similarly, there are no absolutes when it comes to pairing food with wine.
Although classic combinations exist, don't get caught up in pretentious partnerships - eat what you like and drink what you like.
Saying that, confusion is common and I'm never surprised when people ask for advice.

My response... keep it simple.
Snack Attack
I need to snack while drinking wine.
Small salty bites are not only a requirement when sipping in Italy, they're provided by the establishment. Order a glass of bubbly Prosecco in Verona or a refreshing white at a roadside rest stop in Abruzzo and prego a bowl of chips, olives, spicy nuts or cheesy snacks arrive.
Snacks make wine taste better and serve to fill your belly until you're ready for something more substantial. Sparkling wines love savoury and salty flavours – potato chips, olives, roasted nuts and buttered popcorn are a perfect pairing. My secret guilty pleasure – a buttery Chardonnay served alongside a chunk of smoked Gouda or Cheddar cheese. It's a glorious marriage.
Endless Summer
Temperature Control
Don't serve reds too warm. Ten minutes in the fridge before serving will liven up any red wine. Conversely, don't serve whites too cold. A white wine becomes dumb and loses character when its temperature drops too low.
Who doesn't long for warm days and nights on the patio? A glass of crisp white Pinot Grigio, a dry rosé or a lighter-bodied red such as Beaujolais, Pinot Noir or Chianti can make summer last all year. These wines are perfect with thin-crust Napolitana pizzas, fresh tomato pastas or seafood.
Foods from the grill such as red peppers and eggplant or burgers and ribs like to box within their own weight class. I always recommend a fruit-forward Zinfandel with barbecue or watching a hockey at home. The plush fruit, chocolate and sweet spice character of Zinfandel goes toe-to-toe with grilled casual fare or upscale junk food.
A good alternative will always be a succulent Aussie Shiraz.
Hostess with the Mostess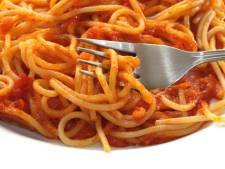 When serving a multi-course meal to guests, keep it straightforward. Don't panic perfection – your friends aren't there to judge.
For an impressive start, pour an inexpensive sparkling when guests arrive – it's the perfect social lubricant.
First courses tend to be lighter, so serve a lively white wine like Sauvignon Blanc, a dry Riesling or a Portuguese Vinho Verde or Spanish Albarino. They will sing with baby lettuces, mild cheeses or delicate white meat and fish.
If you progress into a heavier second course of meat or hearty mushroom pasta, add some weight to your glass with a Cabernet Sauvignon, Syrah or an Argentine Malbec.
When planning a final course, a sweeter dessert wine will wrap the evening nicely. A cheese plate fleshed out with dried fruit and nuts calls for Port while an apricot tart or peach crumble served with icewine is divine and will have
Simple Pairing Rules
Balance your weights.
Light salads and starters fare best with crisp light wines. Mid-weight fish or white meats welcome light-bodied reds or full-bodied whites. Hearty meats or stews love denser richer reds.
your guests longing for another invitation.
My wine suggestions:

Cantina Breganze makes a perfect year-round pink, Prosecco
Rosa di Sera
($21) that will cheer anyone.
Light, fresh and endless summer perfect is the
Stoneleigh Sauvignon Blanc
($18) from Marlborough.
A juicy red that takes to a chill down is the
Cono Sur Pinot Noir
($12) from Chile or
Mirassou Pinot Noir
($15) from Cali.
Going bigger and bolder? If you prefer buttery and creamy whites, try the
Château St. Jean Chardonnay
($20)
and the grill's best friend is
Brazin Old Vine Zinfandel
($22)
~ Daenna Van Mulligen
More articles you may be interested in
Wine 101 - How to Taste Wine
Wine 101 - How to Taste Wine - pt 2
Pairing Vegetarian Food with Wine
Tasty Wine & Snack Food Pairings
Become a Better Wine Taster