Jun 27, 2017
How important is pairing food and wine, really?

I think as a still new wine drinking culture, we're still dealing with catching up with established regions who have been making and drinking wine for centuries. The local wine in those regions pair almost seamlessly with the cuisine and there's not a lot of emphasis on wine-pairing dinners or on menus suggesting glasses to pair with a specific dish.

That's a New World phenomenon.

However, in our learning curve, things got muddled, classic pairings were being bandied about and then suddenly the snob factor shifted into 5th gear.

I really believe you should eat what you want and drink what you want, but I'll just as quickly admit that a good, or especially obscure pairing is an awesome experience.
The problem is, when you get in a room with a bunch of wine geeks, the conversation gets tedious, quickly.

Who talks like that?

No one—unless you're in the wine business in some aspect, or a dedicated wine enthusiast.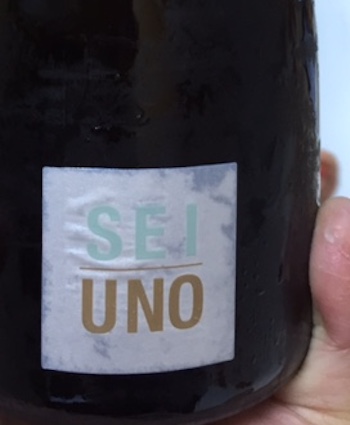 However, there is merit to discussing it, testing it, and pushing the boundaries of commonly held theories of food and wine partnerships.
I say this because when we drink wine from around the world, we don't necessarily have the same fish, meat, seasonings and vegetables, and our preparation may be entirely different.
Especially in North America, where we are a mosaic of cultures and ergo, cuisines.

Vancouver is especially diverse, but we have strong influences from Asian cultures, which is not to say we don't have our share of taquerias, trattorias, bistros, and tapas joints.

My point being, as a wine producer or wine producing region who wants to sell their wines here, you have to engage consumers. You have to go to the influencers: the buyers, the sommeliers, and the media.
You have to prove how well your wine will:

1) compete in the market
2) support the market
3) respect the market.

To compete, you must prove the quality and the uniqueness of the wine.
To support, you must have producers visit the market on a regular basis and engage with influencers, and with consumers to some extent.
To respect, you must demonstrated your wine can coalesce with the local lifestyle and culture, which includes cuisine.

Sometimes the best pairings come completely out of the blue and become an epiphany moment.

That's what happened on two recent occasions, with wines

from very different cultures paired with equally unique cuisines.

Valpolicella and Prosecco Superiore: with Miku Japanese

Okay, so it's not a stretch to think of Japanese food with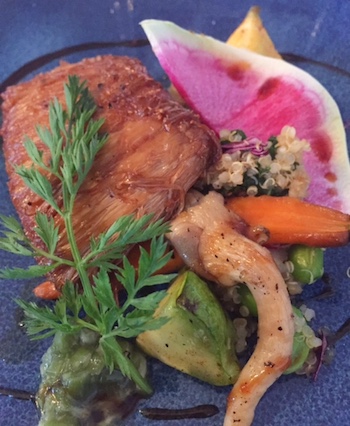 Prosecco, but the wines of Valopolicella? I'm talking Ripasso, Amarone and the like…

Delicate but flavourful fish dishes (sashimi and salmon oshi) and starters such as kale-gomae with sesame sauce, fried okra, roasted and pickled beets with strawberries, crispy tempeh with yuzu and balsamic, all paired exceedingly well with a selection of Prosecco Superiore Bruts, as expected

But then the reds came to play.

A soy braised tofu with a sweet/umami shitake onion sauce absolutely sang with a duo of 2012 Valpolicella Superiore wines, which I didn't think Miku's Chef de Cuisine, Yoshitaka Miyamoto could top, but he did.

Vegetable tempura was set down with a trio of salts (pink, matcha and spicy togarashi); the pairing was delightful. Especially the tempura with togarashi; the intrinsic fruitiness of the wine played exceedingly well with the spice.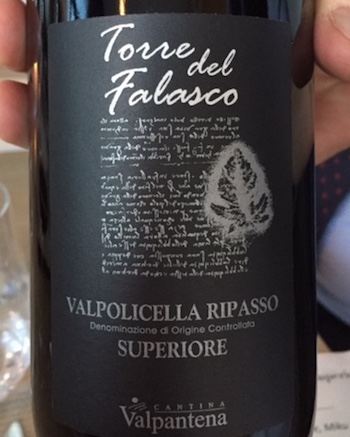 Which got me thinking, why not, California Zinfandel is notoriously good with sweet and spicy BBQ, why not a plush and fruity Valpo?

Finally, a dish that nearly had me in tears (my eyes had been moistening the whole dinner as it was), a teriyaki soy glazed enoki steak.
The delicate and stringy enoki mushrooms had been pressed into a "steak" the size of my palm and marinated. It was thick, almost fatty in texture and the sweet soy glaze marinade was an epiphany. That delicate fatty/meatiness (albeit completely vegetarian) was a perfect partner for a duo of Amarones, a 2013 and a 2006.
Of the two I would have to say, the younger and fresher wine was a slightly better pairing. Overall, the intensity of flavours in the wine and the dish were entirely complimentary. I was thrilled with the pairing.

The culmination of the dinner was inspiring.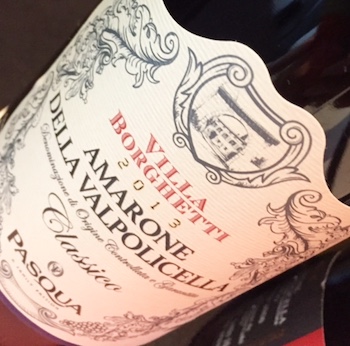 Taking a leap and partnering northern Italian wines with a cuisine, which is not only common but pretty much part of the fabric of the Vancouver food scene, proved how suitable and adaptable these wines are.
The wines were shown to be of excellent quality, and by respecting our culture and ergo our cuisine, the region of Valpolicella showed they can compete on a wine list and prove more than worthy. And finally, the annual tasting Valpolicella and Prosecco Superiore host and attend, shows a commitment to our market.

That ticks all the boxes; compete, support, and respect. And their success will be reflective of that.


Boschendale: South African wines paired with Moroccan fusion at Chambar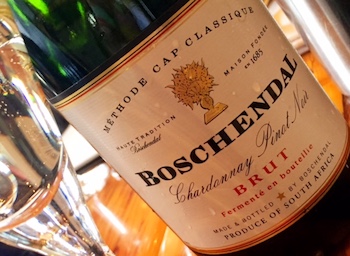 JC Bekker, Group Winemaker for South Africa's extensive Douglas Green Brands (DGB) loves a good Chenin Blanc. Thankfully he presides over more than a few across the DGB portfolio (which includes: Boschendal, Douglas Green, Tall Horse and Franschhoek Cellars among others) so was good enough to pour some Boschendal versions recently during a lunch at Chambar.

Boschendal was established 330 years ago in Franschhoek, and the farm is currently comprised of 2200-hecatares.
In additon to the winery, it's home to a thriving wine tourism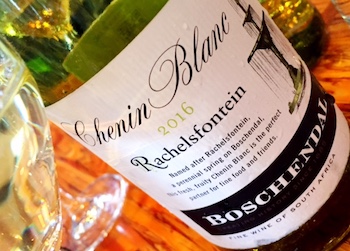 community, which includes historic, renovated vacation cottages, a butchery and a bakery, and a farm-to-table restaurant called Werf and a Farmshop & Deli. They have their own gardens and cattle as well. Additionally you can take in the spa, go for picnics, visit the rose garden, go horseback riding, or have a wine tasting, of course.

The winery has two dedicated winemakers, Lizelle Gerber for sparkling wines and white wines, and Richard Duckitt, who oversees the red wine production.

Bekker noted that the production of Chenin Blanc has been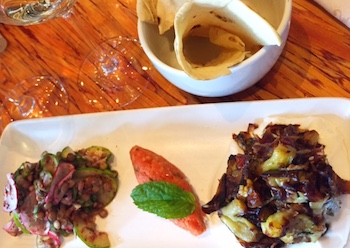 increasing over the past several years, which I know many wine lovers (including this one) are delighted for. It really is a versatile wine; the approachable fresh and bouncy versions, which offer great value; sparkling wines, which Chenin has an affinity for; oaked versions, which add weight and complexity; and sweet versions.

Bekker also brought some impressive Chardonnays and reds to taste, all paired with a heavily vegetarian but robustly flavoured Moroccan menu.
Something new for the visiting South African – and the pairings were delicious.

Mezze
Moroccan mixed vegetable salads with lentils, eggplant and zucchini, hummus, heirloom tomato falafel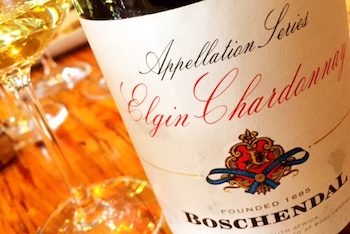 The wines included a vibrant and expressive Brut Method Cap Classique made from Chardonnay and Pinot Noir. It's an off-dry style (9gl RS) fizz with a creamy and leesy finish.
The trio of Chenins included the straightforward and energetic Pavilion Chenin Blanc 2016 with its lemony palate.
The Rachelsfontein Chenin 2016 with oak contact was my favourite, purely from a palate/textural persepective. More oily in weight and creamy in texture, it has a distinct saline quality. Overall, gorgeous.
Finally the Boschendal Sommelier Chenin 2016 has effusive lemony and
peachy notes with sweeter and riper fruit and beautiful weight and concentration—and almost a marzipan character.

Main
Ratatouille of
zucchini, eggplant, peppers, tomato, sunchokes, spinach, dill, ricotta, olives & okra with a side of quinoa tabouleh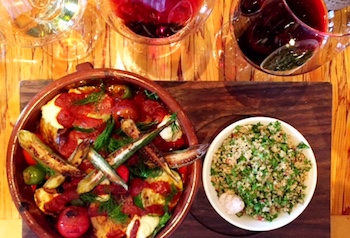 Boschendal Chardonnay 1685 2016 is all about umami; smoky and earthy and salty with golden fruits and sweet lemon flavours and fine spice. The acidity is mouthwatering but is not lacking mid-palate creaminess. The finish is lengthy.
The 2015 Elgin Chardonnay comes from a cool site, 500m above sea level. It is wonderfully elegant and precise. The palate shows quite a bit of restraint right now, but has finesse. It has smoky and spicy nuances spices and is creamy and lengthy. Also from the same region, the Elgin Pinot Noir is a delight with sweet raspberries and cherries,
mocha, vanilla and vibrant lifted floral notes; an expressive nose.
Slightly textural with high-toned red fruit rounded out with classic
wild herbs and grass, fine spice and tealeaf flavours.

Finale
Cheese plate with preserves and fruit bread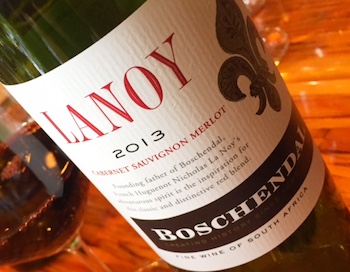 Boschendal 1685 Shiraz 2014 is succulent; bacon fat and savoury spices toast and rubber with plenty of dark earth, roasted coffee and bittersweet chocolate. The finish is spicy. Good entry-level value.
The fleshy Pavilion Shiraz~Cabernet Sauvignon 2015 is chocolaty and laden with black and purple fruit. It is full-bodied and offers core notes of meat and spice rub. Finally a red, which wows at under $20, the Lanoy 2013 Cabernet~Merlot has very rich nose; expect sweet Kirsch and vanilla, cassis, plush chocolaty and some herbal components. Good intensity and chocolaty tannins.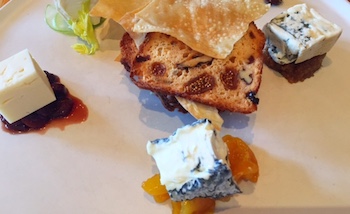 ~Daenna Van Mulligen