Jan 24, 2019
Roussillon

Beautiful places that also happen to be planted with vines are expected.
In fact it's rare that vineyards are, well, meh.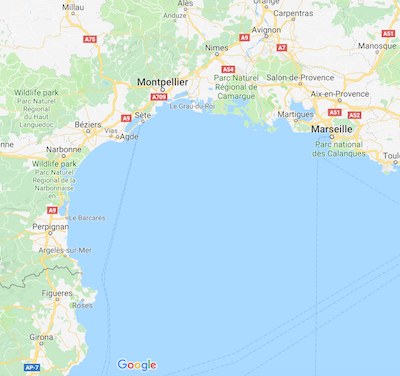 Every so often, a corner of the world will surprise me; generally with its intriguing blend of scenery, rare varieties, and/or singular cultural influences.

Arriving in Perpignan, on a windy afternoon in the fall, I was about to be swept away by all of three.

Oh, and wind is a prevailing noun in this corner of Southern France; especially those named Tremontane and Marinade.

Located along the Mediterranean Sea, and just north of the Spanish border, I was surprised to learn just how much Catalan influences permeate the food, culture, and language of the people here.

Settled in the Roman times, Perpignan became the capital of the kingdom of Majorca in the late 1200s; it became an important hub for the manufacture and trade of luxury goods. In 1344, it became a part of the County of Barcelona and then after being seized by the French during the Thirty Years' War in the mid-1600s finally became a possession of France.

Yet even today, the people of the Roussillon associate more with their Catalan comrades and heritage than with those the French.


This historic city is the anchor of the Roussillon wine region and the Pyrénées-Orientales Department.
It is place of red, white and rosé wines, but also of fortified sweet wines called Vin Doux Naturels or VDN (Roussillon claims to be the birthplace of fortified wines) and dry rancio (oxidized wines aged in glass demi-johns exposed to the sun) wines.

Traditionally, like many European winemaking regions, co-operatives were substantial contributor to wine production, erected at an imperative juncture in time. Today however, there are fewer; a younger generation has stepped up and decided to do it themselves, farm their family's own land and make wine from the vines, which used to go toward the co-operatives. That makes for exciting times and an injection of freshness to the industry.
However, it poses challenges too. Smaller wineries starting up don't yet have buyers or in many cases the marketing capabilities, not to mention the time to travel and show off their wares when they are in the field (literally), tied up making their living at home.

Roussillon has their share of these exciting artisanal wineries; some more established medium-sized producers, as well as large-scale operators.
Plus, some 25 co-operatives still account for 75% of the region's wine.

The Facts
Region
According to the Conseil Interprofessionnel des Vins du Roussillon (CIVR).

Roussillon is home to to 15 AOPs (Appellation d'Origine Protégée or protected area of origin), three IGPs (Indication Geographique Protégée or protected geographical indication).

In the 1960s, upwards of 70,000 hectares were planted to vine; today there are roughly 21,000 hectares. The total vineyard plantings have dropped steadily since their peak in 1880.

There are 24 grape AOP varieties allowed: Grenache Blanc, Grenache, Gris, Grenache Noir, Carignan Blanc and Noir, Macabeu, Malvoise, Muscat, Syrah, Mourvedre, Cinsault, Lladoner Pelut, Malvoisie, Roussanne, Marsanne, Vermentino and Viognier.

Vin Doux Naturels AOPs are: Rivesaltes, Maury, Banyuls, Banyuls Grand Cru, Muscat de Rivesaltes.

Roussillon claims to have the lowest yields in France, at less than 30L per hectare

Interesting trivia: The vast majority of lettuce in France is grown here and they are the largest growers of peaches and kiwis.

Climate
Dry hot summers, and mild autumn and winter months see an average of 3500+ hours of sunshine per year. Rainfall is a solid 500-600mm per year, which falls within a 100-day window.
As mentioned before, it is a windy region, which helps inhibit disease.

Soils
Roussillon is a mountain created amphitheatre of three valleys and three rivers, and is home to wide variety of soils such as: schist, granite, alluvial stone terraces, limestone, clay/silt, and sand.

Export Markets
Roussillon has long been a domestically appreciated wine, only a fraction are exported (only 13% in 2017), however, they are looking to increase that export market.
Currently their largest dry wine market is China, followed by Germany, Belgium, USA, and in fifth position, Canada. On the Vin Doux Naturels (VDNs) side, Holland is their number one export market, followed by Belgium, USA, Germany, and the UK.


My Memorable Sips
Domaine Gardies
Currently in their 8th generation, Domaine Gardies is a small domaine with a pet goat (which found them) that thinks it's a dog. Their estate has about 45 hectares around the winery and another 15 hectares nearby. Like most in the region, Gardies' old vines are gobelet but the newer plantings are VSP (trellis system in vertical shoot position) and since 2007, they have been farming organic.

Domaine Gardies Clos des Vignes, 2017 is a blend of Grenache Blanc and Grenache Gris from 90-100 year-old vines grown at their highest vineyard of 400m above sea level. It is a fragrant wine with yellow fruits, honey and citrus blossoms. Textural with leesy notes on the palate it has a creamy edge and memorable weight.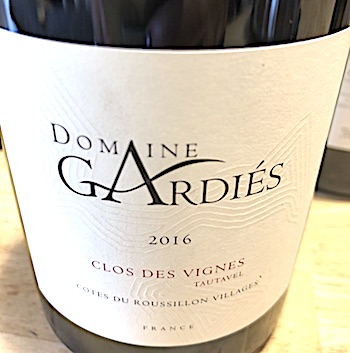 Domaine Gardies Vigne de Mon Pere, 2017 is entirely Macabeau and has a distinct apple-y aroma woven with straw flowers, honey and acacia. It has a citrusy and savoury palate with underlying saline and mineral notes. Like all their wines there is a restraint and precision here.

Domaine Gardies Les Falaises 'Tautavel', Cotes du Roussillon Villages, 2016 is a blend of Syrah and Grenache with Carignan, from 100-year-old vines; all three varieties are fermented together in one concrete tank. Impressive expressive purple fruits on the nose lead to a powerful palate with excellent levity and a dry, grippy finish of chewy grape skin tannin.

Domaine Gardies Rivesaltes Ambree 'Hors d'Age' Vin Doux Naturel is weighty, intense and potent; dried fig and apricot, charred orange peel and spice are wonderfully expressed.


Domaine du Clos des Fees
Herve Bizeul is a brooding character, whose English is better than he thinks (certainly better than my French); you'll discover that if you can actually get him to do so.
He has strong opinions and ergo, distinct wines that are reflective of his personality. He likes his floral prose, perhaps that was from his time as an apprentice food and wine writer, which was after being a sommelier, and then a restaurant owner. In 1997 he dug into the earth intent on getting into the production of wine, rather than the flogging of it. The resulting Clos des Fees (meaning fairies, fae) caused, in those early days, and in Bizeul's words, "despair, but also joy, passion and a good dose of madness."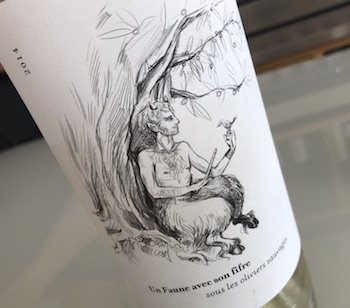 Domaine du Clos des Fees Grenache Blanc, 2017 has 10% Grenache Gris, the grapes come from 100-year-old vines. It has an intense and oxidative nose with nutty undertones. It is dry resin-y and spiced with citrus peel and anise/coriander notes along with honeyed hints. It has the perception of a creamy sort of sweetness in its glycerol weight and texture.

Domaine du Clos des Fees 'Les Sorcieres' 2017 Rouge is a blend of Grenache (30%), Syrah (50%) and Carignan (20%); the Syrah is from young wines, the other two from 40-to-80-year-old vines. It is essentially a fresh wine with bright blueberry and red cherry aromas woven with purple floral tones. Still, like his white wines, there is an oxidative character here, but this one is distinctively fruitier. A Beaujolais style: juicy and approachable, light and bouncy, with a raspberry finish.

Domaine du Clos des Fees Vielle Vignes, 2015 is a blend of Grenache and Carignan that offers red berry, cherry and spice on the nose. Fresh with great fruit expression, it trails bittersweet chocolate, fine spice and tealeaf flavours across the finish.


Dom Brial
Impressively, Dom Brial (established in 1923) is the largest cooperative in France. Thirty percent of their production is Vin Doux Natural and they have 250 producer/farmers who supply grapes; they also own their own vineyards.
Brial is emphatic that they are putting a lot of time on working with and managing the next generation of farmers, it's the only sustainable model for them. Dom Brial's first bottling of wine wasn't until almost 40 years after they were established, in the1960s.
The cooperative has three labels: Dom Brial, Chateau les Pins, and a simple and frivolous but popular bikini label called Rozy.

Chateau Les Pins Cotes du Roussillon 2014, is a blend of Rousanne, Malvoise and Grenache Blanc. It has an oily nose; piney resin notes are layered with yellow fruits, saline and nutty characters. The palate follows suit; it is spicy, tangy and phenolic.

Chateau les Pins 'Primage' Rivesaltes 2012 is a unique offering of 100% Grenache Noir. It is sweet and thick and grapey---positively unctuous, with chewy tannins on a long and textural finish.


Domaine Cazes
Sitting down with Emmanuel Cazes only 14 kilometers from the Mediterranean, in Rivesaltes, he explained the domaine was established in 1895, and they now hold 220-hectares within Roussillon. Cazes family partnered with AdVini (A large French vinification company that currently, according to their website, owns 2 333 hectares within 30 Domains, Chateaux and wineries), then over the next decade or so, Cazes sold the retail portion of their company to AdVini, and finally the beautiful and historical estate I was standing on.
Cazes also shared that 20 years ago Roussillon was home to 70 cooperatives, now there are half of those. He feels in the next decade, there will be only 10.


Les Clos de Paulilles Cazes 'Collioure' 2017 a pure Grenache Blanc with a hint of Grenache Gris. Here the closeness to the sea shows on the nose with salty and mineral notes, alongside white fruit and citrus. Nice weight and acidity. Racy, some texture on the finish and a slightly pithy, herbal lemon-balm finish.

Cap Au Sud, Cotes Catalanes, 2017, is a blend of syrah and Grenache. Wow, effusive vanilla and licorice, potent cherries and chocolate with cola and baking spices. Bittersweet entry, a bit on the lean side compared to the potency of the nose. Textural, bittersweet cocoa and coffee grounds, salty and spicy with a dry tobacco finish.

Rivesaltes Ambre, 2003 is a Grenache Blanc with natural pure grain (organic) alcohol added. It is smoky ands salty; dried apricots lounging in brine, figs, saltwater toffee and gingerbread. Same on the palate: saltwater taffy and burnt orange peel flavours. Intense, savoury and rich, but with more complexity than a fortified sweet wine, or a late harvest wine.

Muscat de Rivesaltes Vin Doux Naturel, 2017 utilizes Muscat of Alexandria and Muscat Petite Grains. Expect aromas of pineapple and orange blossoms, chamomile and peach, mango and honeysuckle. The palate is pure, expressive and precise. Very different, best described as clean, when compared to the oxidative character of the Ambre.

Domaine Madeloc

The first time Élyse Gaillard came to Banyuls was as a teenager. Her father, the eminent winemaker Pierre Gaillard, from the Rhone Valley, decided to invest in a steeply carved slice of land overlooking the sea in Collioure. He planted the vines on stakes, "en echalat" as you would see in Northern Rhone, especially Côte Rôtie. This offers the vines better protection from winds, of which Roussillon has an abundance.
The existing winery he purchased was in the lovely seaside town of Banyuls-sur-Mer and that is where his daughter resides, in the apartment above the winery. Her massive back yard is a garden, laden with fruit trees and glass demi-johns full of Grenache Gris, Grenache Noir and Carignan harvested from old vines. The rancio wine inside was harvested from the 2017 vintage.
This is now Élyse's stomping ground, her home; and while her father's name still adorns the labels of Madeloc, the wines are all hers.


Cuvee TreMadoc, 2016 Made from primarily Grenache Gris, with 20% each Roussanne and Vermentino. This is a powerful and oily white with expressive golden fruit, beeswax and wildflower aromas. It is pure, weighty and has a phenolic finish that lingers with flavours of fennel and garrigue.

Madeloc 'Penya' Collioure 2017 is made from select barrels (some new) of Grenache Gris and Vermentino. Expect spice and sweet nutty and peachy notes; bold, excellent power, structure and fruit expression with an oily and plush character.

Cuvee Magenea 2016 comes from 100-year-old Grenache and Carignan vines, the two were vinified together, and then blended with some Mourvedre from younger vines. To Élyse this wines IS Coullioure. The powdery texture of the tannins in this wine reminds me of iron-rich soils, and they are, it's obvious, iron-rich red schist.


Cuvee Crestall Collioure, 2016 is made from Mourvedre and Syrah, "In my father's style," she says, It is aged in 100% new oak. It's rich and dark, the Mourvedre shows through in all its glory: meaty and smoky and fresh, less meaty than the Mourvedre's from the Southern Rhone (in my opinion), but again, the schist tannins really show through here. Good weight and structure with sweet cocoa and sweet spice and floral flavours.

Banyuls 2015 is a symphony of rich red fruits, some dried berries and figs and sweet spice, textural fine schist tannins are present once again. It has weight, power and impressive freshness. Amazing length and structure, dry and mouthfilling—entirely unique in style.

Domaine de La Rectorie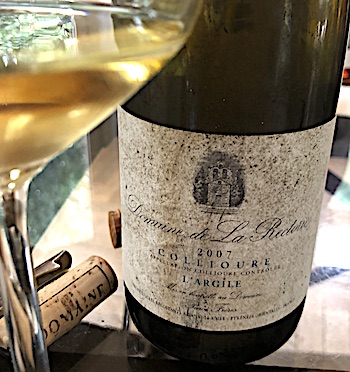 I visited the historic estate in Banyuls-sur-Mer (not far from Madeloc), where I met with Jean-Emmanuel Parcé. La Rectorie began as a collective of five men, which included Jean-Emmanuel's father and uncle, Theirry and Marc Parcé. Today, Thierry and Jean-Emmanuel are at the helm. They are in SAQ but are looking to sell their wines in western Canadian market too.

Côté Mer Blanc, 2017 is Grenache Gris and Grenache Blanc with a oily and fruity character with savoury undertones, garrigue/macchia and citrus with a nice whiff of lavendar. Overall, good body and weight; I can taste some oak here, but it's mostly integrated and trails flavours of banana on the finish.

L'Argile Blanc, 2017 a blend of Grenache Gris with Grenache Blanc, the aromas here are mineral and citrus dominated. It has good body and weight, with tight textural tannins representative of the clay soils it is grown in.
The same wine from 2007 is a beauty: beeswax, pine, crunchy green apple, and garrigue with strong lemon and toast. Weighty and oily, concentrated and special—reminiscent of a beautiful aged Semillon.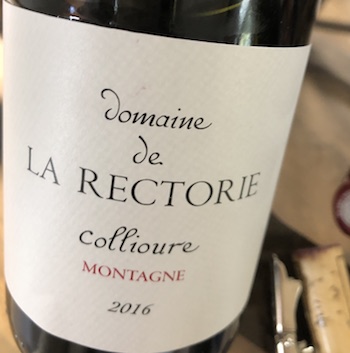 La Goudie Rosé, 2016 had one night of skin contact. Made from Grenache Noir, it is a beautiful ruby hue with restrained mineral, saline, tart red fruits and fennel aromas. Expect lovely expression, weight and fruit in this one, but it's not a budget pink, at 24 Euro. However, it boasts intensity, great balance and superb posture. Dry and powerful, umami and food-friendly finish, it more light-bodied red than rosé.


Montagne 2016 is a blend of Grenache, Carignan, Mourvedre and Counoise from vines that are on average 70-years-old planted at 400masl. Aged in 225L barriques it is a powerful but elegant red with excellent brightness, notable savouriness and those dusty but firm schist tannins.

Domaine La Tour Vielle

We arrived to La Tour Vieille in the rain, but it didn't hinder the stunning view from the winery, perched hilltop outside the village Collioure. The Banyuls appellation estate was established by Vincent Cantié in 1982 and is currently 13-hectares. They recently took on a new partner, a young winemaker named Thomas, who is needed to help the with the physical work load; this region and it's schist soils and hillsides is extremely difficult to work.
In 1984, Vincent he started making dry wines in the region; it was a new thing for Banyuls, with the success of those wines he slowly purchased more plots, planting mainly Grenache, and Carignan.

Collioure 'Les Canadells' 2017 the La Tour Vieille blanc has great expressive stone fruits and lime layered with lanolin and honey. It is weighty, has jubilant fruit and textural finish.

Collioure La Pinede 2017 is a Grenache dominant wine with impressive fruit; bright wild red berries and juicy cherries, spice and bittersweet cocoa. Schist tannins present well dominantly on the palate.

Banyuls Blanc Doux 2015: Honeyed and thick with pungent great macchia/garrigue and fennel with peaches and savoury undertones. The finish is nutty.

Banyuls 'Rimage' 2016 entirely Grenache Noir, this elegant Banyuls was one of my standouts; rich in character with vanilla, figs, plum ale and hints of licorice. It is delicious; substantial weight, expressive fruit and soft fleshy tannins.


Domaine Arguti

Ugo Arguti, his wife Marie-Christine and their daughter Angelique were living in Saint-Emilion. In 2004 they took a family holiday to Roussillon and, fell in love with a village called Saint-Paul de Fenouillet in Maury. Two months later, they bought a field of 3.6 hectares in that village and established the Arguti estate.

Domaine Arguti Ugo 2017 is made from Grenache Gris and is grown on shist at 300masl. It was half oak fermented, battonage stirred for nine months, and the grapes were left to hang longer on the vines for more ripeness, especially in cooler areas and vintages.
Arguti prefers grapes from old vineyards, that are also old clones. This wine is floral and fruity very pretty nose with honey and oak undertones. Good weight and spicey fruit on the palate.

Ugo, Cotes du Roussillon Villages, 2014 is a blend of Grenache, Syrah, Mourvedre and Carignan. Expect loads of black cherry, chocolate, vanilla and licorice—a modern style despite the vines 45-year-old pedigree, with good balance and lofty fruit. Nice power and backbone.

The Ugo 2015 is a Grenache Syrah and Carignan blend is immediately burlier on the nose. The palate is also more brooding than the 2014 version; dark and smoky and savoury with a bittersweet finish.

Maury 2015, a Grenache Noir is left hanging to late harvest until it achieves between 17-18 degrees of alcohol on the vine. Expect figs, honey, plums and spice cake, toffee, baking spice and espresso with licorice liqueur on the finish.

Valentina Macabeo 2013 is smoky with cognac tones.
It is wonderfully intense, sweet and ripe with layers of dried figs, honey and dried apricots. Weighty and powerful, yet entirely drinkable, it has a phenolic finish trailing sweet creamed butter flavours.


Domaine de la Perdrix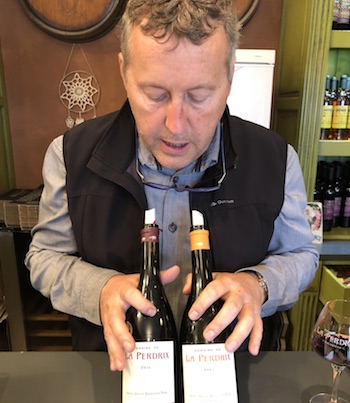 In Aspres, near the village of Trouillas, and only 15-kilometers from Perpignan rests Domaine de la Perdrix.
Established in 1811, the domaine was a farm of biodiversity, one that included vines, as was the norm. The domaine had long sold their grapes to a local negociant, but in 2000, under Andre Gil and his wife Virginie they began making their own wine. Then with a partnership with another family named Janicot, they built a new winery and cellar, and expanded production, which excluded the negociant.

The Gils had spent their careers working in hospitality across Europe and have a strong understanding of what people want. Their business model is unlike other producers in Roussillon—they make modern wines with appealing labels; they are in it to sell and do it well. 70% of their wines are sold in Europe and they make 15-20 different wines per year at a sum of 150,000 bottles.
The majority of their wines are sold through their own cellar door; they make juices and vinegar as well. Gil's grandfather was a painter and he had once painted a partridge (perdrix) that's where the name came from, "We needed a good name for the domaine; you need the grapes, the clients and the label/the brand."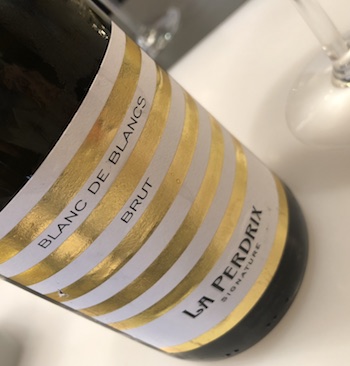 Bandoler Rivesaltes Ambre Hors d'Age is aged in Jack Daniels whiskey barrels, JD was happy to provide the barrels and their name is printed on the back bottle label in reference. As is a rule with JD, Perdrix can only use the barrel once. It is amber in colour with a strong brown spirit aroma of toffee, honey and dried apricots. The palate is warm and rich, with just a suggestion of the JD barrel it matured in; it's a nice touch.

Joseph-Sebastien Pons 2016 is a blend of Grenache, Syrah, Carignan and Mourvedre, which was aged 12 month in oak.
Expect juicy high-toned red fruits, fine spice, bittersweet cocoa and coffee on this fresh and balanced red.

Vin Mousseaux Blanc de Blanc is a blend of almost all the white grapes Perdrix uses. It has a good mousse, and is dry with pithy citrusy flavours.

Domaine Ferrer Ribière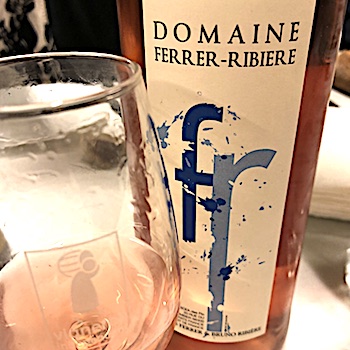 In the back of a small winery tucked into a residential street in Terrats, in Aspres (the land between Spain and Perpignan), is a mini kitchen with a hot plate.
Bruno Ribière was happily cooking up a fresh, organic meal (a highlight was the Catalan ratatouille and tagliatelle) while we sat at an ad-hoc table with his daughter, Mireille, as she poured the FR wines.
Bruno used to work with the CIVR, and then in 1993 he decided office life wasn't for him and began to create his own wines. He went into partnership with Denis Ferrer to do so.
They had 44 hectares then, but deciding to go organic, they have less,18-hectares which is not enough for low-yield years such as 2018 was. FR specializes in biodynamic, artisanal, and natural wines.

Bruno: "I have been working organic for 25 years; it was not a business decision, it was his philosophy. We got our certification in 2007.
60 years ago, my parents already had an organic philosophy, I've always had natural organic vegetables; I raised my children in the same way. My daughter is studying to become an herbalist."

She knew at age 15 she would follow in his footsteps, she's studied agronomy and is an engineer, and has worked in quality research, food services and marketing. Then she decided to work with her father, rather than the larger companies she used to work with. He's teaching her winemaking, "I want to learn from my father, before its too late," Mireille explaines.
"There's synergy between the plants and soil. My philosophy is to show the Mediterranean's experience; the food and wine are part of the experience, the wine can be spicy and powerful."

Grenache Blanc 2017 is from 92-year-old vines, "It's made in the same way they were made in the ancient times, in the Middle Ages. Now we are a little bit clean..." Bruno add with a laugh, "cleaner..."
Hazy and unfiltered, it has a tint gold and is lightly oxidative, they use battonage, and zero sulphites. It has a soft entry, is friendly and lightly perfumed with honey with faint sweet spices, yellow apples and fresh quince. It is dry, leesy, has a creamy weight and good concentration.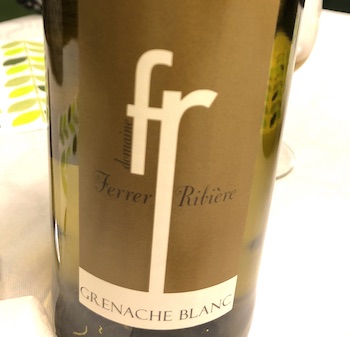 Grenache Gris 2017 has similar pinkish-gold hue as the Grenache Blanc, and is made from vines planted around 1960. This one is much more powerful and has notable sapidity (saltiness/savouriness) and a rustic lilt. It's a concentrated wine, clean but with natural character.

"Cuvee F" Rosé 2017 a darling pretty pale pink of cherry blossoms this charmer has strawberry jelly and cherry sweet aromas but a dry palate with juicy high toned fruit, spice, and pink grapefruit peel.
Made from Grenache Noir and Carignan and available in SAQ.

SYRAHnosaurusrex 2015 is a delight of purple fruits, brown spice and white pepper. The palate has sweet purple berries, it generous and supple with elegant polished tannins.

Mourvedre, Cotes Catalanes, 2015: I applaud the Mourvedres I tasted in Roussillon; I prefer their style, less brooding and meaty, with more freshness and levity. Chocolate and espresso notes are woven wild purple berries; the palate is supple with generous fruit. It's powerful, a bit rustic, but wonderfully delicious.

Cuvee tradition 2016 is a compilation of Mourvedre Carignan, Syrah and Grenache Noir. Complex coffee and dark chocolate chocolate are ayered with meaty dark fruits. It is textural in the mouth with dry and grippy but polished tannins.

Cana 2015 is an intense brooding wine delivering black fruits, toasted spices alongside some herbal notes.
The palate is sweet and generous; the power here is notable, but it's elegant too.


Mas Bécha
Charles Perez is a big man who resembles a cross between a lumberjack and an Aussie cellarhand; and he makes excellent wine.
We are standing on a vast swath of what looks to be reasonably flat vineyard in Aspres, but it has its undulations. It's 100-hectares; his father bought it in 1997 with the intent of selling the grapes. But when Perez took over in 2007 he pulled up a portion of vines and instead of selling the grapes, he started making wine. Today he has only 25-hectares of vines but has added the biodiversity of fruits, cereals and olives, and grasses for the sheep, which contributes manure. It is an organic contiguous vineyard. The AOP of Les Aspres (around the village of Aspres) only has 200-hectares under vine, it's a small portion of the CDR region, so even with 25-hectares, Perez has a good chunk of it.
The name comes from a riff on Charles and his sister Beatrice's names: BéCha.

"I make wines to drink." Perez says.
"I'm an addict to the tasting, if I need to travel, or pay to go to a fair, I go, to taste wines. I need to understand why some wines are so iconic—sometimes I'm disappointed, it's [the wine] about the marketing. I try to make balanced wines, I try to go deeper, and deeper, and deeper, to discover why a wine has left an impression on me."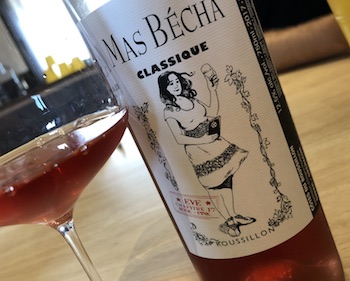 Mas Bécha Classique Rose 'Eve' 2017 comes from a bottle adorned with an image of his wife, Eve (you'll notice a trend, as all the Mas Becha labels are illustrations of family, done by different artists each vintage).
It is Grenache and Syrah and has a charming personality and pretty nose: floral with sweet red fruits. It gives the sense of sweetness and approachabilty, but is actually dry. It is one of the brightness, bounciest, and balanced fruity rosé wine I've tasted.

Mas Bécha Classique Red 'Charles' 2016 is 60% Syrah, 20% Grenache and 20% Mourvedre. It is made in a reductive style (tank) with no oak contact. Purple fruits and licorice, vanilla and sweet spice aromas dominate.
It is fruity and fresh with loads of life. In SAQ.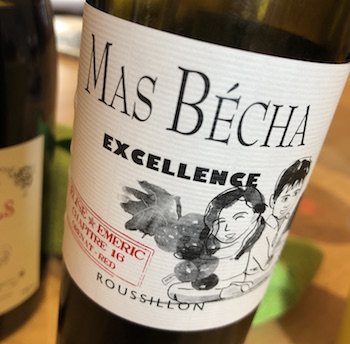 Mas Bécha 'Excellence' Roussillon 2016 is 80% syrah with 10-each Grenache and Mourvedre. It is earthy and savoury; bittersweet chocolate and smoked spices with wild black berries. The palate is sweet and juicy, ripe and lush, very approachable and modern and supple and generous.

Mas Bécha 'La Bergerie du Camps de Nylis' , Les Aspres 2013 is a GSM blend that is brimming with sweet fruit, cherries, dark mocha and dried rose petasl.
This is the only wine aged in oak Perez poured for us that day. It has good structure, weight and is well woven and harmonious.

Mas Bécha 'Excellence 'Elise and Emeric' Riveselates, 2016 is made entirely from Grenache.
It offers a lifted nose of cherry Twizzlers, vanilla, and red plums in syrup. It has notable weight and intensity. The power in this wine is entirely from the fruit. He makes this in large square INOX (stainless steel) tanks with good amount of oxygen that he allows in preventing it from being an overly reductive wine.


Domaine des Schistes

I'm seated in the window in a small restaurant named La Passerelle, around the corner from my hotel in Perpignan; the food is drool-worthy.
There, Michael Sire has joined me to talk about the Roussillon of his generation, and his wines from Domaine des Schistes—an apt name for the region's famous soil, and the coveted wines they produce.
Unknowingly it ends up being the perfect finale to a whirwind trip. I've been driving around with the CIVR for several days, but am only just begging to grasp the region and it's history as well as its struggles.
Michael Sire gives me honest insight—I'll share in my wrap up, which follows.


Schistes started as a family winery in1906 in Estagel, in the Agly Valley (between Maury and Rivesaltes).
Like many others in the region the Sire family grew grapes to sell to the co-operative.
Michael's father Jacques wanted to be a vigneron and went to Toulous, studying to become a winemaker for the co-operative; then he decided to make his own wine.
In 1989 he and his wife Nadine (Michael's mother) made their first wines and created the name Domaine des Schistes. Initially they sold wine in bulk, as they had no network to sell to.

Michael found himself taking on roles in the family winery. So, he decided to study enology, worked around France, New Zealand and South Africa.
He's a small producer though, he understands that as a farmer, most of his time is in the field, that travelling the world to market his products is imperative but nearly impossible, especially as he has a young family. "I realize you must go abroad. My father wanted to stay in the vineyards and I followed that [thinking], but then I realized you must go abroad. Yes, my father gave me a company with no problem economically, yes I invested to make it better, but we never invested in the market."

Michael's Rancio Sec is one of the most memorable wines I tasted in Roussillon. Made in a solera system (like Sherry) is a deep golden colour, and is very briney and yeasty (tasted like an en rama). Expect distinct salted olives, roasted nuts, dried apricots, dried straw flowers and green almonds.
An outstanding wine blending Grenache Blanc and Gris with a bit of field blended macabeo. The notable thing is the lack of stewed or bruised fruit; the purity here is crazy, as is the depth.
"My rancio wines are only made on calcaire/limestone soils as they give more minerality while schist gives more fruitiness, limestone gives saltiness." He wants the precision of minerality in these wines.


Le Parcellaire 'Casot d'en Gora' 2016 consists of Grenache Blanc, Grenache Gris and Macabeu. Expect a gorgeous purity of yellow fruit aromas with straw flowers, saline and crunchy white fruits. It reminds me in ways of Riesling or a Rias Baixas Albarino. Very pretty wine: precise, focused and pure.

Le Parcellaire 'Devant Le Mas, 2016 Is made from Grenache Noir and Lladoner Pelut (a cousin of Grenache) and is made entirely in concrete. It is ruby in colour and is brimming with high-toned red fruit, especially cherries, raspberry and violets. It is lifted and smooth clean and precise. Very delicious and good slightly chilled. The Carignan was planted on existing rootstock in the 60s.

Le Parcellaire 'Caune d'en Joffre' 2016 is Carignan, Grenache Noir and Syrah and has a very blue purple tinge and bouncy fruit aromas alongside fine spice and cassis. It is fresh and clean; his reds are like his whites in that regard. A fantastic wine, one with more texture, structure and acid than the Devant le Mas.
"I started de-stemming everything in 2016, I don't like tannic wines," Michael says. I could not agree more.


Wrap Up

I asked Michael Sire about the dwindling co-operatives and what's happening with a fresh new generation making their own history in a region that struggles for attention.

"Everybody is trying to arrive to his own history, to make their own name not their father's name. Roussillon is still very different styles, every vigneron has his own style," he says.

"We're having a renaissance, yes, it was 20 years ago it started, but it's still new. There are many [winemakers] coming here because it's cheap [land] and because they know you can make good wines in good terroir. There are also large producers who've come," he notes before continuing.

"I think we need to find the same way to go ahead together, and we are all trying to develop our businesses; maybe Roussillon is like Catalan, we have our own personality. You have a story to tell to your customer, if you have a story to tell, you need to be homogeneous.
"I like when people come here; he who likes wines, he who cannot make wine because [land elsewhere] it's too expensive, but now he comes to Roussillon, and he makes good wines. But the name [Roussillon] does not sell so he has to work harder to sell his wine—I would like the name Roussillon to sell the wine," he shares.

"Co-operative's sales are dwindling. We need people to come here, to help reinvigorate the region and the industry, to pick up the loss of the co-operatives.
But there are not enough people coming to make a new era. I'm happy if more people come, you don't earn lots of money, but there is lots of life here, lots of places to live in small towns," Sire underlines.

My personal sense: there needs to be more cohesiveness among the winemakers, especially the younger generation, as they are more willing to work toward the greater good. The CIVR is doing a great job of promotion, but there needs to be a marked attempt at a regional style—to pique the public's interest. Once you have that interest, you can narrow in on appellation variances and unique styles.

As Michael Sire says, "Everybody is trying to arrive to his own history, to make their own name, not their father's name. Roussillon is still very different styles, every vigneron has his own style; some like Loire and some like California."

Therein is part of the problem for the average consumer, the same thing that makes the region so appealing for cork dorks like me.

"I think we need to find the same way to go ahead together, and we are all trying to develop our business; it's not to make money, it's to continue.
We cannot make a tasting with all the people from our generation, and say okay, this is the great wine and this is bad wine--everyone has their own idea on what is great," Sire concludes.

So what is the way together, what does Roussillon need to put forward to the consumer, to pique their interest?

My personal thoughts: clean rancio wines will appeal to natural wine bars, and the geek squad; they are unique, but I'm not convinced they will achieve what Roussillon needs right now.
Sweet wine sales are dismal around the world, so VDN's are not the way.

From my tastings during my visit, the whites, single varietal or blends—especially those with Grenache Gris and Grenache Blanc are extremely appealing; especially with the white wine trend, internationally.
Reds made on schist soils stand out; their textural tannins add singular chewiness, but overall they have delightful levity.

Both Carignan and Grenache Noir from Roussillon excited me. Red Grenache is a darling right now, so that helps, but many places already grow the variety. Mourvedre, which I struggle with in the Rhone Valley, I found to be juicier and more appealing from Roussillon.

That may not be the conclusion all want to hear, or even the correct one. But perhaps it will get a conversation started and Roussillon's wines will soon be on everyone's minds, or better yet, in their glasses.

~Daenna Van Mulligen


Link: CIVR Conseil Interprofessionnal des Vins du Roussillon