Oct 02, 2019


Last year I made a special trip to the Southern Rhône Valley, specifically to taste the lesser-known white and rosé wines of the region.

I have great fondness for the Rhône; the area is familiar and yet this trip, focusing on tasting the brighter side of the valley's fairer wines, offered me a new perspective.

White Renaissance

While devotees of Rhône Valley wines, have long viewed Viognier, Marsanne and Roussanne as key white varieties, the tides are shifting. While these are still essential varietals, there is new enthusiasm for higher acid grapes.
Certainly, the producers in the valley understand that with climate change, higher acid is essential for maintaining balance in wines of any colour, and they are doing what they need to achieve harmony.
With that, white varieties such as Clairette, Grenache Blanc, Picpoul, Bourboulenc and Vermentino (Rolle) are becoming more common.

Last year, I quoted Wine Advocate's Rhône Valley wine reviewer Joe Czerwinski in an article in Vines Magazine: "White grape varieties still account for a tiny proportion of plantings in the southern Rhône, but they regularly sell out ahead of the reds, and many vignerons are expanding their white-wine programs."
Czerwinski continued, "In the face of climate change and growing demand for their white wines vignerons are deliberately seeking out cooler sites, like north or northeast-facing slopes and more water-retentive soils to plant white varieties."

He's right, the percentage of white wines produced in Rhône's appellations hovers in the single digits, but is increasing. For example, in Cairanne, only five-percent of the grapes are white, but Denis Alary, president of the appellation, and owner of Domaine Alary believes in a decade that number will double to 10-percent.

In Luberon, Sylvain Morey of Bastide du Claux admitted to me, "If could only make white wine, I would. The climate and location here are perfect for them."

Likewise, in Lirac, where vines are protected from harsh sun by mountains and forests, Rodolphe de Pins, from the centuries old Château de Montfaucon, acknowledges even there he must harvest early to maintain acidity.

Using stainless steel tanks and temperature-controlled equipment for white wine production helps keep freshness in the wines, and harvesting earlier is essential, agreed my friend (sommelier, regional ambassador, and wine tour guide) and Rhône Valley resident, Kelly McAuliffe.
.
Pinks with Power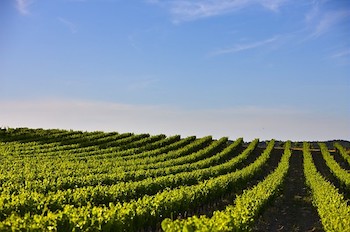 The allure of pink wines is not showing any signs of diminishing. It's a worldwide phenomenon, yet France holds the historical significance of these pale reds, and maintains its grip in this modern era.

Elsewhere, the palest blush, silvery and onionskin hues reign supreme; and a good portion of the world has fallen under their limpid spell.

But in the Rhône Valley, there is generally more depth to the rosé wines.

In this category, McAuliffe weighed in again, his feeling of these pale versions, what he calls stained whites or dishwater, clear, "This trend of light rosé is not normal; the more colour, the more flavour you get."

The most famously ruby-hued rosés of Tavel are a testament to that. I've tasted aged Tavels, more than 20 years old. Despite the overall feeling that rosé wines are meant to drink young and fresh, these wines can mature, because they have the structure.
Producers in the region refer to their wares as, "light red wines," shared Thomas Giubb, Tavel's co-president of the winemakers association, Syndicat Viticole de l'Appellation Tavel.

Like the cru of Tavel two other regions specializing in rosé wines is the Appellation d'Origine Protégée (AOP) of Luberon, and Costières de Nîmes. Unlike Tavel, there is no minimum colour level the rosés of other Rhône appellations must achieve, which means producers can (and some are starting to) follow the pale trend of other French regions.

Personally, I like both styles, pale and brilliant ruby, but would prefer to see the Rhône stay true to its richer-coloured pink wines.
Fashion is a fickle fixation that can turn on a dime; consistency will ultimately win.

Undoubtedly, the Rhône Valley is still a red wine making region, but it successfully strives to be inclusive. Vignerons are taking serious steps to maintain quality and build a future for the next generation; the white and pink wines they produce are part of that legacy and I'm delighted to drink them up.

~Daenna Van Mulligen

This article is a collaboration with Rhone Valley Vineyards wines.