Cheese &
Cheesy Friends

A taste of WineDiva's favorite local and international cheeses.


---
How Cheesy...

Like wine, I think it's important go out of your way to try new and different (sometimes questionable) cheeses. After all who knows what you've been missing?
Important - if you are able - try and locate the best cheesemongers in your city or neighborhood. Find a retailer who loves cheese, where the staff is knowledgeable and they're always sourcing new products.
And most important, somewhere where they indulge you with samples!



---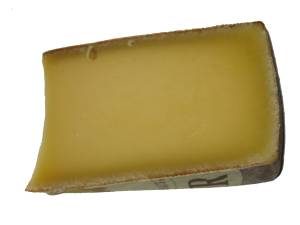 Mousseron du Jura

Unpasteurized cows milk cheese from Jura France. I find it very similar perhaps a bit stronger (ergo tastier) than Comte de Montagne. Its a firm cheese with a lovely honey hue and thin inedible rind. It has a nutty, sweet earthy aroma and a smooth nutty, toffee/caramel flavour with a salty backbone.
It comes in large drums so you can have yours cut to size.
Wine Pairing: Great with full bodied wines like Rhone Syrahs.
approx $4.25 per 100g
Stink Factor: Medium-low
Delice de Bourgogne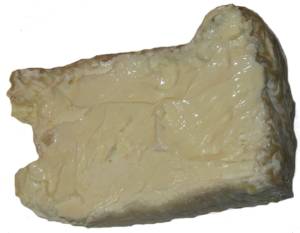 A triple cream cows milk brie from Bourgogne France. This creamy white uber-soft cheese spreads like butter and is decadently rich. It has a mild aroma and flavour similar to the inoculated blue cheese- a distinct sharp medicinal/mouldy flavour but in a mild and appealing way.
It also has hints of earthy and herbal nuances but mostly its just incredibly rich!
As you can see by the photo at right it has a mottled thin rind where the flavour is sharpest and it gets creamier toward the centre. It also doesn't travel well so keep it safe!
Wine Pairing: A red Burgundy would be the obvious choice but I love it with Champagne and sparkling wine that cuts through the richness or a Sauterns or Icewine.
approx $3.99 per 100g
Stink Factor: Medium



Tomme Corsu Vecchio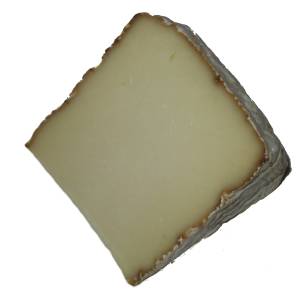 This sheeps milk tomme from Corsica has a rough, gray mottled rind and ivory interior.
The aromas are of wild herbs, earth and has lovely sweet milky nuances. The texture smooth and creamy with amazing sweet, nutty flavour and hints of rosemary and thyme. Try this next time in place of your regular Tomme de Savoie or Tomme Piedmontese.
Wine Pairing: perhaps a wine from Neighboring Italian Sardinia (Carignan or Vermentino) or creamy, nutty white like Chardonnay or rustic French or Italian red.
approx $7per 100g
Stink Factor: Low

Formaggio Ubriaco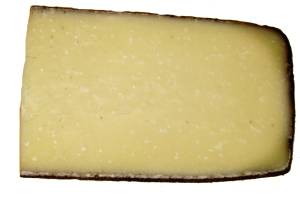 This is a hard cows milk cheese from (generally from Northern Italy) that has been brushed or immersed in red wine. Generally it's aged 6-10 months. One would expect it to have a wine-ish hue seeping in from the rind but it has a lovely creamy flesh with a distinctly purple rind with just the faintest hint of wine-colour soaking in underneath. It has a briny aroma similar to parmesan with fruity, nutty and smoky nuances with a very pleasing and distinct wine-y flavour. The texture is very firm and crumbly suited to an aged cheese.
Ubriaco means "tipsy" or "drunk" in Italian and another interesting version called Ubriaco al Prosecco is brushed with Prosecco must (skins and leftovers from winemaking) giving it a delicate floral fruitiness.
Yuuuummmy!
Sounds like a perfect pairing to me.
Wine Pairing: A lush Italian red wine made from Cabernet, Merlot, Raboso or Nebbiolo or a Valpolicella or Amarone would be nice.
approx $8 per 100gr
Stink Factor: Medium-low (in a very good way)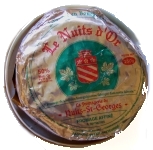 Le Nuits d'Or
A cows milk cheese from Nuits-St.-Georges, Burgundy this is a cheese that will rock your world without emptying your pockets.
If there are cheese fiends and cork dorks knocking at your door, this is the cheese to serve. And, since it's from Burgundy it goes extremely well with-of course, Pinot Noir.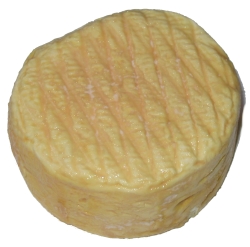 It looks far more expensive than it is, all dressed in gold foil then unwrapped to a light amber washed cross-hatched rind and creamy interior.
It is soft and sufficiently smelly enough to replace an Epoisses. Blasphemy you say, I say its a smart, affordable indulgence! The washed amber rind is slightly tacky, left on the counter to warm for sufficient time (one hour at least please) it begins to sag slightly and bulge out out at the sides.
The texture is creamy, smooth and slightly rubbery with slightly fruity, mushroom and bolder "ripe" barnyard aromas. On the palate it's creamy sweet on the entry with faint herbal/grassy nuances and a nutty finish...dreams are made of this!
Wine Pairing: Perfect with red Burgundy, young-ish red Bordeaux or reds without overt jammy fruit and flavour that will overpower this cheese.
approx $9 wrapped 250 gr drum
Stink Factor: high



Chèvre des Neiges Triple Cream Brie


What is it about Valentine's that makes small, individually wrapped items so appealing?
Hershey's Kisses, small velvet boxes, half bottles of pink Champagne and of course - creamy cheese.
This widely available Quebec-made triple cream goats milk brie from Alexis de Portneuf is a fist- full of creamy love. Brie can be boring, but goats milk gives an extra kick of flavour and being triple cream makes the texture less rubbery and much more seductive. It has a sweet, creamy buttery flavour with less of the typical mushroom
notes cows milk brie has but maintains elements of earth and grassiness.
A perfect darling addition for your dinner duo.
Wine Pairing: Pinot Noir or Bubbly rosé or crisp white wine
$7 approx. for the 160g drum
Stink Factor: Low



Epoisses-Cows milk cheese Burgundy Fr.
The Queen of cheeses?
WineDiva will bow down to her!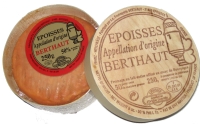 This cows milk cheese from the Bourgogne village of Epoisses has a soft amber-hued washed rind (bathed in marc or brine) with an intense and pungent barnyard aroma to it. (I placed one in the overhead bin one on a short plane trip once, quadruple wrapped and and in a plastic container. By the end of the trip it was smelling up the entire cabin). Robust flavour, earthy, sweetly creamy and decadently rich.
The texture when cool is pate-like but spoon soft when sitting at room temperature.
Long live the Queen (just not in my fridge)!
Wine: Fresh white wine with some body and a hint of sweetness like Viognier, Alsatian Riesling/ Pinot Gris or Pinot Noir or for dessert a Sauternes or sweet Loire Chenin Blanc like Vouvray.
$18.00 approx. depending on the retailer
Stink Factor-Off the chart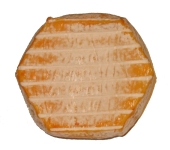 Le Brin, Savoie France
Cows milk cheese.
Amber hued, washed rind hexagonal shaped cheese with a gamy/wild aroma and hints of sweet nuttiness. Soft, creamy and supple this semi-soft cheese has a creamy, milky and slightly fruity flavour.
It would be nice as a dessert cheese served with fruit.
Wine: Light-med fruity reds, medium bodied fruity whites.
Stink Factor: low
$ 7.00 (approx) puck sized individually wrapped



Providence Oka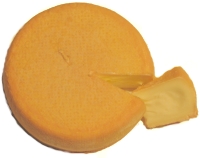 A washed rind soft ripened cow's milk cheese from Quebec. This perfect little drum comes housed in a clear top container which makes it nice to travel with. It is softer and creamier than the traditional Oka you probably purchase already cut in larger wedges at your local store.
It has that slightly sticky golden-amber hued rind (washed) and creamy-rubbery texture with intense sweet and nutty aromas and a fruitiness that reminds me of Gewurztraminer.
Wine Pairing-Gewurztraminer would be nice or any fruity white
or lighter bodied fruity red.
$7.25 200g drum
Stink Factor-Medium

St. Marcellin
From Saint-Genix-sur-Guiers in SE France is a buttery, runny, soft ripened cow's milk cheese that is quite spectacular in two ways.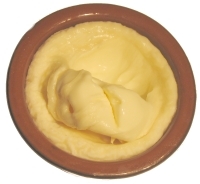 First, it comes in it's own lovely little ceramic pot which prevents it from running all over your fine wood-grained table and second it's a heavenly buttery bliss that spreads like thick cream.
In the crock it has a vague cross-hatch pattern and is a pale straw colour with a paler interior. The flavour is mild but rich with a sweet herbal, earthy flavour.
Make sure you serve it with a delicate little spoon-you'll need it!
And talk about impressing your guests!
Wine Pairing-Rhone style or South of France reds wines with Grenache, Syrah, Mourvedre...Burgundy reds. Or Fuller-bodied Alsatian Pinot Gris white.
$8.50 90g crock
Stink Factor-Medium low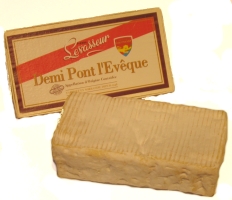 Pont l'Evêque-Pierre Lesasseur France-
Cow's milk cheese.
WineDiva has purchased the Pont L'Eveque before but never in this handy demi sized brick. L'Evêque has a smooth formed surface with a fine crosshatched creamy hued (often orange) rind and delicate yellow interior. It has a barnyard-y aromatic essence to it a , funky and earthy. The texture is supple and creamy with a slightly rubbery brie-like mouth-feel with earthy mushroomy, herbal flavours and a strong milky finish. The Pont l'Evêque is not a completely mild cheese even if it looks completely innocent peering out at you from its adorable wooden case!
Similar to an Epoisses, Livarot or Tallegio.

Wine: Burgundy (Pinot Noir), Bordeaux blend, red Rhone variations.
Stink Factor: Medium-high
$10.00 per 175 gr demi-brick (approx)
Doux Peche-Cow/Goats milk Quebec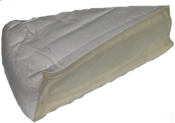 It's a combination of goat and cows milk cheese from Quebec. But don't let it fool you. It looks like Brie but is quite different.
It has a soft bloomy white rind and stunning soft white interior. Aromas are of chalky minerals , cedar, grass and green herbs.
It has a dry texture, similarly chalky but tastes creamy and earthy with mushroom-y nuances and a 'goaty' flavour.
Perfect with a drop of sweet fruit compote or truffled/mushroom spread.
Wine Pairing: An earthy but light red wine, a rose or a crisp and fruity white wine.
approx $5 per 100gr
Stink Factor: Very low
Tomme au Marc Raisin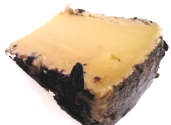 She ain't pretty, but you'll love her!
This unique cows milk cheese from France is covered in marc (the seeds, skins and stems remaining after making wine).
It has a sharp wine-y aroma and flavour, tangy
with grassy/herbal flavours and a hint of sweetness.
The texture is quite rich and soft, slightly crumbly.
A great cheese for wine.
Wines: French would be best, Pinot Noir or rich/robust white or try a Rosé.
Price-approx $5/100g
Stink Factor-medium

Caerphilly
One for Cheddar fans!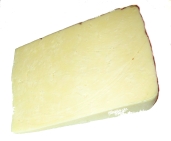 Semi-firm cows milk cheese from England has a milky flavour with lemon-grassy/herbal flavours and a free range earthiness.
The texture is somewhat dry, chalky and slightly crumbly. If you are a cheddar fan you'll enjoy this cheese.
Wine: Crisp, minerally white wines, Alsatian whites or reds with some acidity.
Price-approx $3/100g
Stink Factor-virtually non-existent



Fleuron de Bruges-cows milk, Belgium.
This cows milk cheese from Belgium was one of the three cheeses I picked up at a cheese shop in Victoria, British Columbia.
The Fleuron de Bruges has a soft, washed rind with a slightly amber hue (from the bathing) and a creamy yellowish interior. The texture is amazingly velvet, slightly rubbery and is sweet, creamy and nutty.
It reminds me of the delightful French Fleur d'Aunis which is bathed in cognac.
Wine Pairings: Fruity and fresh reds and whites like Pinot Noir or fruity Chardonnay or a Kriek beer from Belgium.
approx $5.00 per 100g
Stink Factor: Low


Fleur d'Aunis
Baste her in Cognac!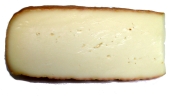 Cows milk cheese from Charentes Poitou France. WineDiva loves this cheese with its rich and creamy texture. Its sweetly nutty and has slight mushroom-y and milky aromas. It has a soft texture that's just a hint rubbery with a soft, orange (edible) and sticky rind that has been brushed with the regions Pineau des Charentes, a fortified aperitif-style wine made with Cognac.
Wine:I paired it with sparkling wine and Pinot Noir, both were wonderful!
But any light, fruity red or white would be nice.
Price-$2.50/100g
Stink Factor-low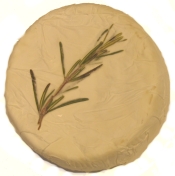 Salt Spring Island "Juliette"-
Goats milk cheese from the Gulf Island in BC.
A soft, white mould surface ripened goat cheese-A local Salt Spring Island artisan goat cheese recognizable by its decorative rosemary sprig.
Fresh herbaceous and saline aromas with a typical 'goaty' fragrance. It has a soft white shell exterior and soft, velvety texture with flavours of mushrooms and sweet cream, and a fresh piquant finish.
Wine Pairing: Crisp wines Sauvignon Blanc, Riesling, unoaked Chardonnay, Rose or light red.
$8-$10 (each 190g round)
Stink Factor: Low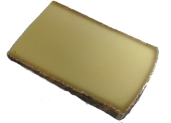 Le Marachel
Swiss Miss!
Cows milk cheese from Switzerland. It has a thin hard mottled rind (I wouldn't suggest you eat it) with milky and grassy/herbal aromas. Nutty, intense forest floor mushroom-y elements with a sweet milky finish. Delicious.
Wine: I had this cheese with Pinot Noir but it would also be good with a rosé or a Beaujolais.
Price-approx $4.99/100g (about)
Stink Factor-low

Chèbrie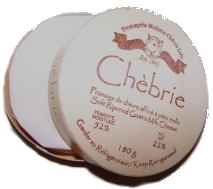 Sometimes a nice round of Goat Cheese is easier to cart along with you than a pre-cut piece destined to become mushed up between bottles of wine. (What, you don't carry wine and cheese with you in your purse wherever you go?)
Chèbrie from Quebec is simply as it says a brie style round made from goats milk cheese. It has that slightly rubbery brie texture with a soft rind and earthy, sweet, mushroom-y flavour which is nice with a little fruit or fruit spread it on a spicy and savoury cracker
Price-$8 approx
Stink Factor-virtually non-existent





Ibores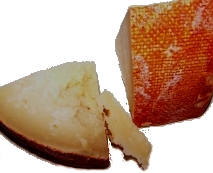 This aged goat cheese from Spain has a delightful pumpkin orange rind from being dusted in paprika. It has a Parmesan-like texture, dry and crumbly but the paprika adds a hint of smoky spice to the flavour and aroma of the cheese. Salty and smoky with herbal, grassy flavours a sharp finish and a slow paprika burn.
Price-approx $4 per 100g
Stink Factor-Low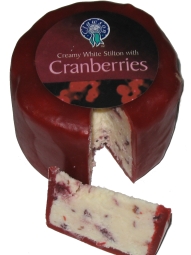 Clawson Creamy White Stilton with Cranberries-Wrapped in a glorious red wax case, a perfect heart sized drum for two and a
creamy-ish interior crammed full of cranberries (antioxidents+health equal good luvin' and a nice option for Valentine's Day)
The Stilton isn't too strong...the aromas are sweet cranberry, not old socks and it looks lovely.
Slightly creamy, faintly chalky with the sweet/sour pop of cranberries as you let it melt in your mouth. There is no bitterness or lingering strong flavours. Its just plain adorable and easy!
Serve it at the end of your meal or just before a sweeter dessert with some dried fruit and nuts, some fruit and nut crackers and a dessert wine.
It comes in several flavours...including blueberry!
Approx. $9 200g drum
Stink Factor: Low
Caveat: As stated on the bottom label "Do not eat the wax layer", "Do not throw wax layer onto open fire"
---

Pecorini de Fosse-Sheeps milk cheese from Romagna Italy.
This hard Pecorino style cheese is aged in underground caves for 4-6 mos. giving an deep earthy aroma with flavours of roasted nuts and herbs. Rich, earthy and smoky!
approx $6 per 100g
Stink Factor: Med-Low
---
Smoked Gouda- You can get smoked gouda (cows milk) in the grocery store in processed rounds (a slightly rubbery texture) that would do in a pinch if you were melting it. Or you can get the good stuff from your cheese monger.
WD is a smoked cheese lover and the gouda has such a smooth creamy texture (great for melting on a grilled cheese with caramelized onions) and is the perfect accompaniment to wines with any smoked, toasted or oaky flavour to them (ie: Chardonnay, aged Champagne or a numerous red wines).
$ Prices vary
Stink Factor: Low

---
Brebille Papillon, Aveyron France-Goats cheese-An adorable 100g short barrel of medium consistency and lovely strong aged goat aroma/flavour. Very earthy with herbs and pasture grassiness. The dense weight and flavour translate into smooth chalkiness. Let it sit on your tongue and melt to really appreciate it's wild goat-y flavour.
Appox. $6+ each
Stink Factor-low
Wine:-Sancerre or a crisp new world sauvignon blanc

---
Sevre & Belle, Chevre du Poitou, Celles-sur-Belle France- Goats cheese-As opposed to the firm chalkiness of the previous posted cheese, the Poitou is fresh and runny. This individually cardboard encased 125g puck has a creamy white shell with herbaceous, mushroom-y and fruity ooey-gooey goodness. Perfect for spreading on a baguette. Carries well for a picnic and all you need is a bottle of wine with a screw cap!
approx $7 ea
Stink Factor-low
Wine:-Off-dry riesling or fruity rosé

---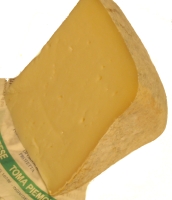 Toma Piemontese - Piedmont Italy-Cows milk-Medium soft and supple with a bloomy rind (edible when young) but gets mottled and thick as it ages (I suggest you don't eat the aged rind). Earthy and barnyard-ish with sweet fruity and truffle flavours. Mild but inspiring. If you like good quality Camembert and Brie-try this...you'll love it.
Comes in a larger disk/drum-have them cut you a piece.
Wine: Barbera d'Asti, Pinot Nero, smooth fresh reds and fruity whites.
approx $4.50 for 100 gr
Stink Factor-low

Or....
Spread a small amount of Urbani Tartufi-Truffled Porcini Crema on a cracker and top with a slice of the Toma.
Sniff, bite, savour and swallow!
Repeat as needed.
Urbani Tartufi-Truffled Porcini Crema This creamy concoction of porcini, white truffles, bianchetti truffles and spices is heavenly.
It's not cheap $20 for a tiny 80g jar but like truffle oil-you don't need much!
www.ponderosamushrooms.com
Products can be purchased at Urban Fare
and...
My favorite Olive spread comes in a glass jar and is called,
Aiello Bruschetta-Chunky Olive Spread. What makes this one so special? It's the addition of the walnuts to the usual green olives, lemon, olive oil and capers concoction. Also great with a cheese platter!
$7.95 (249gr) at Les Amis du Fromage
---

Neal's Yard Dairy-Spenwood- This goats cheese looks a bit like Manchego in disguise but is much more expensive. Neal's Yard Dairy carries cheeses made by small producers, kind of an agent for small British artisanal cheese makers, and sells them through it's two retail stores in London (Covent Garden and Borough Market), to specialty food stores across the UK and around the world.
www.nealsyarddairy.co.uk
Joe at Les Amis knows of my predilection for all things goat (in the cheese world) and suggested this beauty. Firm and creamy white, it comes in drums about 7" x 5'' high (like Manchego) and has a strong chalky, earthy and nutty flavour slightly wild and herbaceous with a texture just bordering on crumbly.
Stink Factor: Low

---
Idiazabal-(ee dee ah zah bahl)-45-50% butterfat. I was looking for a slightly fruity, not grassy, cheese to go with a 1997 St. Francis Reserve Merlot, from Sonoma. I wanted something I had not had before, then I spotted this option on my cheese monger's board. Hailing from Spain this med-firm sheeps milk cheese is gently smoked, just enough to achieve a wonderful sweet, savoury flavour. It went extremely well with the smokiness in the Merlot as well. If you like Manchego, you will love this cousin.
Stink Factor: Low

---
Vacherin Mont D'Or-(vasher-ANN-moan-Dor)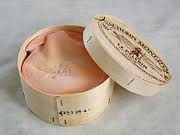 France, cows milk cheese.
If Epoisses is the Queen, this may very well be the King of cheeses!
I get this cheese one time per year…just before Christmas.

General information-Cows milk, un-pasteurized with a delicate apricot-hued washed rind and supple, runny interior.
It comes packaged in a round spruce-wood case. I've purchased the 500 gram drum and the 250 gr drum.
You don't want to miss the potent aromatics and unparalleled buttery texture - earthy, fruity and nutty flavours of this rare queen of cheeses.
Vacherin is produced in the fall, hence the pre-holiday arrival and comes from France or Switzerland (although there are replications) similarly labeled Vacherin…The producers vary as do the flavours depending on the region but your local cheese monger should receive
shipments from France and Switzerland every year. So do you research and pre-order next year in the fall.
Approx Prices:
$40 + 500g
$29+ 250gr
Stink Factor-High
---
Le Trou du Cru- 50% butterfat (or 24% actual dry fat content)
This adorably small orange puck is the perfect size for two, if you are having a cheese only dinner with a couple other selections and a bottle of wine. The interior is creamy yellow and demands to bulge out of its washed-rind exterior as it warms at room temperature. It has a very soft, creamy texture and intense raw cows milk flavour, slightly wild, barny and grassy. The Trou comes from Epoisses, Burgundy (a consummate cheese snob's utopia) and shares the strong aroma and flavour of its famous Epoisses cousin. No wonder it goes so well with red Burgundy or Pinot Noir!
Stink Factor: Medium-high

---
Mountain Meadow 'Brie' from Chase, B.C. (29% milk fat) A certified organic sheep's milk brie with a low enough fat content as to be considered a January 'diet' cheese. It has a soft open-meadow aroma of grass and herbs. It is richly creamy in the mouth and much milder than expected (for those of you who think you don't like sheep's milk cheese) and as with cheese (or wine) as it heats up on your tongue it blossoms, into delicate earthy flavours.
I served it with a reduced red wine and cranberry compote I mixed up on the stove with honey and star anise to sweeten, and pecans on the side.
Stink Factor:Low
$8.00 each (approx)

*You can make any 'compote or chutney' quickly at home to serve with cheese by dicing fruit (pear/apple/berries/kumquats peaches/nectarines or whatever) into a saucepan on medium-low heat and adding honey, sugar or maple syrup to sweeten. I cook down unused red wine and keep it in the fridge to thin out and give the 'chutney/compote' a compatible wine flavour. Then I add whatever additional flavour elements I like, star anise, cardamom, rose water, orange water, ginger candied or fresh (all found in Asian or Middle Eastern stores). Stir until heated and thick, then puree or leave in chunk style.
---
Tomme de Muscadet- Cows milk cheese, France.
Wine Diva loves Tomme (great with Burgundy) and Wine Diva loves wine…Muscadet. By brushing cheese with wine you have combined W.D's two major food groups!
The Tomme de Muscadet has a lovely (slightly sticky) edible, orange rind that is the result of brushing the Muscadet wine onto the outside of tomme disks. It imparts not only the gorgeous colour but a grapey/Muscat-y flavour into the cheese. The cheese is earthy, herbascous and sweetly grapey-fruity with a fresh, nutty finish and creamy mouth-feel. Could be a new W.D favorite!
Excellent with slightly sweet white wines with good acidity.
approx $4.95/100gr
Stink Factor-Medium
---

Queijo de Nisa-Portugal-Sheeps Milk
Smelly yes, earthy, sheepish, barnyard-y and wild tasting with a long herbasceous grassy finish. Soft washed rind amber/orange rind-edible.
approx $6.95/100g
Stink factor- Medium High
---